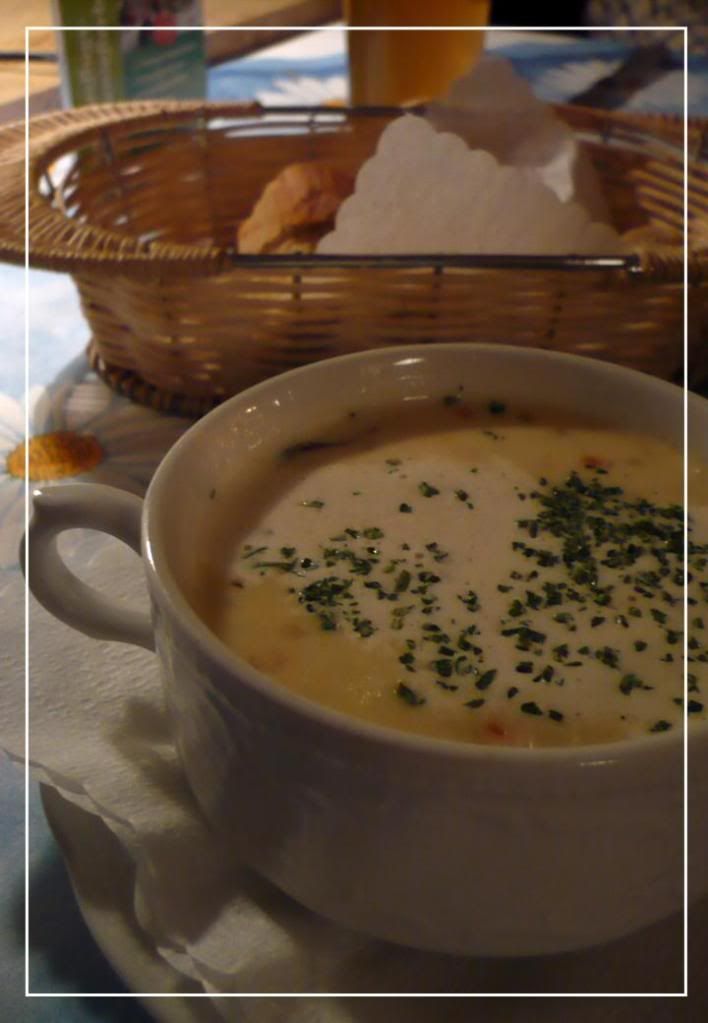 I am ashamed of myself for putting up a crappy post about my birthday where infact, there´s so much more than just a party with friends here. I failed to mention Mama surprising me with a wonderful breakfast that morning when I went downstairs to do my regular chore. She baked us some pastry puffs filled with apple slices, arranged them neatly in one of her porcelain collection ware. A pot of hotly brewed Rooibos and Vanilla Tea welcomed me too along with selection of biscuits and chocolates for palate cleansing later.
She said, it is a tradition in her family for mother to prepare breakfast for their daughters :-) Her mum prepares them for her for many years and now she is doing the same for me. Am I not lucky? Hubby surprised me too for an invitation to go out for dinner. My hubby of all people. Well, lets just say that he is one of those whom prefers home cooked food than anything else. But he did it, for me :-)
Dinner was at Stadthalle, the exact lunch spot post wedding roughly about a year ago. Hubby originally wanted to bring me to a Mexican restaurant but it was packed to the brim. He then wanted to surprise me with another restaurant choice, but it was close for renovation. We did not get lucky during our third try too. The restaurant was packed again, and all tables are reserved. And Stadthalle was our last lucky break. It is an old restaurant, which equally old staff and customers within but needless to say, the food is nostalgic, pure and hearty like any german meal.
While I had the most-white-wine laden bowl of MuschelRahmSuppe (4.00 Euro) I had ever come across in my life (hic, hic) ... hubby had their Frishe Champignons in Sahnesauce auf Toast (8.50 Euro). My soup was really good, and thick and addictive, and made me finished up the basket of baguette which I normally stay away. Carbs. Not much mussels were used though but I like how they frothed up the soup!
Hubby´s main was Schweinelendchen "Dijon" mit einer Dijonsenfsoße, Schupfnudeln und Salatteller at 13.80 Euro. Hubby being mustard fan loved this to bits. I surprised him with a pork dish for my main. Haha, his wife is so unpredictable :-P But when in Germany, eat like the Germans. They are known for the pork and so be it. And here´s my Schweinemedaillons "Walliser" mit Käsekruste, Estragonsauce, Salatteller und Maccairekartoffeln at 14,10 Euro. I love how crispy the batter of my Pork Medallion turned out and yet, the meat within was juicy and tender. Love the sauce too.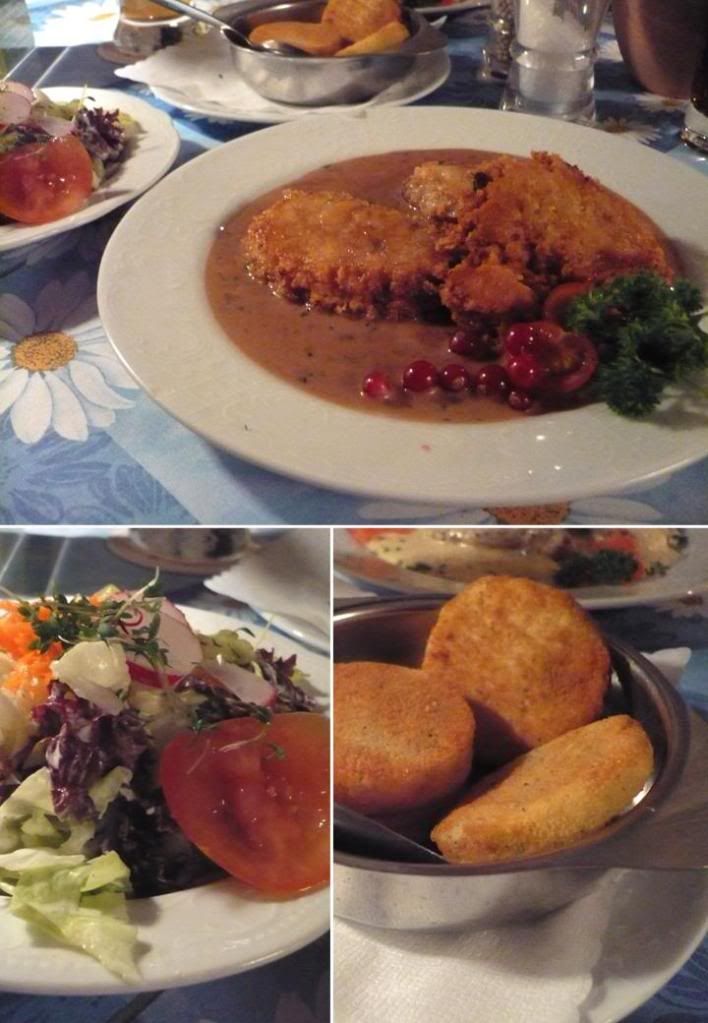 Both our main came with two large portion of salad and potato. I though we would do the full monty but fat chance. Traditional German food as you can see here are extremely generous, hearty and filling.
It was great.