This Saturday is officially Spring Day! After months of cold, dark ... day and nights, we finally experienced a moderate 15-20C temperature with lots of sun yesterday. Lots of children were seen playing at the playground behind our house, screaming and all and the adults on the other hands were seen mostly tending to their garden! Calm and smiling ... like me. It had been my habit to go snap some photos when the blooms are out, and this year is a bit more significant hence having my camera around all the time is a must! Never know what I will find :-) And the reason why it is more significant this year is, some of our hardwork of sowing the bulbs in way back in Autumn is showing results! Not just any seed sprinkle which last only for a season but good old BULB Flowers which will return again and again after many many years. It was yesterday when our the first Krokus popped open from the ground to greet me! Say hello to the little purple one below :-)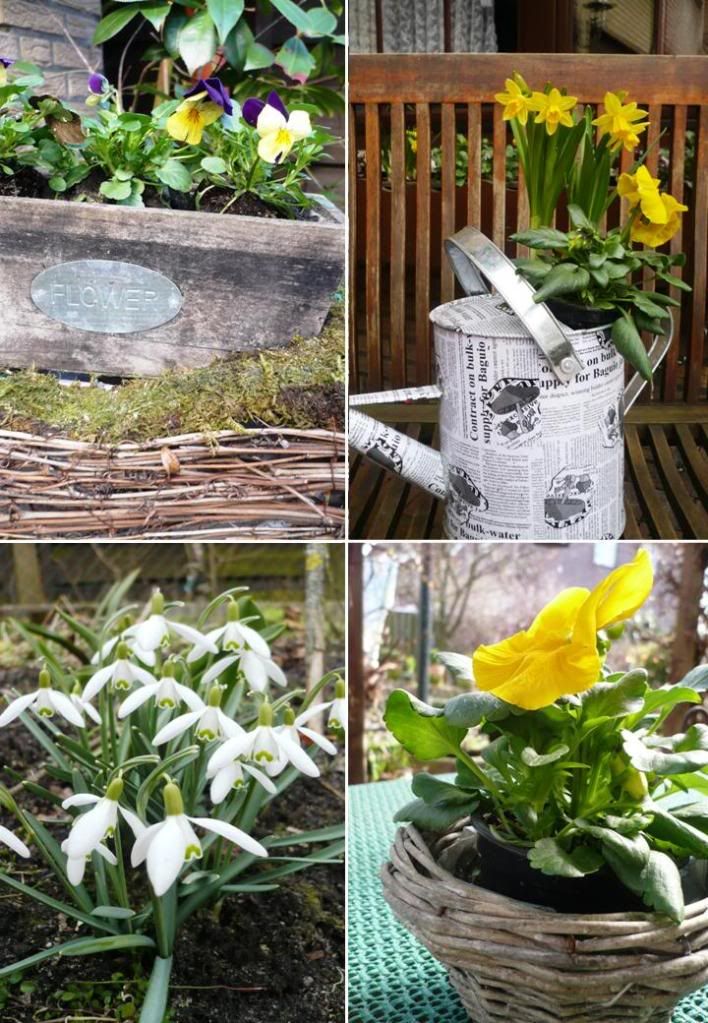 The flower bulbs it seems had all survived the harsh winter. Bravo! Well, one must give it to the Netherlanders when it comes to matters of flowers. It is really, really superior quality. After spending the whole morning yesterday at Hilgert - whom happen to be the biggest garden centre near us, I cannot help getting down on my knees to clean up the soil area around our flower bulb patch after oogling at all the lovely flower at the centre. Mama said I have to be a bit careful when pulling all the weeds and whatever that does not belong there out. The few centremetre area around the bulb are sensative and at times are covered with their baby roots hence accidently pulling it can turn disastrous to the bulb. And so, I circled the area first before cleaning as you can see picture below. The darker patch are the cleaned ones.

My herbs apart from chives did not survive. Perhaps I will go pick up their 6 in 1 Krauterplanze (6 in 1 Herb Plant Mix) to replant instead of planting from seed. Easier and looks way better around spring. Besides, no patients to wait so long for it to turn edible!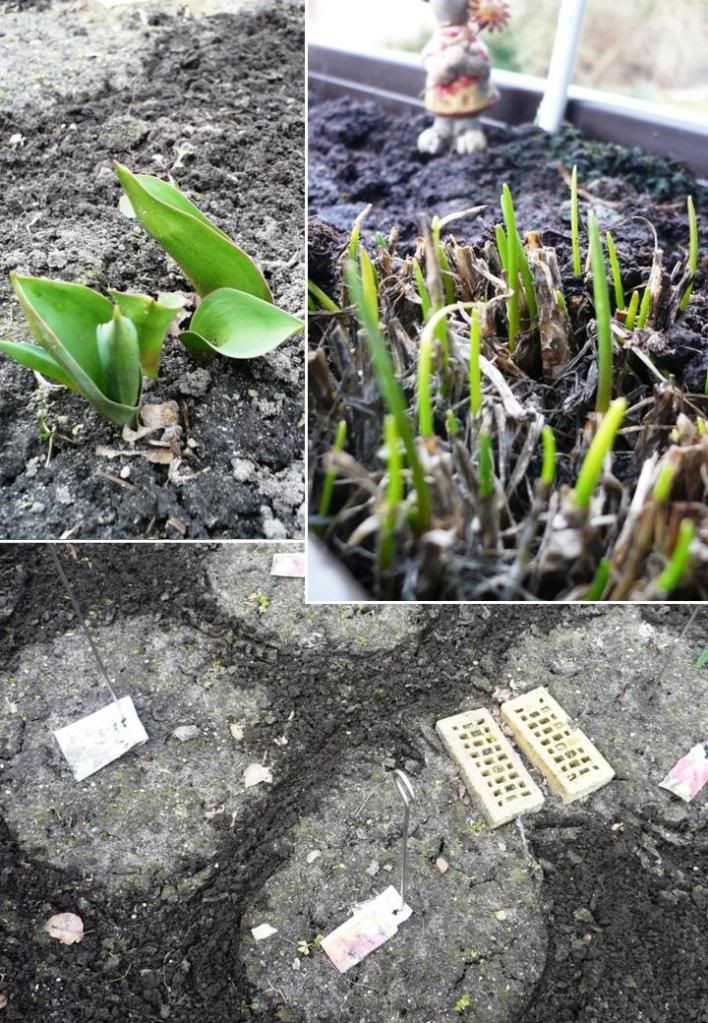 Our Easter Eggs were up last week. As usual, we´ll hang them on our Little Cherry Tree outside the balcony but this year, it is heavier decorated with eggs as compared to last year. All because, new pastel egg addition from Tschibo Store apart from hubby´s homemade ones from his childhood time!
As mentioned, I was at Hilgert and I came back with some decor stuff after the flower oogling. They do have quite a bit of ready made Easter Decoration Platter and Baskets which one can simply pick up, pay and place them in whatever spot you fancy at home but they do have a lot of materials if you want to DIY too. Since our DIY box is fairly empty and btw, we do change our decor according to season as how the locals do here, I figured it is about time for me to start my DIY item collection. I bought some green coloured stones, some moldy looking stuff in plastic bags, a round-plastic-leaves, 2 huge palmlike leafs to wrap around vases (inspiration from our wedding flower decoration in KL Hilton) and a Rabbit! Say hello to Häse! The first thing that came to my mind before starting the project was to clear out the tray above our bed´s headrest for this purpose (the tray with knick knacks at photo below). It is collecting dust and is not helping my Asthma!
But decided to change them to a bigger black tray which happen to be my Sushi Serving Tray since the earlier one was too small for Häse :-) And tadaaaa! Here´s my Easter Inspired Decoration for our Living Room!
I was on the roll! Our regular candle plate from metal served us well but we had them for months this way! Time for some change eh. And so ... this was what I did to spice it up with a bit more green. And this is to be placed on our bar.
Our Häse aka Rabbit for Easter!