In less than 72 hours, I will be flying off to Bangkok. Woohoo! No more cold, cold winter, white fluffy snowwww and slippery roads but instead, I will be greeted by Mr. Sunny and Ms. Humid. Haha. But really, I think I better enjoy the snow here while it last before I leave because by the time I return here to Germany, it will be Spring than and though I am excited over that, imagine having to wait one whole year to see snow again ... bah. Not that I am missing it right now anyway, haha. What am I talking about???
So anyway, I was in town today for doctor´s appointment regarding my asthma. Since I will be thousands and thousands of feet high up in air soon, it is best for me to consult my doctor if my medication is good enough. If I am not mistaken, I had an attack on air before. A mild one and that was before I came to know its actually Asthma. My visit to the hospital in Kuala Lumpur did not help at all. They found nothing, NOTHING, NIL ... and after that, I started getting disillusion over the state of my country´s healthcare system. It is a top hospital in KL btw, so they should know what they were doing. But the one whom attended to me here, Dr. Lüh Kombacher ( I wanna jot it here to give her due credit and also, incase I forget her name haha!) was SUPERB. She´s not only friendly and warm, she put me onto this machine for testing straightaway and a report came out like .... within seconds!!! All the nurses were top notch and efficient, and I can say this is far better than all the top private hospitals in KL that I´ve been too and the one I am visiting is just any normal clinic btw. Nothing fancy at all. To top it all, my consultation was FOC! Coz I´d already paid for it earlier this year and that fee covers a good 3 months period. I have to pay for my medication still though but it was nothing really. 5 Euro or something like that. I don´t have to go there personally to make an appointment but instead just a phone call away and when I mean on appointment, means it was right on the dotted time that she saw me. How great is that? Today was my second visit and she is as helpful as ever. Anyway, the other jeez of the story why I saw her again was, I had attack almost the whole day yesterday. Also, it had been recurring almost daily after taking the Swineflu Jab last Monday. So now I am on something stronger, something that I have to inhale in every morning and night before I go to bed, and my first inhaler for inbetween needs. Oh gosh, I do feel so helpless with my new condition :-( No fun at all until it goes away ... But fret not ... I am seeking alternative treatment the moment I come back from KL and this treatment surely excites me because it involves travelling and hobby too! Haha! Details shall be revealed later ... I promise. Wish me luck!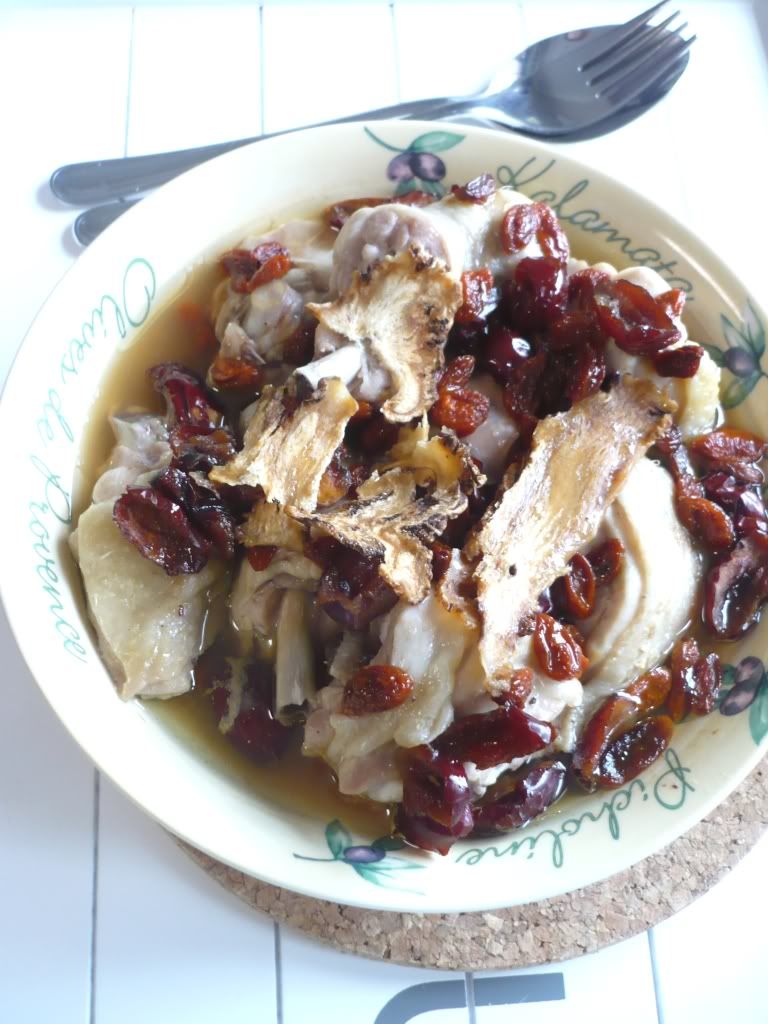 My stomach were growwwwling when I reached home. Something to do with the harsh weather and all the walking ... Anyway, I already knew what I wanted to cook for lunch so preparing them was easy peasy. Chop up 2 thighs, and season them generously with salt before putting them into a steamer with lots of red dates, wolberries and some roots (no idea what its called but taste ohhhh soooo good!). Let it do its magic for 20 minutes and lunch is ready. My lunch today was really, really deliciousssssss ... really satisfying even if it was eaten just liddat. Haha.
So here goes the usual thingy ...
Breakfast : Suppliment Drink
Lunch : Steamed Chicken with Chinese Herbs
Snacks : 2 Amicelli, 1 Apple
Dinner : Suppliment Drink
Exercise : I think I did a 4km walk today to/fro from town. Apart from that, the usual Making the Bed and Toilet Cleaning. I think I will stop there today coz I am kinda tired today from yesterday´s late night.
Today´s Weight Lost : PLUS 0.3kg (due to last night´s drinking and snacking in Ilka´s birthday party)
Total Weight Lost till Date : Back at 2.1kg
I think I am happy to get ride of another 400 grams before I fly off this Thursday. Possible? Sure yes! Wish me luck!