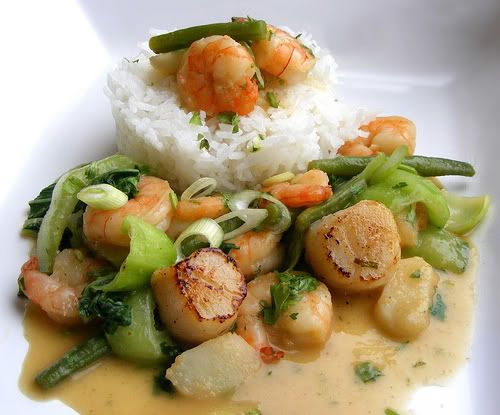 The progress so far had been okay. I felt a bit giddy this morning after my Protein Shake hence I cooked myself a bit of rice to accompany my lunch but I did not finished them. As for the whole report ... here goes.
Breakfast : Protein Shake (120 calorie)
Lunch : Green Curry Scallops, Prawns and Small Portion Rice (350 calorie, estimates)
Dinner : Protein Shake (120 calorie) + Small Portion Brocolli / Chicken Noodle (250 calorie), 1 Apple (80 Calorie) and 1 Bananan (120 Calorie)
Exercise : Cleaned the Toilet, Upload the Dishwasher, Cleaned the Staircase, Wiped the Office Room, Walked 3km to/fro Town, lugged a heavy grocery back (unplanned for btw) and TO FINISH UP the clothes folding.
Incase you are wondering how could this plate carry less than 350 calories, I guess substituting coconut milk to normal milk makes a difference. Anyway, it is just for record to keep my daily calorie intake to be low. This morning, I woke up to 0.5kg lighter. I cannot believe it! But yeah, it is probably water so don´t get too excited. I downed almost 2 litres of water yesterday, and for today, 1 litre so far. Now that I am frantically searching for housework to do, I am afraid I am going to spoil my hubby here soon. Ah.
See how it goes tomorrow!