The occassion was to celebrate the company´s relocation and expansion. Apart from the wonderful German food and drinks served last night (lots of yummy medallion, lots of schitzel, lots of white asparagus, lots of brussel sprouts, lots of potatoes and oh yeah ... lots of German BEER ), two other things were particularly memorable.
One is visiting the super power plant located right in the middle of the company compound. But sad to say ... it was way under utilised. Why? Because, this use to be the space for the army and they needed them to do ... hmmm, I guess whatever they need to do but hubby´s company needed the space to produce tipping trailer only. And as you know, tipping trailers are hugeeeeee hence, the space was really a good change. We spent a good 2 hours visiting each of the departments.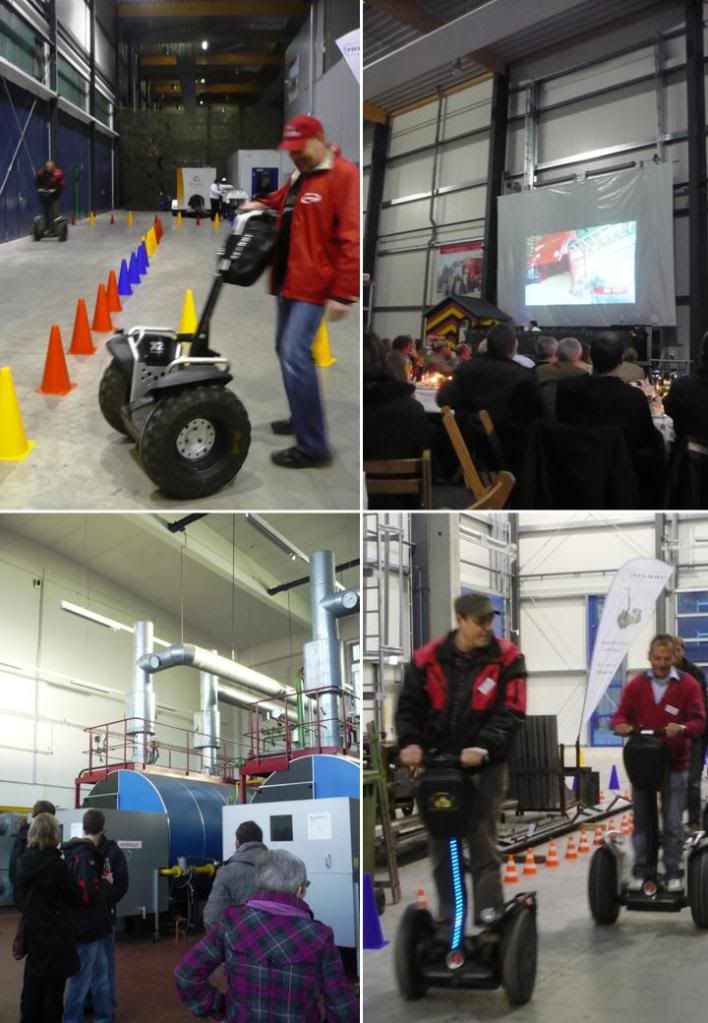 Secondly is ... his boss arranged two form of entertainment for the guest! One being a shooting range where you can KILL, KILL and KILL more boars. And the other is this! Riding the SEGWEY!!! A quick check on the internet describe it as a Personal Transporters (PTs) and it represents the next generation in clean, personal mobility, offering a speed of up to 20kmph!
To put it simply ... it is a darn cool personal transport which one balances on standing upright, and needs only to tilt your body forward to move forward, tilt backward to stop, or moving your steer left or right for other direction. My first round around the course which the organiser prepared were a bit scary because this vehicle is sensative! It felt as though you might tip over with just a bit of movement from either your hand, leg or body. Tense up a little bit and it may jolt a little, go too fast and you may loose control at the turn. But after warming up and getting the rhythm right, it is like riding a bicycle. It was super cool!
We were soooo addicted that we sneaked off during certain presentation to go get our ride fix! Me and hubby went a couple of rounds, each lasting as long as we want and oh boyyy .. how I wish we could cart this back home. Not cheap though ... almost 8K each, in EURO. If you are like me - no way going to buy one just for the thrill coz lets face it, top up a little more and you get a new car. Anyway, if you happen to be in this area and want to give it a try ... some German cities here offer them as a guided city tour ride around 25 Euro per hour.
Do try if you spot them! You will loveeee the experience ... trust me.