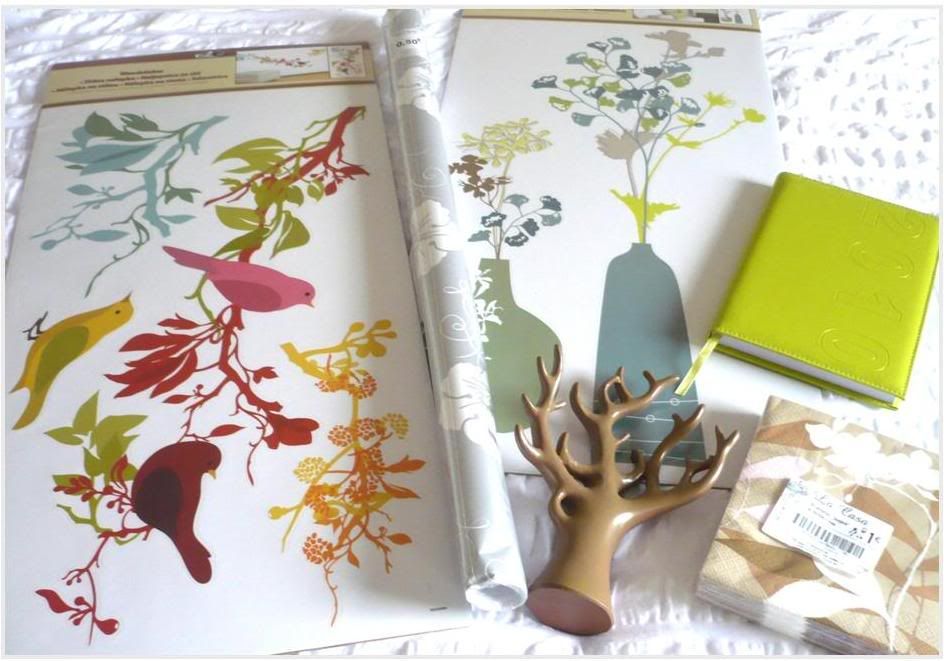 Oh my. I was out on a shopping spree again this week. First, I picked up a leather handbag from Tschibo which I don´t need at all as I have dozens sitting on top of my wardrobe. Last week, I bought a ballerina from Ebay, and have to resort to storing them elsewhere as my shoe rack was totally FILLED UP! Than yesterday, I went on a spree. I picked up lots of knick-knacks for our home and the ones in photo here are just half of what I got :-) but these are my favourite clutter so I though I´d take a photo of it to show you. But really ... don´t you think they are sooo adorable? As you can see, I am currently into colours and floral print but nothing too loud. Just subtle enough to make an impact and it was just soooo irresistable when I spot them in the store.
I absolutely loveee the two Wall Stickers from Tedi, a discounter store and this, my friend cost me 3.00 Euro each only! I have been eyeing Wall Stickers for a while and most that I´ve come across are 4 - 5 times more than what I paid. I hope the glue on the sticker is good though but what the heck. If its bad, just get a new, fresh design. Haha. My shopping philosophy. The other thing I really love is the Branch Decorative piece which I plan to double up as accessories holder. Also priced at 3.00 Euro, I though it was such a steal :-) Oh woman ... don´t we just love a good bargain! And since I will be starting up something - ahem, a small, teeny, weeny business actually but details to be revealed when finalised, okay?, so I or rather we need a planner to jot down information when seeing customer. Very important. The planner´s lime green colour is totally fresh and funky, and ... again, I loveee it. This is another 3.00 Euro pick from Tedi. I than stumbled upon this lovely brown/white/cream colour serviette just before check out counter and stuffed them straight into my shopping bag! Haha. Its only 1Euro and we need replenishment anyway. The ones we use at home are plain coloured and oh, so boring so .. and I guess it is time to inject some print. Me thinking. And check out the wrappnig paper. Can you believe it that the stores are already selling some Christmas decorative items? Gosh! So, there goes. Its a need, not a want.
And then this weekend .... in Kronors! woOT!