It feels good to be back after a week in hiatus :-) Well ...nothing eventful happened (haha) except that the computer was kaputt. AGAIN!!! (sigh). As I am writing this, the CPU sounds dreadful still, so we are keeping our fingers crossed that our repair damage will at least last us another 3 months. Otherwise ... urggg. Actually (cheeky grin) ... we have our eyes set on a MacBook should this PC fail us again already! And, andddd ... we are thinking of getting our home wirelessly connected too should this PC give way ... soooo, am I devilish to pray for this PC to go kaputt soon??? Haha! So anywayyy .... hubby was away with his buddies to some beer factory trip last night and will only be back tomorrow (roll eyes), and I was left, HOME ALONE (sob, sob). BUT it is all not that bad la (cheeky grin) coz I went shopping today! And it sure feels good to shop without anyone waiting for you, isn´t it??? AND the better news is, I received 50% refund from my German Integration Course yesterday for having passed the Exam and you know how it is, the rest is histroy! Although I did not buy anything major like last weekend where we splurged on a 139 Euro Map in Ikea! Plus many other things that costed us few hundred Euro more damage ... my lil shopping trip was nonetheless an exhilirating day for me as I feeled fulfilled. I started off the day with TWO portions of Battered Cod Fish at Netherland´s famed seafood stand. It was fresh, and good! After filling up the tummy, I surveyed some shops for needed supply for my upcoming lil business venture. And than .... it is shopping time!!!
Take a look at what I bought :-)
I picked some stuff from Hema. It is one of my favourite place to stop by whenever I am in Netherland as it has everything a household needs under one roof. I love picking things up there coz not only are their things cheerful, it is not expensive too. For example these Petit Fours (4.00 Euro). Ain´t it cute and colourful? The checked photo album with buttons (showned partially above) is for my lil project and cost me no more than 7.50 Euro.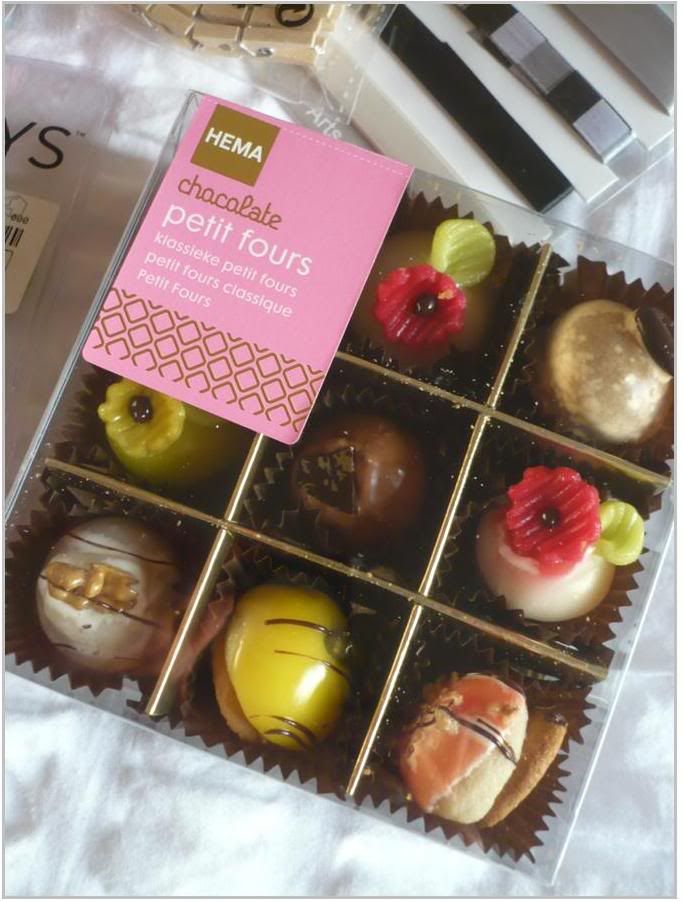 I also picked up three (3) packets of Ranunculus, Tulips and Allium Flower Bulbs (onion looking thingy) thinking it was a bargain at 2.99 Euro per packet. But later found out that the market were selling 4 packets for 5 Euro! Grrrrrr ... but did not hesitate to get more for Mama Else :-)
One of the favourte lil stuff I picked up are these! Some Monkeys face clip on to personalised your keys! Cool eh :-) Found them in Bijenkorf Departmental Store.
I will without fail visit Mr. Siew´s Asian Store everytime I am in Enschede. This time round, I only manage to pick up some Fresh Tofu (not showned here coz I don´t want to wet my bedsheet!), Bittergourd (woOT!), Nori Sheets (cheaper here), Konnyaku Powder and Ham Yue (Salted Fish) but get this ... not just any ordinary salted fish but Salted Cod Fish! Haha!
Showned here too, is a kilo or more of Holland´s famous cheese. I picked Mild Leedamer this time round it was going for a bargain of 5.80 Euro per kilo! But boyyy ... carting back 2 kilos of these cheeses along with the other stuffs is not a joke.
My shopping spree started around 10am and was supposed to end around 1.55pm. I wanted to get back early as I had promised Mama Else that I would join her for coffee. BUT as how it turned out ... I missed the train by 5 minutes.
And so, with one hour more to burn before the next scheduled train, I hit the nearest cafe for a drink. Ordered an Ice Coffee but was surprise to find out that this is no ordinary coffee! This coffee is so KAU, that I would just call them Espresso Ice Coffee, okay? Its really good, btw ... thick, and wicked, and totally unexpected.
Oh well .. might as well grab a bite since I am here eh. And sooo, I chose an Olive Bagel with Caprese filling since this is after all A Bagel House. But ... hmmmm, I found the bagel too hard.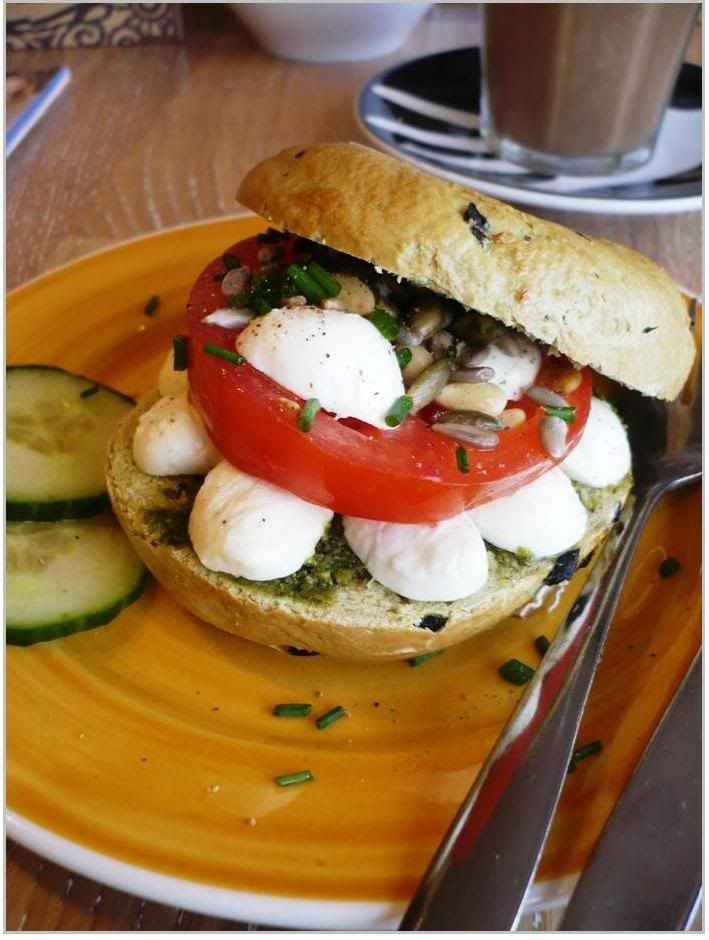 Somehow, I still prefer the soft, milky Breadtalk Buns from back home :-(