I took the opportunity to snap photos of the flower plants and what not in our garden as well as those around our neighbourhood yesterday afternoon, seeing that the weather´s fast approaching Autumn. Time surely does fly here, and interestingly, 7th August 2009 marks my first anniversary living in this land :-)
This year, Mama added a plants to her garden. Mama´s Hydrangea is growing very well. Infact, the small plotted area are so BUSHY with the bloom so much so that we had to snip them off to be enjoyed indoor. Nooo complain there :-) Apart from that, Mama added two new pots near the door too. I guess Hydrangea is not so difficult to grow and is versatile to the point that the bloom changes colour when the soil acidity changes. What an interesting plant! Anyway, while the main ones are pink in colour, the two new pots are blueish purplish in colour and I heart them A LOT. Lovelyyyyy. Oh ... check out our blue plums. They are fruiting well this year and I can´t wait to get my hands on them to make confiture!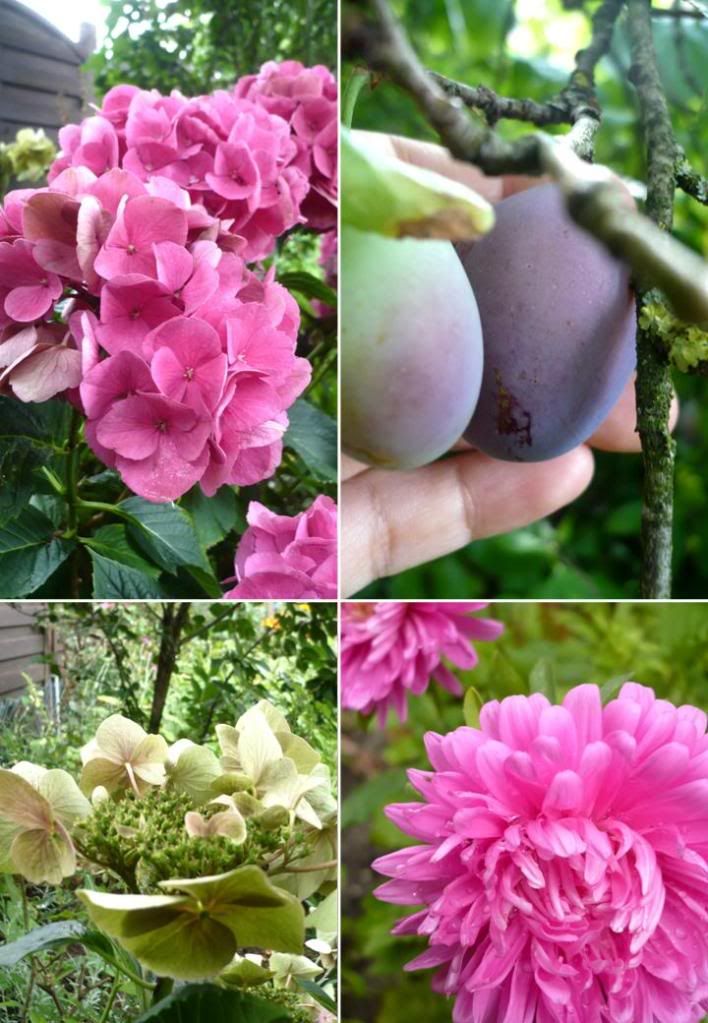 Our apple trees are bearing lots of apples this year too! Hmmm yum, yum ... I cannot help thinking of apfelkuchen, appelgebak, apfelsaft and moreee already ... haha :-) Unlike last year, all the fruits decided to reward us BIG :-) including our grapes. Oh those grapes .... I still remember excitedly learning from Mama how to make Grape Jelly with it. Anyway, now that Autumn is entering, Mama had also started buying flower seeds for next years Spring and I wonder what flowers are those ....
The picture below are of Mama´s gurkin and zucchini plant and a type of yellow bloom whom had been growing pretty wildly in our garden. Yikes! And these are the ones which I had been decorating with in our living room like crazy. While our Zucchini gave us more than we asked for, the Gurkins growth were stunted at around 2cm. Hopefully, more luck next year.
Oh lookkkkk ... I though I did not snap a pic of Mama´s new Hydrangea but I did after all :-) Lovely colour isn´t it? The other bloom I kinda fancy, and will occassionally use them for cooking and eating is the Schnittlauch Flower (sort of like Spring Onion). The pinkish one at bottom left are actually from a huge plant bearing three assorted colour flower in one plant! How amazing is that? No idea what its called though.
Mama decided to cut down the rhubarb plant to only one this year. Not sure why. If only there´s a lot like last year. I will than turn them into Rhubarb Liquor - something which I had tried several times during my Stammtisch gathering and I love them to pieces. It is pleasant tasting and super addictive :-) There are a whole lot more which I did not snap as I had featured them here before. You can scroll back past feature from Spring season onwards with Garden titles if you are curious.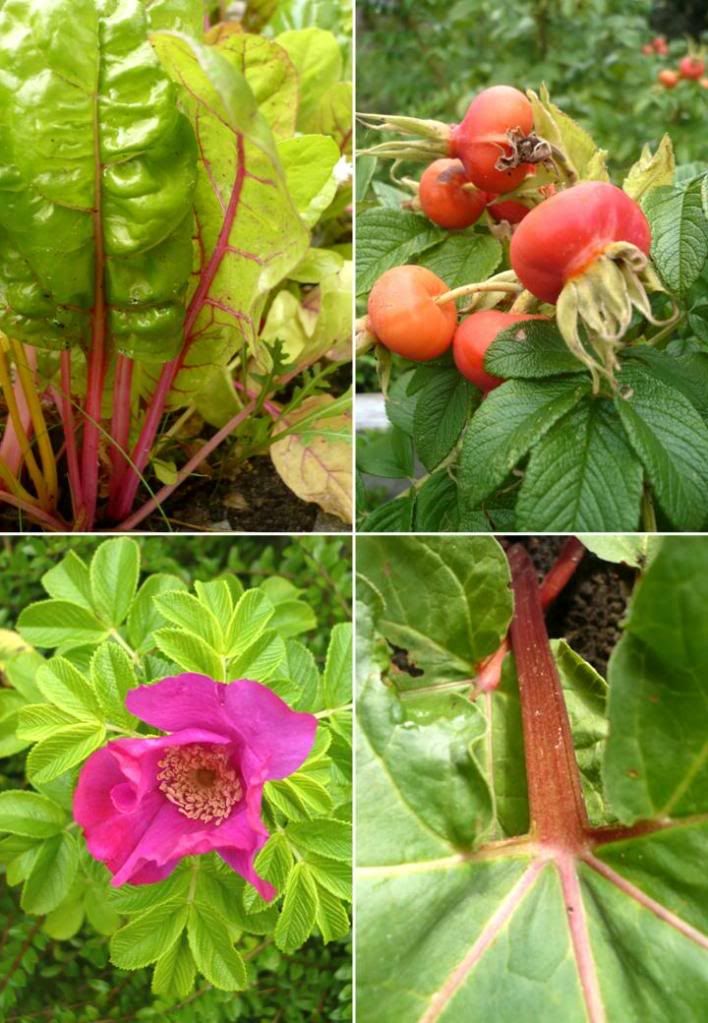 So there you go ... Mama´s little garden which she´d put a lot of care into. Pretty little space isn´t it? Well ... better enjoy them as much as I can now :-)