I was super, duper fortunate to have landed a trainee position in large Media and Advertising House here before I even finish my 6 months german integration course. Not only I cannot speak the language fluently, they did not even ask for my certificates and qualification before agreeing to bring me in :-) And for all this, I must really thank fellow schoolmate Rocio´s hub whom had been working there for a while and brought me in. I started last Monday, a week before promised after discovering that I could not shake off the jetlag from our trip back. Rocio´s hub, Alfred kinda expected it and so ... I delayed the start.
It started with Alfred picking me up on my first day. I was nervous as hell. What is there not to be nervous, coz I not only have to work but I have to FIT into their work culture. Germans, as I have heard many a times are super efficient, super planner and what not .. and they have high expectation. Sort off. So anyway ... work starts at 9am, but Alfred swing by by 8.30am. I was ready by 8.15am because first day mah. Must be punctual like the Germans so to speak, and besides ... getting some fresh air outside the house amidst all the nerve wrecking feeling I was experiencing seems to help me settle a bit better.
And soooo ... this is Alfred´s seat and mine were just beside his. The group of companies were divided into a few company. They started off doing printing, hence the company name Gutenberghaus. Afterwhich they spinned off to publishing, advertising, Marketing & PR, Internet Marketing and what not, and of course where I am working for ... Media Agency. The department (for those not familiar with the term) basically loads media order (advertisement spots) for customers whom wants to advertise in East Holland Market (Newspaper, Magazine, TV, Radio and what not). While the team attends to the orders, see customers etc ... my job is to help them key the order into the system (means learn the software here), coordinate the requirements of customer to the design department, and everything else there is to do including making coffee for everyone. Yippeeeee, yawnnnnnnn. It seems that this is the culture here for every new trainee and so my first day was spent memorising their names, and what coffee do they like :-) and I found out that I am pretty good at it!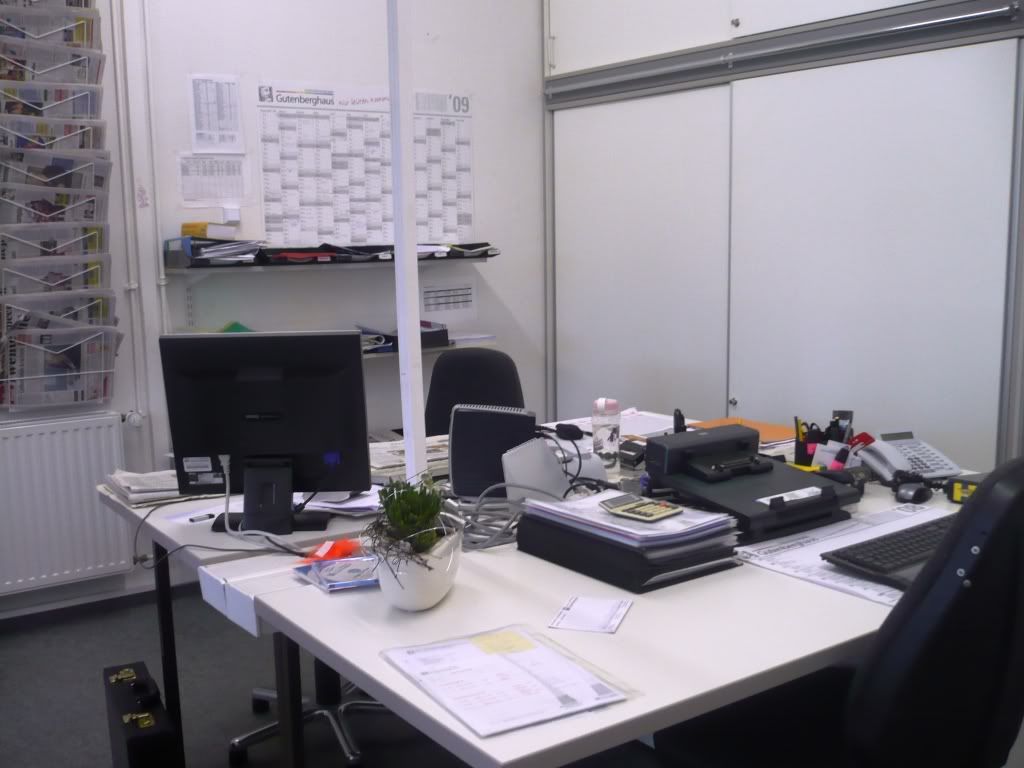 Naturally, I have yet to touch the system this week as Alfred is off to Majorca for his annual holiday. This means that most things are on hold till next week, including handover of some paperwork and so I am right just beside him filling in the time. I am not accustom to sharing table, but I guess I have to be patience lor. It is always nicer to have your own desk where you can put your lil lil things on the table, and hidden hidden things inside the drawer. At this moment, I just have to rely on my big brown bag for my daily packed lunch, water, biggg dictionary, purse, mobile phone, camera and house key. And yes, most german companies, no matter how huge they are (and the company I am working is not so small with more than 100 people inside), they do not have a canteen. They isn´t any food stall outside the office too, and driving out to have lunch is near impossible hence most of my work colleages were seen either eating an apple and sandwich on their desk, or drive home to eat. SAD but true. So dear Malaysians ... you guys are DAMN LUCKY!
Sooo anyway, this seat belongs to another Media Rep and she was told on the first day to clear the space for me next week by the BIG BOSS! (gulp) Yayyyy yaaaa ... happy, happyyyy and am going to get a desk but from the looks of it during their conversation, she seems to like her place very much and question why must she move? Did I just made an enemy? Oh mannn :-(
I was fortunate too that two of my colleagues are taking turns to bring me to and fro from work as they live near me. Actually, I am not sure how the younger one feels about this car pool thingy since its her private car and they can always decide if they are comfortable with a stranger in the car or not eh. But the elder lady whom I went to work with on second day was really, really nice and I like her a lot, she does not mind dropping me right to my front door. We spoke of many things and clicked almost immediately! But the prob is, she is not office bound ... hence, I have to find an alternative transport to work asap. Hub asked if I needed a car ... but I am not sure if its a good time to get one now since I am only a trainee at the moment. Well see.
Yesterday was a total BORE. I spent half the day browsing East Holland´s Newspaper, make coffee for everyone and go for toilet break as frequent as five times! The morning was more interesting. We drove to another town for a customer visit, and it is where I learned the mentality of Germans in advertisement slot placing. Frankly, they are the same as Malaysians lah. Kekeke .. ask for discount also. Maybe, times are bad huh. And after that .. that was it, load the media order and learned the system a bit and YES, it is in german.
Work is tough but have to persevere loh. But seeing a lovely card written from Mama and Papa - encouraging me to be brave in new work place made me felt motivated. Mama and Papa also gave me a pot of lovely pink roses which is now sitting on our breakfast table, and a bowl of handplucked strawberries and after all this ... don´t you just feel warmth and loved and with this, everything seems so possible? Ahhhh ...
And soooo .. I am off today and tomorrow, and am taking my sweet time cleaning the house and doing up my Inspiration Board. Also bought myself a lovely Röse Bubbly a while ago with a bunch of Red Cherries. Treating myself sillyyyy .... ! Well, this is LIFE eh!