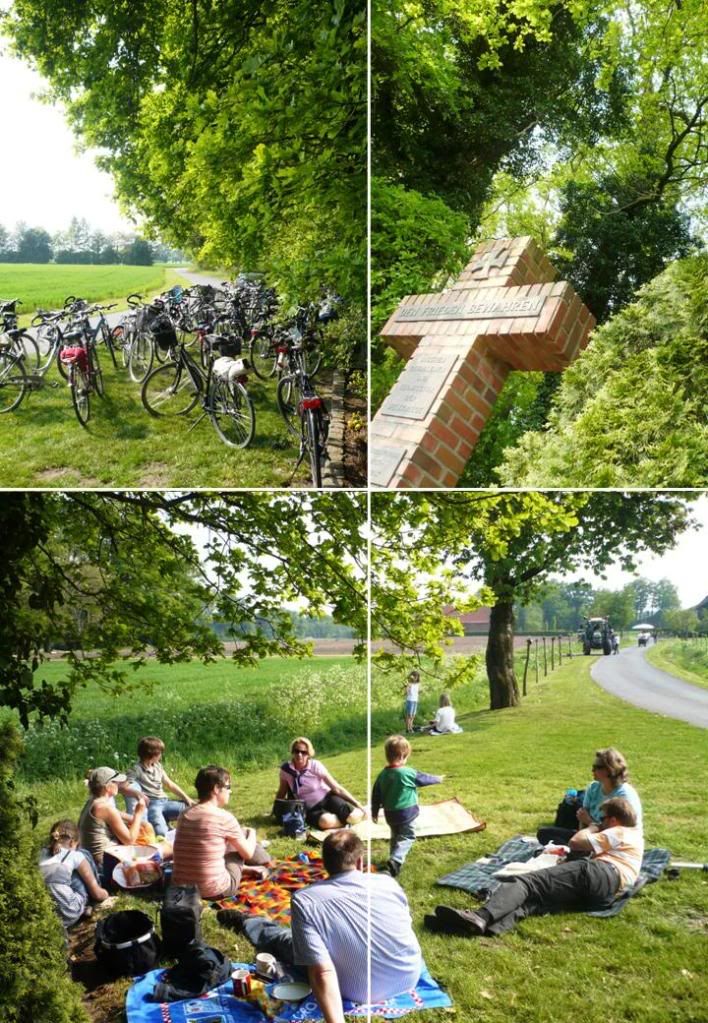 It was the Mels family´s turn to organise this year´s Labour Day activity. Although I hesitated to join in initially as I had lots of things on my mind (2 exams coming up, wedding preparation, and Dad whom got admitted to hospital a day ago but thankgod discharged), I caved in for this is my first time experiencing this special day with the group.
The bicycle tour thingy is not new. Infact, its a tradition here for everyone young and old to hit the bicycle lanes connecting the towns here with friends and family. To embrace the beginning of life, so to speak and with that, a small tree branch were quickly planted in between the edges of my bicycle handle to signify this day.
We rode a good 12 km that day. All 9 adults and 11 children rode with our own bicycle (including Leandra whom adorned a pink riding suit, along with pink riding helmet and pink bicycle! Awwwww ... it was a sigh to behold, really) except for Mikael whom were only 3 and had to ride with daddy. Oh btw, did you know that its illegal to carry a passenger behind your bic here in Germany?
We had a lil picnic underneath an Oak Tree in one of the Victim´s of WW1 & WW2 Memorial place. Arianna baked us a yummy Butter Cake but I was too late to capture them. Silvia prepared Cappucino and Coffee, Tanya brought Berliner (local donuts) and we ... a tin of the yummiest Danish Butter cookies I´ve come across! I must buy this for Mum and Dad to bring back home!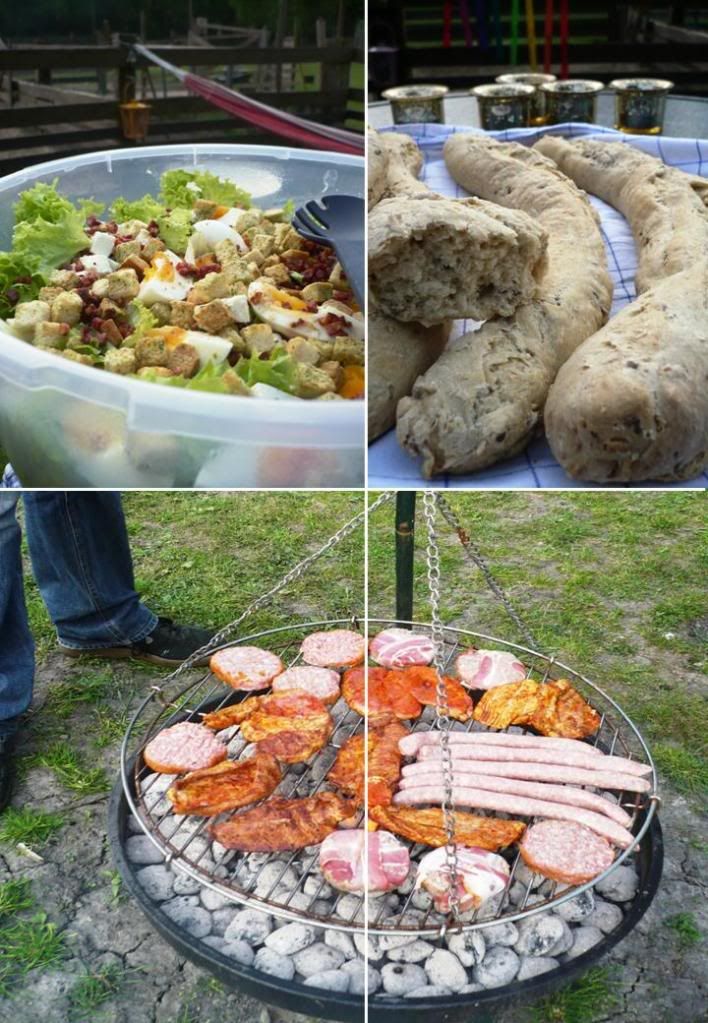 We had a few hours more to spare before the BBQ session at the Mels ranch. Silvia gave riding lessons to some of the kids there while I happily watched them. I wanted to volunteer, but I think I would look like a fool riding her shorter than usual Horse Species and besides, I don´t think the horse can take my weight :-) Nonetheless, playing with Lil Arabella was a bliss. Coming from KL city, born there and lived there all my life sure does make me feel anxious and excited when it comes to getting in contact with farm animals. I also spent a good hour watching the guy´s attempting soccer butting, kicking and bouncing. Hilarious, I tell you.
When night fall (we started around 8pm and it was still bright), we feasted on the best cut of meat from the local butcher here with their Coal powered BBQ pit. Back to old style, and it sure does make a difference to the taste and flavour! The meat were super, duper juicy and everyone feasted like a beast. Gregor´s homemade bread, made from wholegrain only were a hit too. He not only baked a batch in the oven to start the ball rolling, the kids later rolled the bread dough onto wood branches and had them baked over a camp fire later! As for us, we figured that Fresh Salad ala Caesar Salad comes handy when everything else there is pretty hearty.
We shared jokes, laughter, stories, thoughts and sang around the campfire in the middle of the ranch after dinner.
It was indeed a great Labour´s day spent and looking forward to next years.