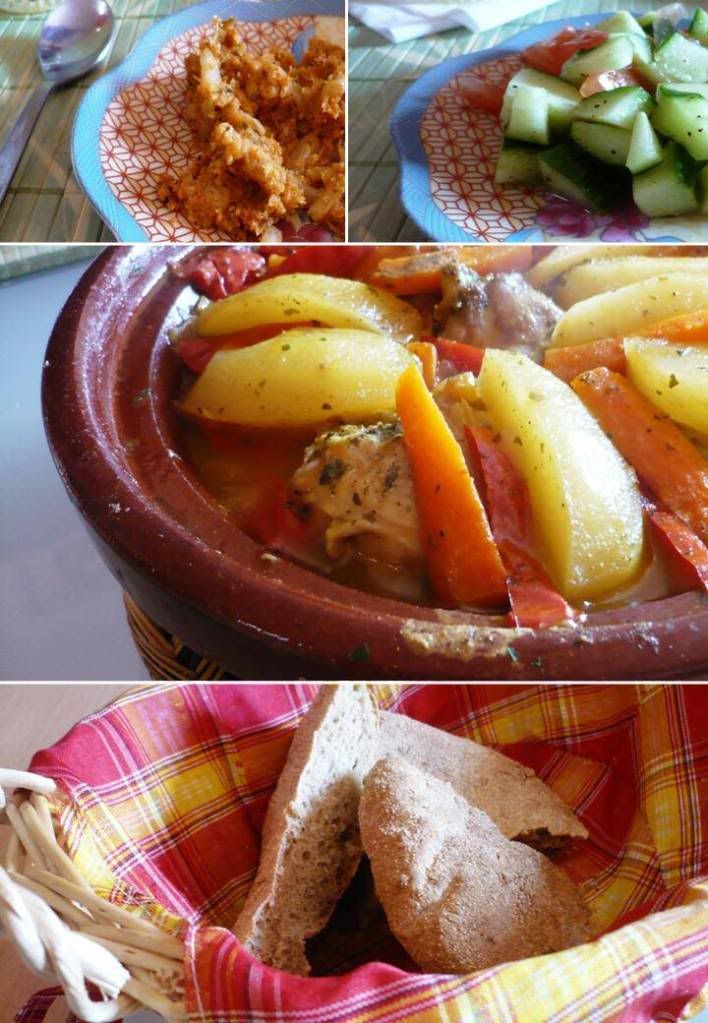 This sums up what I think of this special Morrocanish dish called Tagine. Its not our first invitation over to Sanae´s house to enjoy a yummy homecooked meal, but this by far was the most wicked version I´ve ever tasted. When I say slow food, it means that you better go grab something to line your stomach before the actual meal coz a traditional Tagine meal takes up a few hours to cook. They simmer all the ingredient in this Tagine pot until the meat falls off its bone, and more. So imagine the goodies! The gravy´s good enough to be enjoyed on your own, and one does not leave the Tagine pot unfinished no matter how big the portion was. Speaking from experience ... ahem.
One can have all sorts of meat and vegetable combination to be placed in the Tagine pot to cook but chicken, capsicum, potato and spices marries really well. If you enjoy flavourful broth like us, have some bread with it. Apparently Morracanish´s diet are pretty close to the Germans so in most cases, you will be served bread with a Tagine meal. Sanae surprised us that day with additional appetiser dish. A simple cucumber and tomato salad were served fresh with drizzle of morrocanish olive oil and seasoning. It was refresing. The other appetiser was even better. Made of cauliflower and spices, were were caught by surprise how this style of cooking works wonder with a humble cauliflower vege. The spices here again, flavoured this appetiser marvelously. It sort of remind me a bit of Dhal curry, the thick version of it but not quite cut it as its denser, a bit starchy in texture and more flavourful.
We ended our meal close to 4pm. Is it normal for Morrocanish to eat till this late? I am not sure, and have never asked her but I guess when one is so engrossed with eating, all is forgotten eh.