Although the supermarket here are going full swing with all sort of BBQ cuts and marinades on sale, I wanted to give this gorgeous piece of
Putenschnitzel (Turkey Schnitzel)
a good rub with my precious
Herb de Provence
. It was another lovely Friday after school when homework can wait a day or two more, and hubby´s busy putting up the drawers to my dressing table (finally!). Since hubby is soo hard at work, I decided to single handedly make us a barbecue and when I say single handedly means, carrying the pit from our guest room to the balcony, setting up our balcony table and chair, moving our bar table to another edge of our balcony, marinade the meat, prepare the appetisers, dessert and more.
Its more work as compared to cooking our regular meal but its sooooo much fun!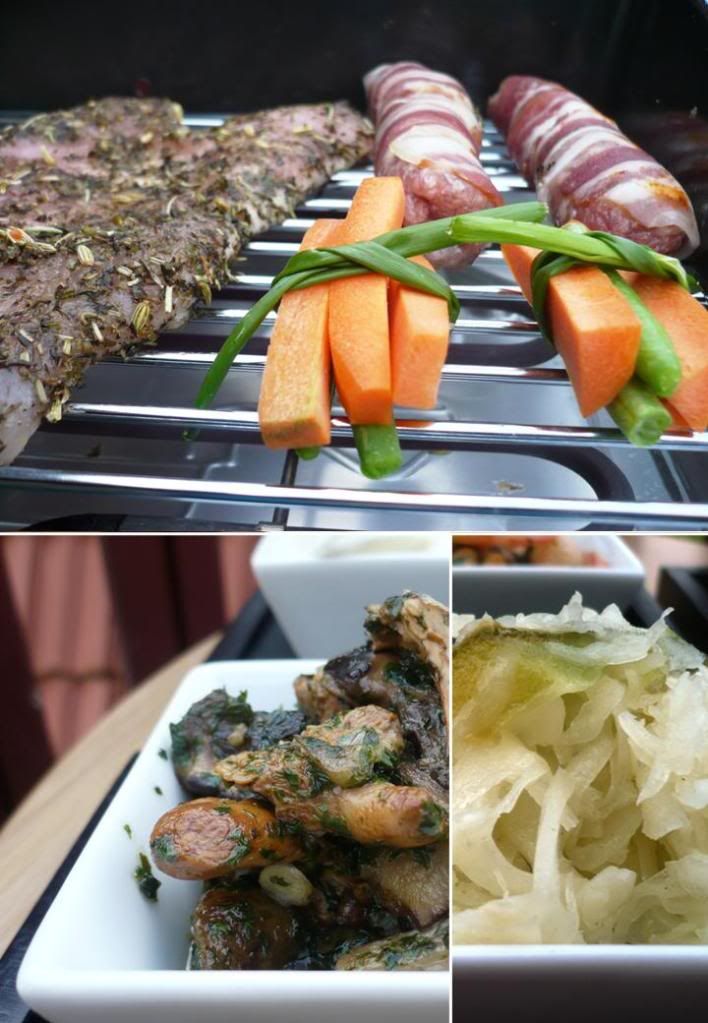 We fired up two pieces of
Nuremberg Wurst
, which coincidently were herb based sausage and went perfectly well with the french flavoured Putenschnitzel and two pieces of
Pork Wurst Wrapped with Schinken
(German Ham). Both were soooo juicy. Knowing me, I did not stop at just preparing the main. Out came our 4 assorted appetiser which we ate with a basket of baguette,
Mozarella
(one of my favourite cheese!),
Chanterelle Mushroom Stew
,
Garlic Prawn
and
Kraut Salad
.
With two scoops of Vanilla Ice Cream left in our fridge, I pathetically scrapped them off carefully and got them arranged on our Martini glasses, complete with a delicious homecooked berry sauce I cooked the day before.
I find the whole BBQ meal not too bad. A good mix of everything is there, and most importantly is, we did not overstuffed ourselves with too huge a portion of something.
BTW, my hubby prepared us each a mean Caipirinha with Rum in it! This is by far, the yummiest!
THANKS LOU KUNGGGG ...
p/s : Don´t you just loveeee this song by Alizee? Is it just me that I´m so into frenchy stuff! Hehe