Just like what Lillian did when we popped over to their home two months back, we packed our fridge to its ultimate limit just two days before they came over. Something for homecook german meal - check!, homecook asian meal - check!, treats for all - check!, threats for the two angels -also check! and healthy stuff ... veryyyy important - CHECK!!!.
They arrive on Wednesday evening, and left on Sunday. Dinner on Wednesday was easy peasy
Homemade Pizza
with pizza kit base, and a large bowl of fresh salad. For pizza, a topping of
Garlic Prawn
and
Prosciutto
were made. Topped with Mozarella only, which I think is the best cheese topping :-), we 6 whacked a good 2 large tray guilt free (including moi, whom had to remind herself that she had to wear a wedding gown two days later). Hehe.
We lunched in
Cäfe Müse
the following day after makeup shopping. I gotta love Lena Perfumerie for, they again gave us lots of freebies during our purchase there! AGAIN!
Cäfe Müse were having
Buffet Lunch @ 6.30 Euro per adult, and 0.70 Euro per year for kids.
How innovative is that?! Its a four course meal variety which you can top up as you wish. Not bad for the price as a plate of chinese noodle across the street cost almost the same.
I had these ...
LOTS OF PLAIN LOOKING SALAD, but is actually Vinagritte Flavoured Salad
. It was tangy, fresh tasting and surprisingly good!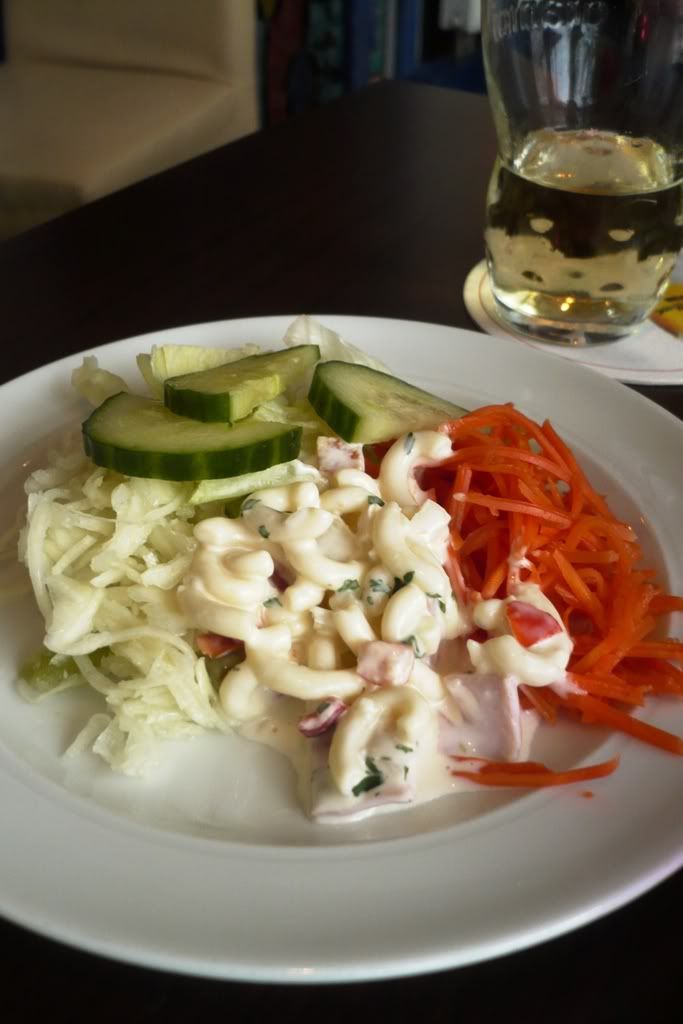 I skipped the
Wild Mushroom Soup
and attacked the main instead.
Cordon Bleu
were moist and laden with lots of cheese filling. The rest were pretty much usual stuff you can get off the frozen department such as
Fries, Cauliflower with Hollandaise Cream, and Pilaf Rice with Pork Slices.
Sitting in one corner quietly were the yummiest
Caramel Pudding
in glass bowls. How deceiving and simple looking that got most of us going back for seconds!
We left at 2pm and started eating again around 8pm! Hehe. My sayang prepared us a wonderful
Sausage dinner ... complete with Potatoes and Red cabbage
, while me and Lillian did a makeup and hair trial in the room.
We had two varieties of sausages that night.
The brighter coloured ones are German Style Wurst which THEY LOVEEEE, and the red ones are from Poland!
It had a deep, smokey, paprika-ish taste which we absolutely ADORE TOO! The sausages were all very, very juicy with a balance flavour and according to Lillian, she likes it as it does not have the heavy pork odour.
Its always nice to enjoy Seafood with the Walker family, coz they are big fan like me. So when I realise that its Thursday that day, we made a detour after our shopping trip towards this Holland stall that comes only every Thursday to grab a pack of
Holland Mussels
. Lillian cooked them in a jiffy seconds with our
best Riesling bottle, onions and carrots
. It turned out GORGEOUS. Not only was the flesh yummy, the soup were clear and delicious to the last sip too!
This is
red cabbage
straight from the bottle, but were reheated for a few minutes but seriously, before you say ... NOOOO, processed stuff won´t taste good. It really is better tasting than some home made ones here.
Whats a
german meal without potatoes
. We had them plain, with lots of butter.
And ended our meal with
Mango from South America, Strawberries from Spain, Kiwi from New Zealand and Apples from Germany
. We are not very environment friendly, are we? By not supporting local produce.
Fast forward to Saturday, after skipping through Friday coz it was the WEDDING DAY ...
WE DRAGGED OUR FEET TO THE MARKET AT 11AM ...
Coz our wedding party ended at 4.30am (but that´s not the reason why my feet felt detached from my body), but rather ... our Stammtish friends had decided to play a little game on us, which we, each, ended up having to dance with close to 20 guest in order to collect all the FORTUNE COOKIES distributed to these group of guest. In it were $$$, and well wishes smacked in some home made waffle (you will see later).
BTW, the wedding gift culture here is THE SAME as in Malaysia aka Angpow! What a surprise!
Anywayyyy ... yeah, we dragged ourselves there with hangover and all ...
It was Saturday hence the
Market
were in full swing.
Lillian got excited when she spotted a Seafood Stall in the square. According to her, she has seen stalls selling pancake, sausages, meat etc but NOT seafood. I guess we, in Ahaus are a bit luckier coz we are close to the border of Netherland and they are known for their seafood!
We had
Deep Fried Shrimp
!
A platter of
Assorted Seafood consisting of Calamari, Crab Meat, Prawns and Fish Fillet
. It was really good!
A plate of
Plaice
.
They were all fresh, and delicious although I must add that the Plaice piece were a tad oily.
BTW, one must have a basic knowledge of Dutch when dealing with this Netherland Seafood Stall as the owner spoke very limited German ... Andrew had a hard time trying to deciphere his GERMAN without realising ITS NOT GERMAN after all. Hahaha ... we had a good laugh, coz Andrew was kicking himself for having to forget sooo many German after learning them in college many years ago!
The weather were great that day. The sun was shining and temperature was around 5C.
We decided to grab something more from
San Remo
. I could not resist the
Strawberry Waffle
hence ...
Back home around 2.30 pm and at 3pm ... coffee session with Mama and Papa. Hehe ...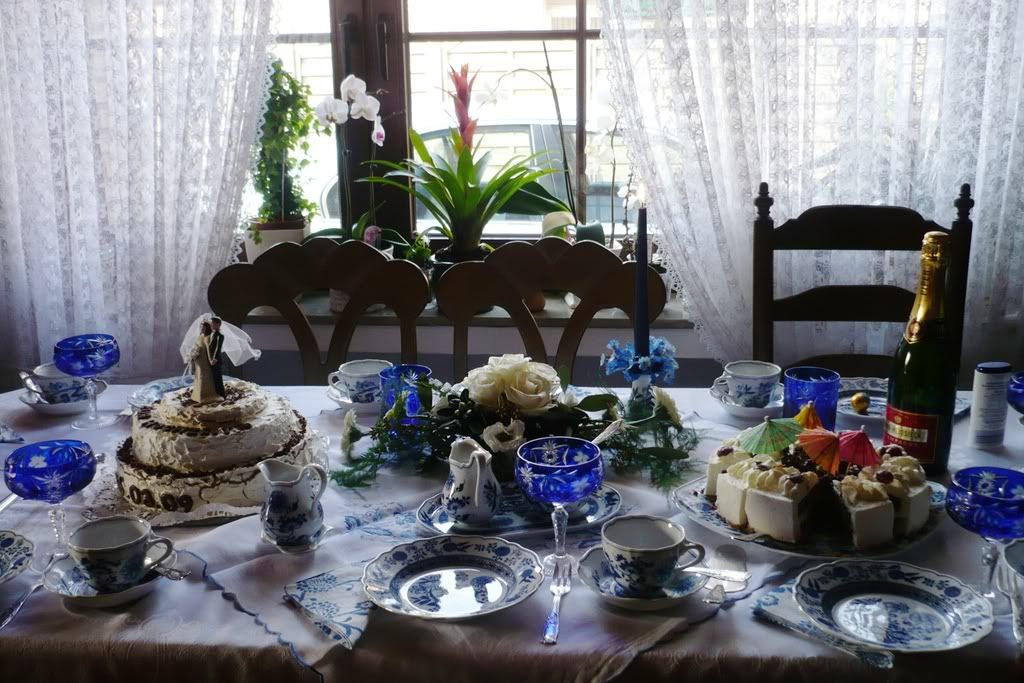 Dirk and Carola baked us a wonderful
Wedding Cake of Quark Cream
. It was super yummilicious and fresh tasting!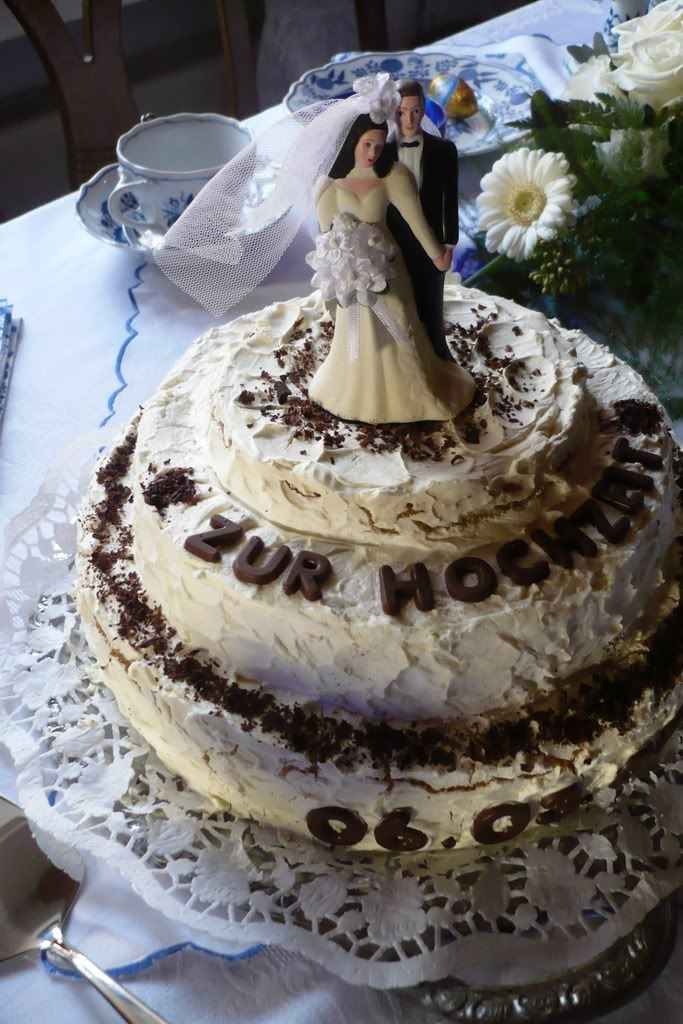 Mum brough out a
Black Forest Cake
, which we enjoyed with some
Piper Heidsieck
- a German Champagne maker (very rare)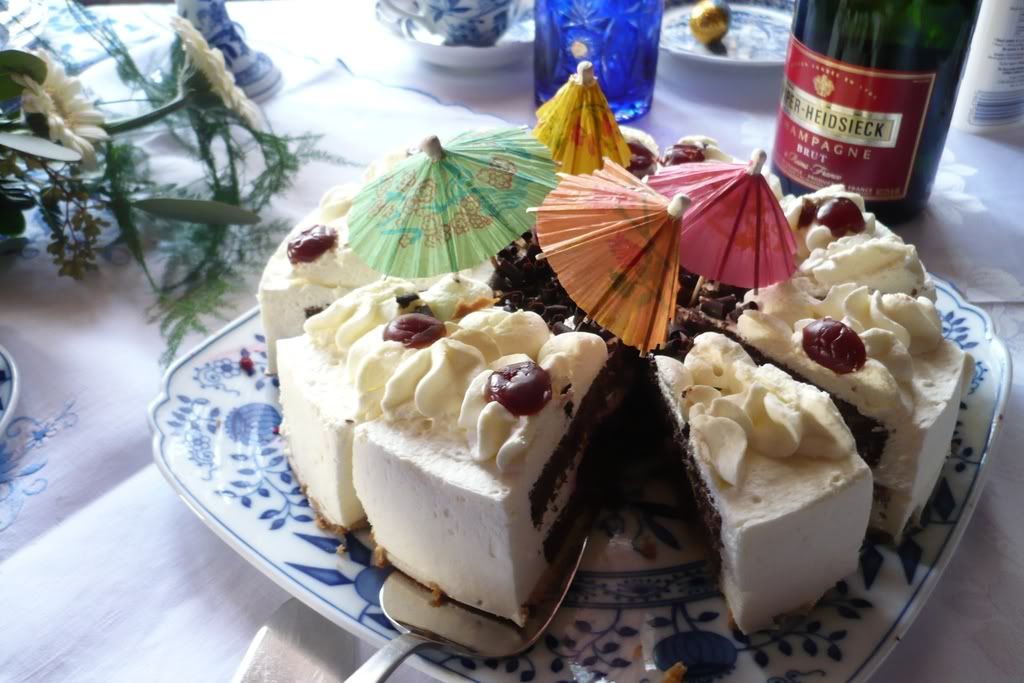 Dinner were
left over meat
from the wedding ( we tapau!),
salad and Stir Fried Glass Noodle (Japanese Style)
which I thought were super yummy! Hahaha .. me, after all is asian at heart lahhhh ... I am glad that they loved it too :-)
Before ending this post, I would like to thank the Walker for driving (Lillian and the two kids) and flying in (Andrew) all the way for our wedding. Thanks heaps too for the wonderful gifts ...
Especially these
PRECIOUS, PRECIOUS SWISS WINE and BUBBLY
which Switzerland keeps SOLELY for themselves. You can buy them in anywhere else except to fly yourself to Switzerland and cart it back home :-)
LOVELY COLLECTION!
Coming up next ... flower power post :-)