I am sitting here, waiting for my other half to return so that we can open our wedding gift all the way from my sis in Kuala Lumpur! I absolutely loveeeee the wrapping paper. Don´t you think its cute?
We received two congratulation cards yesterday. What a surprise coz one of them is from Andrew´s parents and came all the way from Horsham, England! And they knew! Haha
My other half came back with a card from Grandma Krampe (we call her that, coz she is the mother of the owner, where my other half works in). I´ve met her once ... lovely lady around the age of 85 whom I remembered vividly, baked 9 cakes during her birthday for the staff in her son´s company last year! All by herselffffffff ... goodness! She was not able to make it for some reason, but nonetheless, got us some flower vouchers ...
Thanks Grandma Krampe!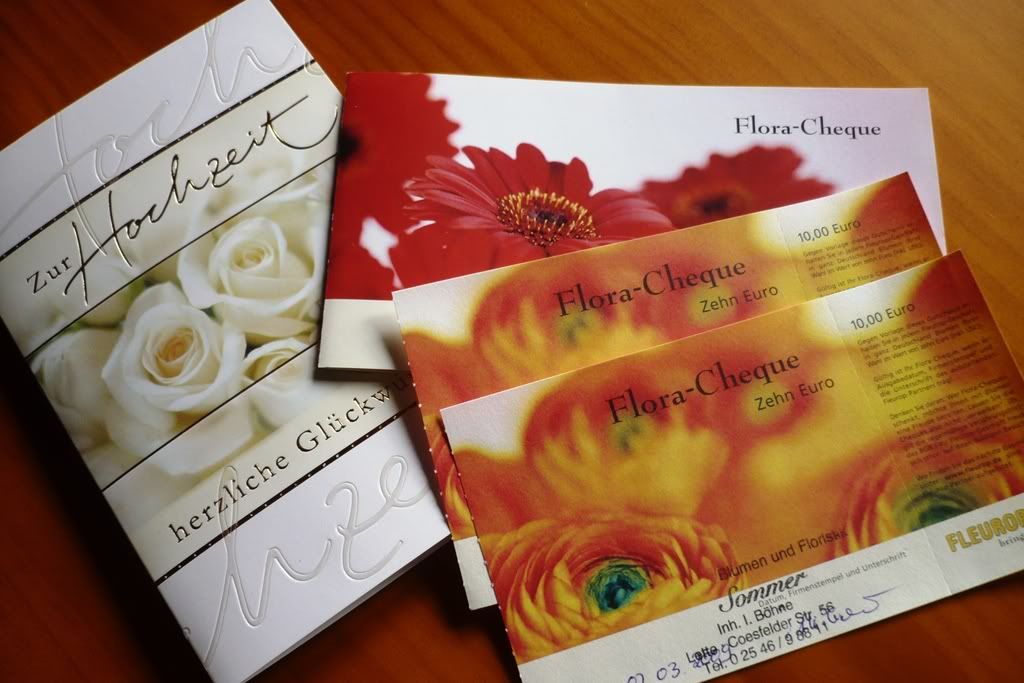 And the most (ahem) EX gift of all, from Mama Else and Papa Josef which came in a simple card. What you saw in our new room (from floor laminate, paint, furniture, mattress, light, decorations) were fully sponsored by them. Thanks Mama and Papa for the wonderful, wonderful gift. It surely came handy :-)
I guess there will be more coming Friday (yippeeee! sorryyy ahh, but I really do loveee presentssss) hence I will only be able to post them somewhere next week when everythings back to normal.