We took a slow drive to Zandvoort again last Sunday. My cough were there still and we figured, its best to get full rid of it by taking in the salty seaside air, instead of letting it bowl within little by little thus, the possibility of the bad cough returning back full fledge.
It was another beautiful Spring morning of about 6 - 9 C temperature therefor it is not surprising that all the Dutch here were on the road looking for places to go. Well, all I can say is ... we are thankful for the alternative suggested route our Navigation System suggested to us to avoid the heavily congested road but we later realise that, Navigation System are ONLY HANDY when the whole world is not using it coz by the time you are rerouted to the new recommended route, the whole world is there too! Bah!
And so, we rerouted a few times as recommended and resulting in us arriving to our destination and returning home later, at a much later time. But seriously at times like these, what can one do? Heed the suggestion or risk getting stuck in a bad crawl?
One the plus side, Netherland is welcoming Spring with lots of blooms everywhere! Its quite a sigh, really!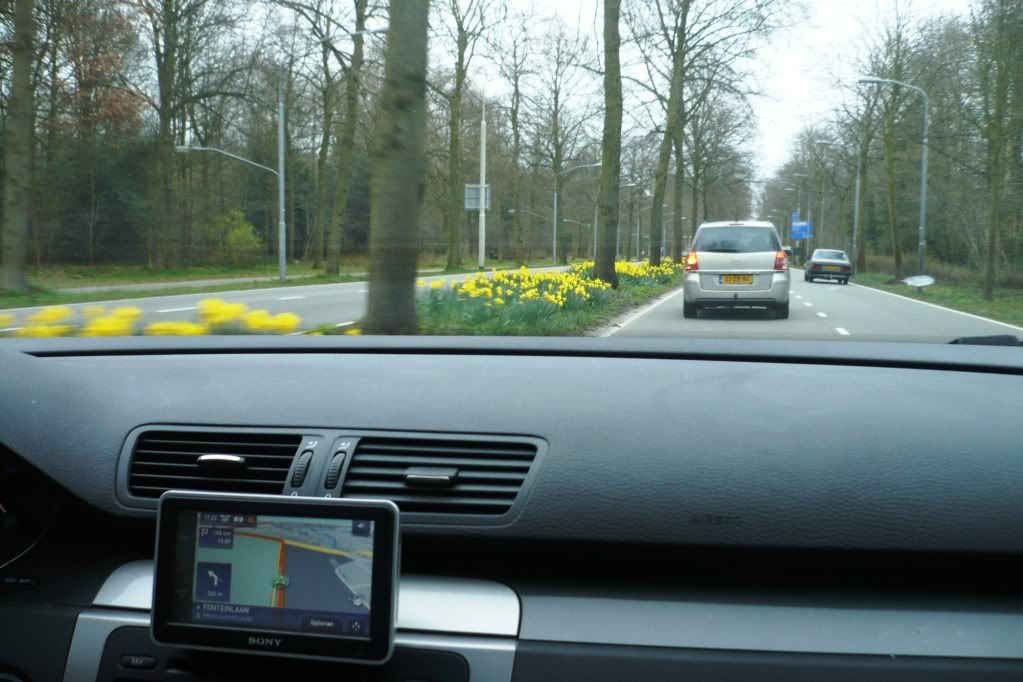 It was such a sunny day at the beach till we could hardly open our eyes! Well, my hubby and me are the same kind. We like the sun but not loveeee them like how some of the angmohs here do, hence about 2 hours later and a few shades darker, hubby suggested us to walk across the street towards the shopping area to go hunt for sunscreen and sunglasses ... but without realising that our sun protection hunt turned into Fries hunt for hubby.
His first stop ... Snacks ´t Plein Patates. To me, it was just another plate of fries, but to him, he can tell if its good fries, fresh fries or otherwise. I like the fries here as it was crisp on the outside and soft on the inside ...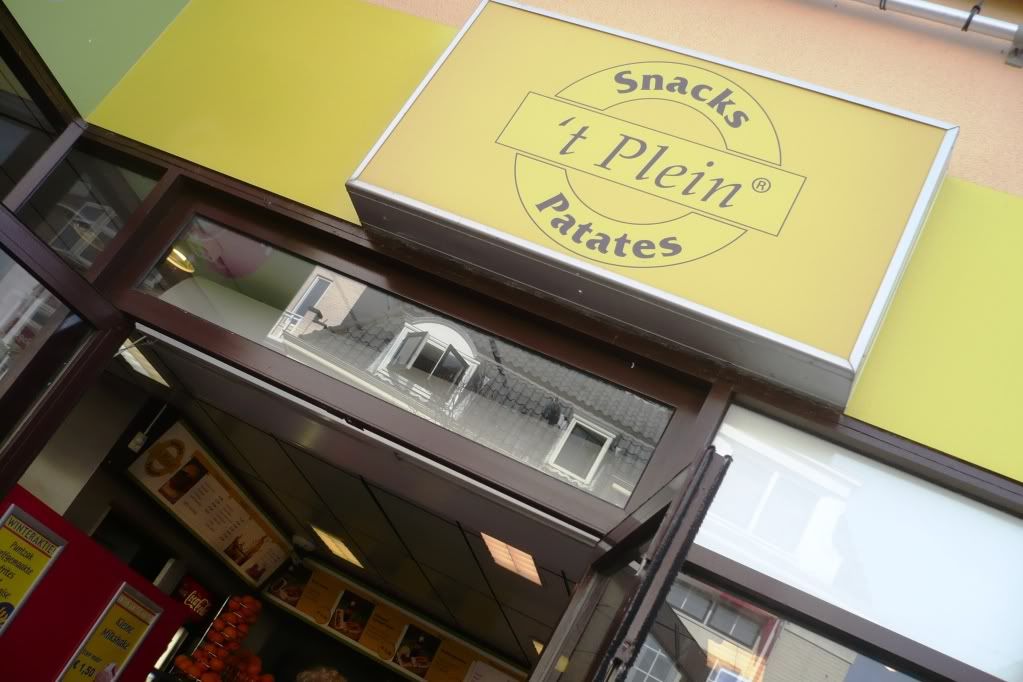 But hubby spotted another shop selling fries with a long queue outside. It seems that this shop had been around since 1947 selling nothing more than fries. Just like any hawker stall in Malaysia specializing in a noodle dish, if one does it for sooo long, it surely is good for having to survive that long.
And soooo ... this was
the fries
and not just any fries. Haha .. seriously, I cannot tell the difference still but to my man, this are good stuff.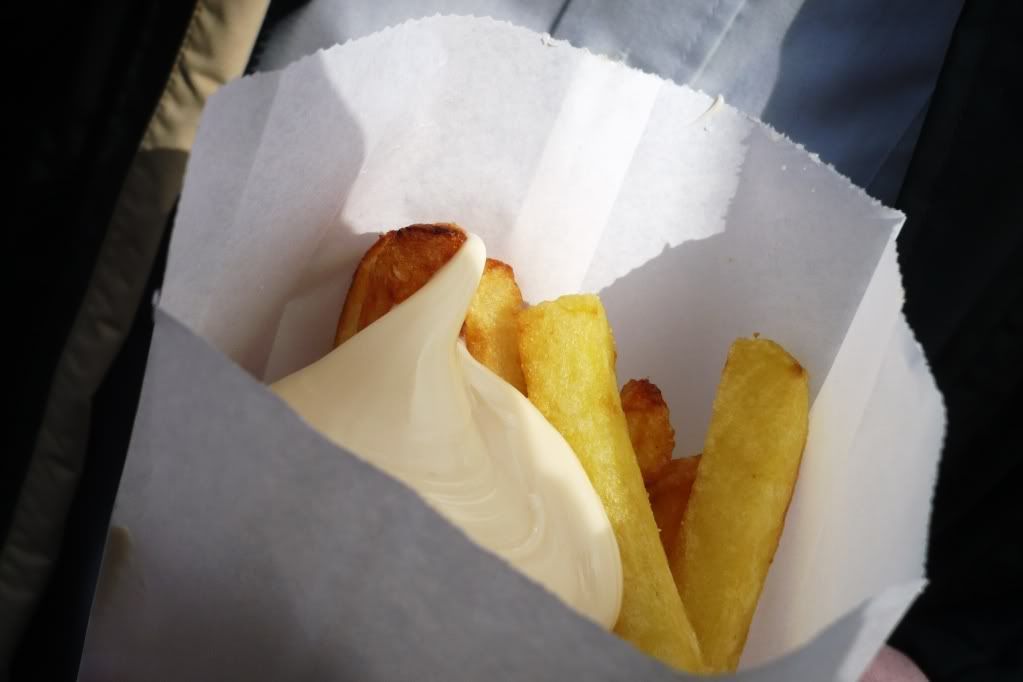 Being the kiasu me ... how could I lose out when my man had started snacking? I spotted Febo, a popular Netherland Vending Machine Snack Chain here and proceeded to insert my 1Euro coin for this yummy roll.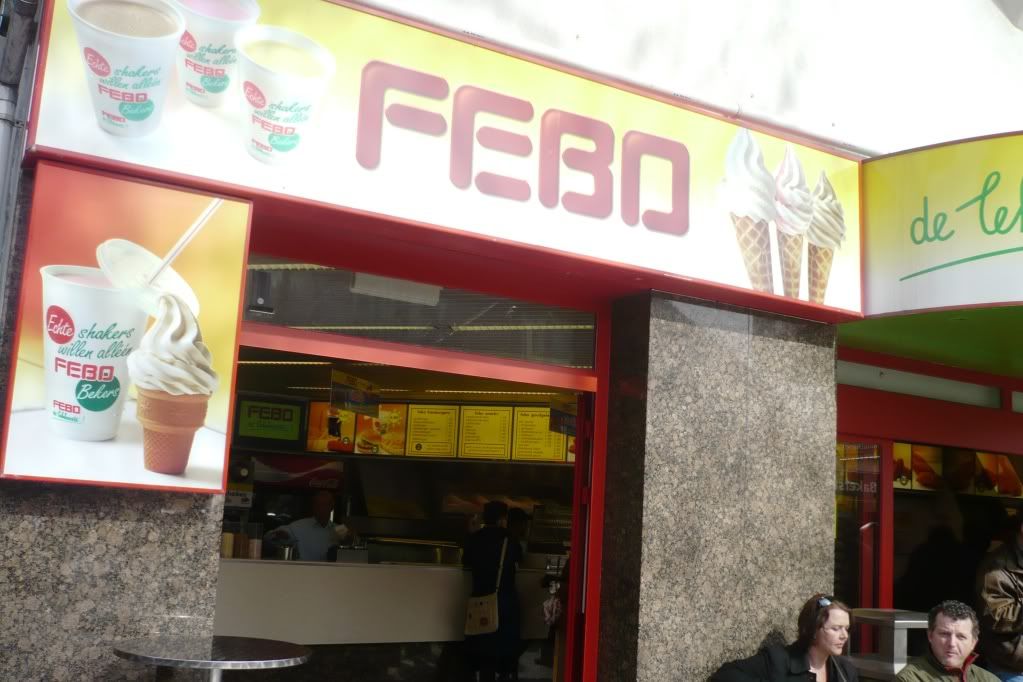 Although there´s bacon bit taste to the mixture inside, it was written clearly in the vending machine that this is a vegetarian roll. Whatever it is, its delicious and flavourful with yummy breadcrumb outer, and soft potato mash mixture inner.
Hubby were half full by than but the snack were just tip of the iceberg for me. But fret not, I know what I want and I have been saving my stomach space for ....
SEAFOOD! One cannot escape from seafood when in Netherland and how lucky I am that I live near Netherland .. or else I will die lah. Haha.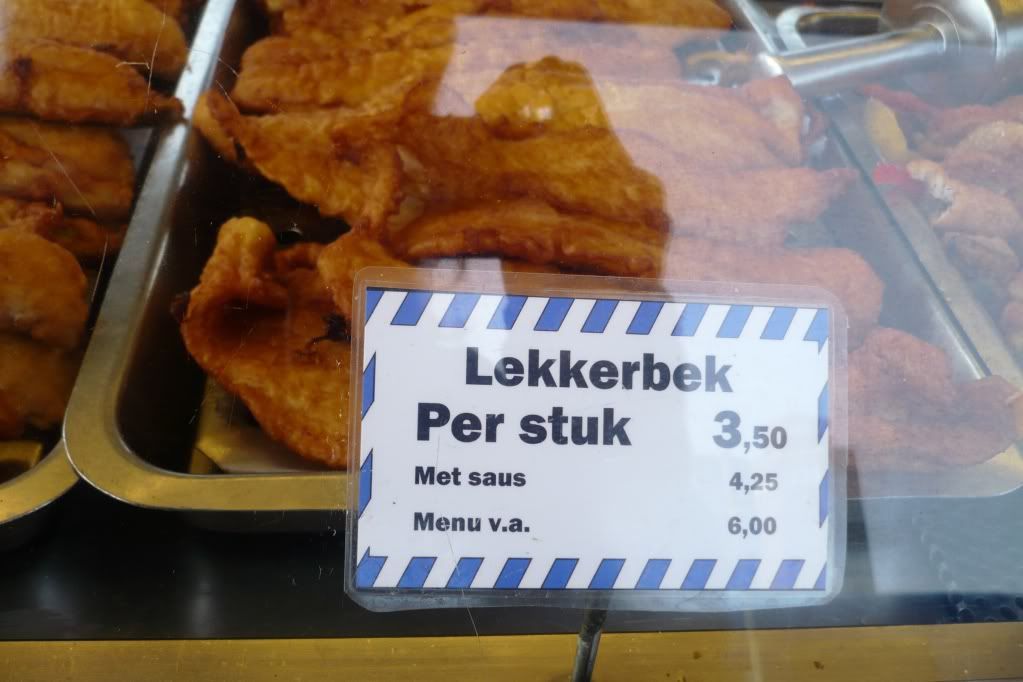 I had initially though of trying their Fried Codfish again as it was soooo good when I tried them last week but I though, heyyyy ... how can I be so boring, right? And so, I chose this fish called Lekkerbek. No idea what is it .. but wait, let me go google it. Damn .. it just meant Fried Fish :-(
The texture is similar to Plaice, which is soft and delicate. Honestly, I prefer my Cod anytime and with only 50 cents difference, I was kicking myself for ordering this. But, what I like about this order as compared to mine last week was the sauces. I was given not only 1 type of mayonaise, but 4 different type! And woooow, it sure was yummy! Especially the Saffron laced Mayo.
Since hubby´s not into fish, I supported him with his fries adventure with THESE!
Hehehehe ...
After the heavy snack session, we return to the beach for another 2-3 hours of
salty air sniffing
.
It was close to 3pm when hubby suggested Appelgebak hopping. Means, go try out the appelgebak here in several places lahhhh and compare which one is good.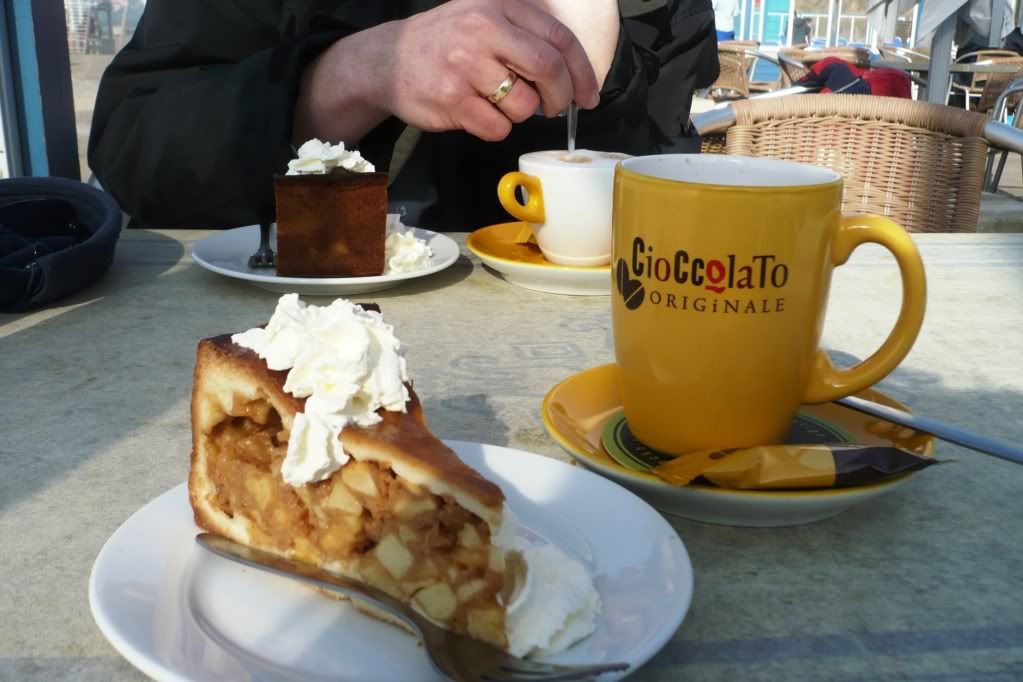 We love the Appelgebak in Take 5, hence we returned here for another helping. Actually, Take 5´s Appelgebak is one of the priciest in this area coz our two cups of drinks and two slices cost us around 11 Euro where else many places were spotted having 3.50 Euro promo which came with a cup of coffee and a slice of Appelgebak.
Nonetheless, Take 5´s Appelgebak is yummy to the last bite. As for the drinks .. same same lah.
Right after Take 5, we adjorned over to Beach Club Tien for the Tea Time set. One bite into their Appelgebak got us dissapointed. Don´t get us wrong. Its still yummy nonetheless as this is what Dutch is famous for, but we are just not use to the apples being slightly overcooked hence it being too soft. We also prefer our pastry bit to have a bit more munch to it and over here, its just a bit weaker as compared.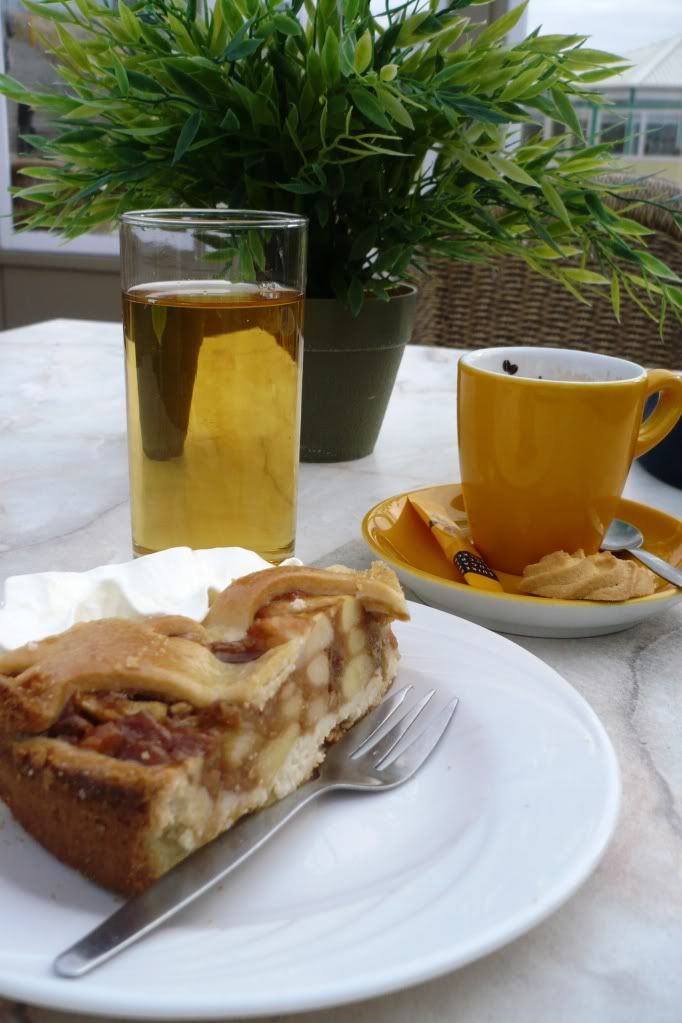 I teased hubby if we´re gonna try out another Appelgebak for the day. Haha ... I guess you can tell by now that our stomach cannot hold it anymore huh and soooo, we returned home happily ...
Errr ... actually, not sooo happily lah, coz we were rerouted soooo many times, THANKS to our Navigation system.
Technology ... cannot live with and without them eh.