In 11 days time, I will be Mrs. Kocks.
Yeap, that´s my future husband´s family name, of which I really have to get use too. Hehe. Don´t laugh.
I will be officially known as Lianne Kang still as as it can get really complicated changing ones name in Malaysia. All the paper work and stuff. We will wait till later to see how it goes.
Life here has been pretty hectic. Our room is still under progress. Some of our papers are still pending marriage registration (keeping our fingers cross that this will be the last time the Judge here makes up her mind what paper she needs. FYI, they can still reject even IF everything is in order. Crazy I know, but what to do). Our wedding ring´s still at the shop. My appointment with the florist is tomorrow, and hopefully she has all that I want. My make up trial session turned out well but she´s fully booked on the day of our wedding, hence I probably have to do it myself. I have no idea what to do with my hair as its a bit too early for me to get to salon, and noooo, there´s no such thing as Bridal Makeover Artist here. Than comes the guest list confirmation whereby my other half´s colleage sort of tripled up its number in attendance! We´re still searching for our photograher too. Than comes the issue of selecting our song to open up the first dance (thankgod we´ve attended dance lesson past few weeks hence all should be relatively easy). After selecting the song, we will than have to meet up with the DJ to give him a brief run down.
A LOT TO DO.

But so far, we´re please with all that we´ve prepared. Especially our wedding invitation card which I designed, and got them printed with our new printer.
The front page is a caricature body of us, with photo of our face attached to it. Above it states that we´re starting our journey together in German. Pretty straighforward message, and we though it would be better than having some words with
getting married
, or
you are invited
on the card. I found the border on the internet and love it very much.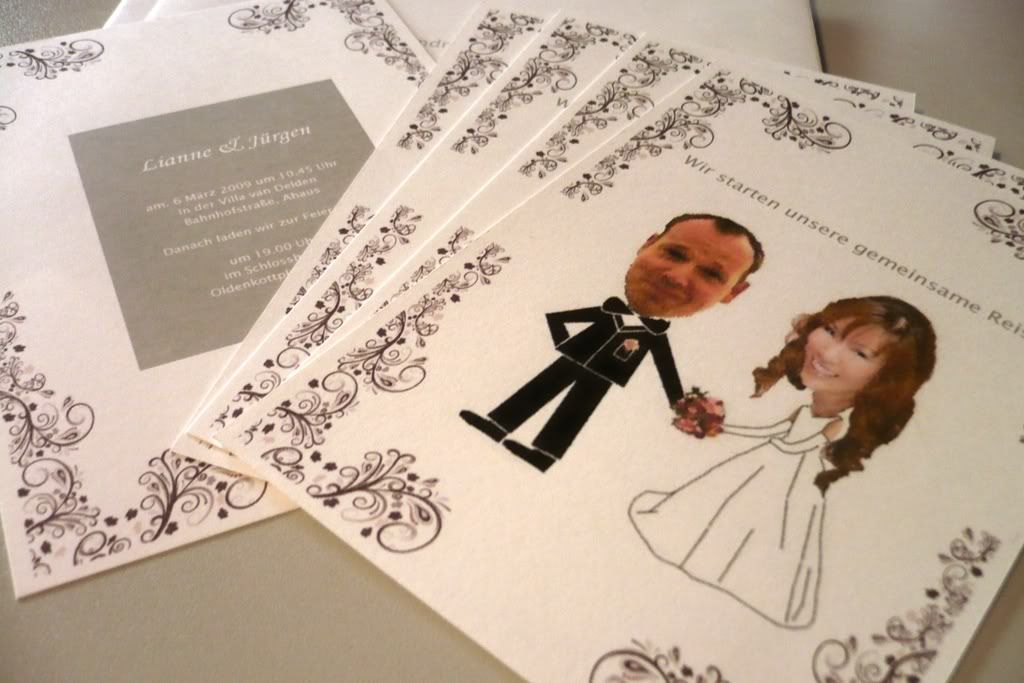 The back page conveys the venue of our wedding registration, which is at a beautiful white Villa here. Dinner will be held in a hotel called Schlosshotel, which is adjoining to the castle here.
We´re really pleased with the invitation card.
Loveeee it!