We were invited to Aminah´s place yesterday for a Tagine Lunch. She is a Morrocon married to a German here, and had recently gave birth to their first child, Ryan. I had in the past spoken to her a few times with my limited vocabulary Deutsch but just when I was getting the hang of the language, she stopped coming to class. Ryan, whom is only 4 months old now had no one to care for suddenly thus, she had to stop. And so, we paid her a visit yesterday and had so much fun catching up with each other, eating and drinking at the same time and playing with her beloved angel. Not to mention, she´s a meant cook too.
Here´s the Tagine she´d cooked for us. It was filled with the most tender pieces of chicken I´ve ever eaten simmered with chockful of vegetables such as peas, carrots, capsicums and potatoes. Delicious and yummy to the last bite. The chicken as I was told, were marinated in lemon juice overnight to tenderize them. Good tip!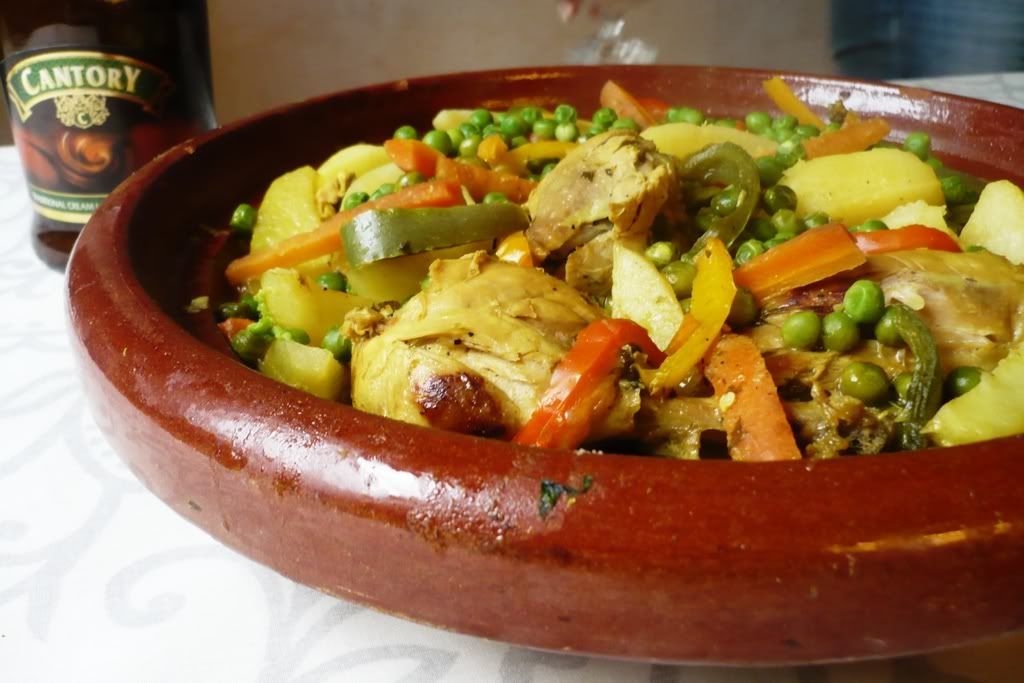 We had them with beer naturally, and a good dose of locally made Bailey called Cantory which one can buy for a mere 4 Euro a bottle versus 10 Euro for a Bailey. One can get Cantory everywhere here, especially Aldi stores and mind you, it taste EXACTLY like Bailey.
This is the plate of seasoned rice to go with the Tagine dish. It was very flavourful and balance in taste from all the ingredients used to cook them. I´m not sure what rice is use in Morroco to cook this dish but the Basmati that Aminah had used was perfect.
Aminah had also shared us a Moroccon cooking book of which were written in Arabish and French, and had in them gazillion wonderful recipe! I exagerrated the number btw, but seriously, the recipe inside were worth every drool of my saliva. Some of them were very french inspired, their cooking uses a lot of fresh vegetables and had a good balance of appetiser, main course and dessert for selection. If only I can read french, this book will make it to my test kitchen in no minute but alas, I also realise that I can always keep my thick skin on and go knocking on her door from time to time.
But before that ... hehe, they are all waiting for my turn to churn out an eating session. After which comes Brazilian and then, Peruvian speciality from the other two girls but before that, our Pyjama Party will be coming up next this Saturday in Debora´s place. It seems that there will be two Thai friend present as well. I hope they will bring something kickingly Thai that day!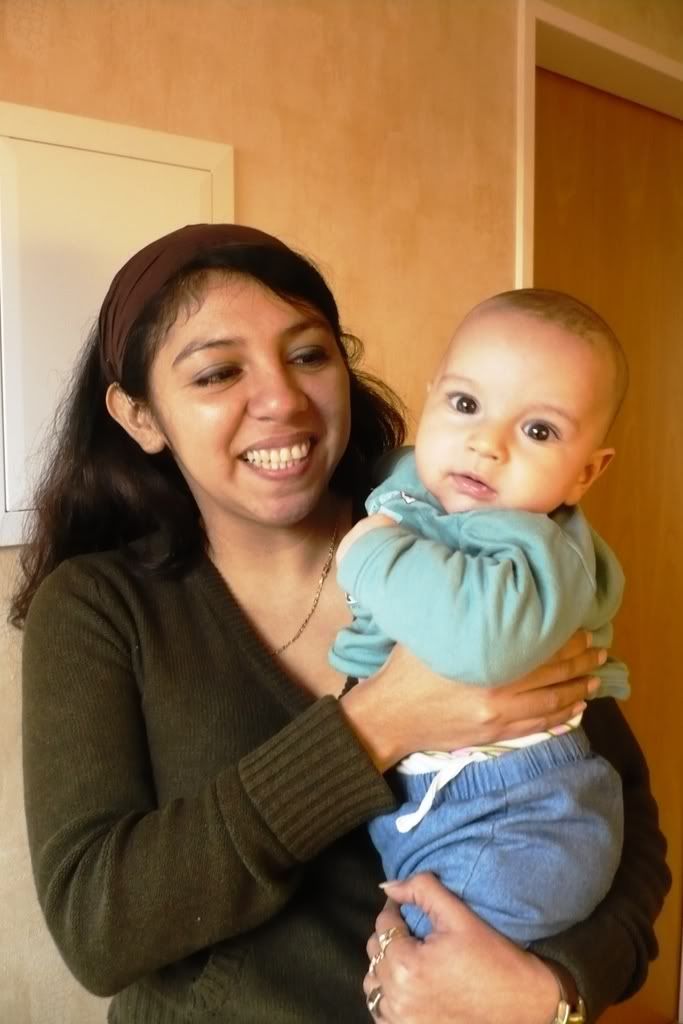 As for me, I am still cracking my head what to bring this Saturday. Debora had instructed me to bring anything as long as its MALAYSIAN, coz I brought Nasi Belacan, supposedly a Thai specialty the last we meet in Elisa´s place. Haha!
Alright ... I will put on my thinking cap.
Oh btw, this is Rocio, my Peruvian schoolmate with Ryan in hand. He was such a sweetie really, and smiled constantly.