I had a blast last weekend.
It started with Friday night where we gathered at Sandra´s place for a Crimi Dinner (Detective Night + Dinner), which had the girls all dressed up. Someone came as Snow White, some came as Prince, Hansel & Gretel, Red Riding Hood, Wicked Stepmother, Witch, The Brave Tailor, Mrs. Holler and me - as Goldmariechen, a little girl whom sprinkles gold whenever she gets the chance. Sandra´s dining area was transformed to Fairy Tale land, where else every single participant made an effort to dress up as close as possible to the character they carry. I was the least dressed, needless to say as I have no idea who Goldmariechen is. I was told to wear something gold. Besides, Goldmariechen´s role in this dinner was minimum and Sandra had picked the role for me because my understanding of the language is not so good yet. But the group nonetheless wanted me to join in the fun :-) I enjoyed the dinner but I ought to apologize again for no photo were capture. Dinner that night were pizzas, cheese and pesto puffs, german beefballs, coucous, springrolls, sausages and many other nibbles. What a fun night, especially finding out in the end who the murderer was.
The fun part was surely fun and easy, but next came the tough one. My weight after all the nibbles! An update on what I had ...
Here´s what I ate on Saturday.
Cranberry Loaf
for breakfast ...
Bouillabaise Soup
for lunch ...
Since it was Mama´s birthday, we toasted a bottle of Piper Champagne around 3pm, followed by a cake session. We had a
Rasberry Cake (homemade) and Maracuja (Passionfruit Cake)
which was store bought and a tad too sweet for my liking. I had a slice each. More German Seks (sparkling wine) were laid on the table. Since Dirk came all the way from Dortmond to celebrate Mama´s birthday too, Mama made us additional dinner of
Nudle with Frikadelle, and Schnitzel pieces
. I had a piece of Schnitzel and 2 pieces of Nudle with Frikadelle along with more bubbly :-)
Although I had a great weekend, all my past effort was GONE. Actually, I only put on extra 05kg back after all the eating session. Not bad huh. But now that I have switched officially to our New Beurer Digital Scale - the ones with all the canggih measurement of water, fat, muscle, and calorie burn indicator -
I am officially 76.4kg, which is 2% heavier.
This was the cake we had at Mama´s place on Saturday but was actually taken on Sunday in between our break. Looks good isn´t it?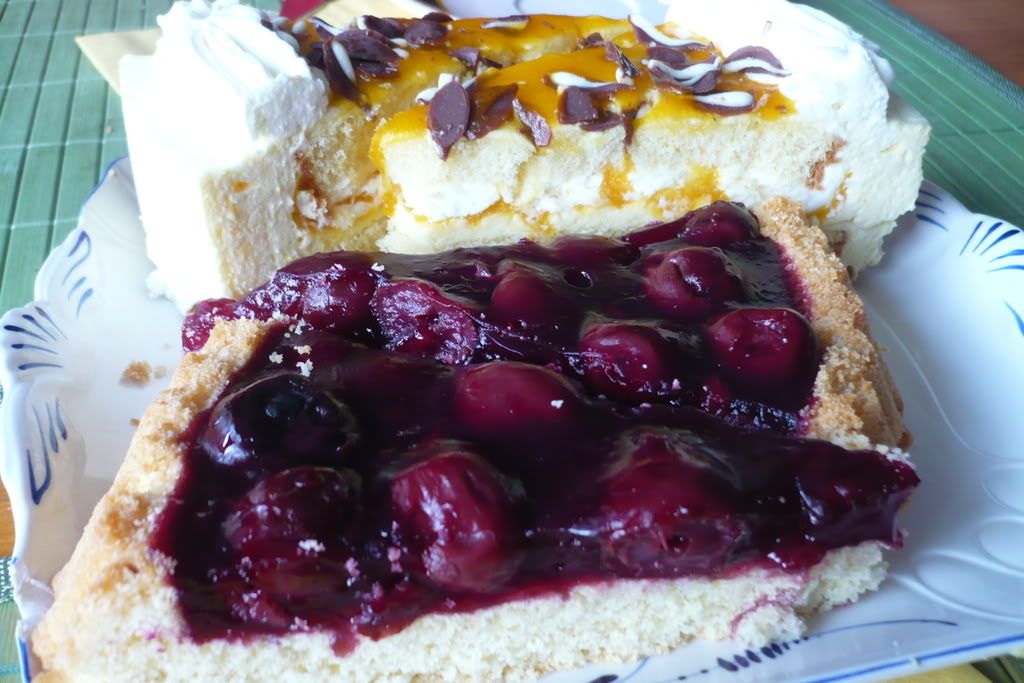 My class is starting on Monday hence I don´t think I am able to continue with the Wonder Diet. There´s a shopping list to do and I have not done it for second week yet. I´m not sure how can I pack my breakfast and lunch to school and bring them along in my tiny bag. I´m not sure if some of the meals can withstand being in the tupperware for so long (think salad etc).
Will see how it goes.
On our big day front .. we´ve gotten our dinner venue in Ahaus confirmed. We were quite lucky really to be able to secure the venue last minute as there isn´t that many choices we have here as compared to KL, really and this place is one of the best coz the surrounding around the restaurant is magnificient. There is a Water Castle and a Park adjourning to this hotel and the view can be breathtaking! We have also decided to have perform our wedding vows in a gorgeous Villa here, and it was only yesterday that I manage to go take a look at it. I love the Villa and can´t wait for our big day to be held there soon.
After our dinner venue confirmation, we walked around the Castle Garden a bit. The weather was mild yesterday, around 1C hence a lot of parents and couples were seen strolling around.
Since Ahaus belong to Northern Germany, some seagulls were spotted around the water surrouding the Castle when they move downwards from Northse, away from the cold cold winter air from the sea. Some generous folks were seen feeding them with bread pieces.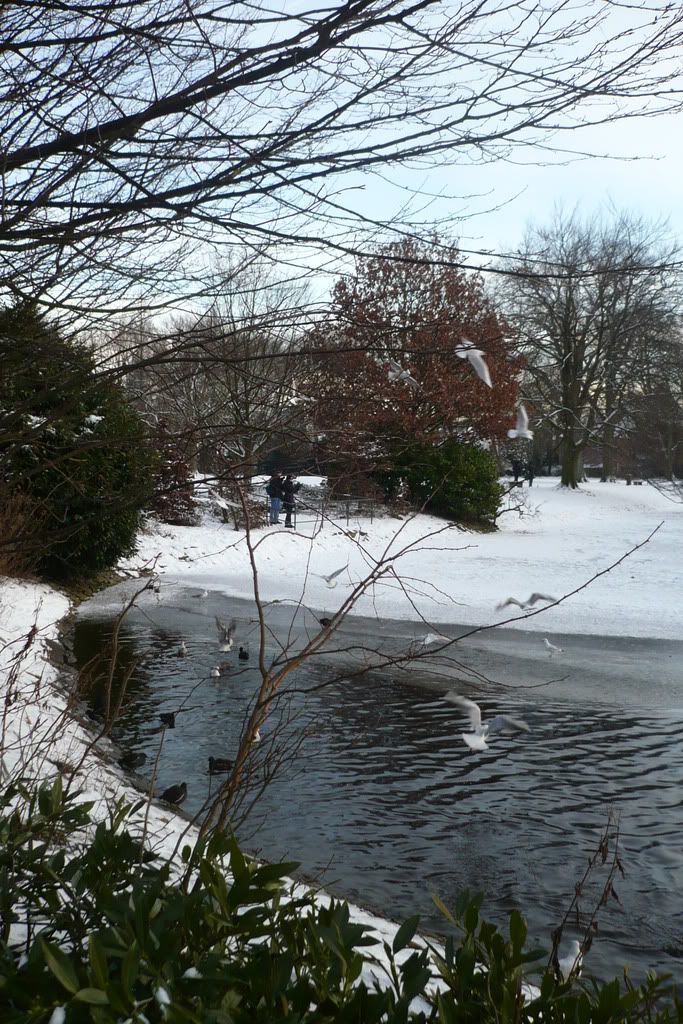 The water around the castle had totally frozen up after a week of more than minus 10 temperature here. One can ice skate here, but at ones risk.
Sunset in Ahaus.
There were swans, colourful ducks, geese and seagulls.
Along with one magnificient tree which I can help goo-goo-gaa-gaa over.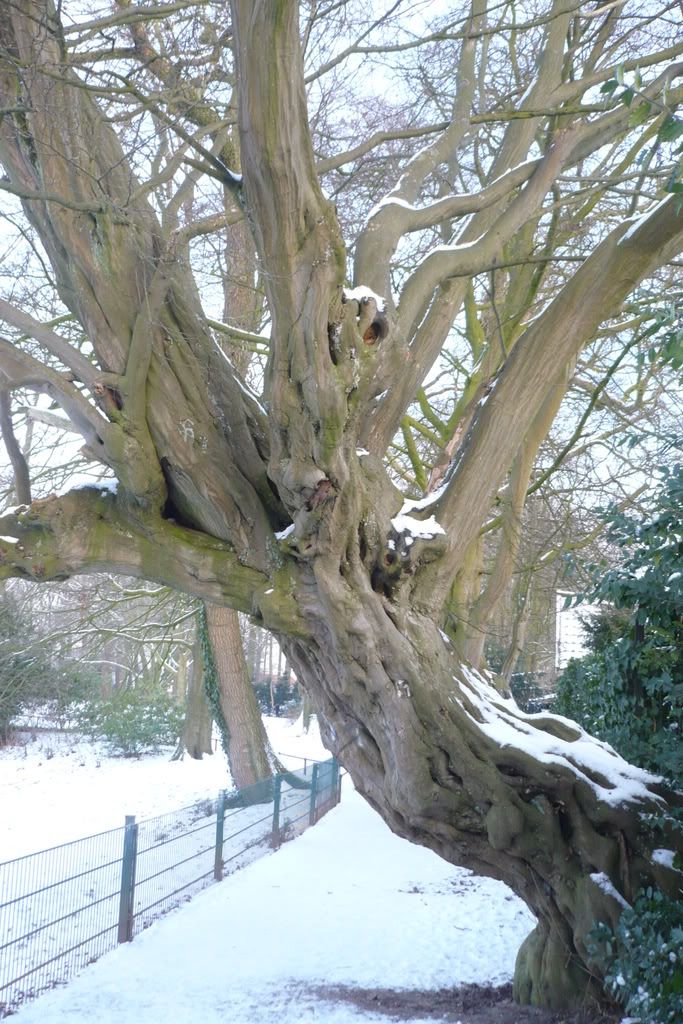 Our big day´s plan here is far from over. Our room renovation is in the process as well. Than, there´s my daily class along with our KL big day and trip. I hope I am not too stressed out to derail off from my weight loss aim.