I am officially enjoying my first day of school break. Gosh, I never thought I get to say that after graduating from school neon ages ago. But yeah. The first part of the Integration course ended last Friday, and will officially commence again on 15th January, next year. And incase you´ve not read about my exam result from my other blog, or Facebook update, I have passed my A1 exams with flying colour of 88%! woohoo!
And so for a little celebration .. hahaha (at least that´s how I felt), it had been a tradition for the school to have a mini Christmas gathering before the school break, and naturally, it was held last Friday.
Everyone were invited to bring something but sadly, most resorted to ordering pizza from a fellow classmate whom works for a turkish pizza cafe after school hour. Most lamented that they have to walk to school hence a bit inconvenient or don´t have time in the morning to prepare etc. Hmmmmm. We had fun nonetheless coz the Turkish groupe (I have 5 of them in my class) turned the Christmas session into a turkish party by changing the Christmas CD to Turkish CD. They danced away in their most erotic manner (seriously!) but insisted that they have to shy away from certain food, alcohol and clothing. Some Turkish guys from neighbouring course caught sigh of them dancing and started joining in and so we had to bear with it for a good half hour of erotic dancing session! haha. It was really strange attending a Turkish Christmas Party coz one minute it was quiet and serene like any Christmas gathering, and next minute, it was chaotic.
Interesting 2009 Christmas Party!
Moving to food, I made
Nasi Goreng Kampung with LOTS OF Fried Anchovies and Dried Shrimp
. It was a hit, and boy ... was I surprise to find out that a lot of people here fancy SEAFOOD!
Mona and Talal from Iraq made
Baklava
. It was soooo yummy.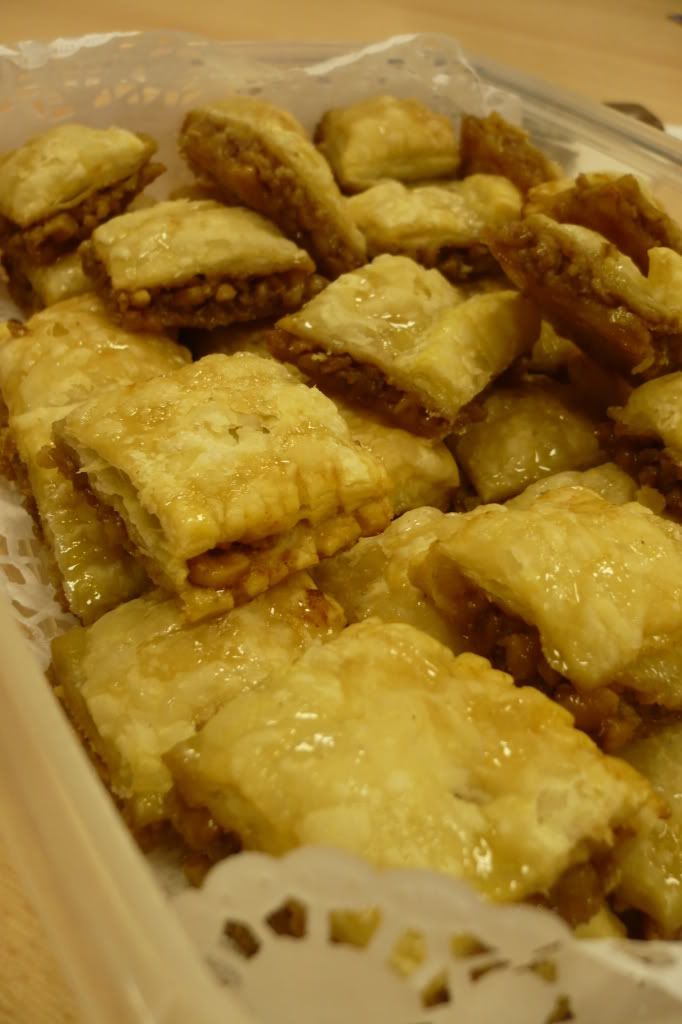 My class teacher, Frau Tamara whom hailed from Russia made somekind of
Russian Pastry
. Have no idea what its called. It taste sorta like doughnut but lighter inside, and crunchier outside. I ate 5 pieces of these.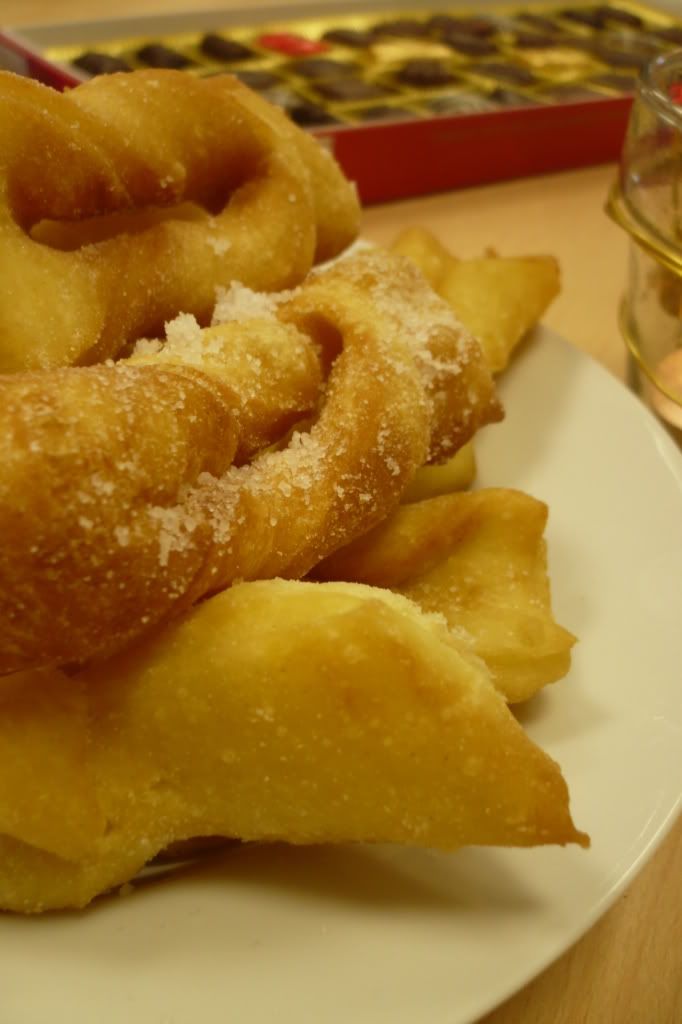 Valentine brough with him a store bought
Quark Kuchen
. Quark is somekind of local, fresh cheese here. Taste very much like Mascaporne. It was cheesecake alright, but lighter than the American version and heavier than the Japanese version. Yummy.
There were LOTS of chocolates.
Lately, I have gotten myself addicted to these
Limited Edition Ferrero Rocher
.
and more chocolates ... some of which I did not capture.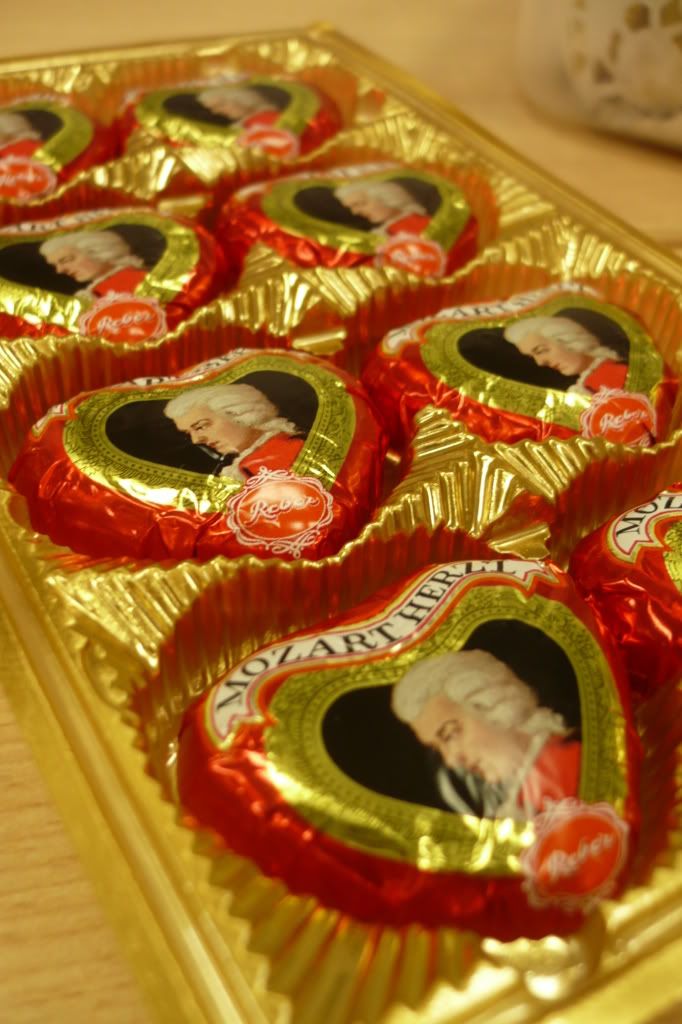 One of the Turkish lady turned up with
Doner
. What is doner? I though its the bread thingy with some meat filling? Why she call this Doner too? It was yummy nonetheless. The Doner came in two varieties of Capsicum and Brinjal. In it were stuffing of rice and meat cooked with Turkish Herb.
Since everyone ordered pizza, I joined along for a small
Prosciutto Pizza
. It tasted better than Nahrin! There were other assorted combination in this Turkish Cafe such as Artichokes, Sardines, Tunafish etc hence, I hope to go check out soon!
The eating session ended exactly at 12.15noon. After cleaning up, we bidded farewell. Some will join a later class citing reasons like they will be away for months etc, but most importantly is, the ones I´m close too will be in my class again next year.
On another note, wanna share with you what Mama got me before I sat for my exam last Tuesday. She got me a pot of flower (no idea what, have to wait for it to bloom or ask her this Christmas eve) and in it were a Weihnachman (this is our 7th Weihnachman received this year as gifts!), and a card wishing me best of luck on my exam. In the card were the sweetest message written for a little girl (and yes, I am her little girl, really) and I am noting this here ... she spelt my name Lee Anne. How strange ...
Than two days ago ... this was on my doorstep!
A letter attention to Li Anne (correct spelling)
that also came with a present. And get this .. the sender was Weihnachman (Santa Claus!). The first thing I did was read the letter of course .. and darn, its in Deutcsh. Thankfully, I can manage a little and decoded the message pretty well.
The present came with a red flower ribbon on. I cannot imagine my other half doing this, so ... could it be Mama? But Mama is not very good with computer, needless to say print the letter on some cute Christmas paper along with my name and address printed on some labels???
The sender knows that I have been studing hard. Okay. He/she also knows that I ... something, something about Asia.
Why is it dated 24 December ?
With the letter were a Gift Coupon from Kinderland, a shop I visited a while ago and had picked up LOTS of stuff for my niece before we head back to Malaysia. And I was thinking .. hmmm, did Kinderland sent me this? But wait ... I did not give out my details?
And in the carefully wrapped present were a Diary for 2009! I was thinking of getting one for myself and had told NO ONE about it. And now I have another avenue for me to express my anger, frustration and all :-)
Who could this be?
Alright ... I will have some time to figure this out. Haha. I´m going shopping now .. so before ending this post, I would like to wish you all
A Merry, Merry Christmas and Have a Bless 2009!