Merry Christmas to all of you. I am still stuffed from all the eating and drinking. Burp. So much for being a food blogger, I have left my camera behind on a few occassion and had only captured partial of what had happened since Christmas Eve. Another apology, day is short here hence, my photo´s are dark and not too happening. Energy saving seems to be the buzzword in this part of the world too but nonetheless, I would like to share with you my first Christmas experience with my new family here.
24th December 2008
Come Christmas Eve, we adjourned to Mama and Papa´s place for a little coffee break at 3pm. The Christmas tree trend this year is red, hence Mama had theirs decorated with non other than red Christmas balls.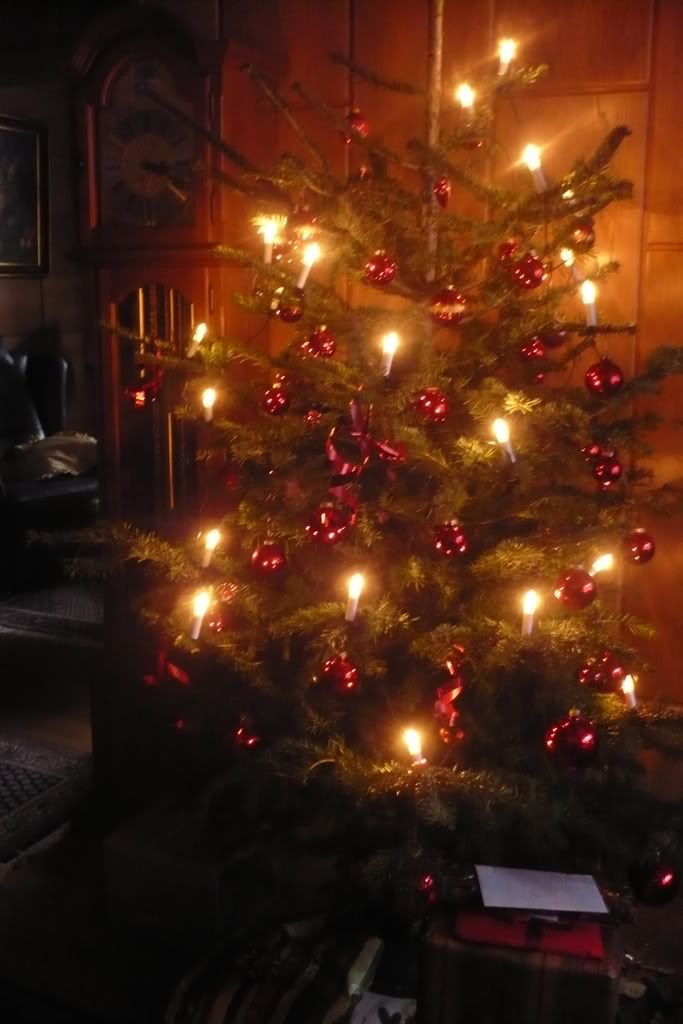 It is a tradition in the family to give out a plate of goodies to visiting friends and family too. In it were homemade butter cookies and truffles, store bought chocolates, mandarin oranges (coz the Spanish counterpart are flooding Germany with it now!), apple, walnut and a box of chocolate.
As usual, Mama brought out her precious China. On several occassion, I had helped with the table setting but thankfully, all are still in one piece.
Mama baked a
Truffle with Ameretto Liquor Torte
. It was wickedly good.
... along with no sugar
Berries Tart
which was specially baked for Papa whom is diabetic.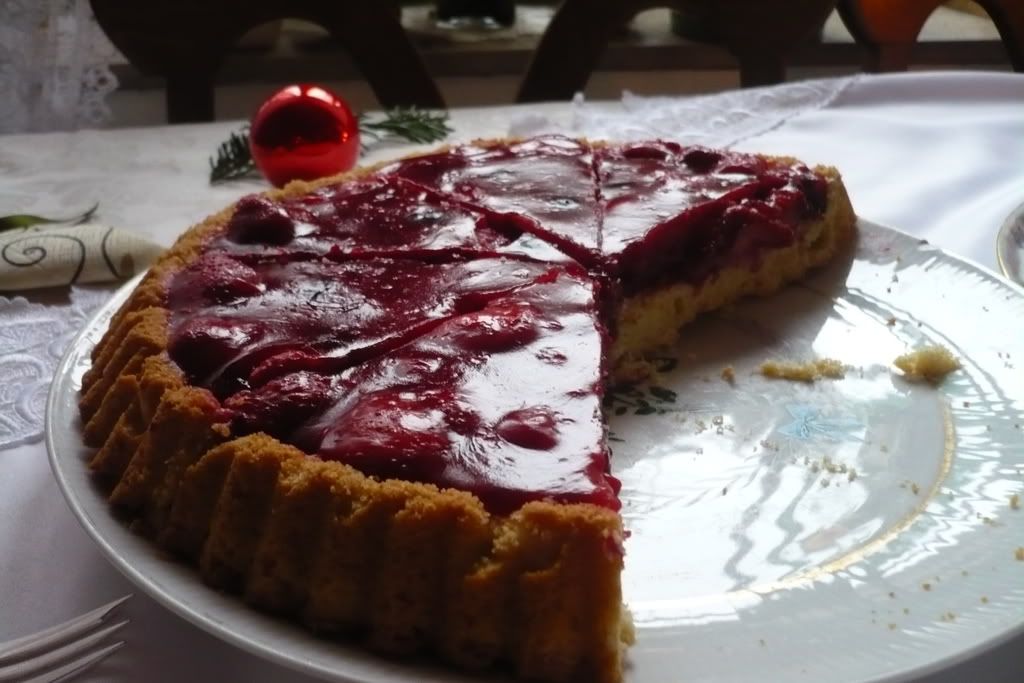 Bubbly as usual. Store here are selling Cava and Prosecco for less than Euro4.00. We can drink till cow comes home but alas, I reminded myself about my 14 days gastric episode a month back. A glass will do, thanks.
After tea, comes the gift exchange part.
My deary got me a lovely leather slingbag which I have been thinking of getting for the longest time. And now ... I´ve got it.
Thanks Mama and Papa for the lovely
WMF Fondue Set
! Now we can have our cheese, chocolate and meat fondue everyday! Not to mention steamboat ala Malaysian style :-) Mama and Papa had also been very generous in giving us $$$ in white envelope. Its apparently a tradition in this part of the world to give them too, even during weddings. How chinese!
This was from Dirk. My other half must have told him about me loving Baileys. And LOOK! The latest Winter Games for our Playstation!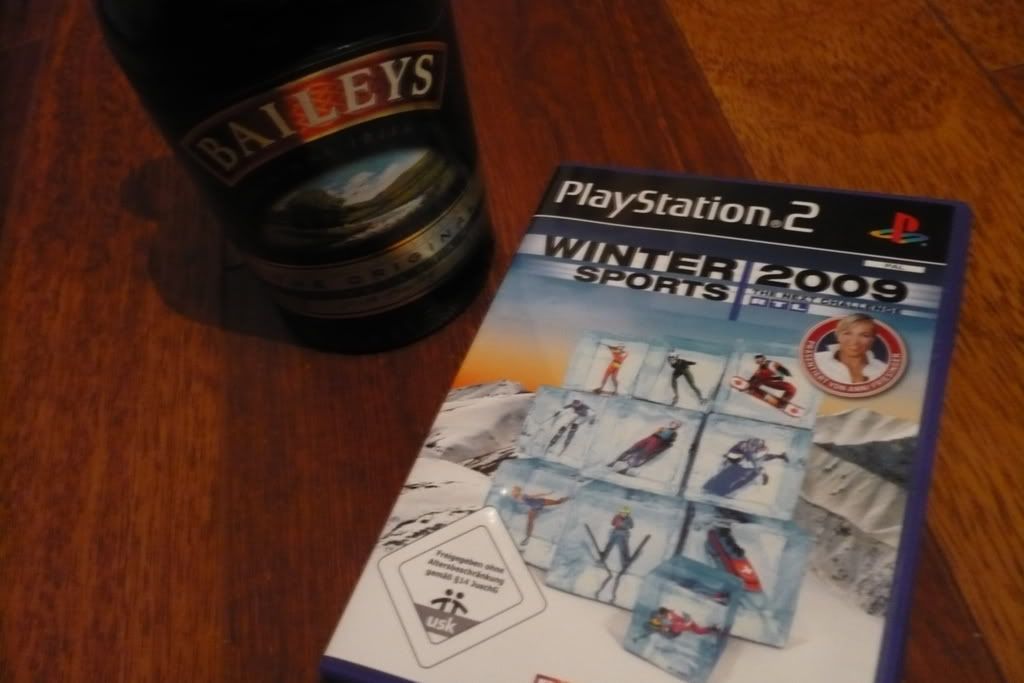 After gift exchange, it was then time for dinner. Mama had prepared us the yummiest, juiciest Chicken Schnitzel with Cheese and Pineapple stuffing, Croquette and Stew Mushrooms as side dish.
We were thankful that we don´t have to walk to far to get home after all the stuffing :-)
25th December 2008
Christmas Day was pretty much an ONLY US DAY. We, or rather I had planned for a
German Pancake
breakfast, but it turned out a disaster. The recipe called for an iron skillet, but we figured it can be substituted with a Springform instead. Big mistake. Our spotless kitchen naturally turned upside down as the batter leaked all over. We poured the batter later to another Baking Tray, but of course its never the same anymore because the butter was suppose to be at the bottom of the batter. After pouring the batter, all were mixed together. Surprise, surprise. The pancake did inflate however but instead of one giant inflation from the middle, we had mini inflation coming from all angles. What a start to Christmas Day :-)
Lunch was a much simplier affair of the bestest
Caesars Salad
ever. Nothing dramatic happened.
We successfully baked a
Blackforest Cake
too. It was such an exhilarating experience, not to mention time consuming and tedious but the effort were all worth the end result.
Come tea time, we hopped downstairs again to go test out Mama´s home made Ice Cream, made with her latest toy which we got for her and Papa. We are glad that they loved it very much, and I must add that ... SO DO WE! Till today, we have tasted
Dark Chocolate Ice Cream
and
Rasberry Yoghurt
. All of them turned out really well and I can´t wait to try out more flavours.
Later upstairs, I spent a good 1 1/2 hour in the kitchen preparing our first Christmas dinner.
I made
Jamie Olivers The Real Mushroom Soup
, of which I´d used a good 500 grams of fresh white, brown and wild mushroom with. Its browned simply with some garlic, onions and olive oil, than later boil with vegetable stock and blended coarsely. To serve, drizzle over some truffle oil and lemon juice. It was indeed the best mushroom soup I´ve tasted.
For main course, we had
Roasted Pork Loin with Prosciutto Wrap and Rosemary
,
Spargel
(White Asparagus) with Hollandaise Sauce,
Brussel Sprouts with Walnut and Bacon Bits
and
Baby Potatoes
.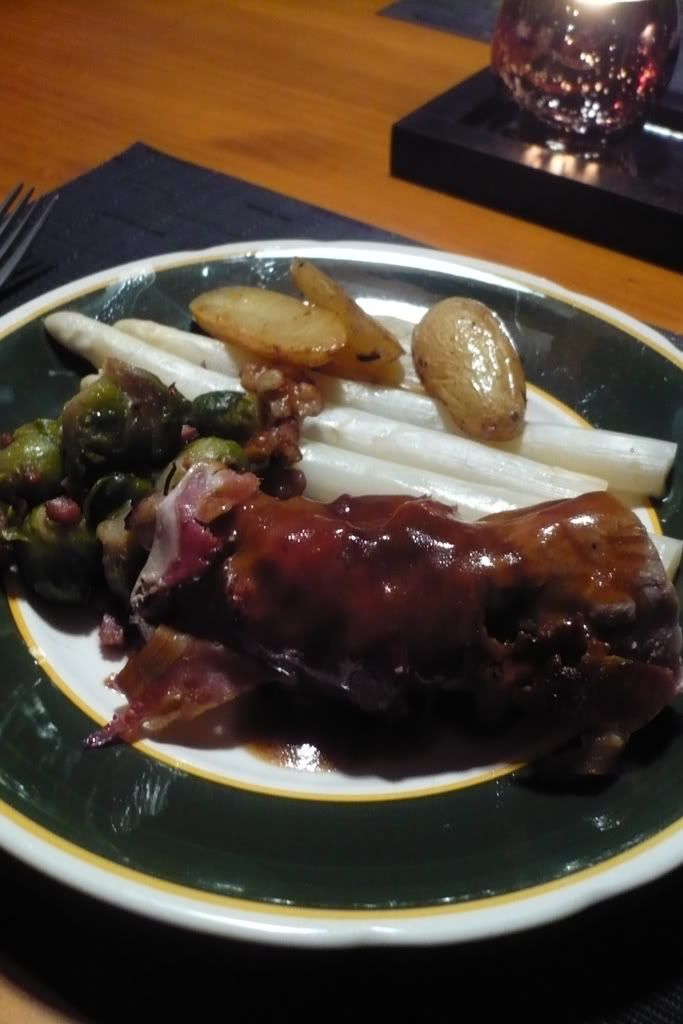 Our Prosecco Rasberry Jelly did not harden as planned. I guess I had not given it the right amount of gelatine.
Some drinking and karaoke session followed. I was exhausted hence we called it a night.
26th December 2008
Breakfast was normal, but lunch was lavish. Starter was a light Cauliflower Soup, followed by the finest Roast Pork slices with Red Cabbage stew, Applemus and Fried Knodel (potato dumpling) as main course. Dessert were naturally Ice Cream from Mama´s new toy and the flavour for today was Rasberry Yoghurt Ice Cream. It was marvelous.
After chatting, tea break followed again in less than 3 hours time. Mama had again baked another 2 large cakes. We had Quark Berry Cake and Grapes Cake in addition to the leftovers from Christmas Eve. Burp.
Since my other half was in town for St. Patrick´s Day celebration with friends, I made myself a light dinner tonight. There´s leftover Spargel from the packet I bought so I had them roasted this time round. With it were a slice of White Fish Fillet, baked simple in a foil with lemon slices.
I´ve been pampered well again this year :-)