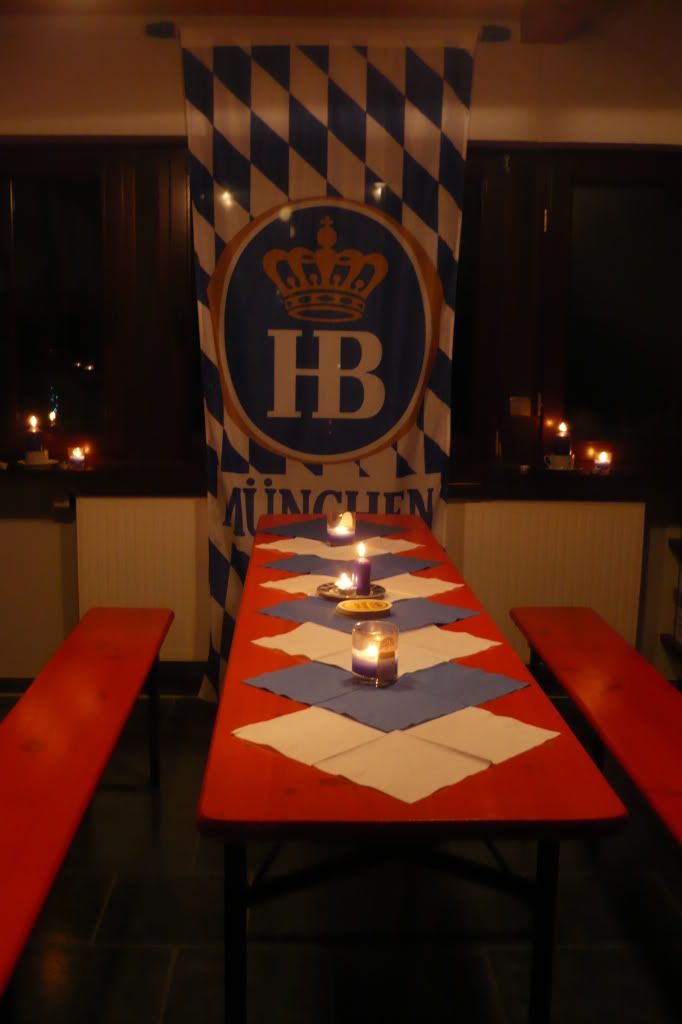 We threw a dinner party two nights before I left for KL. The plan was suppose to be a sit down dinner with a few couple whom had in the past, invited us over to their place but one BIGGGGGG speaker blabber our invite to the whole group and we ended up having to invite the whole group. Unfortunately, or fortunately in this case, a few can´t make it and our guest list were down to a mere 8, versus the usual 20. Phew. But, the preparation was nothing short of simple though.
Here´s what we did.
We sprung up the place as much as possible. We had our dining table removed and got them replaced with Octoberfest table and bench. Frank borrowed us his precious flag from a reputable Octoberfest pub in Munchen. We had them hung up, and it immediately transformed our little haven to a beer tent wannabe. Earlier that day too, we did a bit of shopping. Some white and blue decoration for the house were called for, which saw our place litted up with the theme candle, serviettes, and what not. Mama loaned us some pieces of blue and white table cloth that can be passed off for the theme too. It was awesome. Our motto was, wanna do something? Go all the way out. Yeah.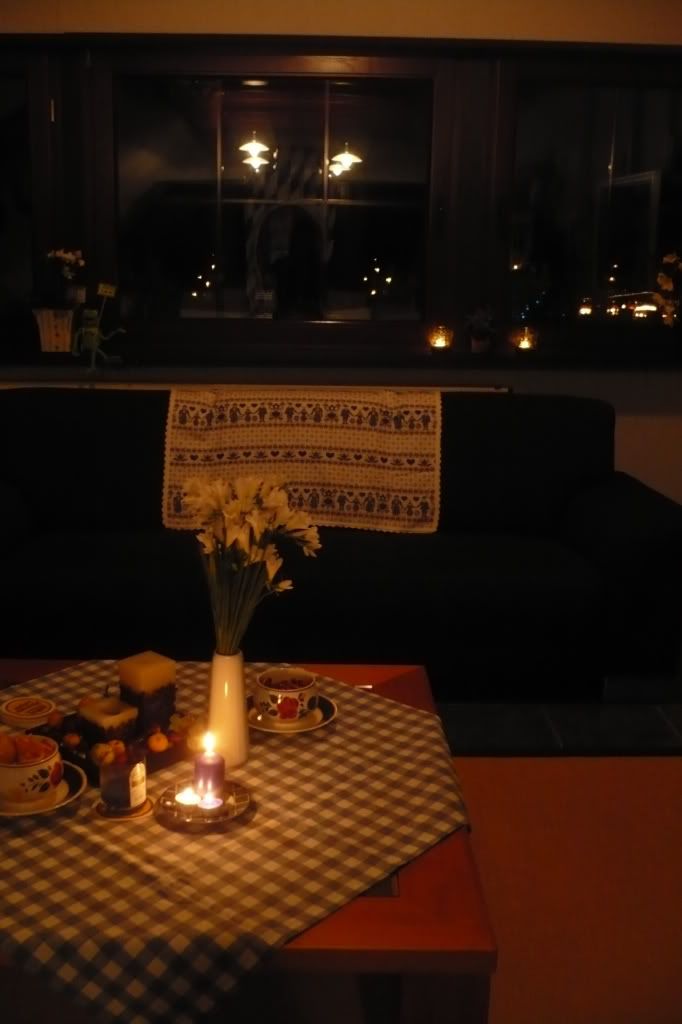 My man, was happily stocking up his favourite beverage from our regular beverage store. I was happily collecting the stamps that came with the purchase so that we can exchange them some other beverage with the stamps are full. The 8 of us consumed ....
THESE (and not forgetting another 2 dozen being chilled in our fridge).
We also finished 3 barrels of BECKS.
Please don´t ask me how much I drank ... coz I lost count. But I can tell you how many pieces of sausages and meatloaf I ate :-) Traditionally, the Bavarians are radish eaters. Not any cooked radish but raw ones, sliced to about a cm thick and eating them simply as it is.
Seriously, all I can think of that night was boiling them for hours with BBQ pork ribs :-)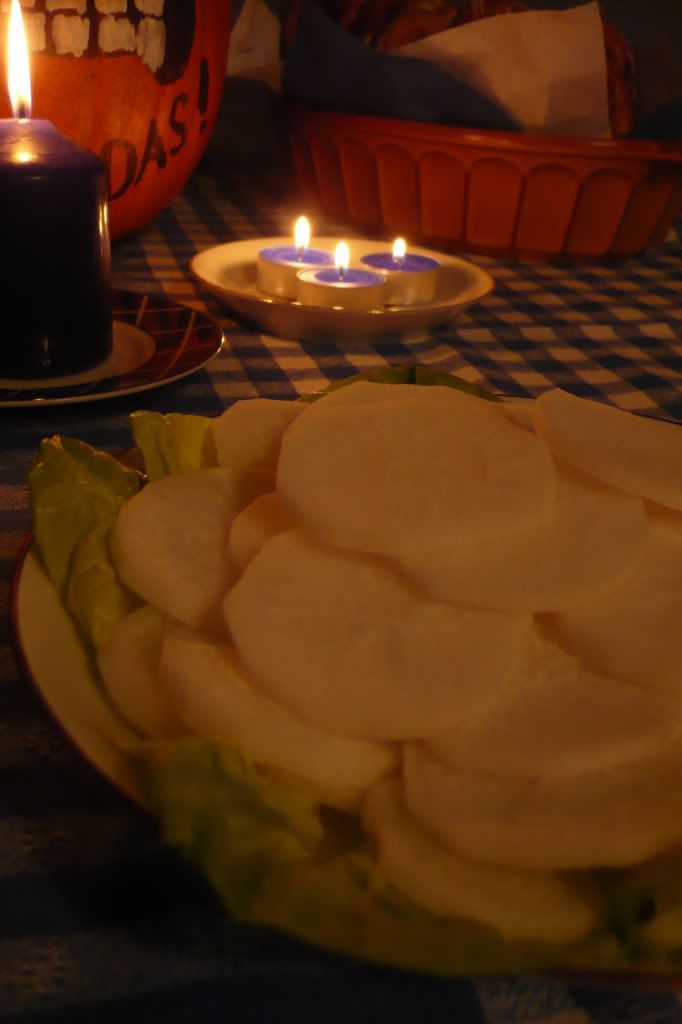 Though you can find freshly made Pretzels in every corner of Munchen; in bakery of course but also some are found on roadside stalls when I last visited, the only place I´ve come across them in Ahaus was during a festival here. We got ours from the supermarket´s frozen department and for a layman like me, I really can´t tell the difference.
The only difference is, we had to bake them for over 20 minutes versus buying them off the shop.
We didn´t do much cooking from scratch. It was very much preparation work of reheating and serving. I was a bit apprehensive over such dinner, but by end of the preparation, I was kinda glad that we did not go overboard with the cooking prep due to our time constraint.
For salad, we bought two boxes of Cabbage Salad. I love this. Different from saurkraut where it can get a bit too sourish to my liking, this cabbage salad tasted everything cabbage should be. Fresh, with a hint of light sweet and sourish dresssing.
No pork knuckles coz we don´t know how to cook them. So instead, we bought a kilo of Bavarian Meatloaf. It was really yummy! It taste pretty close to the chinese luncheon meat but not as watery, and one can taste the wonderful aroma of the pork mince and its spices. For these, we had them roasted in our oven for a good 45 minutes.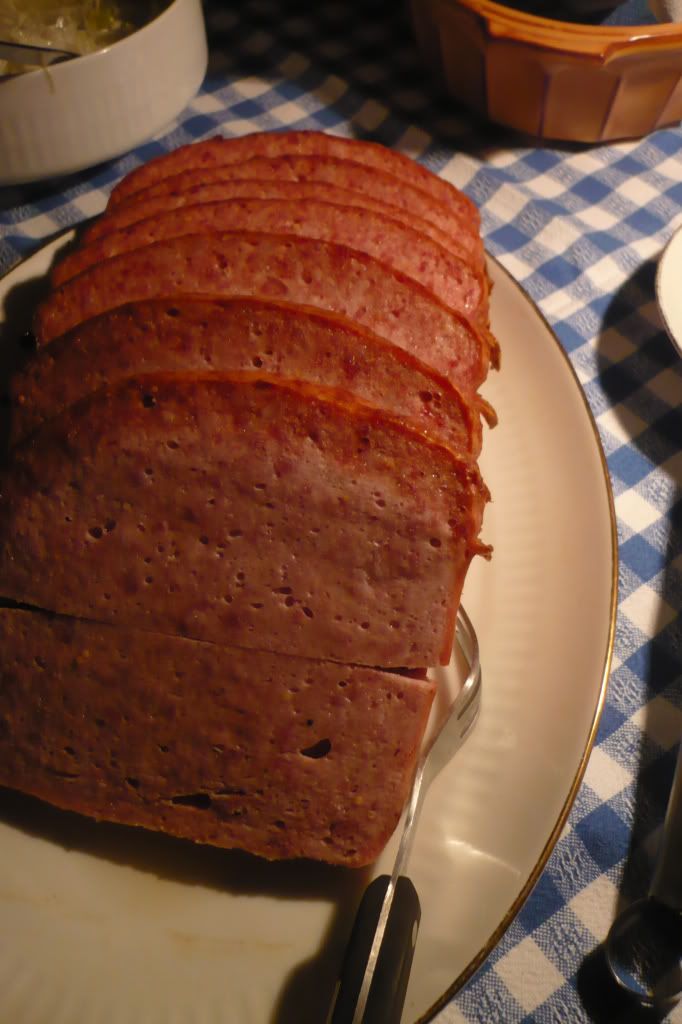 Knodel or Potato Dumpling, one of my favourite Bavarian side dishes. Tried making them once and it was super tedious. The texture is chewy, a bit bouncy and taste every bite of a potato of course, but its nothing like the usual potato that we eat. We bought them in packets and got them presoaked, than boiled for some minutes. There´s a few varieties to this, some plain and others with bacon bits etc and my personal favourite is still plain but made fresh and available in any Bavarian restaurant in Munchen. This one is passable.
What´s an Octoberfest without their fame sweet mustard? German sweet mustard are THE BEST. Yum.
And naturally, we served along boiled sausages all the way from Bavaria. This was really good
too.
Fooddddd ...
Mama Else kept on commenting that I look like a little girl. She´s always calling me `Meine Kleine Madchen` :-) I´m really so spoilt here.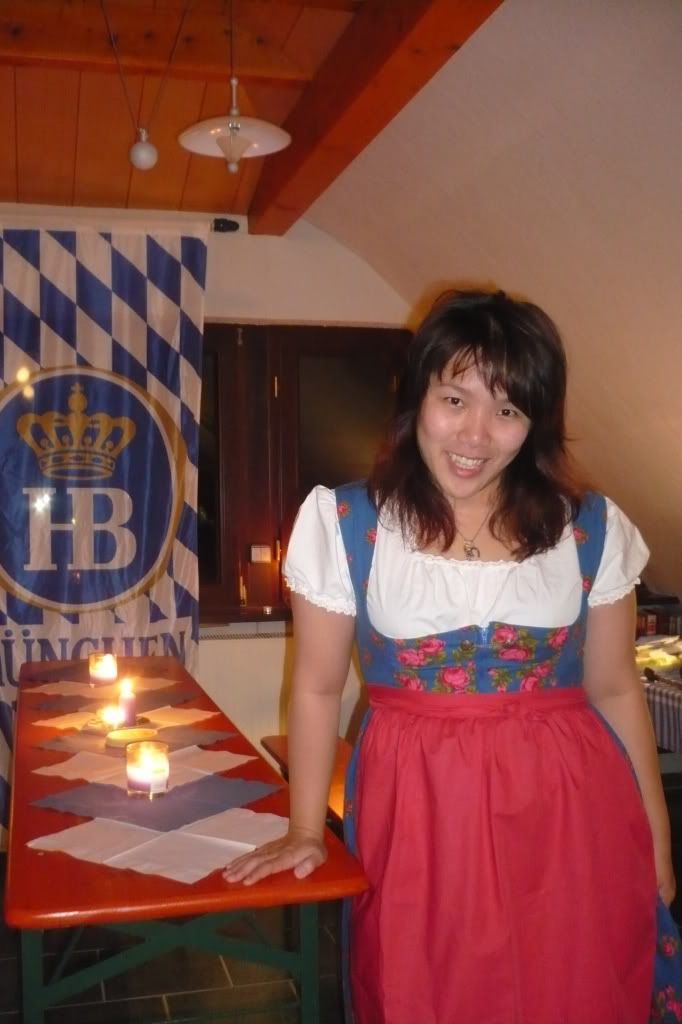 And my Bavarian man for the night. Ahem. Big, Strong and Friendly.
We ended the party around 12 midnight and went straight to bed for much needed rest. We spent the next morning cleaning up our place and returning back all the borrowed items to the respective owners. It was quite a hectic day as I remembered it, coz not many hours after the cleaning, we had another party to go to; which was Juergen´s boss´s 50th party.
Somehow, we manage to find time still for a little R&R before my flight back to KL on Sunday. We didn´t do much except munching on the chocolate bouquet we received from our friends here. Thanks so much you all! And psssstttt ... there´s even 25E to replenish the chocolates!
So, this was our first dinner party at home. Pretty interesting I´d say and looking forward to another one soon.