Today was another cold day here in Germany.
Though not as bad as few days ago when it snowed constantly, it is still cold enough for me to dash back home after school each day and make myself something warm and comforting. But since it was rather warm, and I am referring to 5C here, I decided to brave myself to the Stadt, aligning myself on the right side of the road and cycled myself along the main strasse in search of a Turkish Laden (turkish grocery shop). Some of my classmate had sang praises over the freshness of their vegetables and fruits, but unfortunately, I ended up in PLUS market and STILL had no idea where the turkish shop is hidden.
And since I cycled and could not go on a shopping rampage, I only manage to pick up some fresh mushrooms, two packet of chocolate malt drink which I intend to bring to school tomorrow and following day, and a set of 5 pieces of office stationary container. I bought them because it was cheap and we needed a container with lid to store our Euros. Currently, our euros are being squashed into an old spectacle container and everytime we look at it, it gives us an eyesore. The euros deserve a much better home, don´t they. In the box were a letter tray, a stationary holder, a namecard holder, a paper holder and a box with an accompanying lid. The price was originally 10E but is now going for 2.50E, which was a steal but what I loved about it was the design. Its mocha in colour and had white thread stitches at the hem. If I´m not mistaken, Metrojaya sells a similar looking letter tray holder for around 80 ringgit-ish and when I spotted it .. I was like .. heyyyyy, Metro is making lots of money huh.
Since I picked up some fresh mushroom, I made myself a large plate of mushroom pasta, and got them drizzled with truffle oil for lunch. My tummy were drumming alright hence, it tasted marvelously and had them polished up in minutes. But apart from cooking, there´s a place I found few weeks back in Stadt which I find are reasonable and nice to go to for lunch when I´m not in the mood to cook or when hunger strikes me when I´m in town. Though there are several Turkish Pizza place in Ahaus, I find Nahrin Grill and Pizzeria Place not bad as their food´s not overly salted and are pretty generous with their ingredients.
So far, I have tried their Funghi und Prosciutto Pizza (3Euro for a small) and I loved it. Though small, I was stuffed by the end of it. They were very generous with their prosciutto, and of course, do keep in mind that Prosciutto cost nothing here as compared to an arm and leg back in KL. The pizza were flavoured fully with the chunks of Prosciutto but what made them even better was the Chanterelle funghi used. If only there´s Proscecco ... but its a bit too lavish to have bubbles for lunch isn´t it? But it seems that in Germany, it is not and everyone drinks them like they drink juice coz its only a mere 5 Euro or less per bottle. Anyway, its something that I have to get use to coz my tummy´s not so use to so much of gas. Ahem.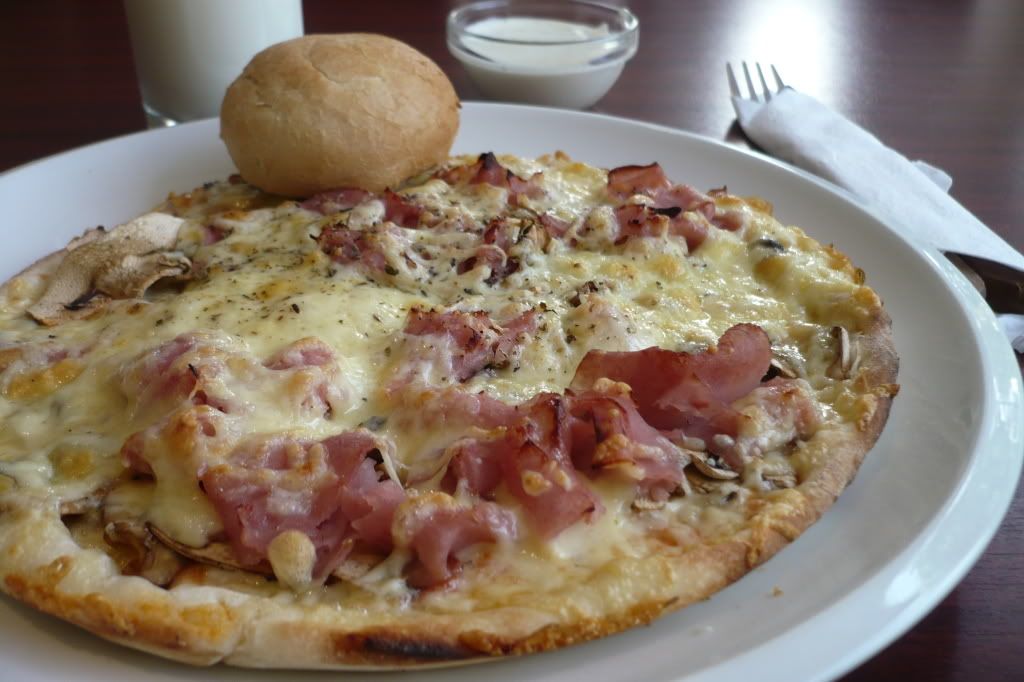 So instead, I tried Ayran ... A salty turkish yoghurt drink which reminded me very much of indian lassi, minus the sugar and it sure is a much healthier alternative than any of the gassy (ahem, ahem) drink available here.
Overall, it was good a lunch and I went home with a happy belly.