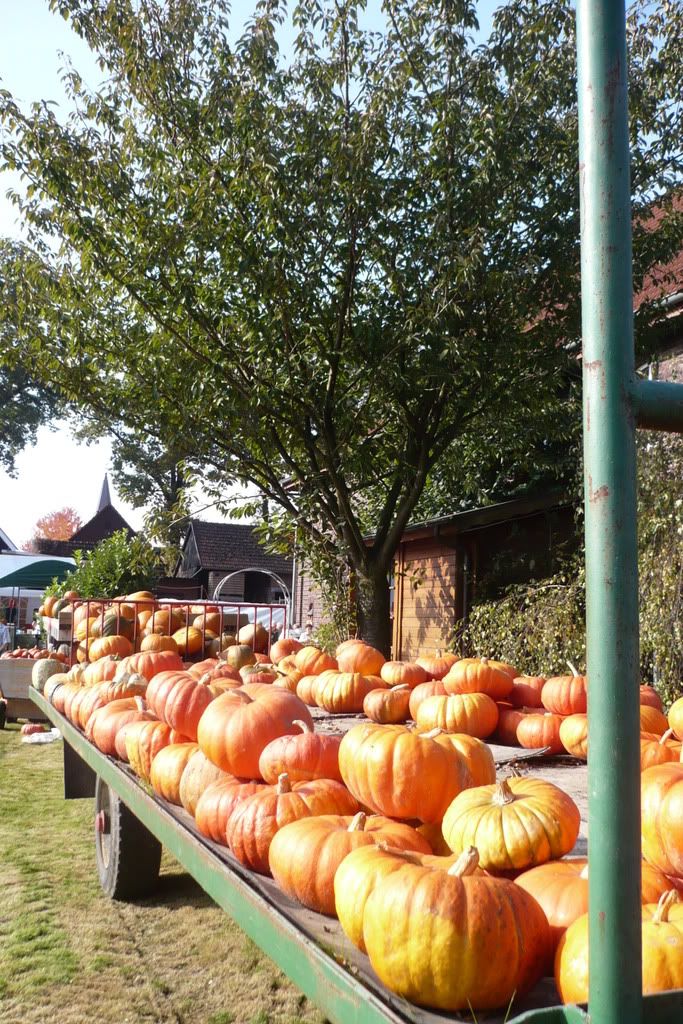 We were invited by Dirk and Carola over to Kamen for dinner in their place a week ago. Dirk is Juergen´s brother whom I´ve met several times but its our first time meeting Carola, his girlfriend. She came all the way from Dortmond to Kamen to meet us and prepared us both a yummy dinner!
Our drive from Ahaus to Kamen took us approximately an hour. We left slightly early and decided to take a scenic drive passing the forest to enjoy the autumn colour. It was lovely and dreamy and romantic and the next thing I realise? I did not snap any photo, again.
One of the highlight of our route were the little towns we passed along the way. Some of them are buildings which houses farmer´s produce gathered from the surrounding area. And since Halloween were around the corner, there were lots of pumpkins lining the building front. Naturally I shrieked with delight when I chance upon the massive pumpkins. Juergen got the clue, quickly stepped on the brakes and made a quick U-TURN!!! Hahaha. And he asked, how come I get excited like a kid???!!! Hahahhaa .. live with it!
Anyway, the first thing that attracted me when I got down the car was this! These are mini pumpkins and squash
but
are not edible.
And the first thing that attracted him there was the sausages???!!! Hahahaha, kidding lah. He does like sausages a lot but I made it sound kinda obscene isn´t it.
There were corns and all sorts of winter flower lining the outside of the shop but are al not for eating. I took one on my hand and did what a Malaysian would do .. which is PRESS IT! Damn hard leh ... and was later informed by Juergen that its NOT for eating lah.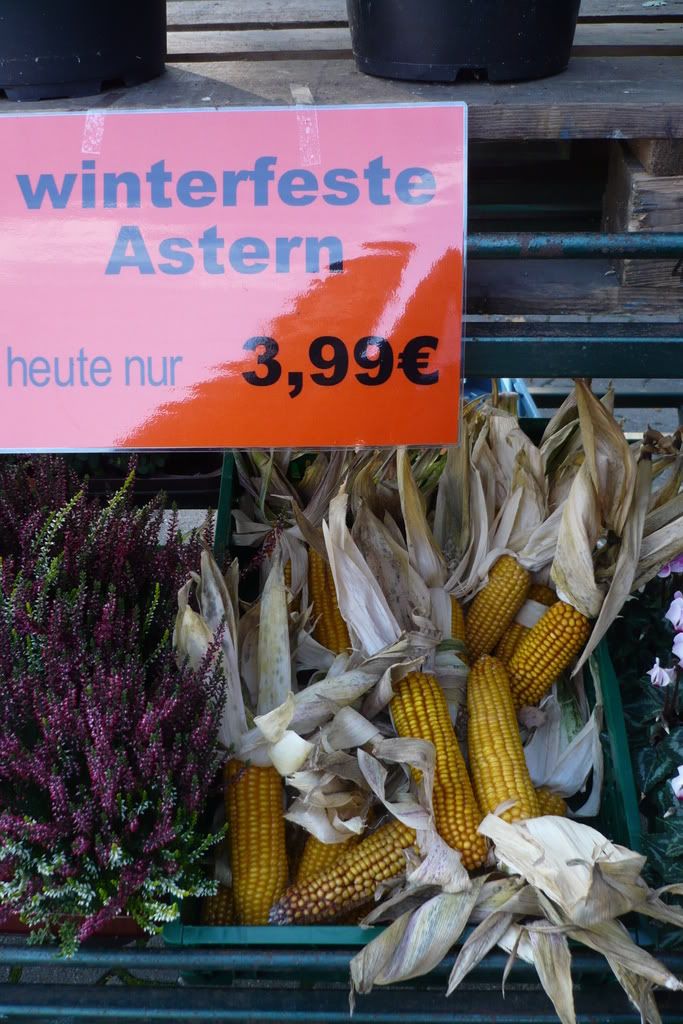 These are for sale at about 8Euro each irregardless of size and weight. We thought it was a bit too much to pay and decided to get a plain pumpkin and DIY our halloween expression ourselves! WMW asked a while ago if we were going to cut it! Hmmm .. not sure leh, maybe, maybe ... coz we´re throwing a belated Octoberfest Party here end of the month and who knows what we will do with the pumpkin eh.
Check them out. Soooo many choices and hugeee too! According to my man, the tastiest pumpkin is the normal looking one. The rest look good only but tak boleh pakai one. Hahaha.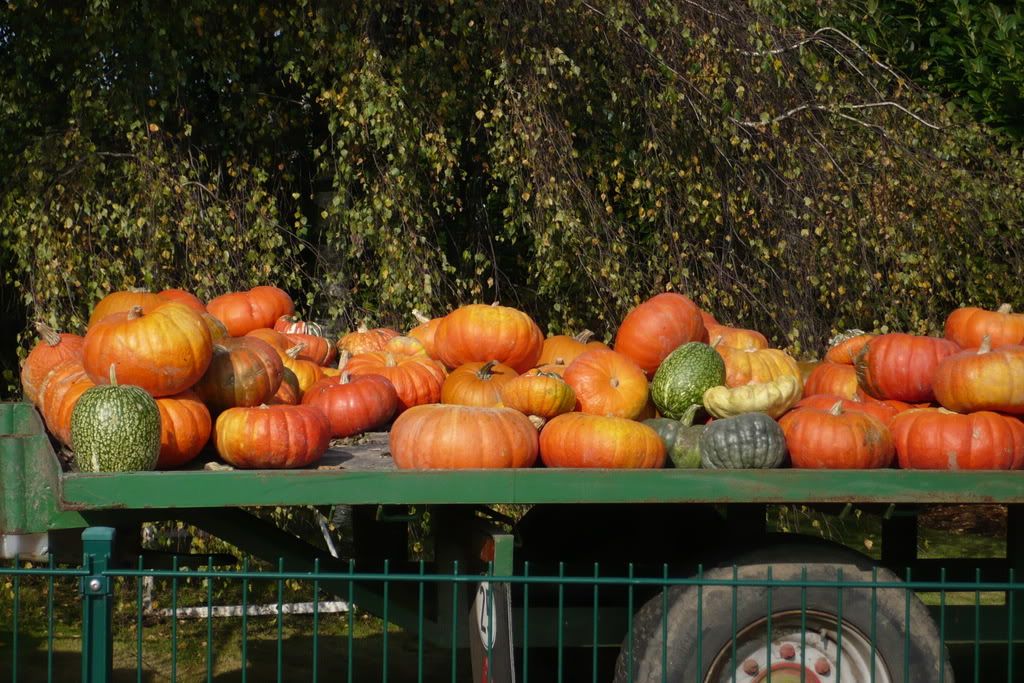 And here´s a sneak peak at ours. Hahaha. And so, we will find ways to cook this huge pumpkin our ours and have a little pumpkin feast after the Halloween end of this month.
After our purchase, we made our way to Dirk´s flat in Kamen. He lives in the middle of town but it did not feel like it. Just like Ahaus, it was peaceful and serene.
Dirk and Carola welcomed us with a coffee break of Quark Cake (Local Cheese Cake). Again, I was too shy to take any picture but luckily, plucked up the courage to do so come dinnertime (say thank you lah). The Quark Cake was made by Dirk and it was good! This Kocks family ah, all of them can cook, I tell ya. Serious. I had two pieces.
Than, we went over to his balcony (ahhhh, it was gorgeously done up and again, dare not take photo!), laid on his patio chair overlooking this massive tree infront of us, and while there, we were served Prosecco and wine. What a wonderful life. And before knowing it, its time for dinner. Dirk and Carola had initially wanted to do a mini Bavarian Feast for us but later decided on European theme.
We started off with a DAMN good herb soup, with onions, mushroom and pine nuts. It was cooked by Dirk and again, we were all impressed! He got the recipe from a cookbook apparently and was attracted to the photo there. I can´t wait to brush up my german quickly so that I can borrow the book from him soon!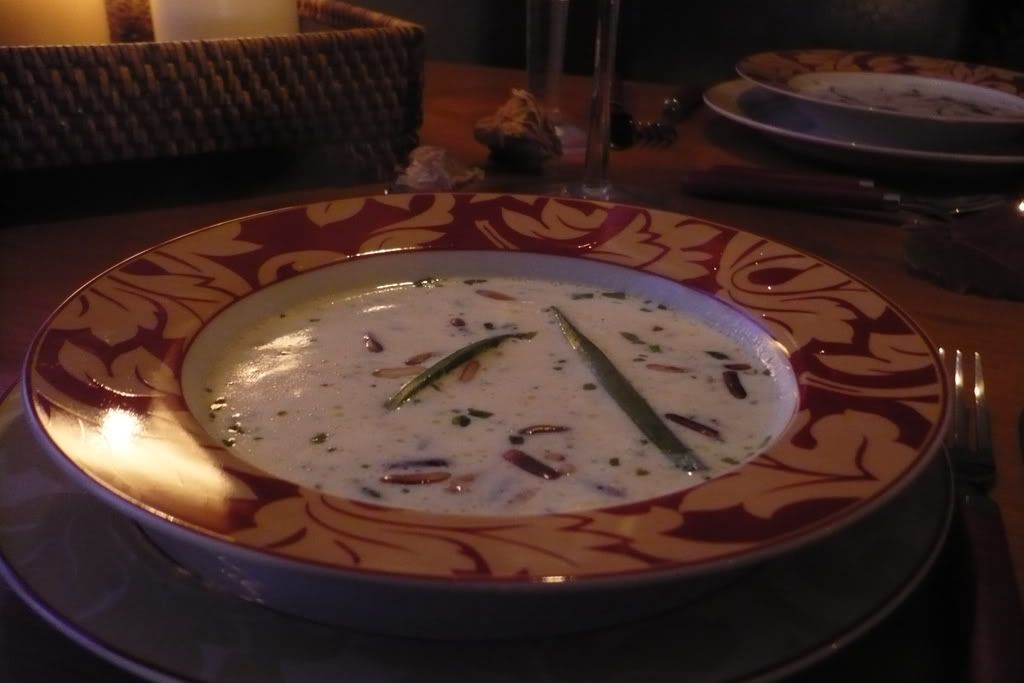 Our Toscanello from Tuscany. A young, white wine which went really well with our meal. It was smooth and semi dry.
For main course, THIS PLATE had all of us QUIET. It was so darn good. Even my Juergen whom is not a fan of fish or seafood attest to its yumminess. Carola cooked us Bavette (Linquine Pasta from Barilla) with a perfect herb based cream sauce with a tint of spice with Salmon Pieces. This is the best seafood/fish pasta I have ever eaten. The presentation was kinda rustic like eating in Italian trattoria too. We all think that we should one day venture into some food business since we all four love food so much. Hahaha.
We ended the meal with Coffee Mousse, which Carola roasted the coffee bean beforehand, before summerging them into a pot of milk and later, mix with cream. The little mint flower adorning the glass were plucked from her mint pot at home, and I can´t help feeling bad as its for decoration only. At the bottom of the glass were slices of Figs which went really well with the coffee flavour. The only thing I find lacking were, it was not sweet.
Dirk says there´s only two score card with him for dinner rating. Just like us, whom loves watching Das Perfekt Dinner, where a group of people gather for dinner and rates each others for some cash prize, there is no doubt that the two score card of 9 and 10 points each fits the night perfectly.