This is why I need to hop on my trampolin more often.
My favourite chocolate brand Amicelli, but now with limited edition Cappucino flavour which I felt were not too bad. I did not fancy much the Cappucino Ball though as it did not melt in my mouth. Sugar free sweets with coffee flavour were FAB! Must grab these for mum in November!
Lindt. What can I say. The selection here is MINDBOGGLING! There seems to be new range, limited edition and what not from time to time and we are kept guessing on what next!
Meat flavoured chocolate???
I love these Olive Oil sticks from Italy. Addictive! The mini pretzel´s not bad too!
Whenever we help Mama Else on getting her heavier stuff during Grocery, she will NOT MISS returing our favour with some goodies. Be it a potted flower, or something for the kitchen and home or chocolates and biscuit packs like these. The ones here from Swiss is one of the best I´ve come across and just found out that I can grab them from Aldi. Woohoo! Seen here too, Pistachio from Trader Joes.
And this my friend, is our wake me up machine. Our
Philip Senseo
coffee machine which works wonderfullly and runs on coffee pads. We now have two kinds of filter, one for normal coffee bean which uses thin pads and one for frothy kind of coffee which requires the thicker pad. Just insert the pad in the second grey lid, make sure there´s water at the container behind and press the BIG round button in the centre. We can choose to have either 1 or 2 cups of freshly brewed coffee within minutes straight from our kitchen.
For me, I love the thicker pad kinda coffee like Cappucino and Cafe Choco.
They taste as good as any Starbucks coffee and the great thing is, theres a wide selection of
Douwe Egberts
coffee packets to choose from.
And of course, the occasional alcohol to warm my body. Last week was Vodka and Blood Orange week. I loveeee Blood Orange juice.
Here´s Joshua. He teaches me Deutsch and I teach him English every Thursday. It was his birthday last Monday and we had a little cake celebration at his parent´s range in between lessons. Handsome boy huh.
And this is Leandra .. the mischivious one whom introduced me to Trampolin with her
`Lianne, Lianne .. komme hopfen`
Cute girl.
Reminds me of Ashleen. So difficult to take a decent photo of her, and mind you ... there´s more that I deleted than posted here because of her antics.
But awwwwwwwwwwwww .... okaylah, forgive her coz she´s so cute.
Besides ....
She is a DAMN GOOD photographer too!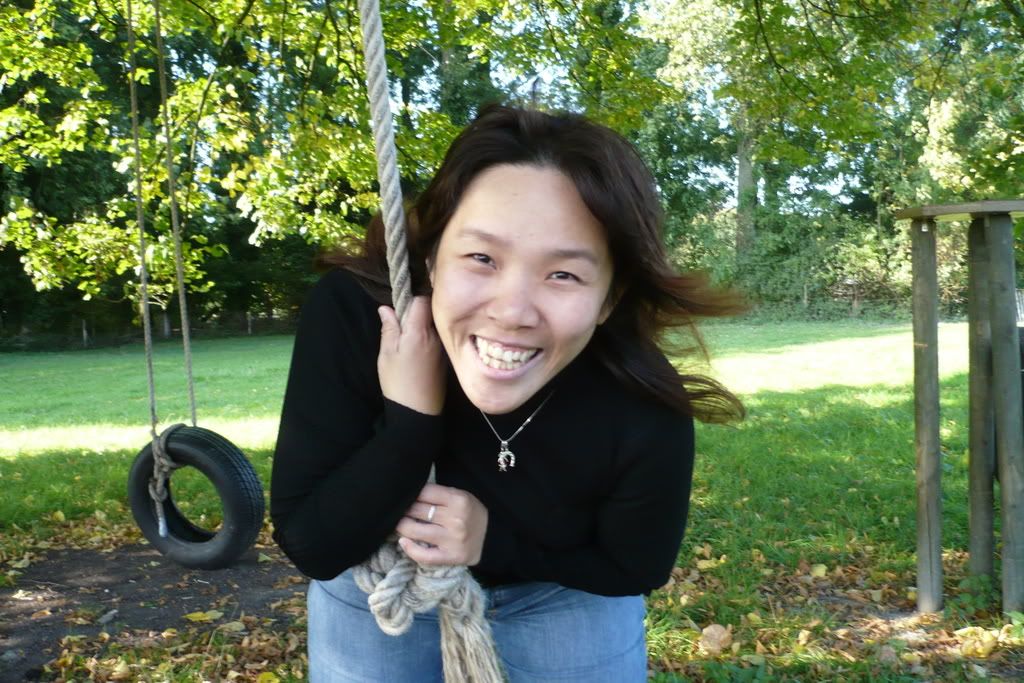 I love this pic of me!
Another update. We´ve started planning for our new master bedroom makeover and am sooo excited to share them with you. Juergen had ordered our flooring way back in December and yesterday, we went browsing for some wardrobe and lighting ideas in Stadhlohn and I tell ya, the stuffs here are all GREAT! A bit pricey coz they are all branded, hence we will still shop around for cheaper alternative. We will have to redo our wall paper but have no idea what yet. On the bed, ahhhh .. the bed ... we will have a hugeeeeeeeeee bed, probably customize coz poor Juergen´s always caught at the EDGE of our current queen size bed. Hahahaha!
I will post up some pics for updates soon!
And oh, I was told there´s another festival heading Ahaus in two weeks time, BUT we will be taking an Autumm vacation to Winterberg than. Winterberg is a ski resort, but of course, its October and there won´t be snow, so it will just be a relaxing weekend with colourful leaves. Nonetheless, I´m thrilled to be there!
Coming up next ... our weekend in Stadtlohn Festival yesterday!