In general, Germans do not celebrate Thanksgiving. But being a green nation that they are, most do commemorate them by having a mini gathering with friends and family. We had a small gathering in the garden today (btw, actual day is next Sunday) and did some harvesting on what´s left over from the summer season. This also signify a gathering to look forward to autumm and winter soon.
Me, Juergen were invited by Mama Else for cake and coffee session along with Dirk whom lives in Dortmurd, and drove all the way back for the gathering. When we arrive, the garden patio were already set in place. I love Mama Else´s china collection, and mind you ... she has LOTS of sets. I´m always amazed by her `never seen before collection`everytime we go down for a little coffee. This one´s from England. No idea what brand but it looks good for the garden!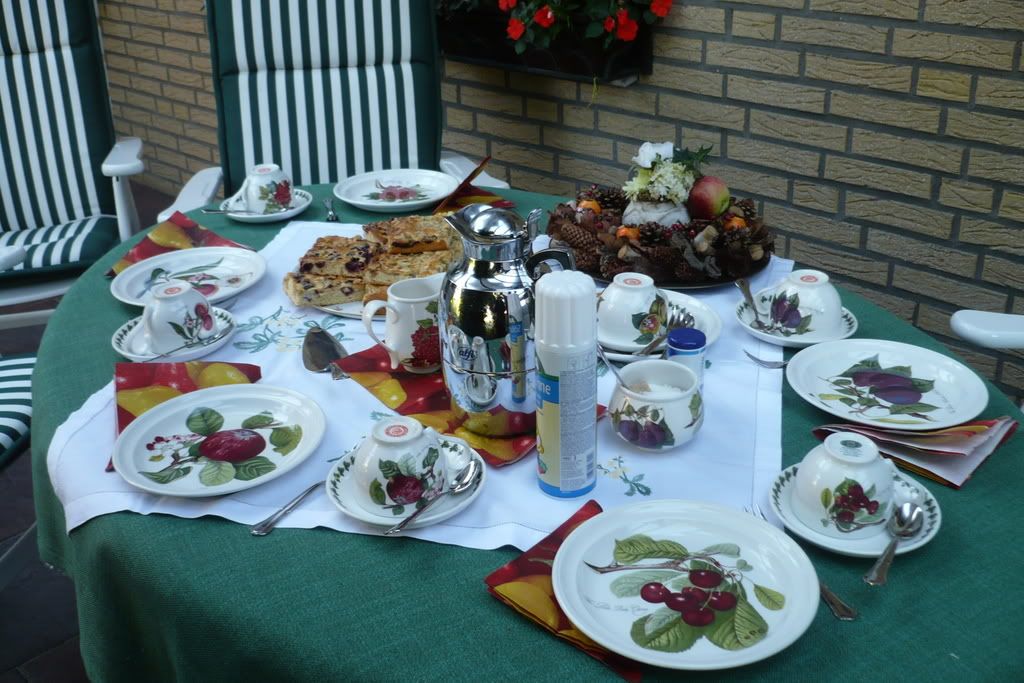 She baked quite a bit today. Two loaves of bread, one flat and one puffed up kind which we had them for dinner later, but my battery went flat on me, hence no photo.
Seen here is
Cherry Cake and Gooseberry Cake
.
It was LECKE! Means yummy in deutsch.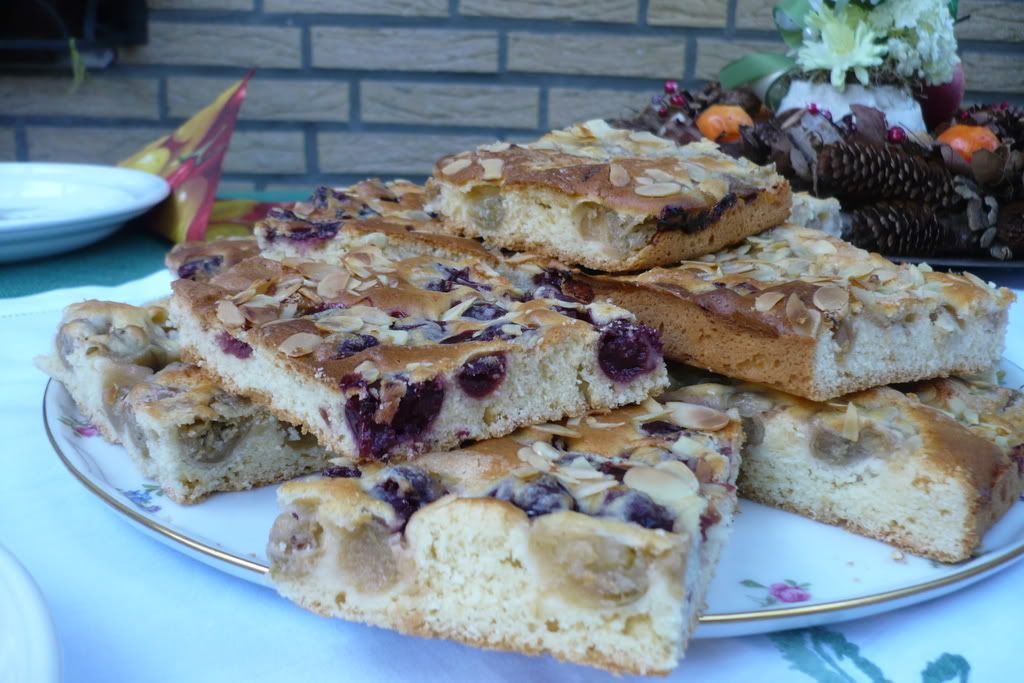 Coffee and a little snack at 3.00pm ... German culture I tell ya!
After 2 pieces of cake and 2 cups of coffee, we better do something! Hahaha .. harvesting time! Juergen was first to harvest the grapes, followed by Dirk. I helped load the grapes into baskets and boxes and boy! I though it was just a handful but as it turns out ...
We filled up a whole basket! AND MORE!!!
Its premium grapes mind you, not the ones we buy from store. This ones similar to Riesling grapes which are meant for making wine and its called .. hmmm, aiyo ..forgotten the name lah hehehe. It is small, firm, ripe and perfectly sweet.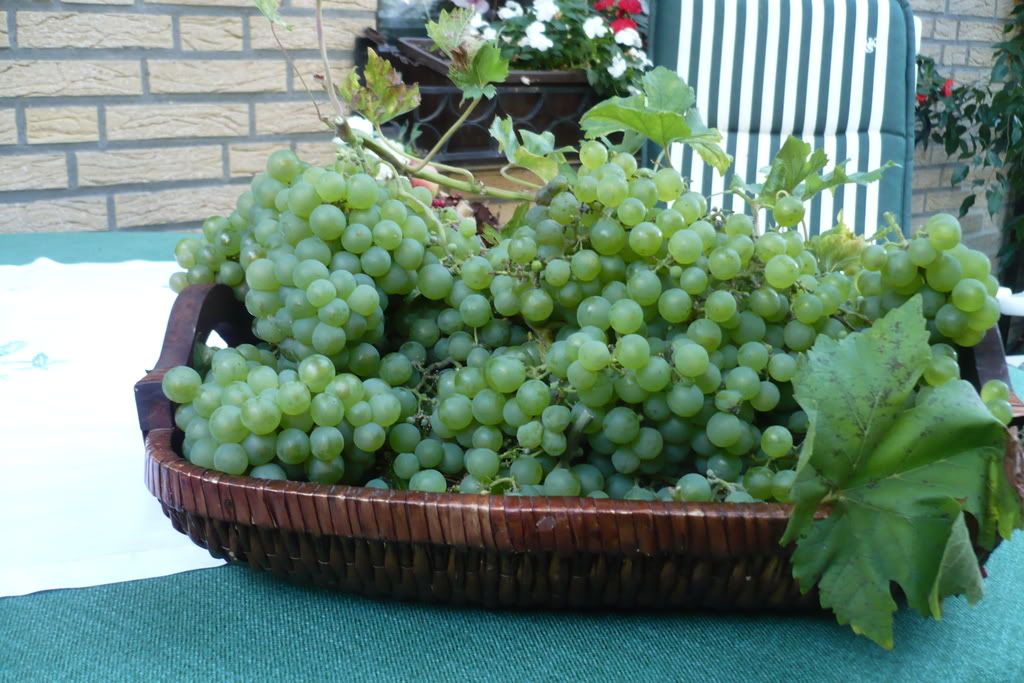 While the boys harvested the grapes, of which my monkey crawled to the top of the roof to gather more grapes hehehe, Mama and me went to pluck the remaining apples in the garden.
The tree were FULL and we could not finish the apple and plums last year BUT not this year, said Mama.
Oh well .. guess, I can always go over to Silvia´s place for apples and plums (of which I did last Thursday and carted home 30+ apples and now cracking my head on what to do with it!)
Anyway ... our apples were so fresh, sweet and juicy! There´s two apple trees though and one is of this sweet variety while the other is on sourish side.
And come Tuesday, we´re gonna make Grapes Marmalade!!!
Wanna see our harvest? This is Part 1 ... which 3 loads of grapes and a handful of apples. Not bad. Seeing our fruitful harvest, we decided to celebrate with a little white wine.
Then we recalled another plant waiting to be harvested! It was beans! Not sure if its broad beans or what beans. All I know is, it was hugeeee and long. Seen here, the two brothers plucking beans.
Mama decided to pull some beets out for dinner later.
And we drank, and harvested, drank and harvested more ... the wine was a young, sweet wine and it belong to
Scheurebe Grape
variety. It went really well with the grapes.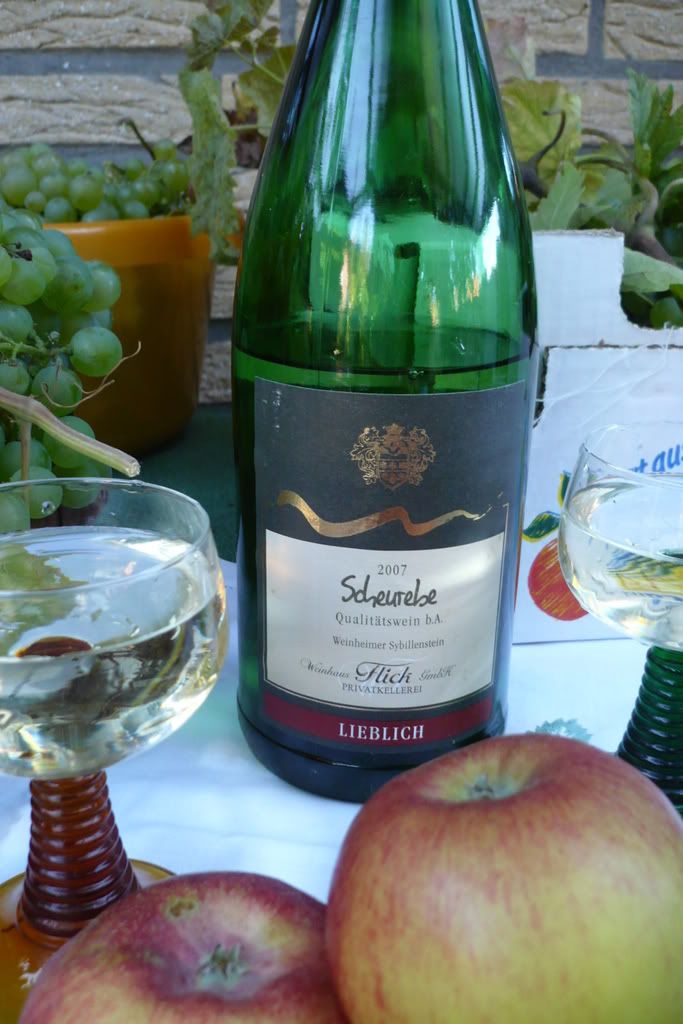 Look! Beans. Can someone tell me what beans are these?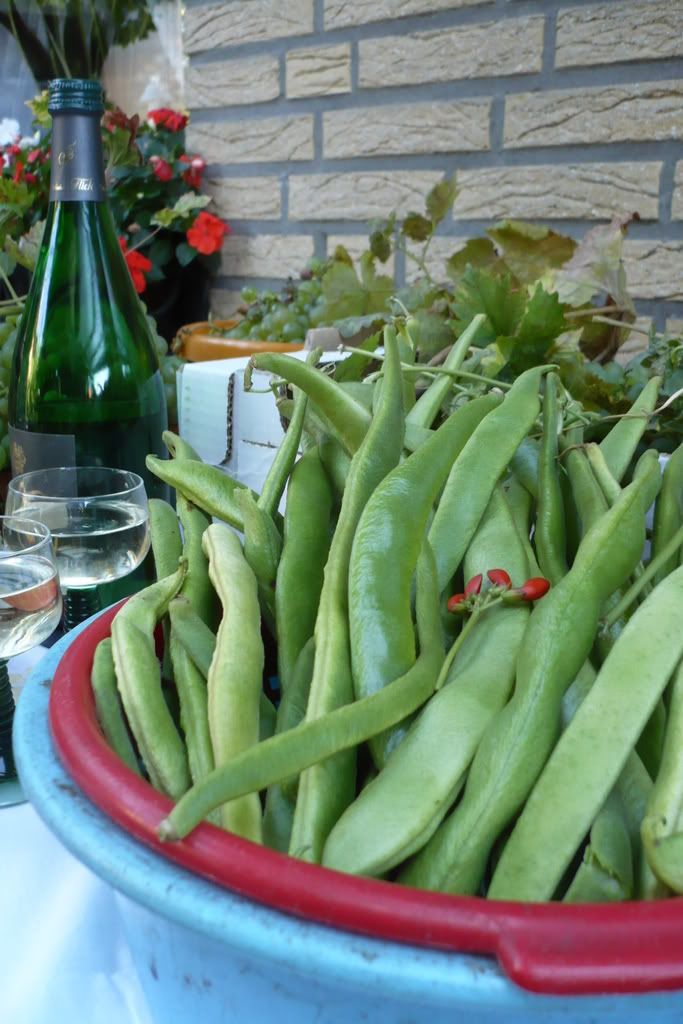 And these are .......... grapes. Please fill in the blank.
And tadaaaaa .. our final harvest with the beans added in, AND we found some left over strawberries from last season too! The strawberries are a bit small here (botton, middle and on a red napkin) but were nonetheless sweet and juicy.
With sooooo many good harvest, no wonder my China-man so happy hor.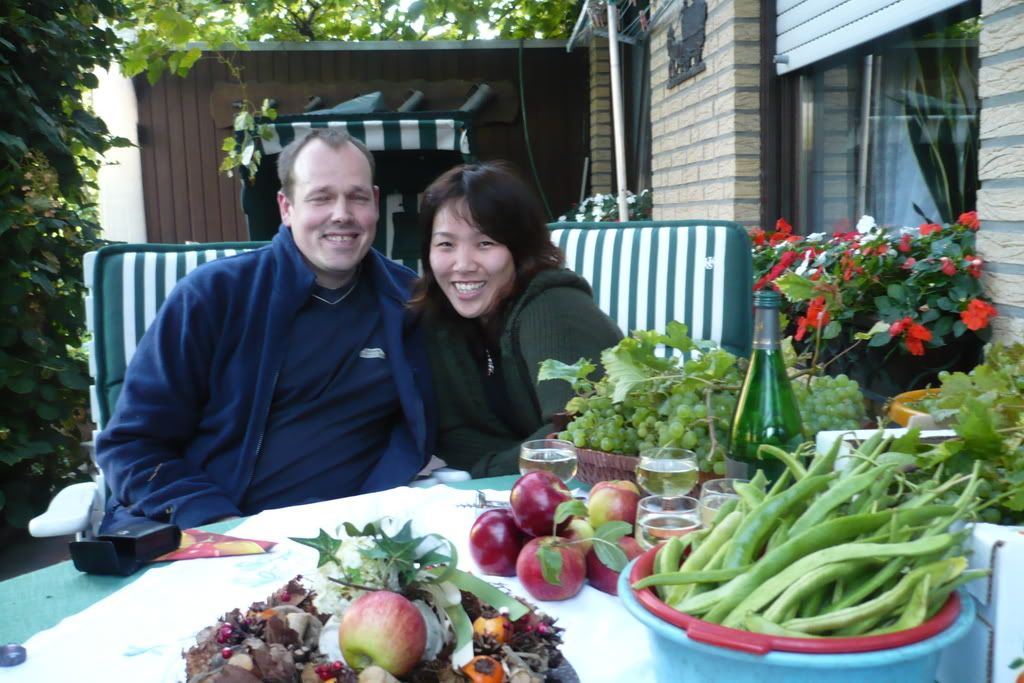 Happy Thanksgiving everyone!
And oh ... if you can, try and jaga our mother earth a bit more okay?