Achtung!
(Hahahaha, everytime I say this, I think of Teckie!)
Super LONG POST up next ... mitt LOTS of photos. So, do have patience with the photo download yeah ...
I was in the funfair last Friday with the girls and it was fun. We not only crawled the fun fair, but did a pub crawl to Drebbers and Vivaldi too. The following day, a few of us returned with our other half, and needless to say, we spent the evening later having wonderful time underneath the beer tent drinking and chatting.
Sunday was spent cycling to another town, of which you can get the full coverage and photo
here
.
And come Monday, I returned to the same area for an extended event where a market were held. The fun fair were there still but since it was mid afternoon, only the food stalls and merchandise stall were open. It was good coz that´s the main reason what I returned again.
The flea market was not really a flea market (I got it wrong). It was a normal market selling all kinds of household goods and only happens once a year. The crowd were mainly elderly people or retirees. And I though .. hmmmm, why don´t they have the real flea market here.
To cut it short .. photo time!
Do you know what this is? I HAVE NO IDEA! Is it for decoration or for eating?
The stalls were repetitive with a few selling wood based household tools. Cutleries and knifes were popular too and they are mainly from Solingen where its reknowed for its knifes worldwide. I was tempted to get some for my sis as we have very good ones at home, but luckily did not coz Juergen told me that the ones sold in such stalls may not be authentic.
Sorry that I left out the pics of knifes.
There was a stall selling all kinds of spices and herbs. Curry powder were applenty hence, I don´t have to worry about importing them from Malaysia. There was a huge selection of tea too, along with herbs of all kind like morrocan, provence or mexican. I bought a packet of provence herb and am looking for recipe to cook them with. Any suggestions?
A stall selling all sorts of cookie cutter, and baking stuff. Their cookie cutters were so cool! The one that attracted me were pumpkin, snowflakes, amsterdam houses, and gingerbread man shape but I could not bear to pay 2-4 euro for each!. Juergen said there´s a huge store selling bake ware and kitchen stuff here and would not cost that much and upon hearing that, I was relieved!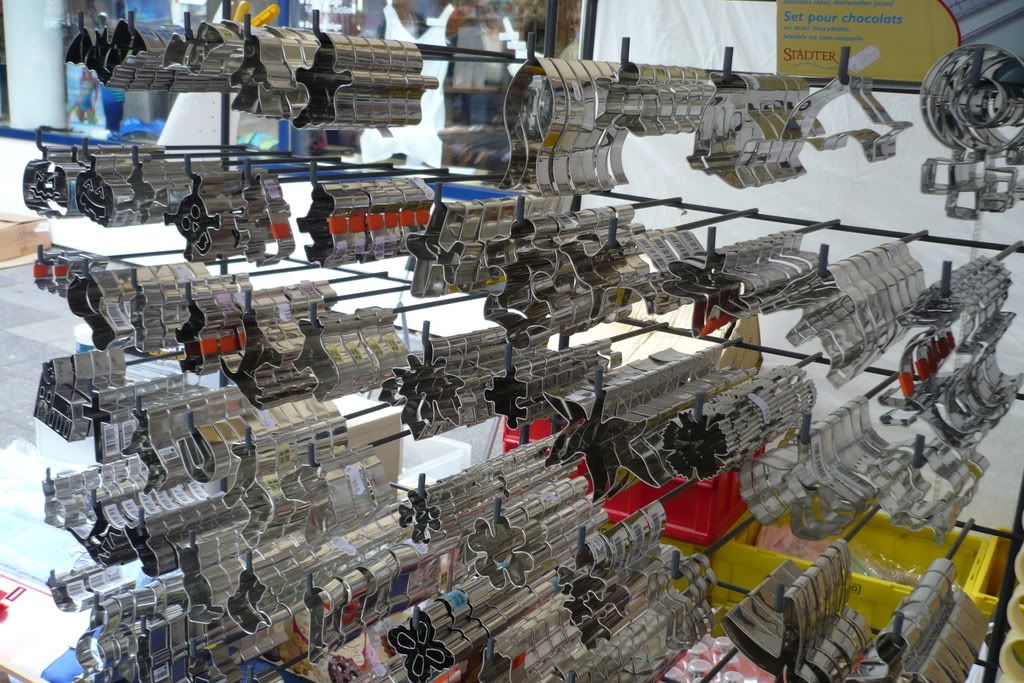 Do you think I can make mooncake with those moulds? Check out the patterned rollin pins!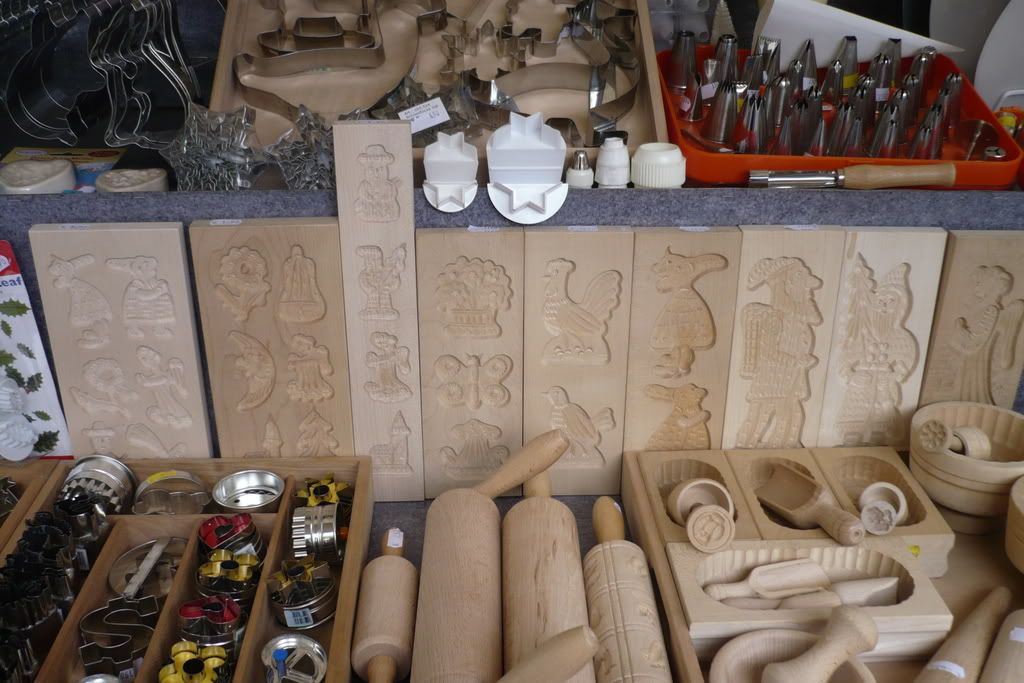 I bought a 7 inch springform here coz the one we had at home made us ate too much.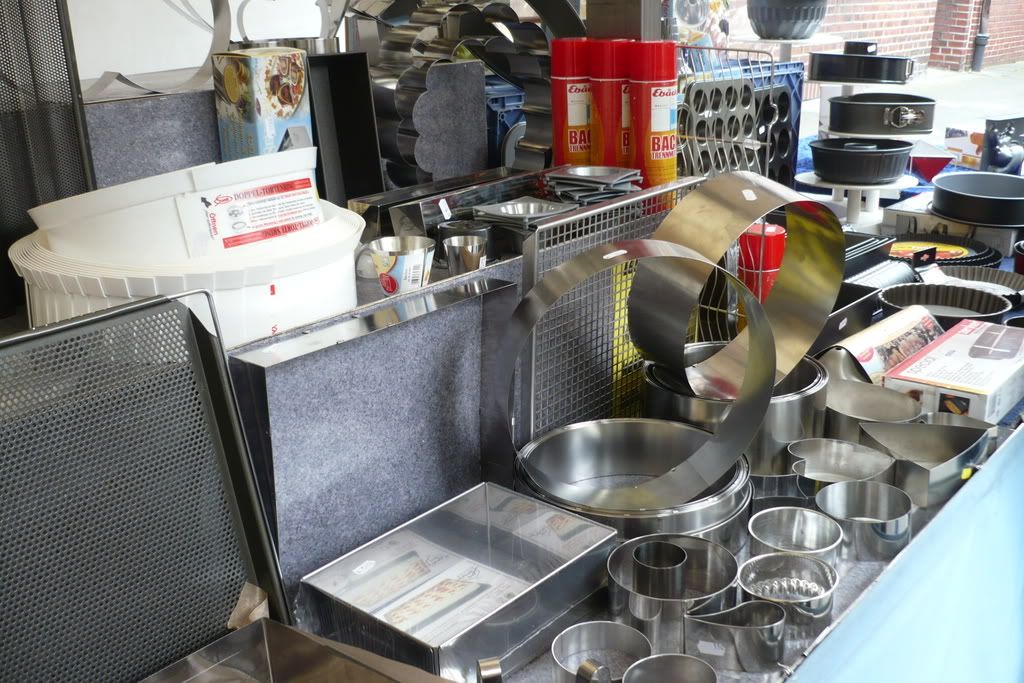 Frankly, I was kinda dissapointed with the `flea`market. I thought it was the real flea market where there´s antiques and junks on display and for sale just like those in England. I found out later that there is another market in Ahaus that does that, and its called something else. Hehe.
Aftert walking two rounds ... I routed towards the adjoining street for the fun fair venue. My tummy were calling me.
It was pretty crowded that day, with everyone taking the opportunity to eat out.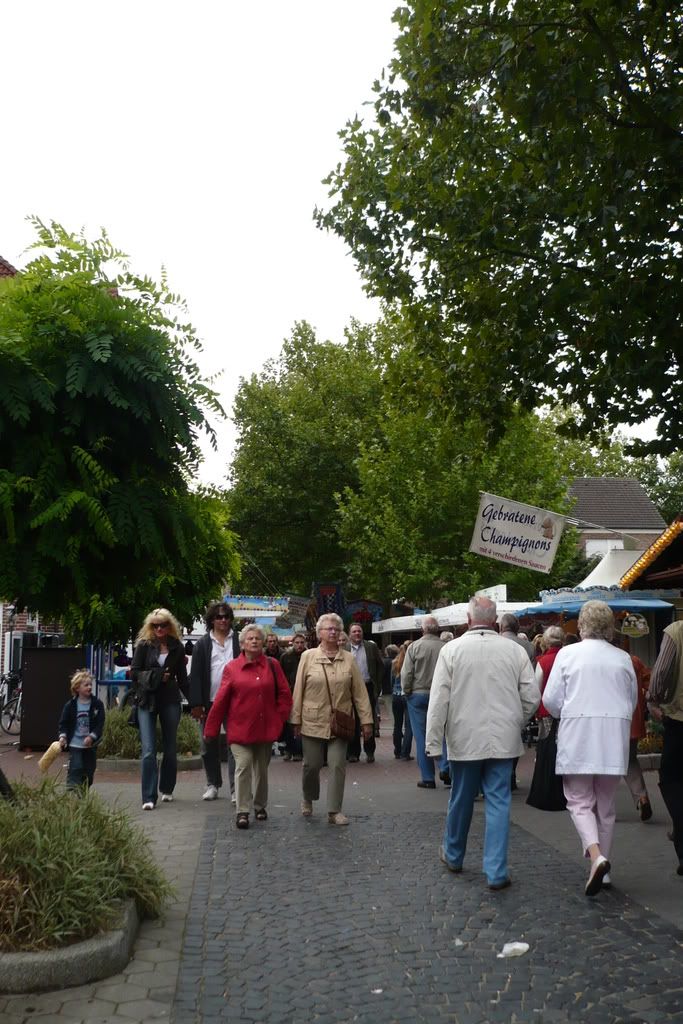 The first stall that greeted me were a candy stall. Upon seeing this, I though of Ashleen.
If only she´s here .. she would go berserk!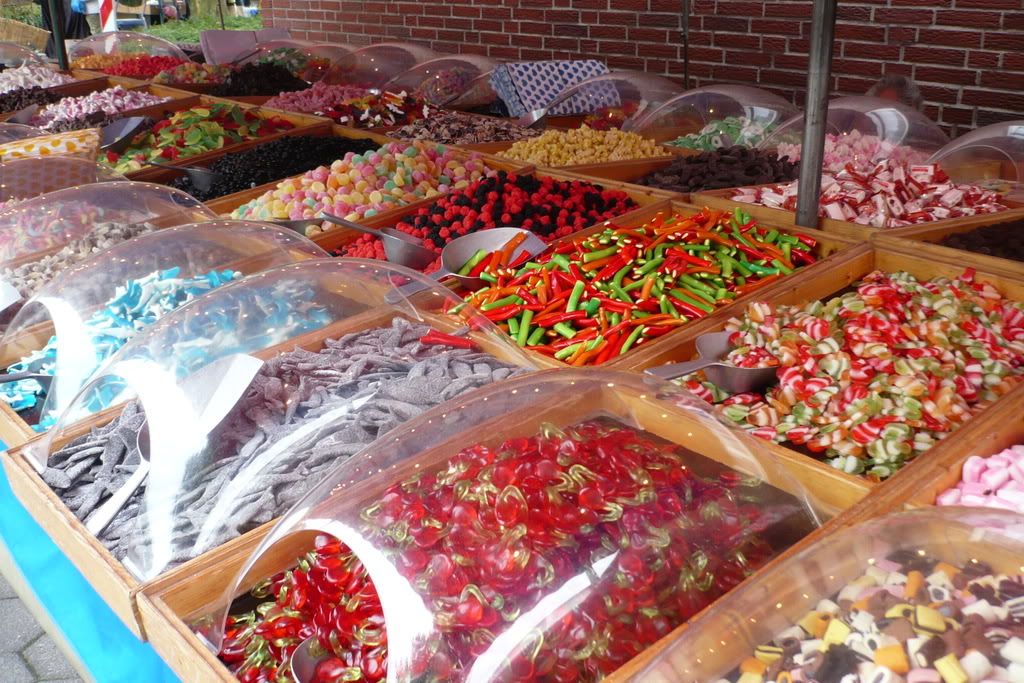 The next stall is Champignon cooked ala french style.
I had them on Friday night with the girls and it was really good. You can have them with cheese, herb sauce and a few other, and I chose herb sauce that night. It was wickedly yummy, juicy and served piping hot under the cold german weather and I was tempted to have another go but though, its better for me to try something else this time round as that day is the last day of the fair.
Ahhh ... I think this post is too long. I will break here lah ...
Continue below ...