And so,
I opted for Crepes instead. It looked similar to the ones like in Paris, and even had nutella filling with it. But ...
I opted for Kinder Chocolate. Must support german chocolates mahhhh ...
And it was goodddd. The crepe were perfectly soft, and fragrant and the melted chocolate .. what can I say. Creamy and sweet and goeyyyy like ... great combination.
After the crepe, I decided to hunt for my main lunch! Haha ...
There´s a popular seafood stall here which sells mainly battered fish and seafood. Since I´ve been having seafood every time I eat out .. I decided to `let this one go`
Seafood with bun. I don´t know about you, but to me .. this look kinda dry and normal.
American hamburger anyone? Hmmm ... I´m not such a big burger fan.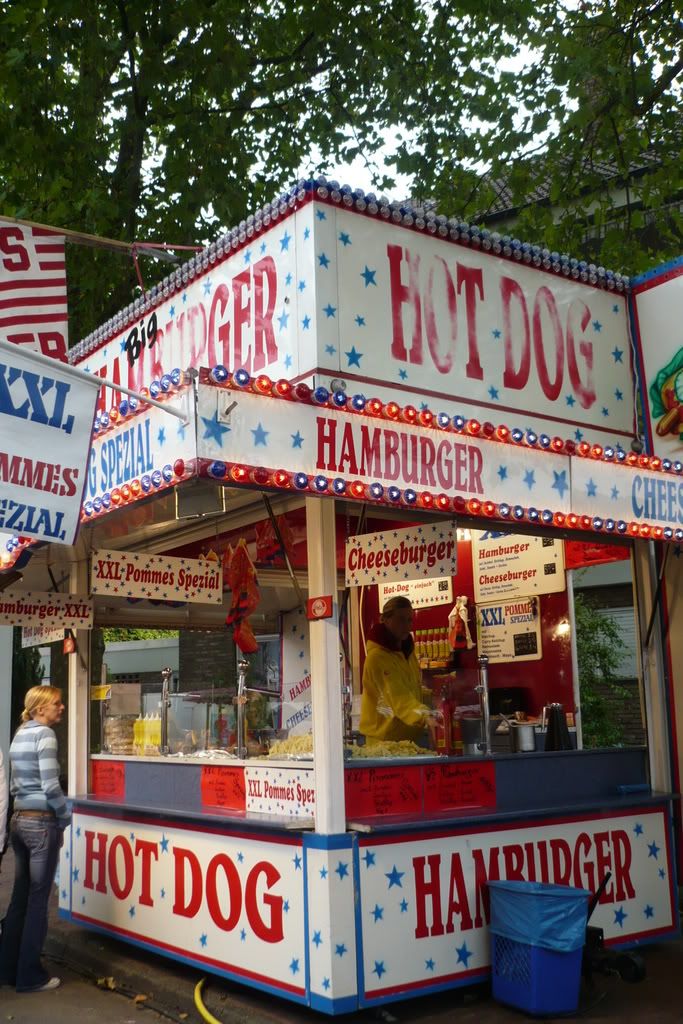 Or noodles!
I was very tempted to go for it .. but when I spotted someone digging the oily strand out from the takeout box ... I immediately change my mind.
There are LOTS of SNACKS stall. Most of them carries a few variety of roasted Mandeln, or Almond with interestng flavours!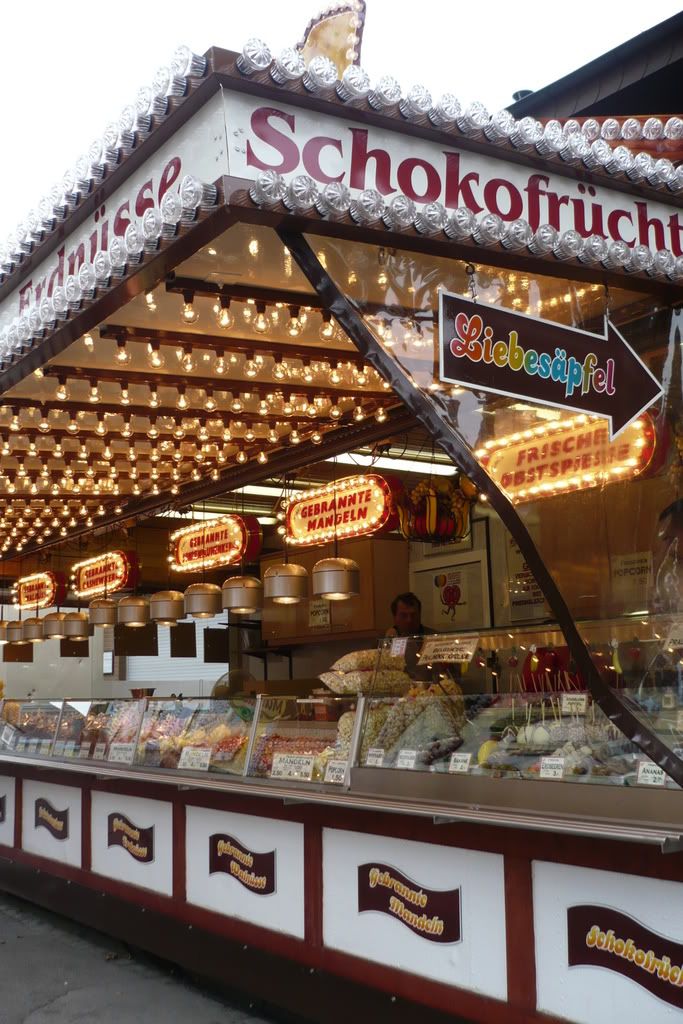 I tried two stalls and this is the best, according to the girls. There´s cappucino, chilli, plain, chocolate and many more flavour. I loveeee the cappucino flavoured ones! Yum yum!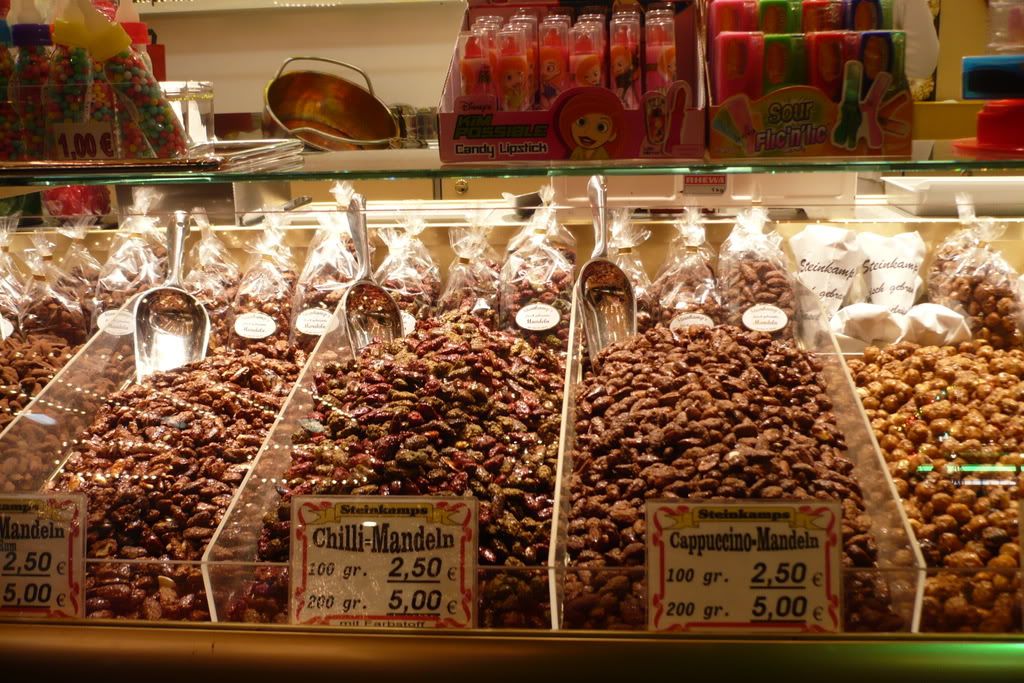 Don´t they remind you of our school time fairy tale stories? Well, most of the stories are from Germany actually. Haha .. no wonder! Cinderella, Snow White, Rampunzel, Little Red Riding Hood and many more. Cannot remember lah.
Ohhhh .. the red apples. Just like the ones offered by the witch!
I walked further and found something. A pub offering Berliner Weisser! Read on and you will know what it is ... hehe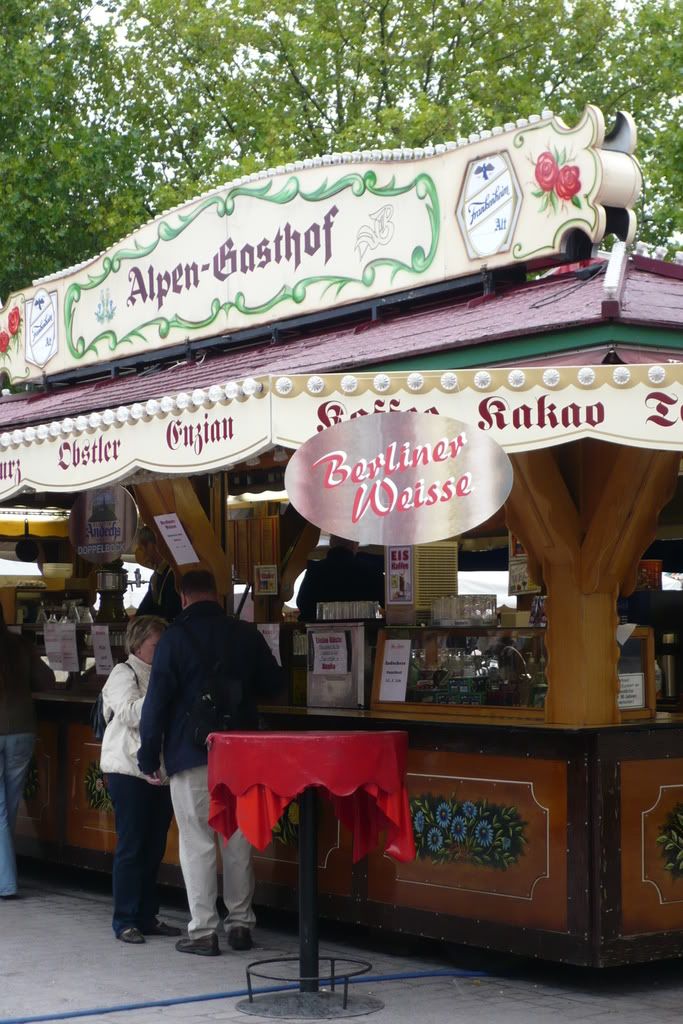 And right next to the pub were an Imbiss stall selling all kinds of German food. There´s champignon again, burger and hotdog, platters, snacks and everything under the sun. Its like mother of all stalls and no wonder its the second busiest after the seafood stall. The good thing is, theres a beer tent right next to this stall and so, I can order my food and eat there.
I ordered a Spiessbrater Teller (7.50 Euro)! Its a platter man .. so its HUGE!
The blonde lady served me and she spoke perfect English. Phew!
The one of the left is some meat skewer cooked in a red sauce. Looks tomatoesh. The one of the right are slices of pork fillet cooked in an onion gravy. They seem to be popular. And that´s my choice! Woohoo!
Champignon anyone? Looks good huh ...
And tadaaaaa!
My lunch of pork fillet with frites and vinegared salad.

Yum yum!
The pork fillet were tender and juicy! And the onion sauce were so yummy and delicious! To add on further, she´s asked if I´d like to have extra mushroom sauce and I said yes! Coz both brown colour mah, so I figured it should go well too.
The fries were like the ones I had in Brussel Sprout, Singapore. Haha. The potatoes here rock, but alas, I reminded myself not to have too much carb or else I will balloon up! And so, I tried being a good girl and finished up the salad.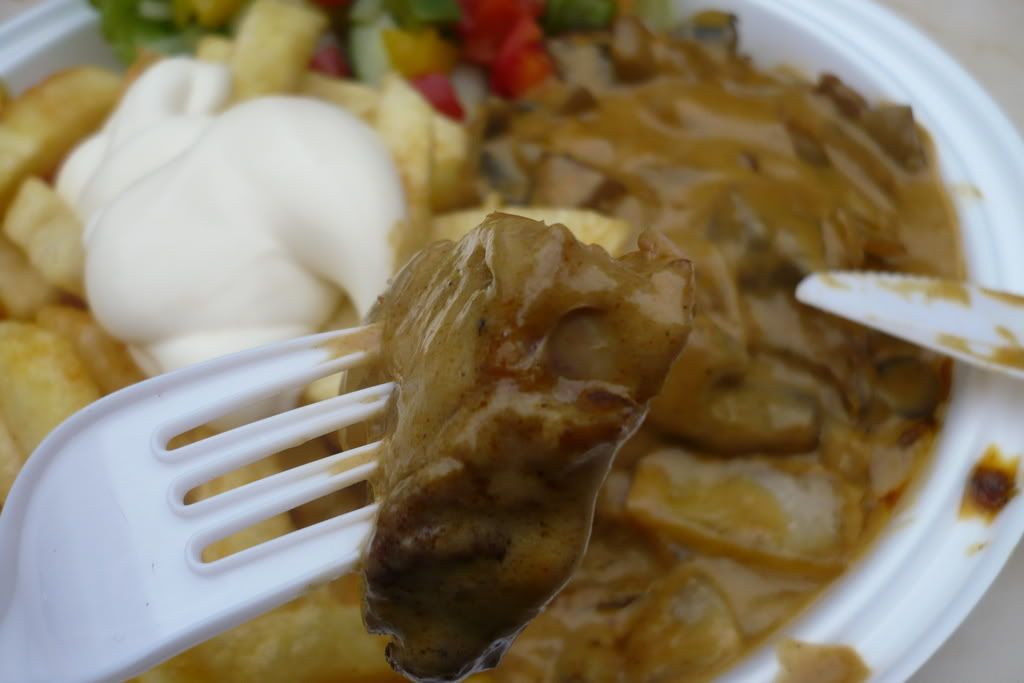 And here´s my Berliner Weisser, my latest LOVE.
Some info on it from the web.
Berliner Weisse is a top-fermented, bottle conditioned wheat beer made with both traditional warm-fermenting yeasts and lactobacillus culture. They have a rapidly vanishing head and a clear, pale golden straw-coloured appearance. The taste is refreshing, tart, sour and acidic, with a lemony-citric fruit sharpness and almost no hop bitterness. Served in wide bulbous stemmed glasses, tourists in Berlin will often order on as a "Berliner Weisse mit Schuss: Himbeere" or "Berliner Weisse mit Schuss: Waldmeister". These are syrups that are added to make the sourness more palatable. Himbeere is raspberry (red) and Waldmeister is woodruff (green). Woodrugg is an aromatic herb found here.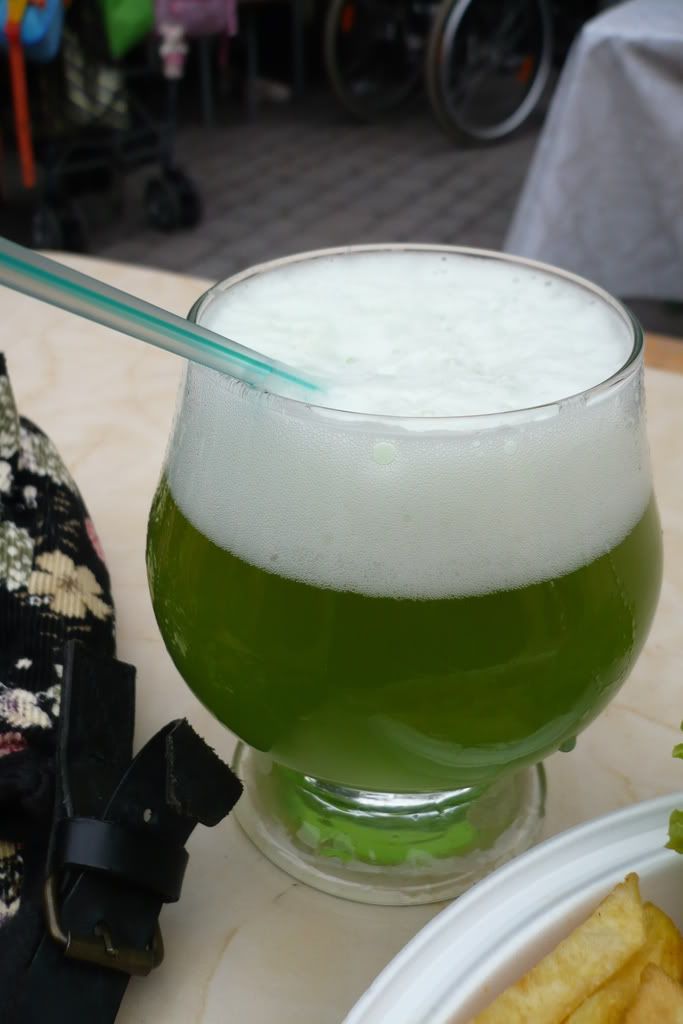 Yummy stuff and I can say, this kinda beer can get popular amongst the ladies coz it has a bit of assam boi taste. Hehe ... so after the drink, I staggered back with a happy belly. Its a pity that I did not take more photos, but again, it will be back next year and isn´t it a good excuse to visit again?
OHHHHH YES IT IS!!!!