*puff, puff*
Time is definately not on my side. A lot of last minute stuff cropped up and I had to tend to it, much to my surprise coz I'm such a procrastinator and this time round, I made it a point to abide by a to-do list and I'd completed much of the important stuff last week already .. and now .. well.
One of the thing that I had to do is to blog out about this. A special farewell entry to my fellow food bloggers here in KL/Malaysia whom took the time two weeks ago to meet up and threw me a wonderful King Crab feast, which I'd been wanting to go but never did coz I never had the opportunity to. It was a Friday night and my eye sigh were kinda bad that day and am sooo thankful that Ivy swing by to pick me up.
Ivy, being the Ms. King Crab did the ordering. I'm in safe hands *grin*
First to arrive were
The Four Heavenly King aka Sei Tai Tin Wong
. I bet this is a Made In Malaysia dish around 90s period, taking after the Hongkong's music scene Heavenly King's popularity then. The Sei Tai Tin Wong consist of long beans, four angle beans, brinjal and petai - fried in a delicious, aromatic and kicking sambal sauce. I say, this is better than the Four Heavenly King itself! At least, all the individual king are yummy and live up to the name.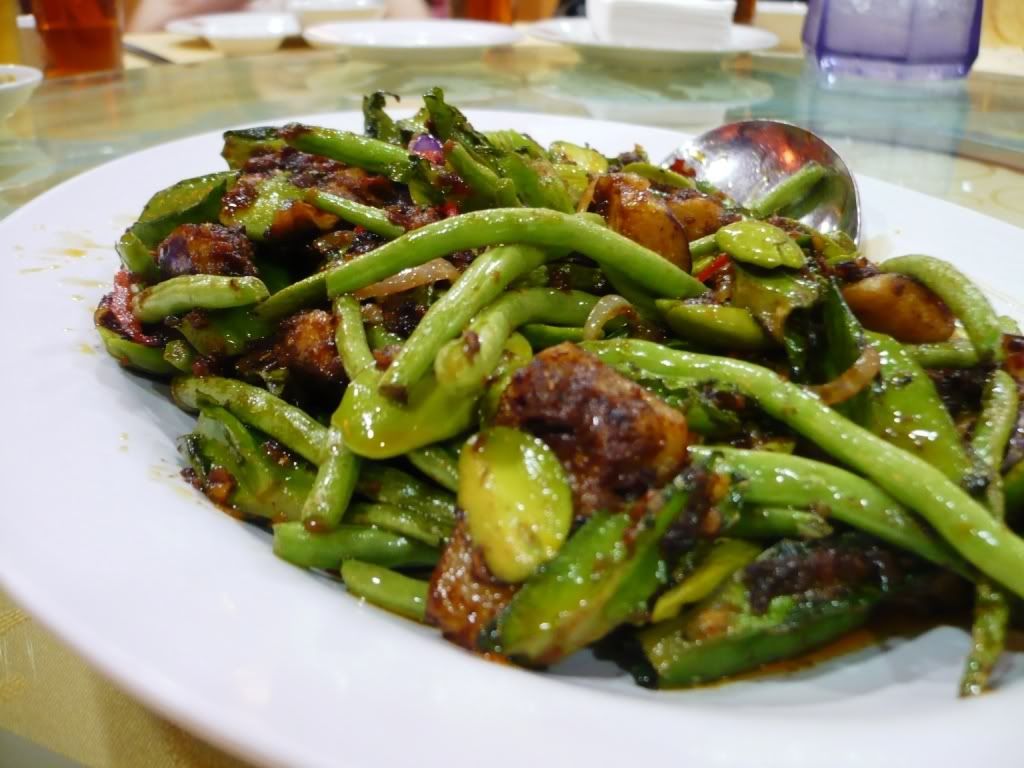 I was excited to see
Stir Fry Vegetables with Scallops
coz I'm a big fan of scallops! Not just any scallops, these were hugeeee and bouncy. The combination worked well for it also came with crunchy bit from sliced lotus roots. A nice change from your regular vege dish.
My first time eating
Roast Chicken with Fresh Fish Paste Stuffing
. Boo mention Sek Yuen does a good version of these and I was trying to visualise how good that would taste coz King Crab's version is impressive enough to me! Hehehe .. well. The fish paste tasted fresh and chewy, while the outer layer were crispy and fragrant. Overall, a very unique dish and tasty.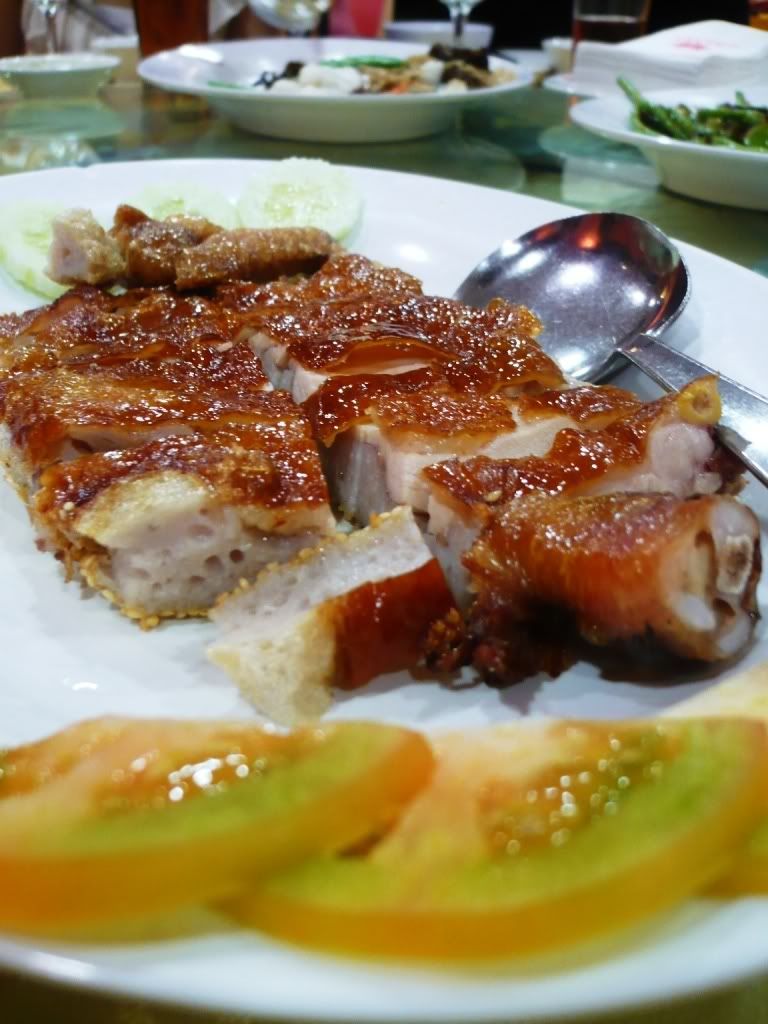 One of the dish that hit me spot on was their
Guiness Stout Pork Ribs
. The tender, succulent pork ribs were gorgeously, gorgeouslyyyyy coated with this think, goey like coating with little hint of guiness stout. Aromatic, with slight tint of sweetness, I can't stop myself from second, third, fourth ... (helpppp!) helping.
And of course, what's King Crab without their famous crab dishes eh? Well, it DID happen to me during my first visit but again, that was a charity dinner with standard banquet dishes.
Ivy asked me what style I wanted, and I immediately respond to
Sweet & Sour
. How old school but this to me is a classic of all. Think Fatty Crab, Taman Megah and you get the geez. I remember vividly a friend whom demonstrated the versatility of his first generation "tai kor tai" aka mobile phone by smacking the crab with it versus the hammer provided. Me and my friends almost chocked on our half eaten crab. Thoseee were the days.
Back to King Crab, the crab were meaty and fresh (very important) and its sweet and sour sauce were cooked to perfection. Dip it with their bread and you'll get a case of 34 to 36 waistline in no time.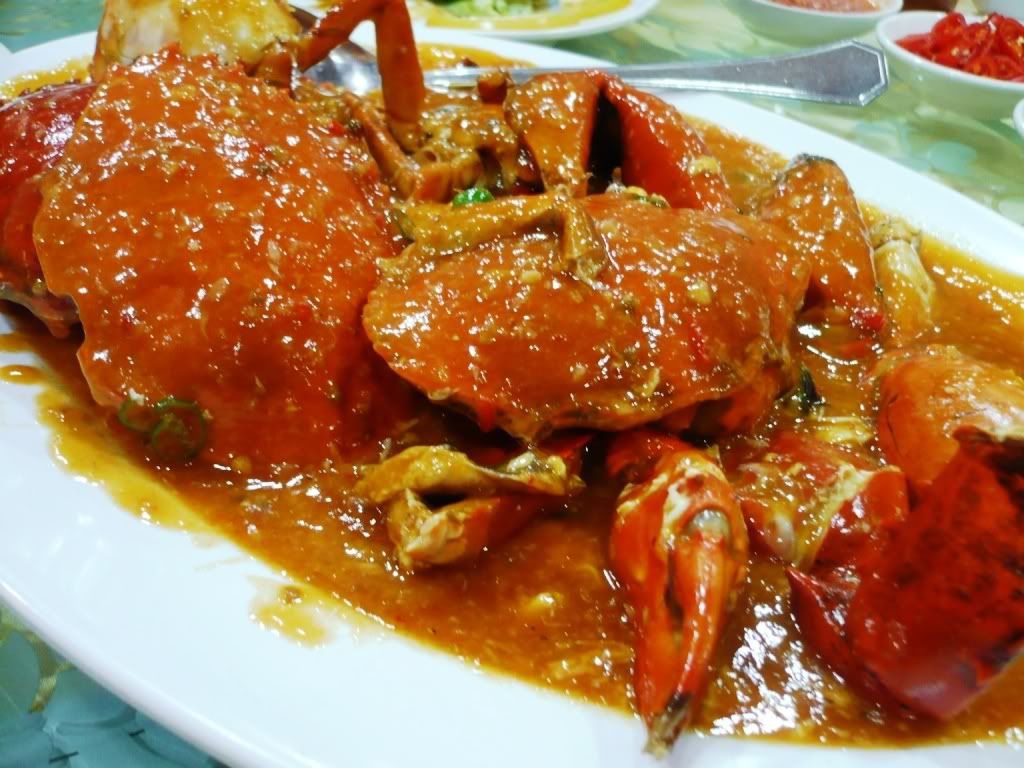 The other cooking variety method which took Klang Valley by storm were
Cheese Style Crab
. Coincidently, there isn't a gram of cheese used when cooking it but instead, relied on milk. King Crab's version was tasty nonetheless, amidst the weird texture which I did not even realise coz I was busy licking everything up!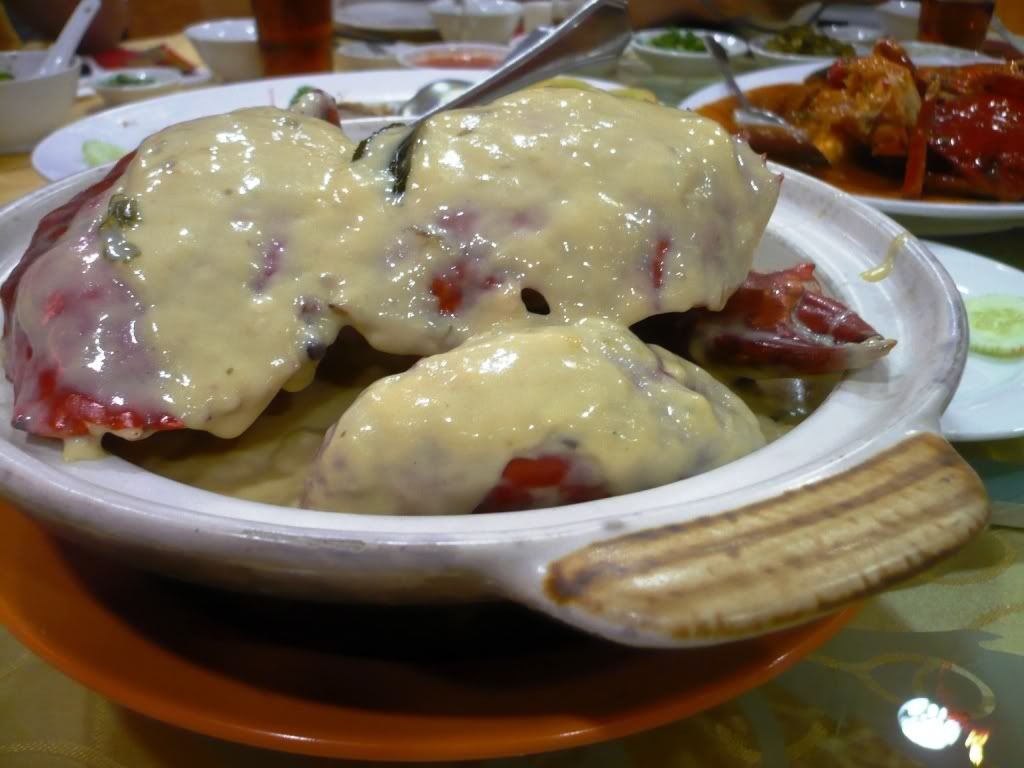 Who would have though that the grand finale ended up to be Mantis Prawn and not the crab? Well. It was done to perfection. Deep fried with tasty shell and soft, tender flesh hidden inside. King Crab's staff even de-shell the top part for us, hence it was a case of picking them up, and flicking the flesh out in a zest. Easy job, and fresh to the last bite.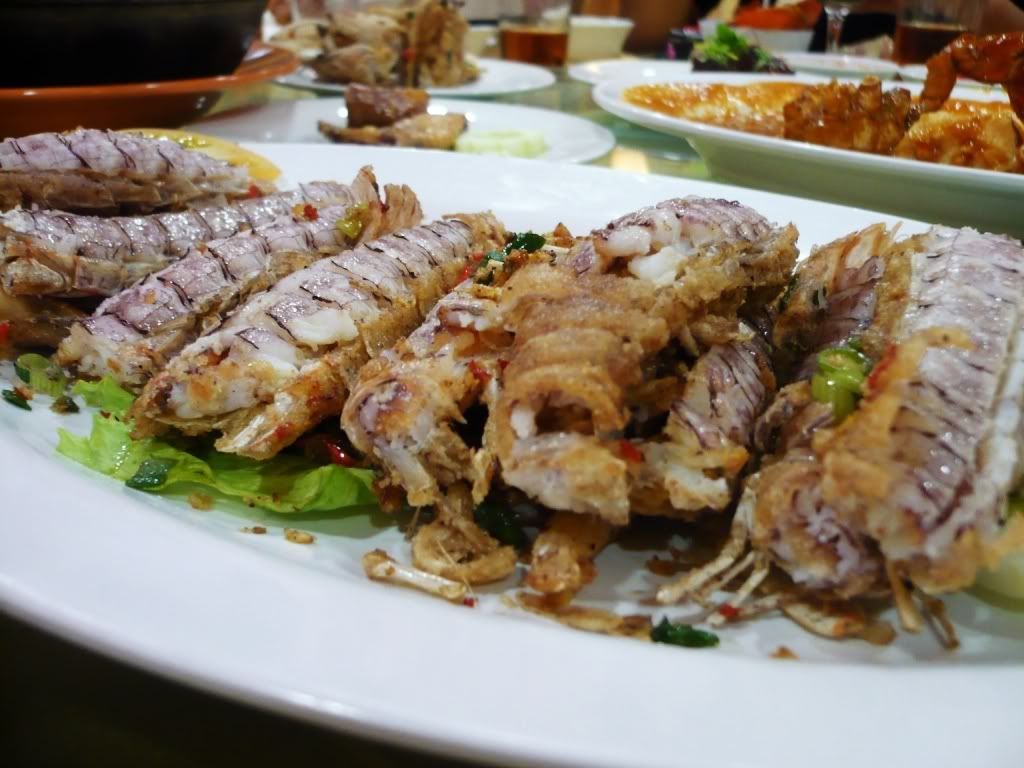 The legendary baker boys aka Just Heavenly Duo whom brought along a tub of heavenly, heavenlyyyyyy
Orange Ganache Marshmallow
for the perfect ending to our meal. It was such a perfect choice coz it it was bite size and not too filling, but yet, wicked and mesmerizing.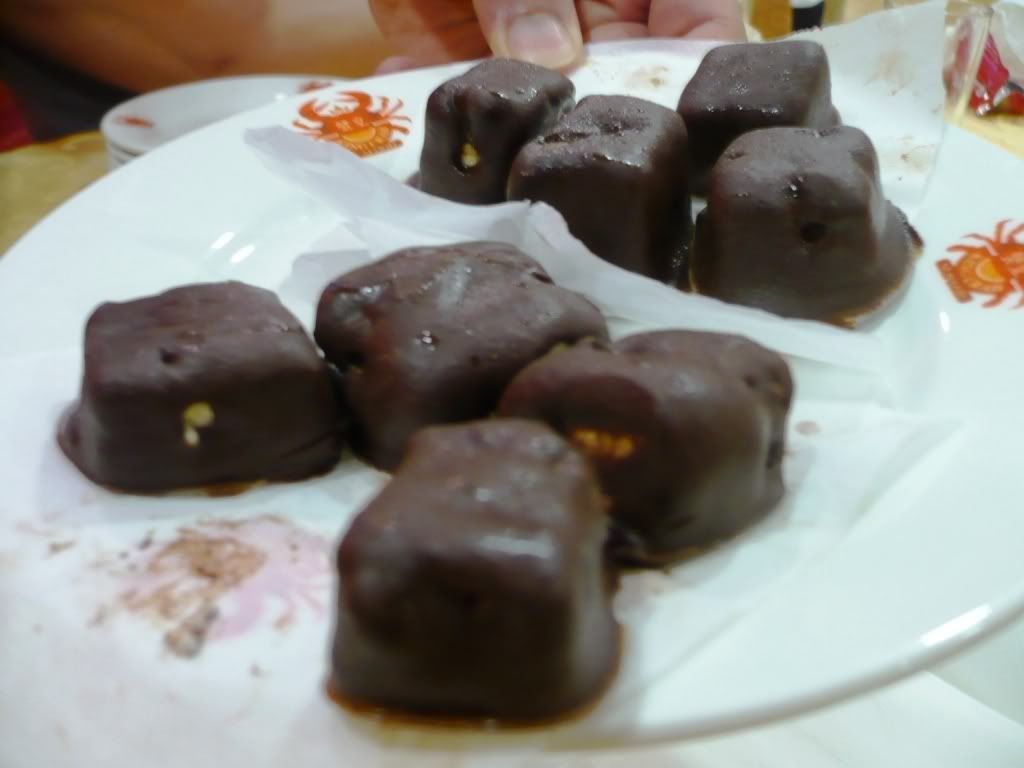 We were serenaded to some karaoke songs after our meal. And oh boy ... food bloggers CAN sing too! Some drinking continue of course, with Teckie around ... there's no escape to it! Thanks Teckie for your wonderful Honey Plum Liquor (Umeishu)!
To all the foodbloggers present, I really, really, really wanna thank you all for such wonderful time and experiences you've shared with me.
Thank you so much
Wei Zhi
whom initiated the dinner gathering, Ivy for organising the venue and confirming the pax. A big thank you to
Cheng Yi
too whom had other engagement at hand but made it to dinner nonetheless. And to
Boo
and
Meena
, thank you so much for your wonderful food inspiration. To
WMW
, you rock! Offline and Online, so I'm gonna miss hanging out with you. To Teckie, what can I say ... yammm seng! To
Jason
... yes, we Malaysian Mali, Talak Sombong one ... And Allan and
Nigel
, you have been a source of energy wherever you all go to, and sooooo gonna miss that. To
Serena
and
Dwayne
, the sweet couple, keep on blogging and remember to bring camera! To
Lex
, congrats with your recent achievement! Can you spare some tips? I'm so weak in that department. To
Meng Keat
, I am sooo gonna try the ice cream recipe soon! And to
Simon
.. ohhh poor Simon. His car died on him that night and could not make it to the dinner. I hope all is well now and who knows, we will meet again someday.
This is it ... my new life soon. One more day to go and everything will be different. No more nasi lemak bungkus, no more fresh seafood, no more hot food for every meal and no more food snacking when not seated on the table.

I'm soooo gonna miss you all! *sob, sob*
Thank you once again, from Imbi N Itchy's heart.
Hugs,
Lianne