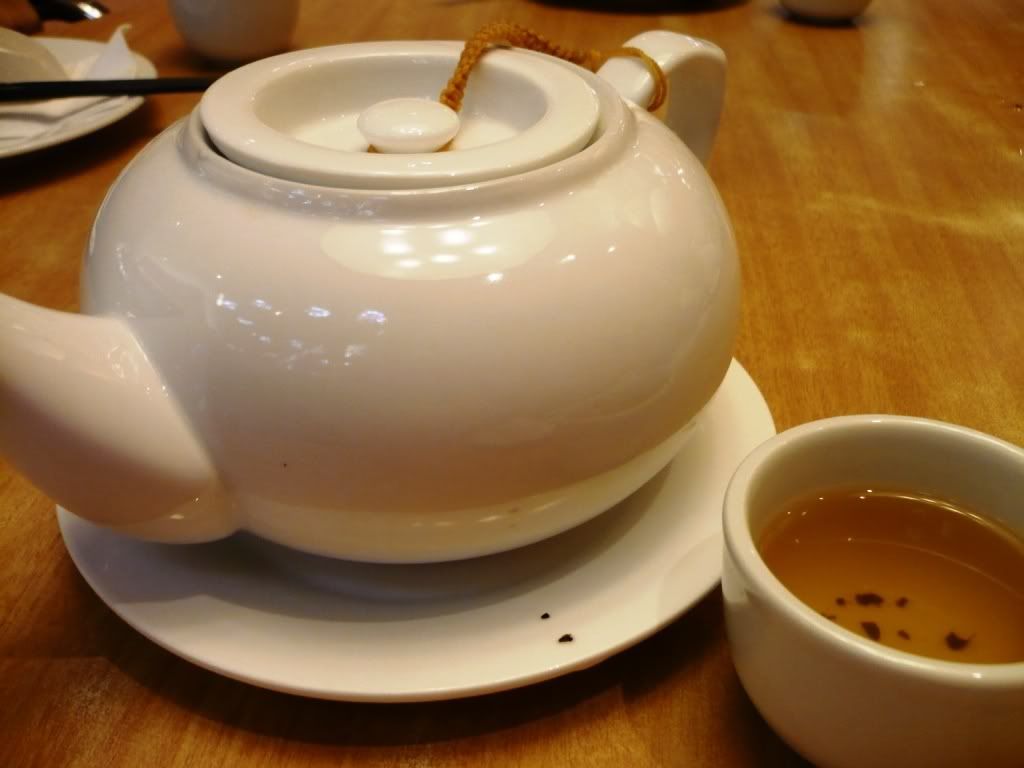 How was your weekend?
Mine was packed, from back to back. I was downtown with sis for a hair cut which turned out well for me, but my sis absolutely hated hers *sigh*. After that, we headed across to Pavilion, drop our pendant and necklace to Thomas Sabo for a lil polish first before anything else. But this time round, we did not hang around long because each time we do that, we will burn $$$ further.
We headed over to The Loaf shortly to claim my RM10.00 credit, but only to be told that I need to activitate the claim when I fill up my particulars on their website (damn, sooo mah fan!). My sis wanted to check out some maternity wear in Top Shop, but guess what .. I ended up with a beautiful white, loose hanging blouse which was absolutely adorable! Our sudden shopping did not end there after me grabbing a pair of jeans which fitted me like a glove at only RM30 in KL Plaza's FOS outlet! Apparently, they are moving out so things are being slashed or markdown like crazy. But that's not all, we hop over to Zara next and that's it! Zara is our weakness ... really and to our excitement, the whole store were going crazy with furher markdown! Fortunately, I was quite disciplined lah and only walked out with a black trench coat. I have been looking for the perfect trench coat for years, but just could not find the justification for it but now, I have found it. So, happy lah ... albeit a bit broke now *grin*
That evening, I promise to bring mum and dad to a restaurant in 1 Utama, to celebrate mum's belated birthday. The thing is, she celebrates her chinese ones only and me being banana, had again, failed to recognise the actual date until way later. Mum, was happy neitherless and by 6pm, she was all dolled up and ready for her meal. Oh, did I tell you that my mum lovessssss food?
Yishenshu was 3/4 packed when we arrive. The front liner urshered us straight to our reserved table at a corner, and I could not been more please as it was more private than the rest.
I was left with the decision to order whatever and this was what we ate.
Seaweed and Seafood Soup (RM8)
which came in a hugeeee bowl, full of seaweed, vegetables and mock prawns. The soup was sweet, and I reckon its due to MSG for soon after, me and sis were gulping down water like no one's business.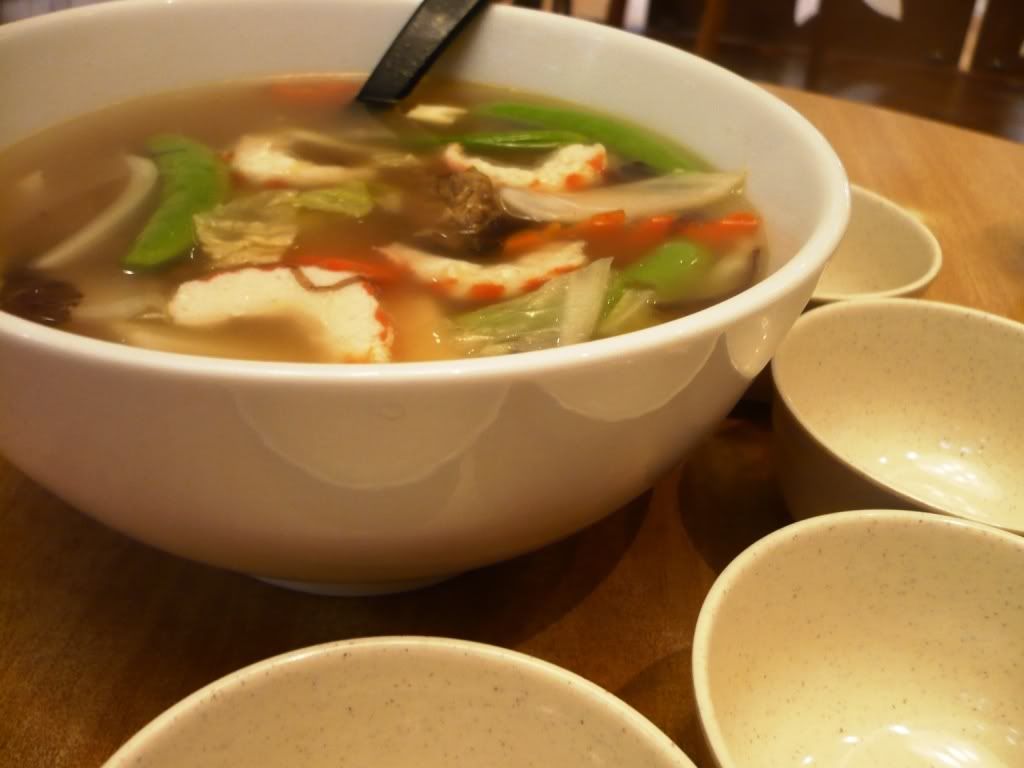 My dad adored their
Homemade Tofu with Fish Paste (RM18).
It was very soft and fresh, and tasted every bit what fresh tofu is suppose too. Its sauce of sweet, salty and fragrant went really well.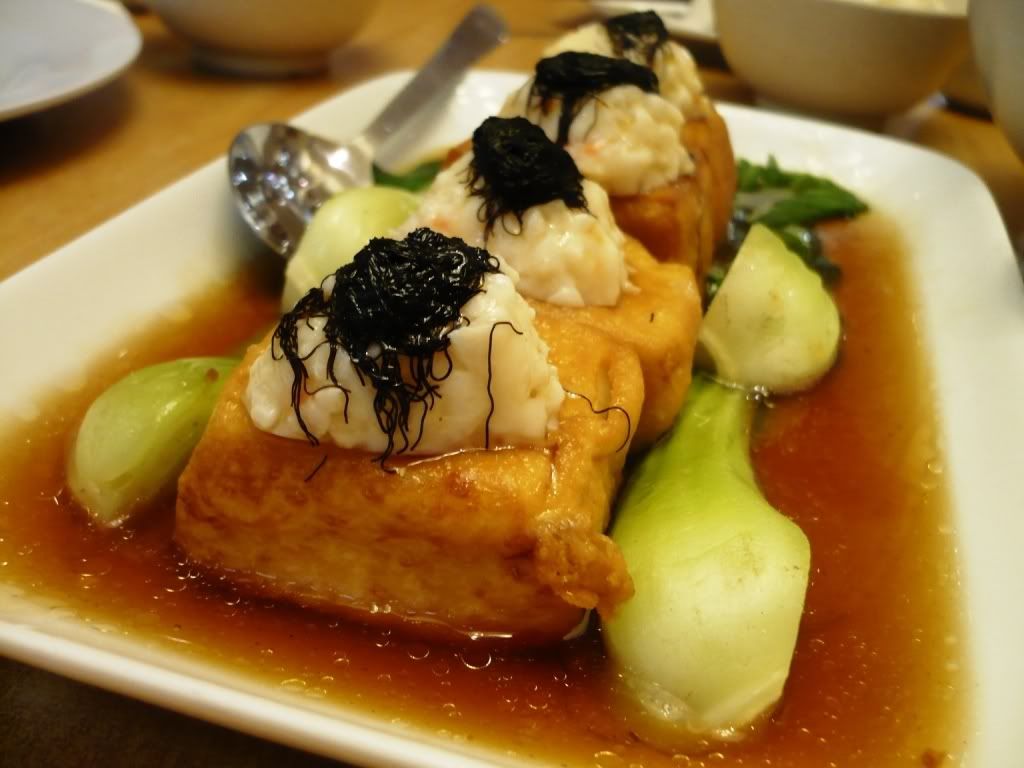 For green leafy, I picked
Kailan
cooked in the simpliest method. It would have been better if its Hong Kong Kailan where its stems are fat, crunchy and juicy. But this is not too bad, for its fresh and crunchy.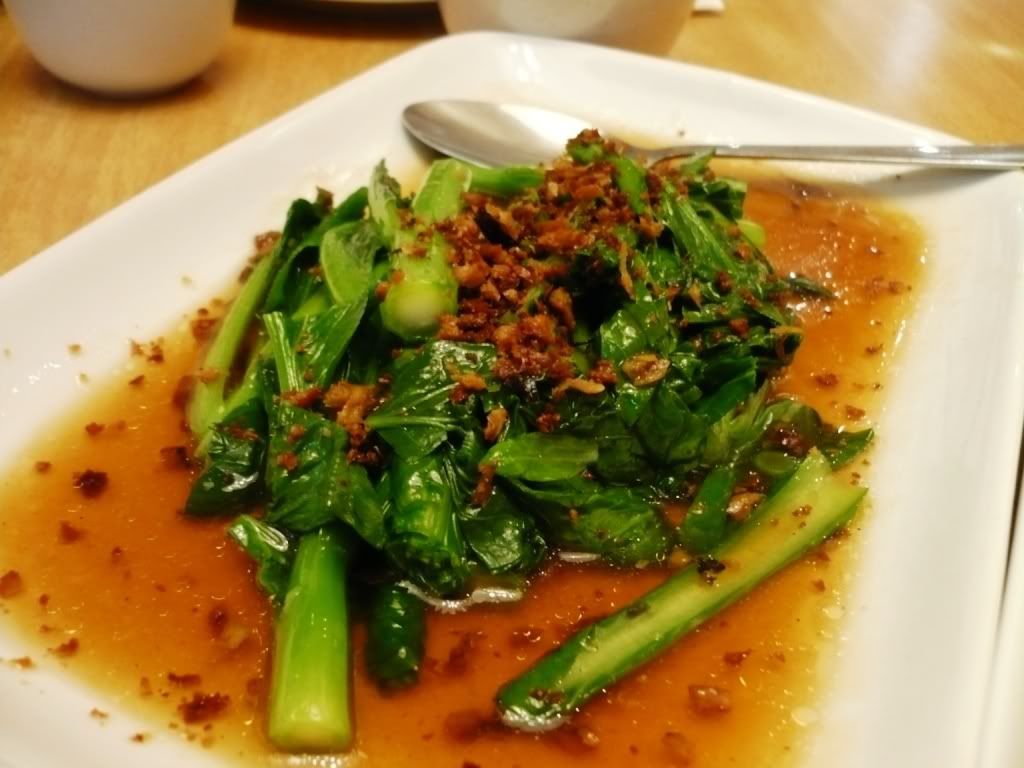 All of us could not have enough of this! Their
Oatmeal Prawn (RM18)
were soooo good! The oats were crunchy, fragrant, perfectly cooked and not oily at all and of course, the mocked prawn tasted heavenly with its smokey flavour imparted from the oats.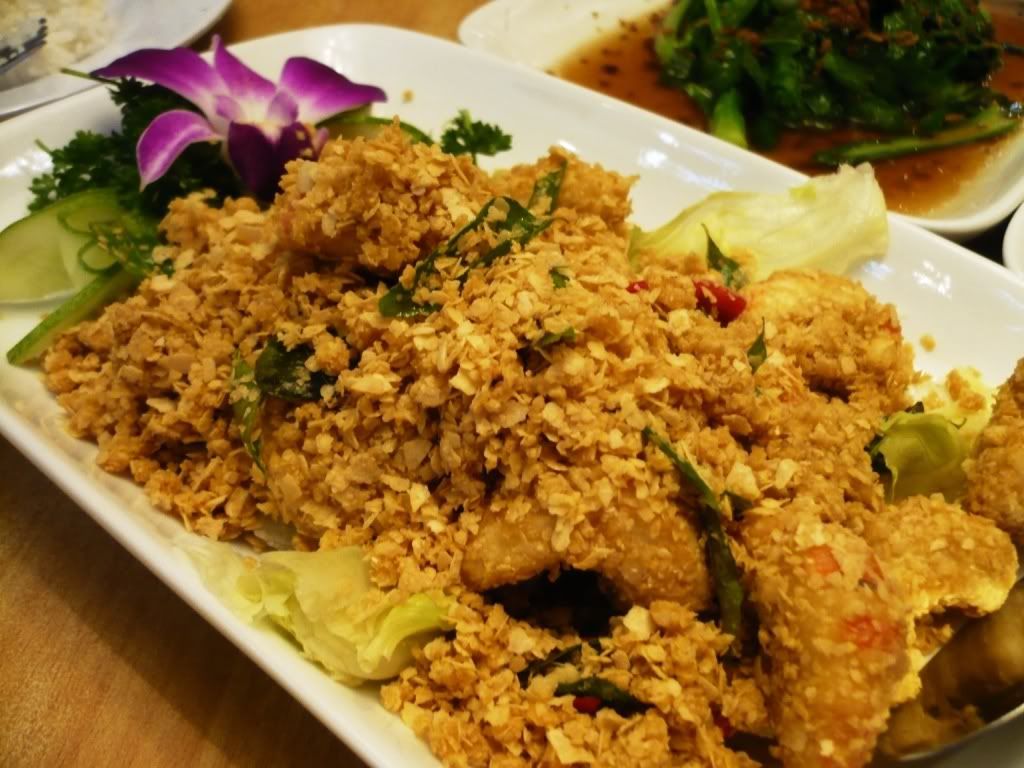 The
Sizzling Grilled Fish (RM28)
was the special of the day and we just had to order them as it sounded really good. And so, it was the last to arrive and when it did, it arrived with a bang. My sis were almost in tears and all of us nearly choked, for the sauce were absolutely spicy. But once the sizzle dies down, we devoured every little corner of the griller and scooped out every morsel on this hot plate. Oh boy, it was such a fabulous choice for the sambal sauce were so good on its own and few of us whacked extra rice to go with the sauce.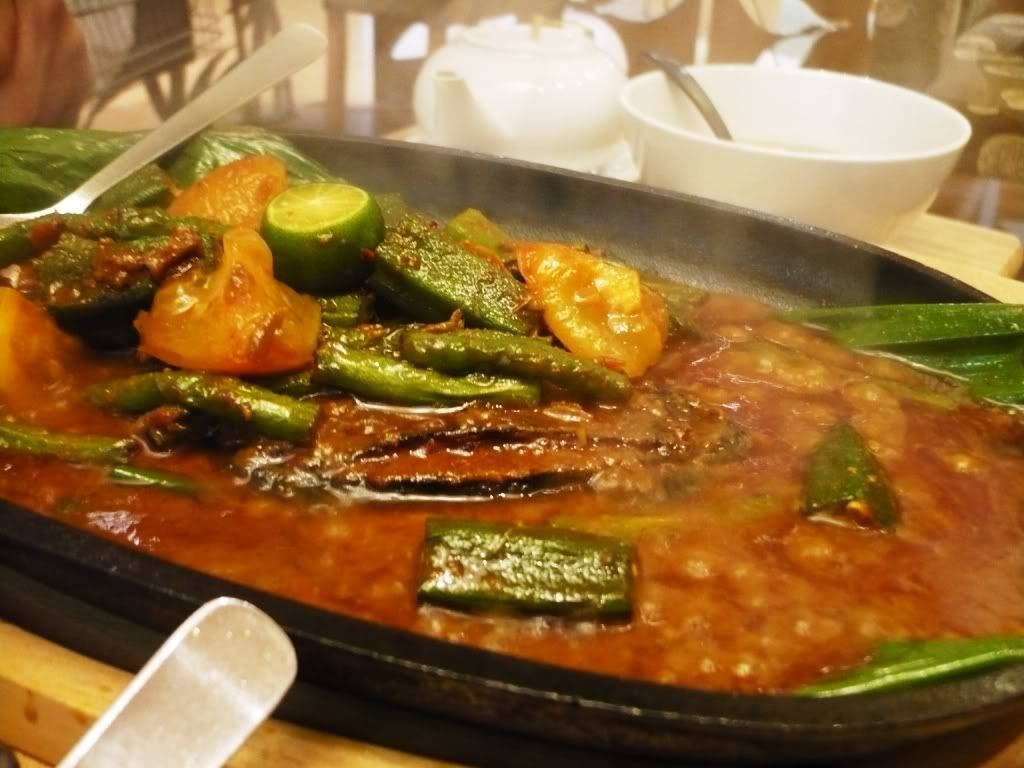 We did not order any dessert for my mum's prohibited to have them and we didn't want her to salivate while we have ours. The bill came up to about RM100.00 for 4 adults and 1 child, which I find reasonable for such food quality and quantity.
Perhaps, I shall arrange for another family dinner when me/J return in November eh? Or is there a better vegetarian restaurant around?