I had to mark this down. 1 Kang and 1 Kong met up for lunch and another Kong decided to join in! How often do you get 3 individual person with the same but RARE surname sit down together for a meal? And the 3 are not related to each other at all. SLIM CHANCE, I tell you.
2 Kong's - Same English sounding surname
1 Kang and 1 Kong - Same Chinese surname
Lunch spot was at Le Gourmet, The Curve. It is a cosy Mediterranean inspired restaurant which serves up pretty good to excellet, value for money set-lunches.
This is my order of
Mediterranean Chicken
, huge pieces of chicken drumstick cooked in tomato broth with slices of zucchini, chunks of carrot and pineapple. Taste were utterly delicious and chicken pieces were well flavoured and moist. You can have them on its own, or with rice which came with it. The
RM15.80
set lunch
came with a choice of Ice Lemon Tea, Peach Tea, Orange Juice or Carrot Juice.
Who ordered them ; Ms. Kang (me!) and Ms. Kong (supplier)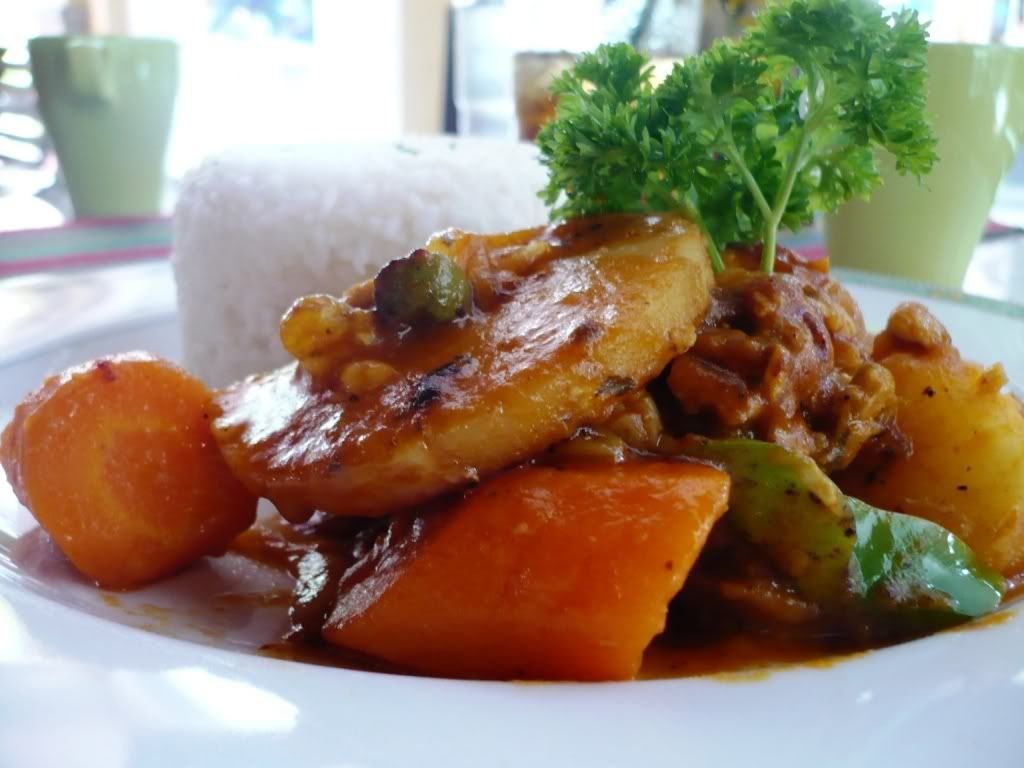 Their tender, flavourful and pretty good value for money
Braised Beef
. Received thumbs up for another
RM15.80 set lunch
which came with the same drink option as the earlier.
Who ordered them; Ms. Kong (Ruby)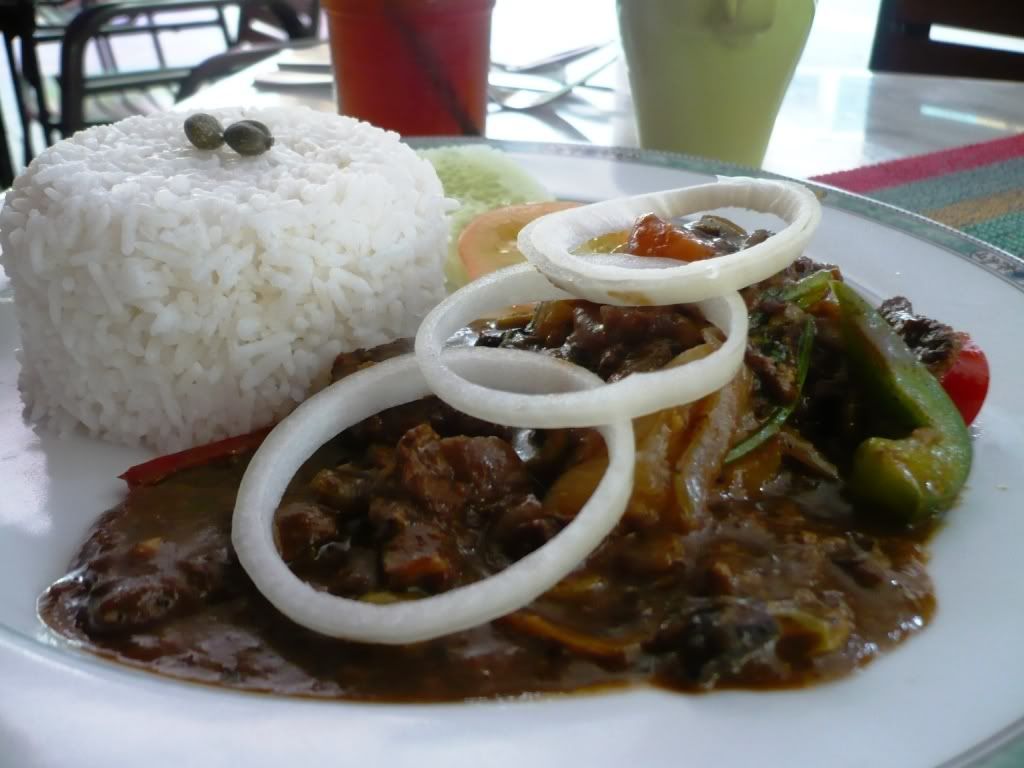 The two Kong's and one Kang shared a slice of
Vanilla Cheesecake (RM8.80)
which tasted un-cheesy and un-vanilla. Chocolate sauce were a bit off too. The only thing I like were its texture.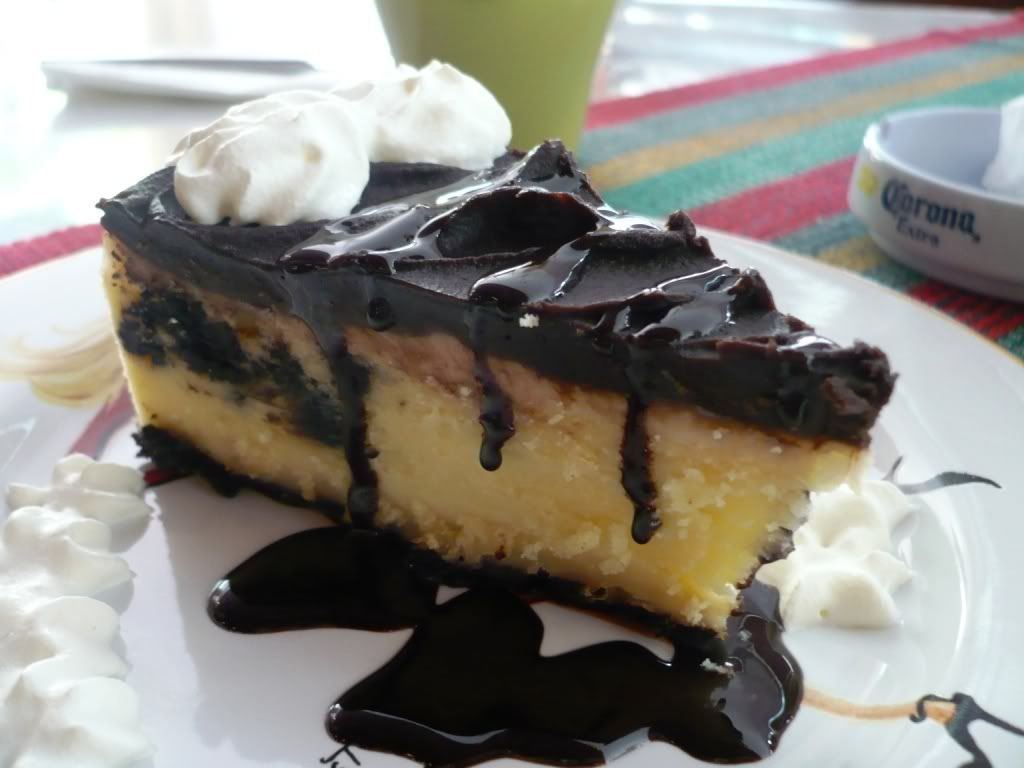 One of the Ms. Kong left and now left a Ms. Kang and Ms. Kong. Ms Kong asked Ms. Kang if she's keen to go Kota Damansara for tea. Sure will do, for this Ms. Kang never say no to new food establishments.
Our next stop were Kopitiam something, something - the one that fronts Starbucks Dataran Sunway. The place were done up in a combo of kopitiam cum kampung style. Cool!
Ms. Kang here got captivated by their
tea-break sets priced at RM5.00 only
. You get to choose to have popiah, yamcake, toast bread, curry + bread and one more ... hmm, can't remember! Anyway, Ms. Kang choose this coz feeling guilthy for eating so much! Popiah will do and its not so heavy lah. Taste were not bad. They have in it lots of fried onions, but it would have been better if they don't stinge so much on the filling. Inflation???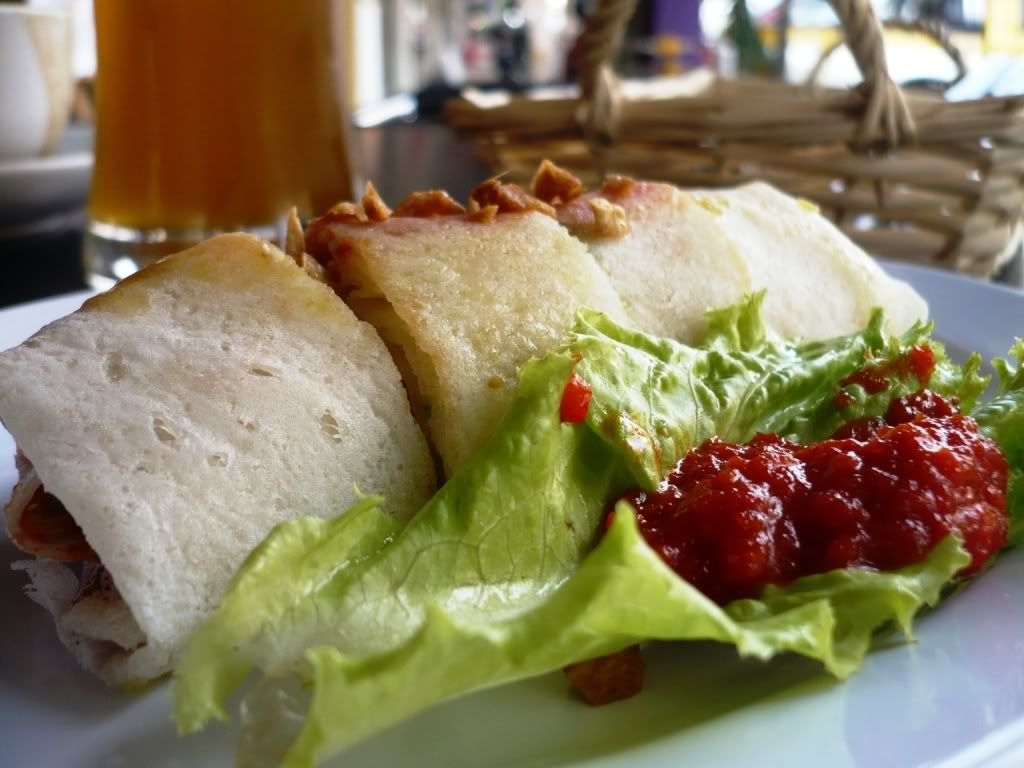 Ms. Kong had their toast bread set which its photo were not captured by Ms. Kang. It looked pathetic and skimpy. Ms. Kong had to scrap away the overly laden margerine too. Hmmm, why not butter? Cheaper? Skip their toast at all cost.
Both Ms. Kang and Ms. Kong's still game for more. Here's what we topped up!
A proper set lunch which were priced at RM8.00 only!
Not bad, and it came with dessert choice of Ais Kacang or Cendol, of which the latter were not available :-( boo.
Assam Laksa's
broth were good! Sweet, sour, spicy and tangy .. all roll into one. The noodle could have been heated up beforehand for better texture.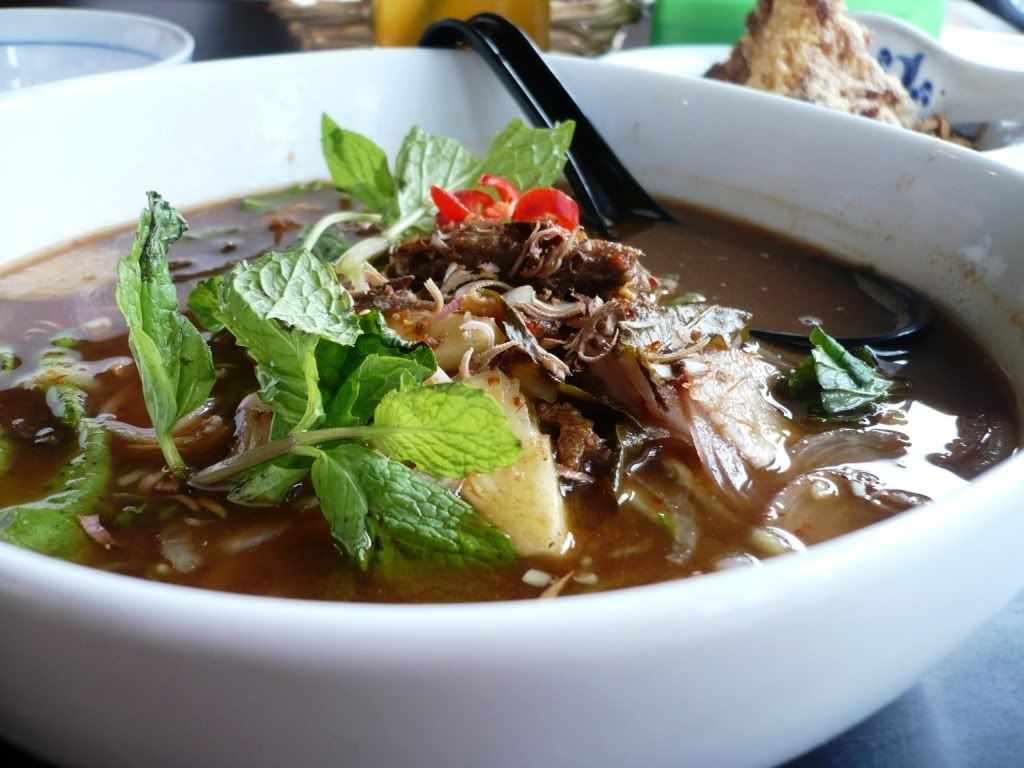 The mountain fuji wannabe
Ice Kacang
, slacked in volume but made up in taste and texture! Not too bad at all.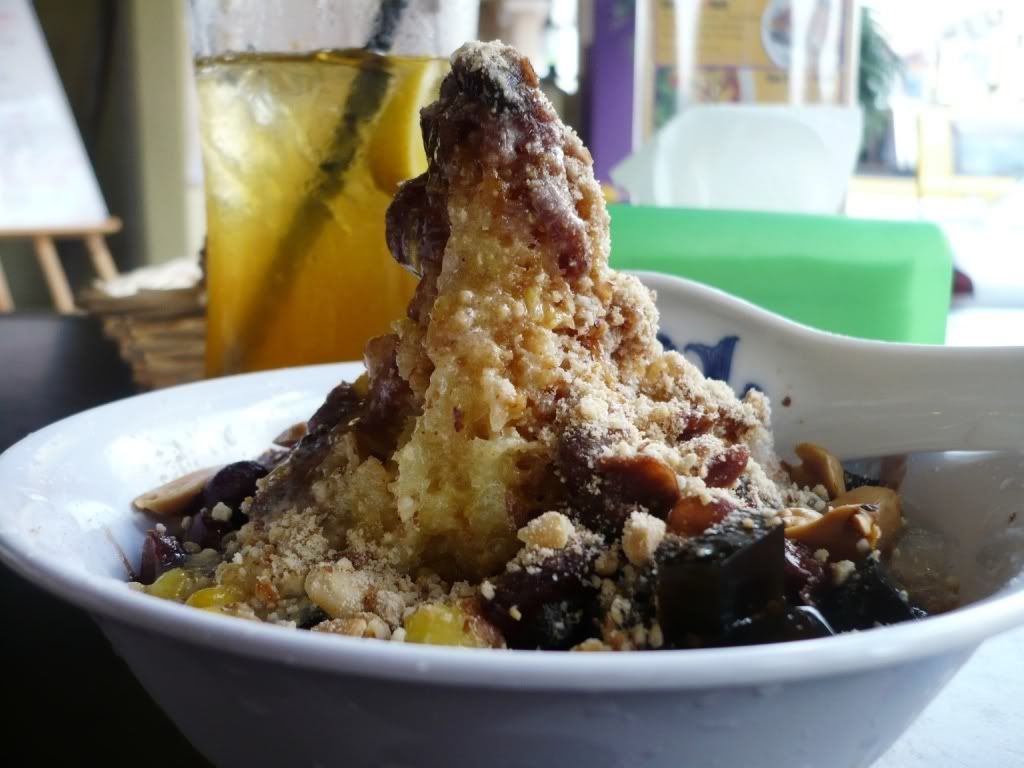 Both Ms. Kang and Ms. Kong skipped dinner after that. Burp.
WHAT A KANGKONG DAY!!!