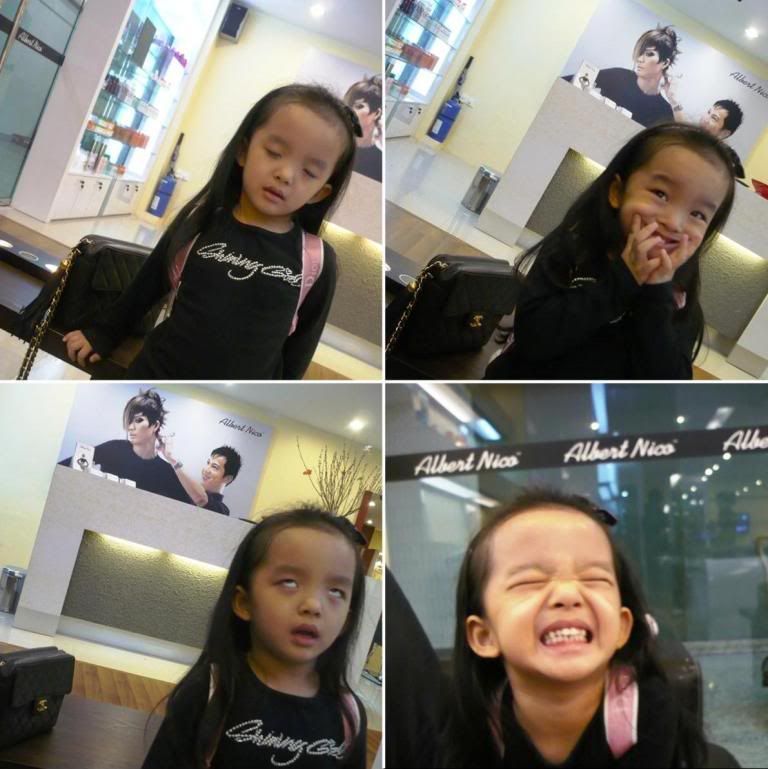 Last weekend, I had the privilege to spent some quality time with my niece and my sister. My sis, Jasmine had earlier asked me if I had time to babysit Ashleen while she go get her hair cut by non other than Albert Nico,
the gifted but somewhat banyak character hairstylist
. I know coz I use to go to him when he was at Imbi Plaza. Back than, he was charging RM60 per hair cut, double the amount of other hair stylist but he's good. He somehow, always manage to make you look and feel like a model when you step out of the salon. Nowadays, he charges a whopping RM128! Crazy right? I'd rather stick to my RM25.00 hair cut in Dry Cut salon, which may not be as good as him but not too bad lah.
Anyway, we arrived wee later than expected, and quickly make our way to the Hair Salon. Well, the thing about Albert Nico is, he hates it when you arrive later than appointment time. I remembered once being told off for a sheer 5 minutes late, and he refused to attend to me. That was actually the reason why I stop going to him. Not knowing after so many years, my sis is now his regular and she sings highly of him! Oh well ... So naturally, I was kinda stressed up driving her downtown for the appointment, and with my niece tagging along ... you know lah how its like.
But what a surprised. It was not very pack that day (Sunday) and he's able to attend to her immediately. All and all, it will take not more than an hour, he said. And so, we hang around KL Plaza, and the saloon itself with my niece cam-whoring ;-p
Somehow, and most unfortunate, some big shot celebrity walked in and needed Albert's service. We had to wait longer lah, and my poor niece were close to lunch time already. She was also restless and feeling a bit grumpy. I was tempted to bring her over to lunch first, but the hair stylist kept giving us hope that it will soon be over! Poor nieceeee ..
I tried giving her, her mummy's milo and her water to fill her up first but she refused.
After some 20 minutes wait, finally, we made our way to Westin Prego for lunch. The moment we sat down, Ashleen were close to tears. We ordered quickly, and requested for the captain to serve us bread first. ASAP okay? My niece is veryyyy hungry, I said.
Mana tau, he served us water first lah, than only went to the oven to heat up the bread. When the bread arrived, it was not even fully heated as the middle part were still cold. But its not his fault for he is dealing with a hungry child. Ashleen quickly took some bite of bread, and SHE LOVED IT! A smile broke out from her face and it was just priceless!
It was only after seeing that, that I dare to take photo of the bread. Seen here, Ashleen concentration on her bread ;-p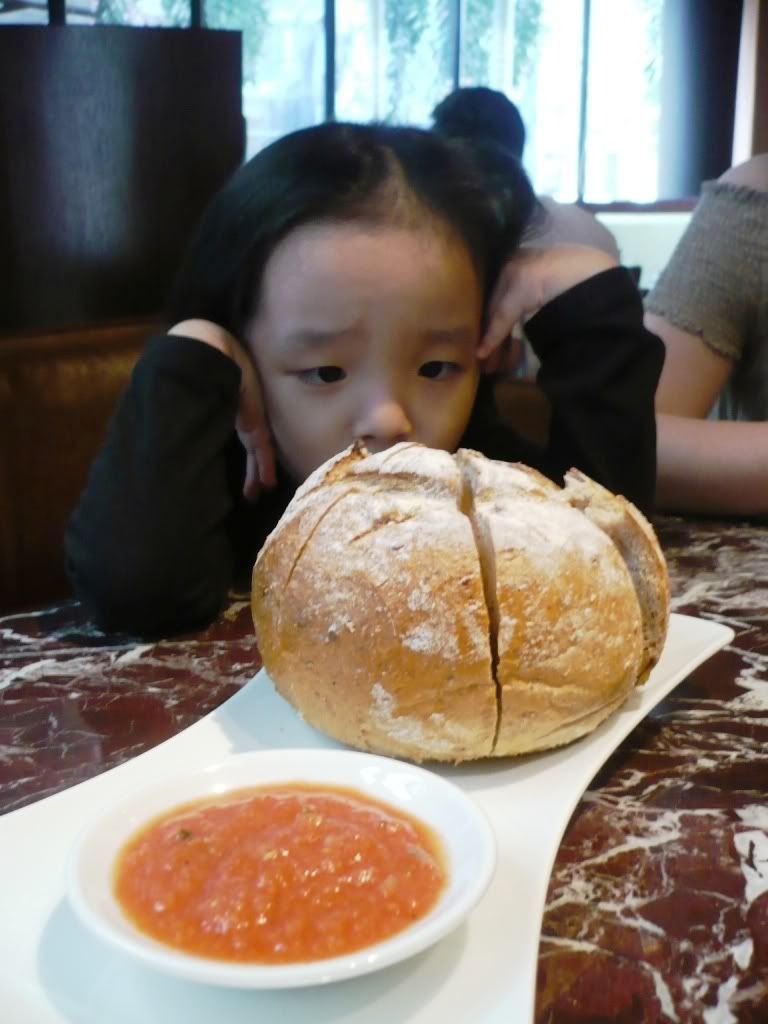 They were running set-lunches from Monday to Saturday, with focus on Rome's Speciality in the month of May 2008. I chose to go with the set lunch where else my sis decided to go ala-carte.
Seen here, my
Roasted Fennel with Cream Sauce
. I throroughly enjoyed my fennel for it was roasted perfectly. The texture were firm and juicy, while the cream were delicate and elegant.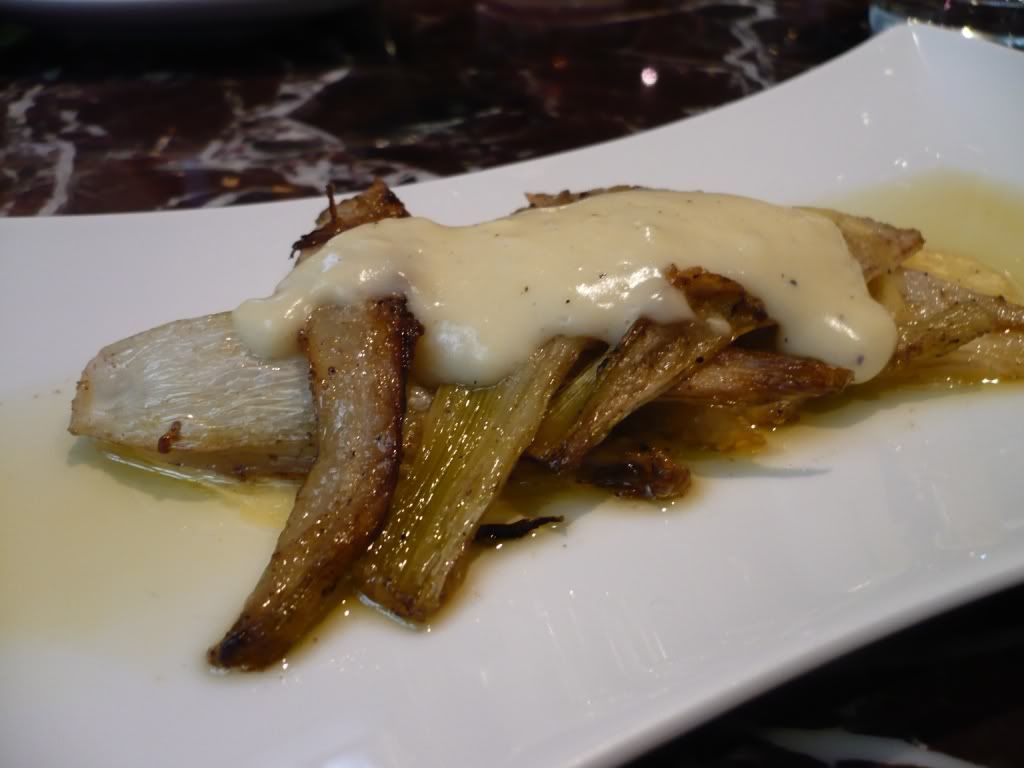 My sis and Ashleen shared a
Penne Boscaiola (RM33.00).
Portions were huge, and my niece loved it very much. My sis commented that its cream were flavourful, while the pasta were perfectly al-dente. What she loved also was the additional parsley herb thrown in to further boost its flavour.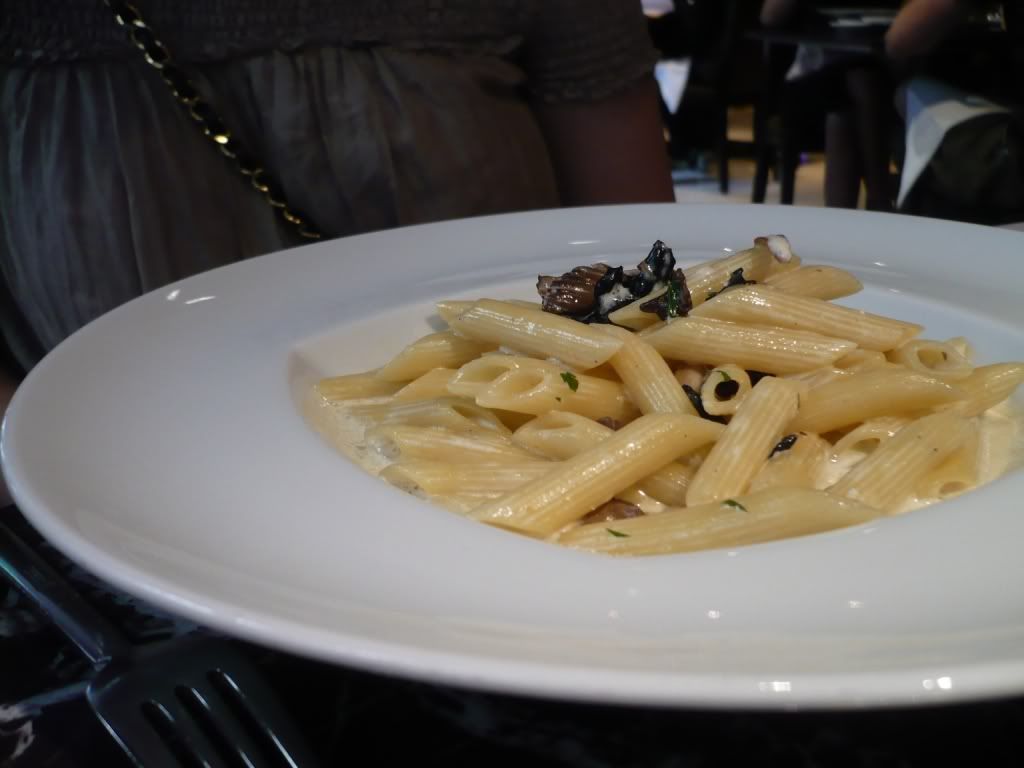 I had a
Chard Pie in Cream Sauce
. I know, not another cream based item. Well, this is what happen when you have a hungry child with you. Your mind go a bit woozy and disoriented. But I did not regret it one bit for, the cheese and chard mixture were simply creamy and sumptious! Luckily, the portion weren't too huge, otherwise it would have gone to waste.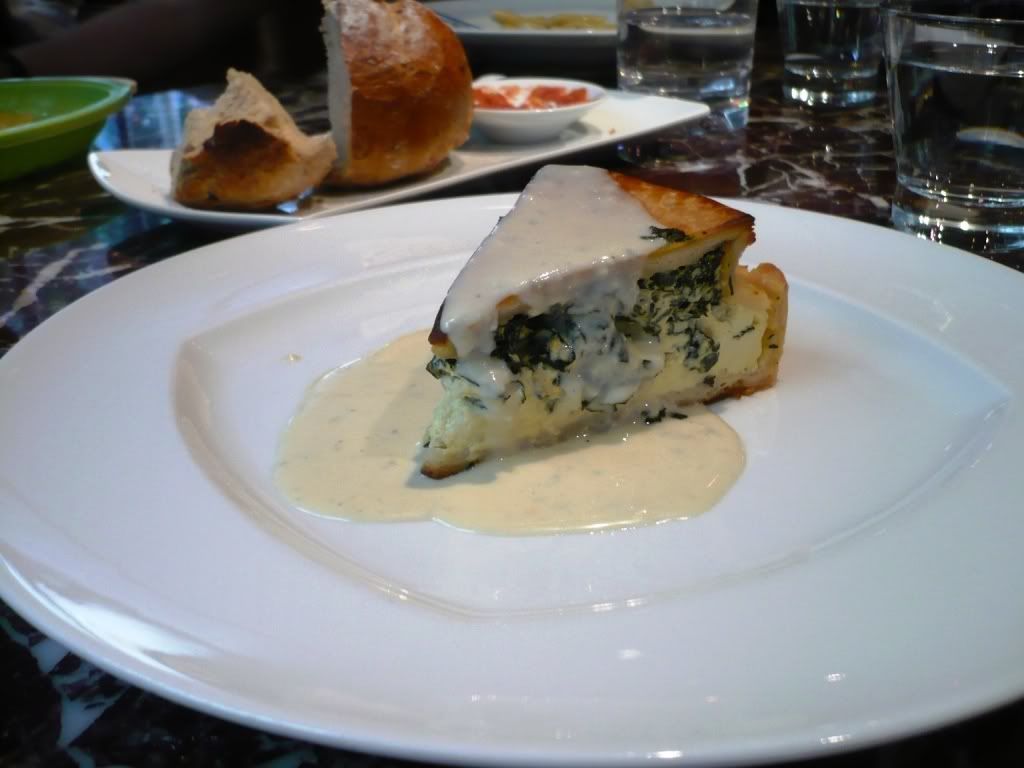 The set-lunch came with either coffee or tea, of which I chose coffee.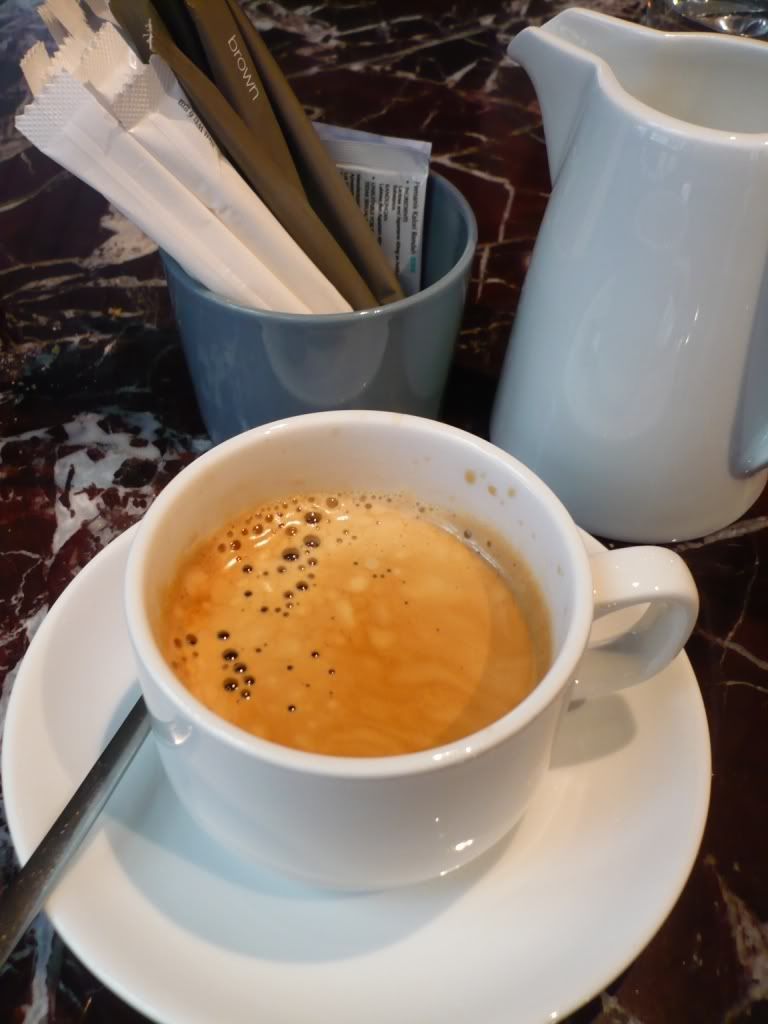 I don't have the exact name of my dessert but it was something like
Strawberry Sorbet, with Balsamic Vinegar and Fresh Strawberries
. The sorbet were sooooo light, and tasted every biteful of strawberry. Don't you just hate some sorbet or ice-cream where you get to only numb your tastebud and nothing else? The one here is good quality stuff. And of course here, strawberries and balsamic vinegar makes a lethal combination hence, needless to say it was very good.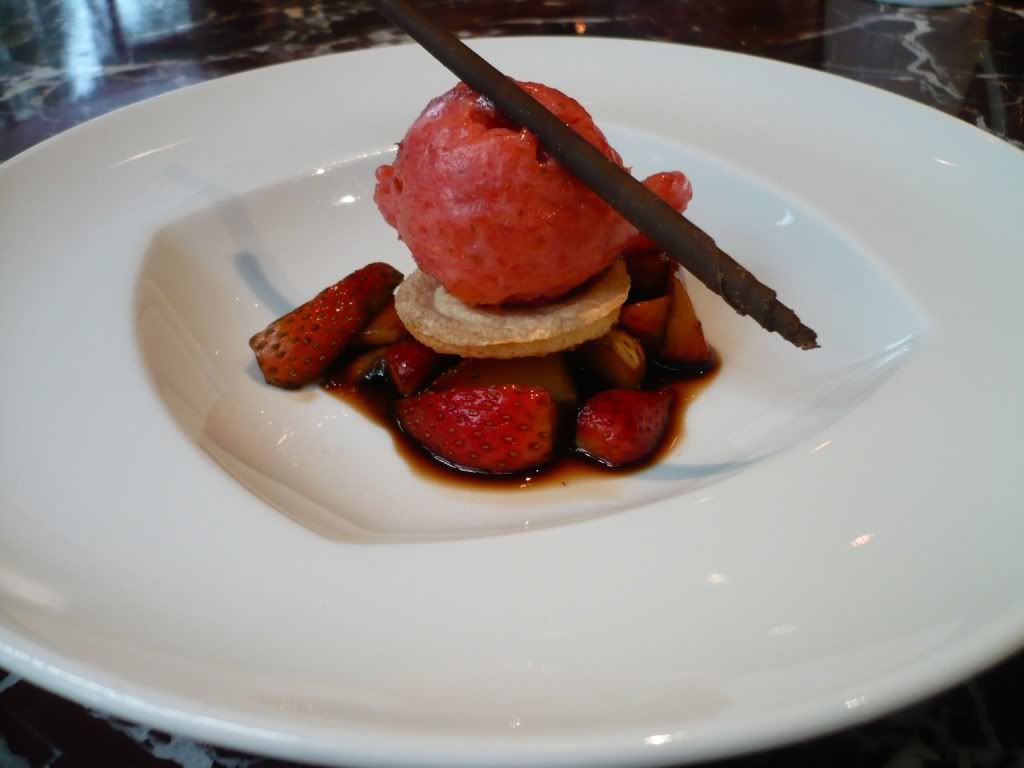 My niece was hungry still hence, we treated her to a glass of
Sundae
! Unfortunate for her, both her mummy and Aunty Lianne kept on diggin in for it was so good! The soft, vanilla gelato were lovely, and not overly sweet. My niece, whom happen to be chocolate biggest fan, kept on picking on the chocolate shave! Me on the other hand, can't keep my hand off the rasberries! Yum yum!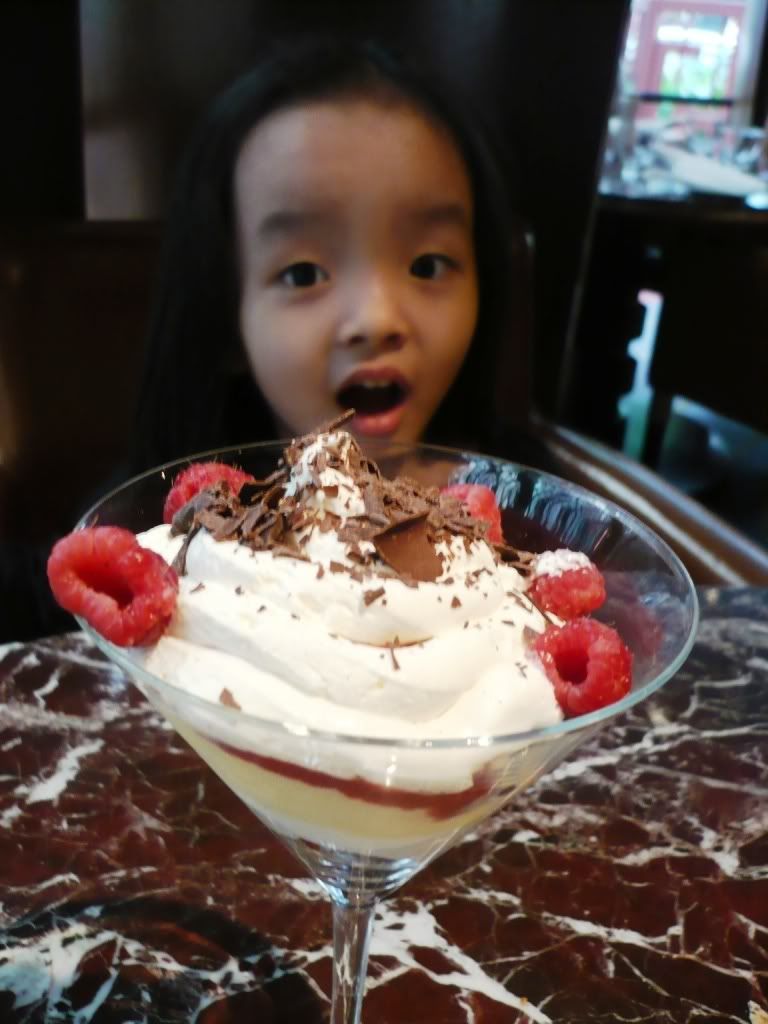 In total, we paid about RM70.00 for the lunch with my Starwood Card privilege. I love this card and will not hesitate to renew them for the goodies are even a lot better than before! But as it is, I won't get the chance to use it ...
As always, Westin always impress me with their good food with good service to match. Am referring to Prego, EEST and the coffeehouse, but not the rest.
To add icing to the cake, they presented my niece with a clown nose as we exit the restaurant. That made my day, for she kept on asking me to adorn the nose for her, even while shopping around in Pavillion ... Sheeshhhh ... but, seeing her laugh and giggle, I gladly entertain her lah.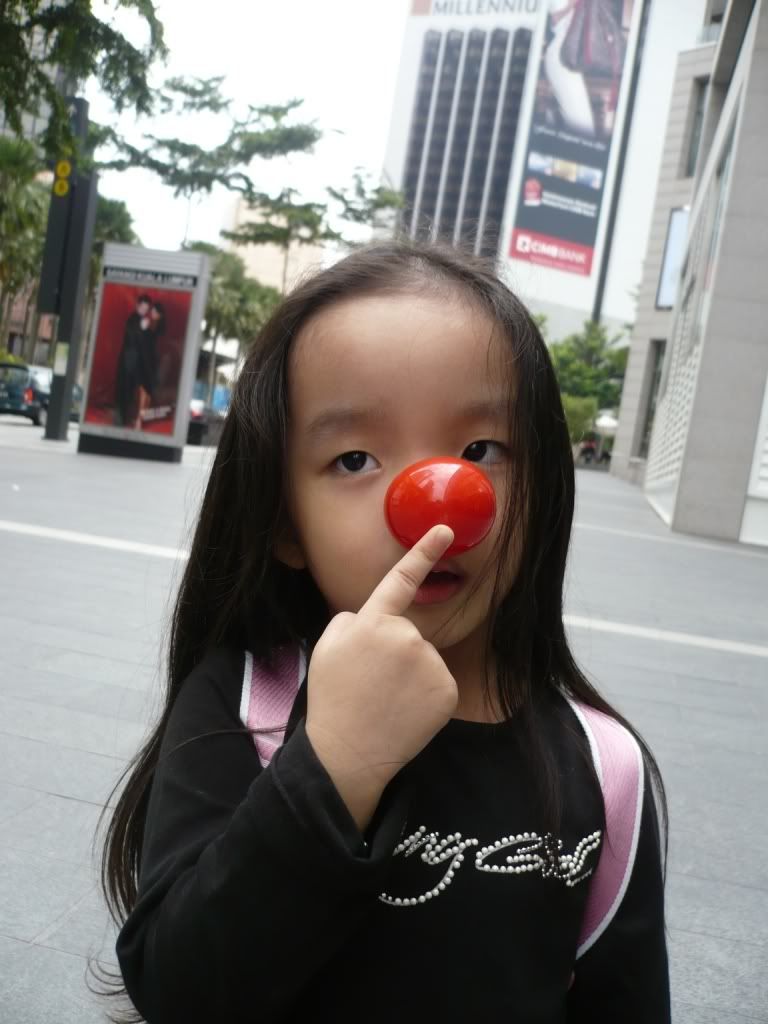 What to do! My only nieceeee ... love her dearly.