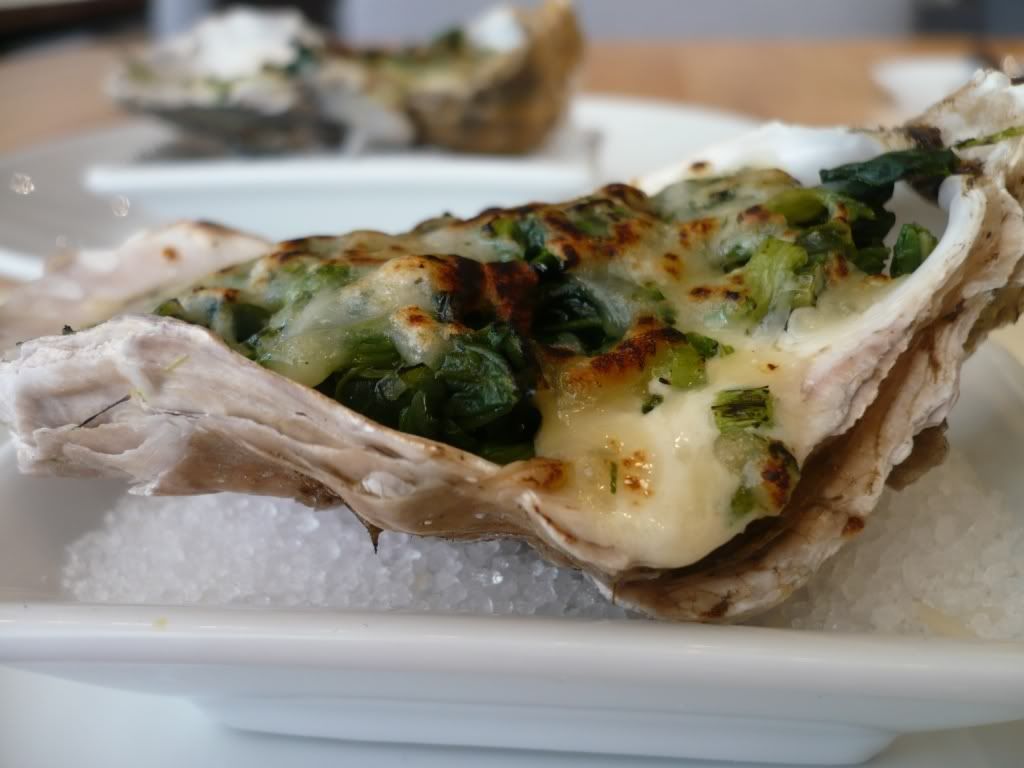 Pick & Brew is
Jackson's
second baby. Though it had been thoroughly blogged since the arrival of his first, hope I'm not too late to jump into the bandwagon for I really do like this place, the food is good and I wanna share you my experience there.
My first time there were around March where I simply stomped in one morning looking for breakfast. To my surprise, Jackson was on duty. To think about it, its like hitting the jackpot for I or rather we (with the food bloggers) weren't that lucky to caught sight of him. He's either on leave lah, travelling lah or attending dinners and function. Don't you just envy his life? *grin*
Occassion One - Lunch with Ruby
Back to his baby, I was there one afternoon with Ruby. We were full, but wanted to munch on something anyway and I'd decided to bring Ruby there. Service were prompt, as the moment we walked in, we were urshered to our table and menu were handed to us quickly. The menu were extensive on its on but to add in to the varieties, they were running set-lunches too. The beauty of their set-lunches were, its item were different from its menu so naturally we dived into their set lunch selection.
For starter, we had a piece each of
Grilled Oyster with Cheese
. Unlike many places that grills them a wee bit too long, Pick & Brew's one manage to retain its rawness and juiciness with its crispy, hot top.
We were than served a deep bowl of
Poached Dory in Cream Sauce
, which true to its name, came swimming in a light cream sauce. The fish was fresh, and vegetables all still crunchy and fresh. Nice.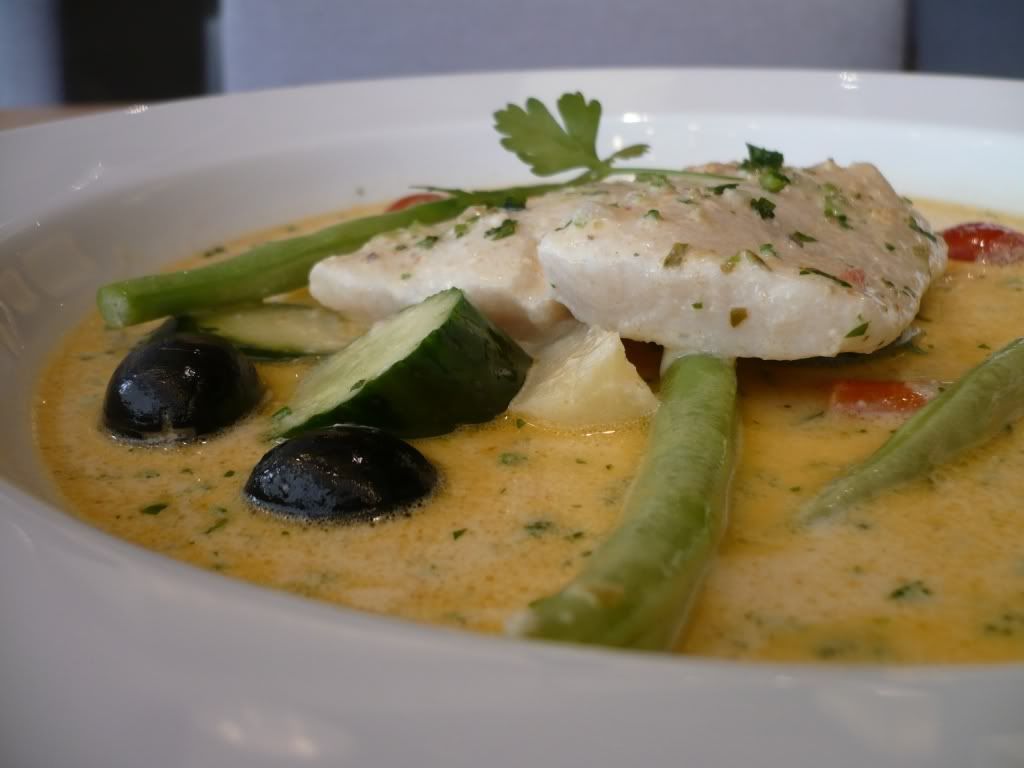 I heard that their cakes sells out really quickly. Oh Jackson, have you considered
pumping u
p the quantity? I think many of us can't get enough of your creamy, sinful but not too sweet
Rasberry Cheesecake
. It's really good!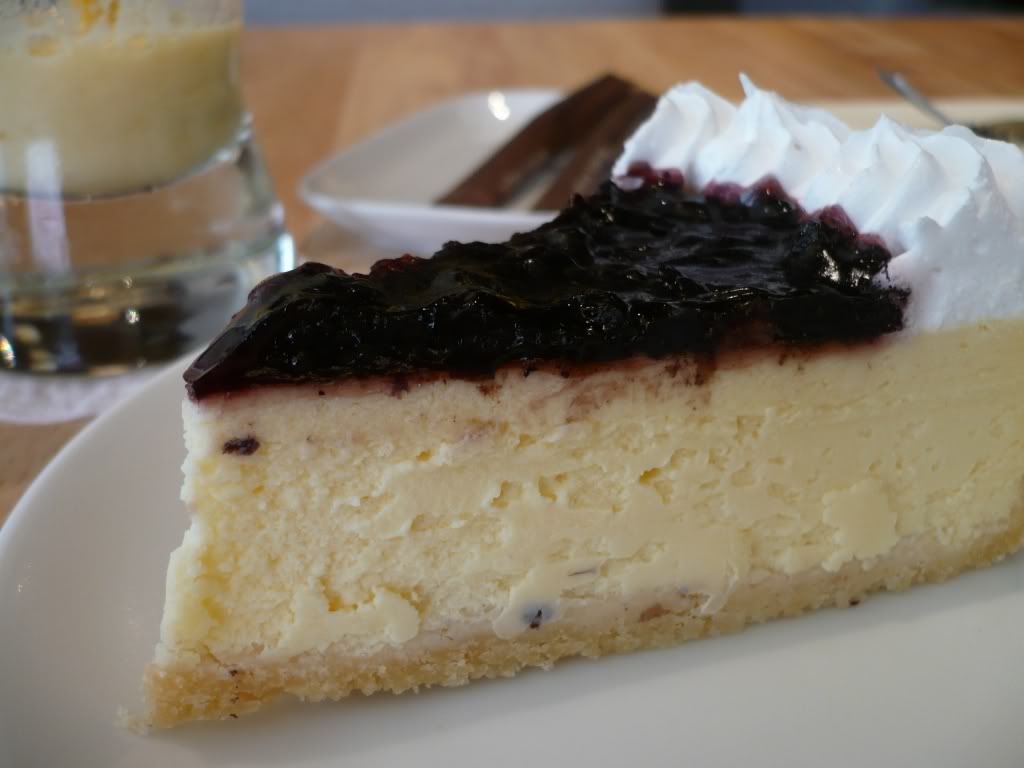 Orange Frappelicious
, which was thick, full of orange twang and not too sweet. Really good stuff here.
Ruby's coffee, which came with the set lunches.
Occassion Two - Meet Up Session with
Daphne
, Fellow Flogger from Oz.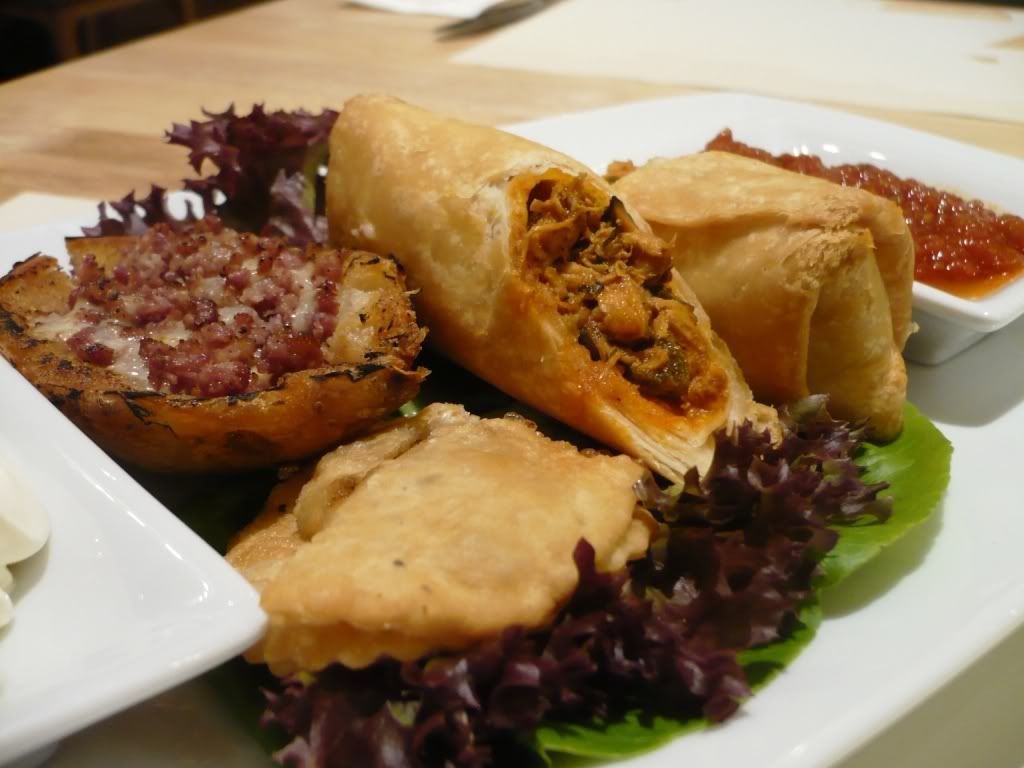 I was half an hour early, and had earlier skipped my lunch. My earlier session browsing cookbooks at Times Bookstore, did not help either. When my
Starter Platter
were served to my table, what's a girl to do but to gobbled it all down. Well almost.
Our expected guest from Oz came in with Armand and my hunger were soon forgotten for they were both so warm and friendly. In actual fact, I'd earlier gobbled down two pieces of super yummy
Chicken Chamicangasa
, a tortilla filled with minced chicken and spices.
Here's Teckie Pesto Salmon Pasta. It smell wonderful!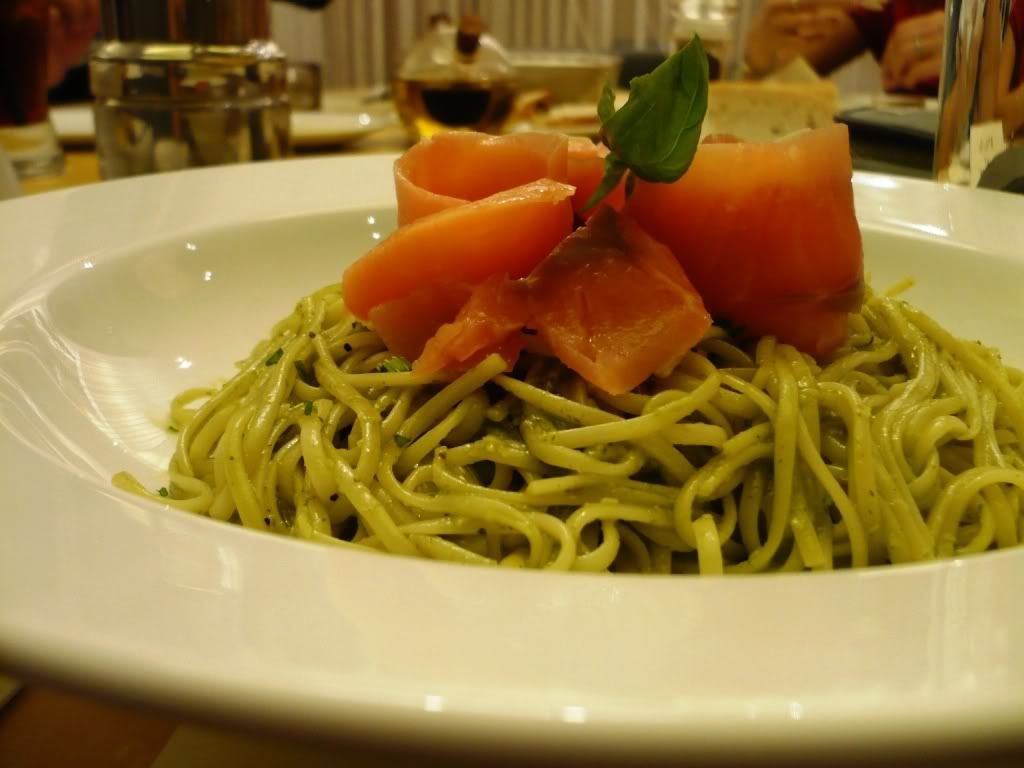 My
Angel Hair Seafood Marinara,
which was gorgeously done with generous portion of fresh seafood, and tomato coated angel hair.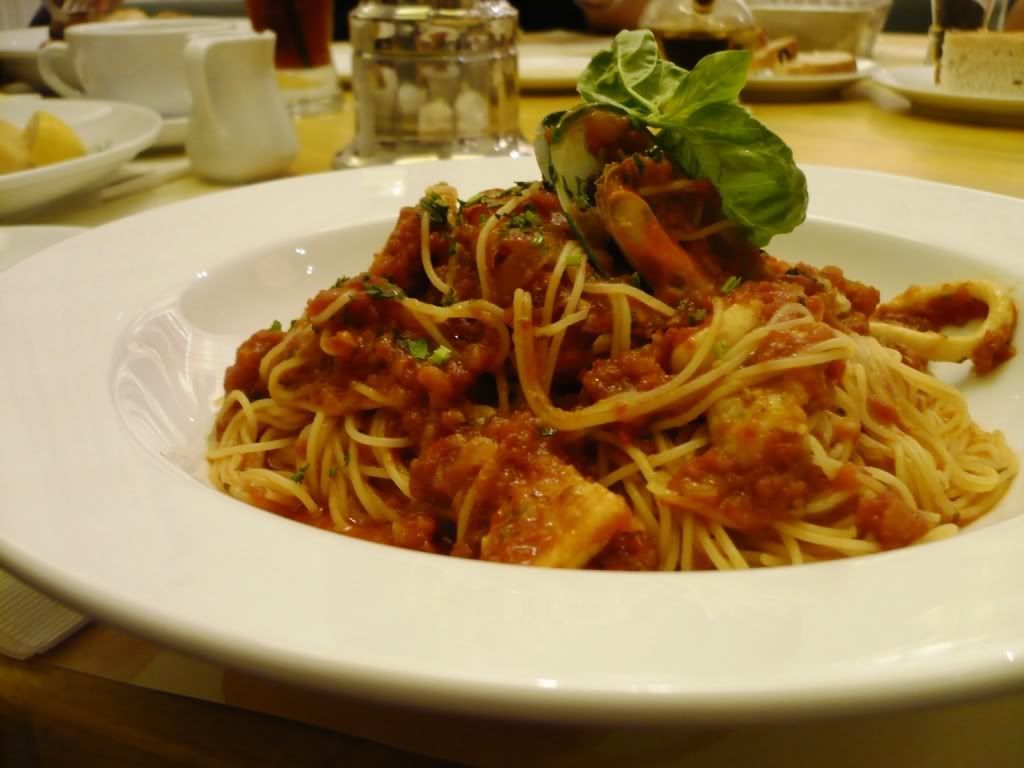 My favourite
Hot Chocolate
drink which I earlier accompanied with the Starter Platter.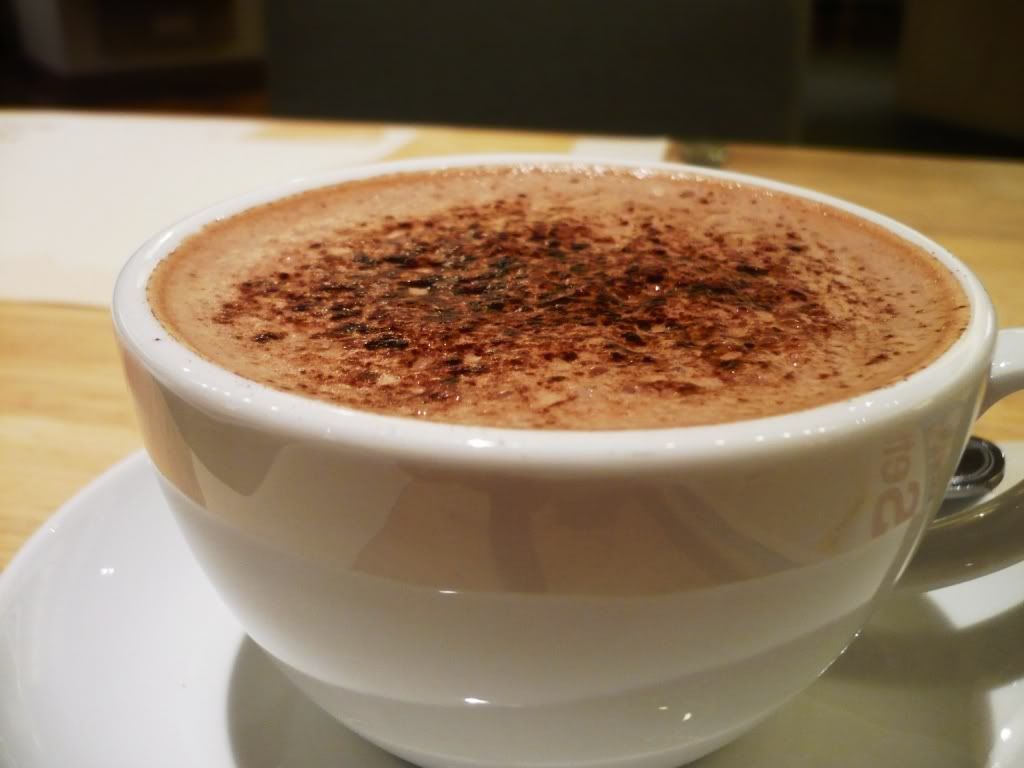 We shared a bottle of
Peach Liquor
which I'd picked up in Germany. Hope they enjoyed it as much as I did.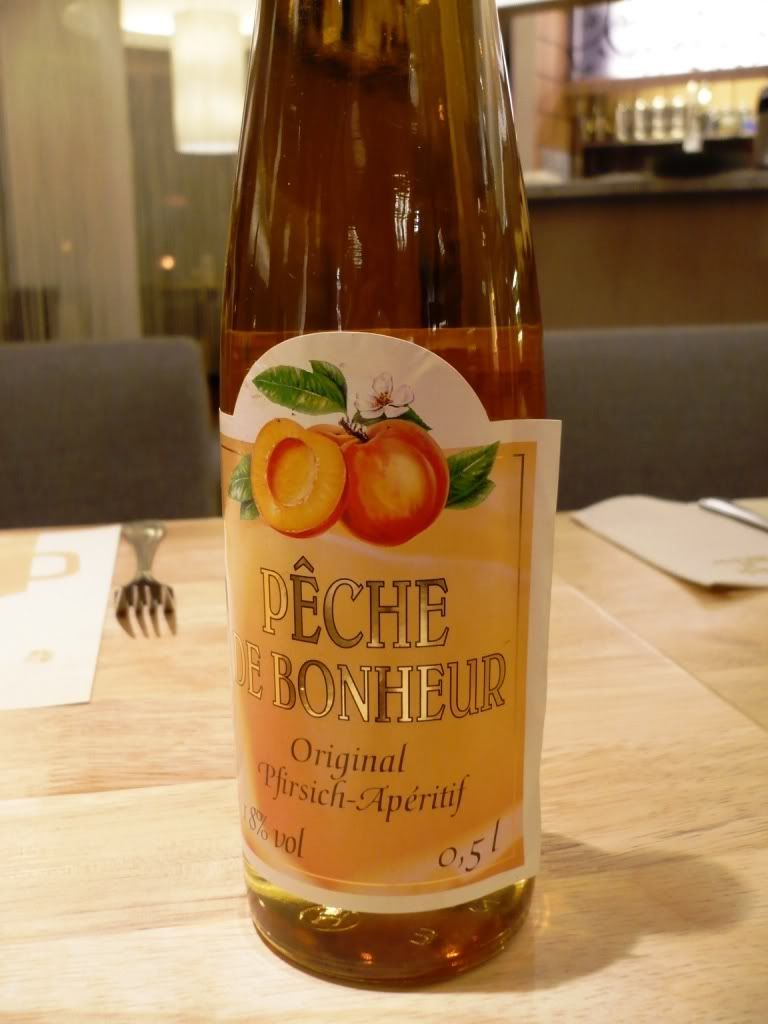 We were fortunate that Kusahi Keat brough along a homemade
Strawberry Cheesecake
for Pick & Brew's selection were almost gone. Thanks Keat! It was nice and creamy, albeit a little sweet but its his first time trying out this new recipe hence, do improve and let us be your guinea pig again! *grin*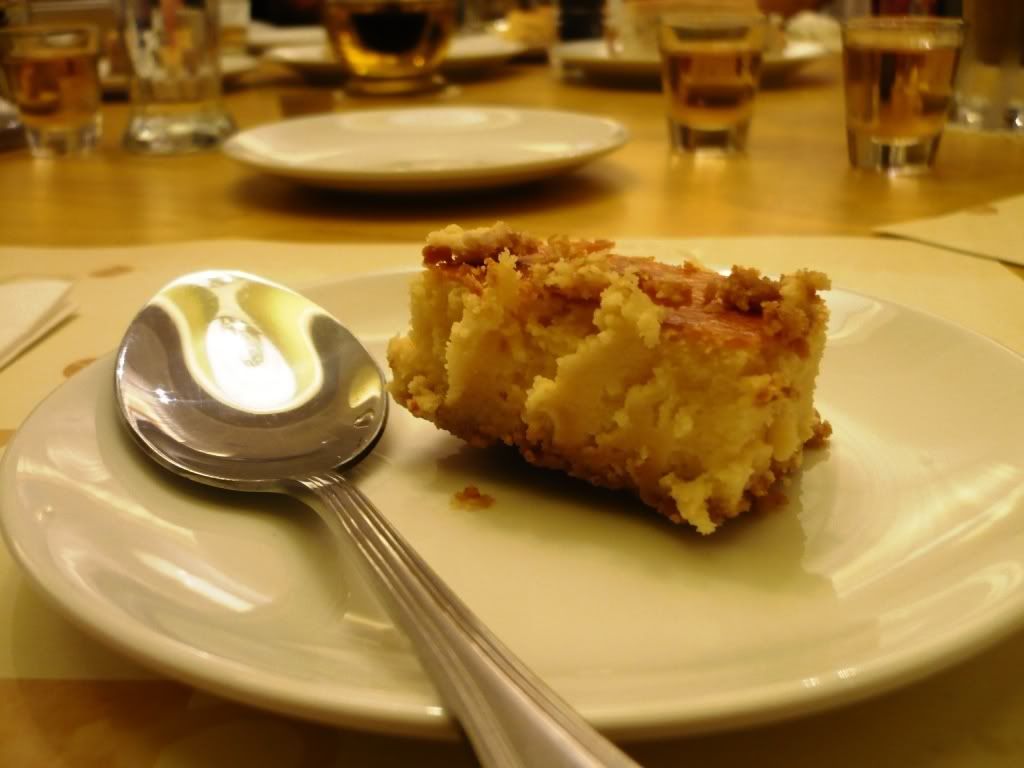 All well ends well, we ended our dinner way pass operation hour but Pick & Brew staff obliged to let us stay on. After camwhoring session (what else!), some adjourned elsewhere for more alcohol where else I headed back home to sleep.
To sum it up, I enjoy this place for its food, dedicated staff with nice environment to chill; be it day or night. My only hope is, IF only they bake more of their cakes *hint*