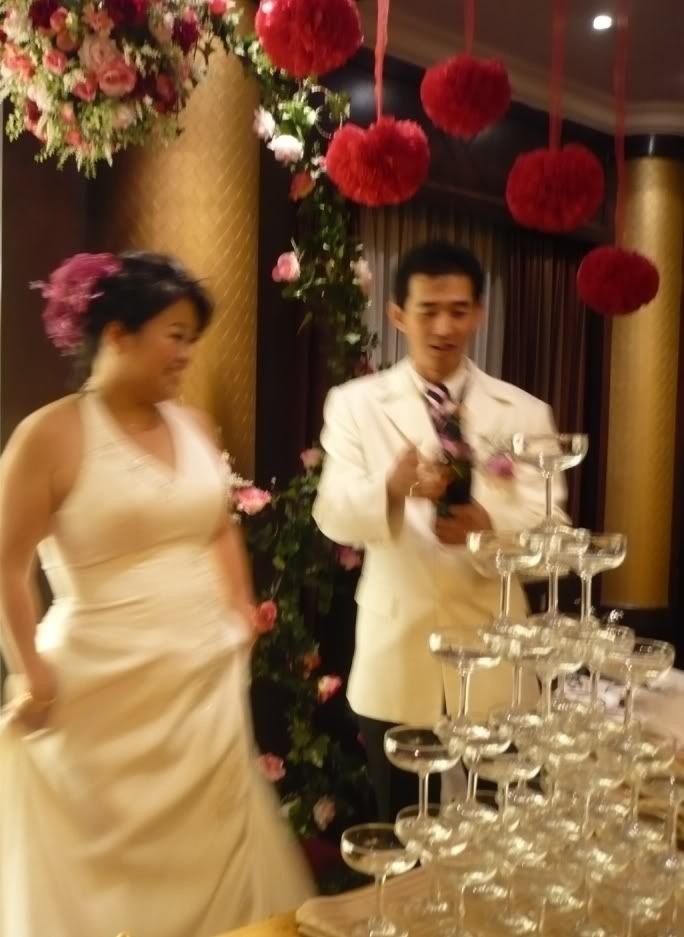 Where exactly is the chinese restaurant, I asked Lillian. Not surprisingly, and I should have guess it, Lillian replied me ... errr I don't know la coz, I've not been living in this country for years, remember?
In times like these, I'm ashamed of myself. You see, I've got a sympthom called
road direction challenged
. Bukit Kiara Equestrian Resort is not new to me as I've held a couple of function there before. The road leading to the resort is not alien to me too, but how I'd missed the turn again and again, I've got no idea. Prior to the SOS call, I've even mistaken the building beforehand, supposedly belong to the same group but looked
nothing like the resort I used to know
, to be
the place
. Finally, after sweaty palm turn and toes crossed all the way, I found the place. Hooray, alas.
The occassion was for the
Wedding of Angie and Ivan
.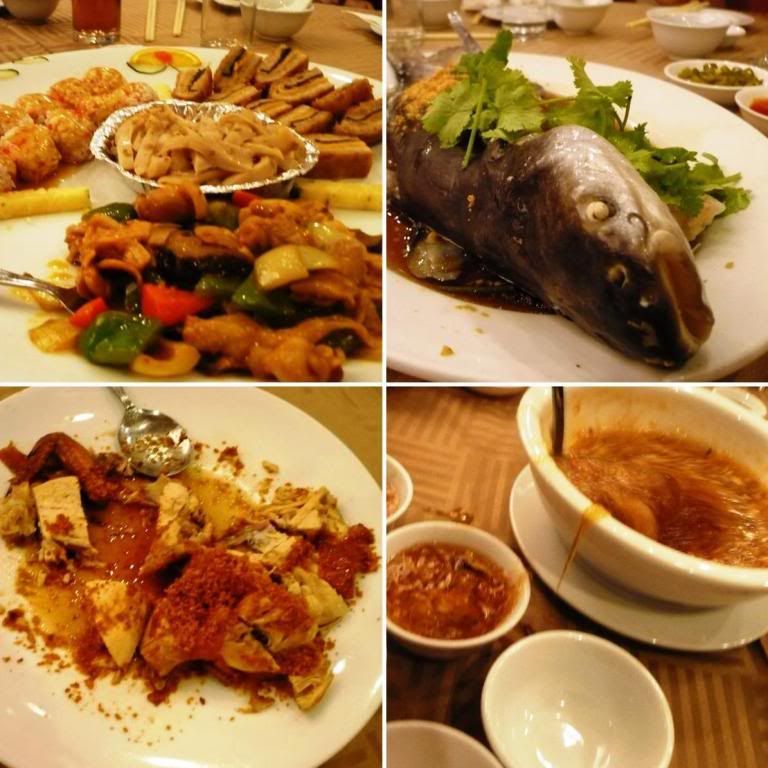 Dinner adjourned soon after. Kiri whom was seated on my right, were excited when the light dimmed in preparation for food presentation. The excitement subsided soon after the
Hot & Cold Dish Combination
was placed on the table. I scooped some of the non-spicy dish over to her plate, but she rarely ate them. John, whom was seated with us proclaimed excitedly GOOD! More food for the adults! I'm starving!
It seems that Kiri and Aiden had earlier had some bites. But Aiden being the big eater, were seen walloping whatever that's place infront of him neitherless. He can finish the whole platter, Andrew exclaimed. Yeah right! He's after all, a feet tall compact flesh, how much can he take?
We will see.
The first dish had me digging into the slices of abalone stew, the seafood minced ball and stir-fry bell pepper seafood a few times. It was tasty, and delicious with moderate size serving for the seven adults on the table.
Kiri started to ask about sharks when the next dish arrived. Where are the sharks? What happened to them? I tried my very best to answer her, without wanting to put her off sharksfin for everyone on the table were happily enjoying their bowl on my left. Kids nowadays, will resort to lecturing adults too, and I don't want to be responsible over her sudden lecturing lesson. So, I gave Kiri a
they only buy the fin part. I guess the sharks were put to sleep kinda
answer and guess what? She didn't want to eat her sharksfin soup after that. I was so proud of her really, for she's only 5 and are already aware of her actions and consequences.
As for me, I finished mine and had her bowl of
Sharksfin Soup with Scallop
. Shame on me! It was really good! As for Kiri, she was such an angel. I guess she could sense that the occassion were not appropriate for her to lecture us adults ;-p
The third dish of the night were
Steamed Patin Fish with Fried Garlic
. It was done to perfection. It was fresh and had the melt in your mouth texture. I love it. The
Roast Chicken
were mediocre as compared. Perhaps, I'd eaten them lukewarm after a short break from the ladies and the crunch were all gone.
Buttered Prawns
came next. The prawns were springy, fresh and flavourful. We not only finished this plate, for Aunty Mary came over to our table with theirs too. Did I mention there's only seven adults on our table?
Oh, and Little Aiden whom Andrew proclaimed can finish the whole plate ...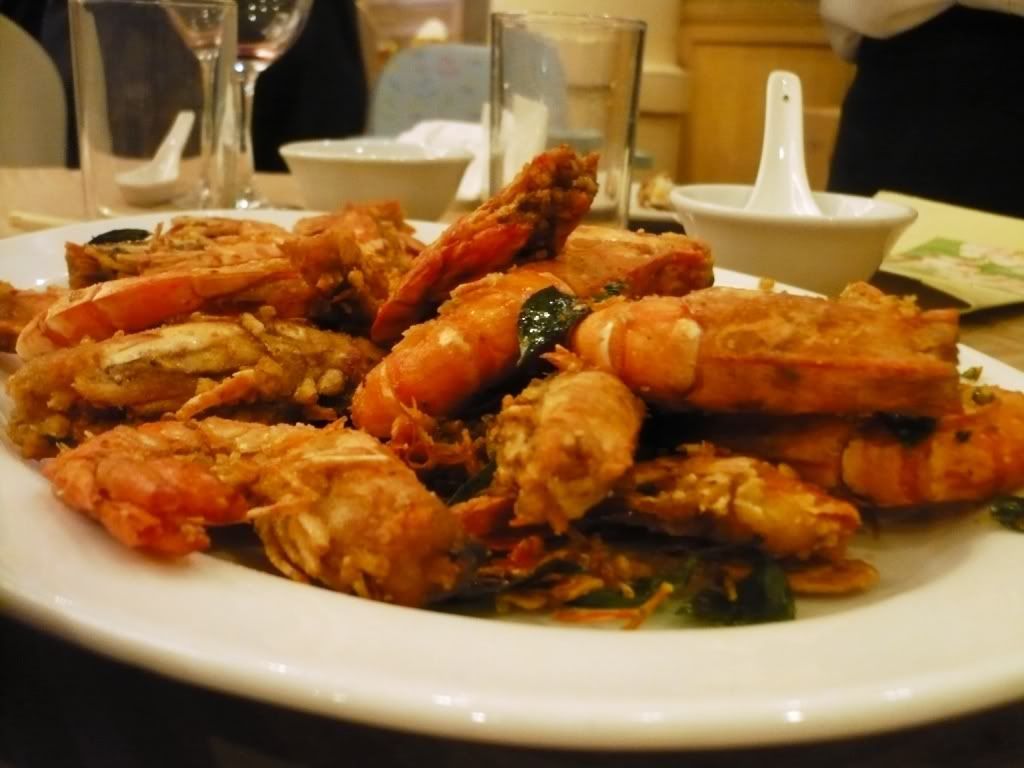 We finally took a break with the arrival of its
Stir Fry Brocolli with Pacific Clams & Mushroom Sauce
. It was well cooked, but we were beginning to pace ourself slower after the first half round.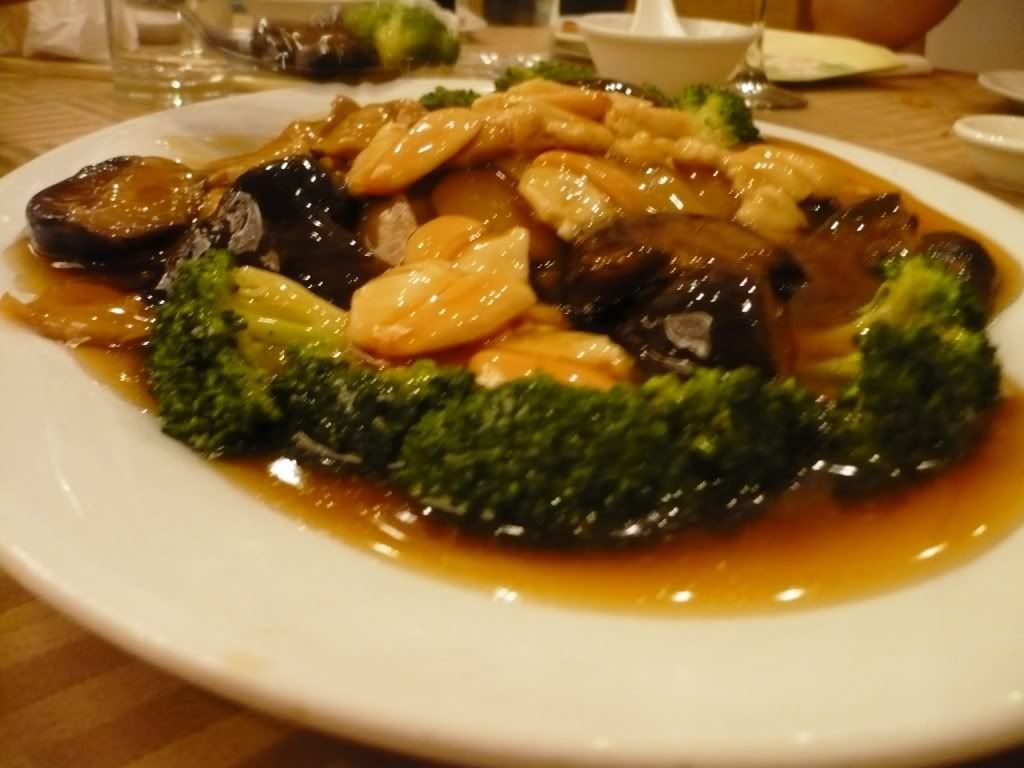 Steamed Lotus Leaf Glutinous Rice
which were barely touched by everyone but I had two huge bowls. It was fragrant and delicious. What pity that it was carted back to kitchen with more than half leftover :-( Guess, everyone was either distracted, or were really stuffed. Sook May, her hubby and baby May May left too for May May needed her precious nap.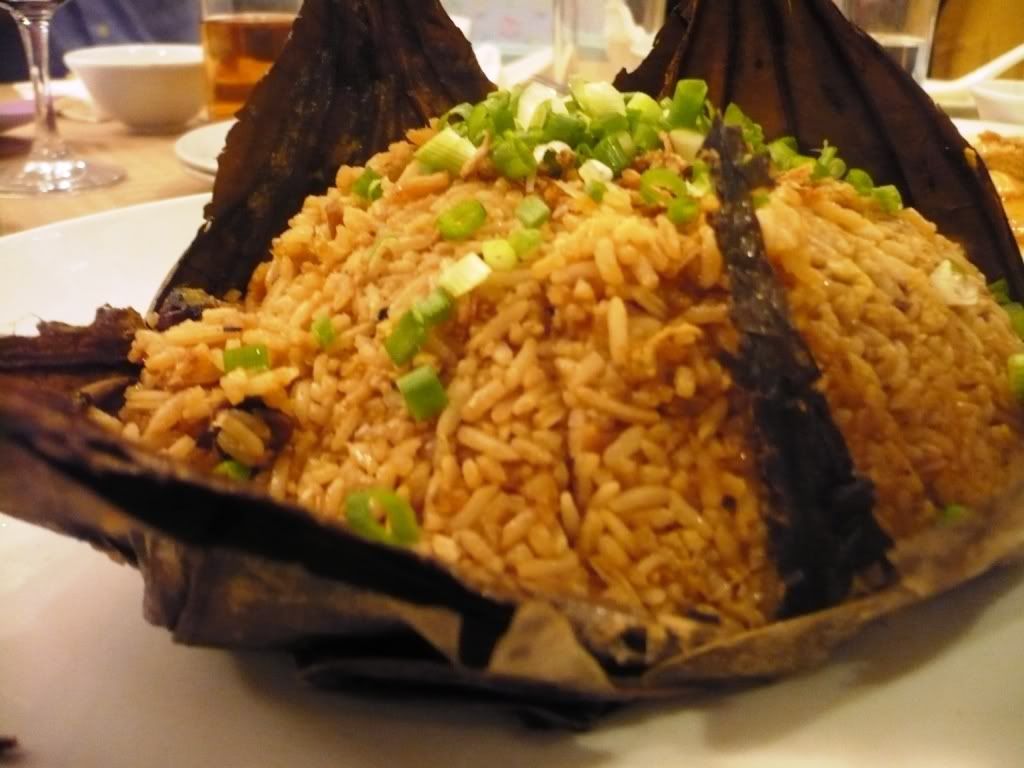 I was surprised when the dessert platter arrived for there's
Steamed Nian Gao Coated with Fresh Coconut
on it. Andrew were asking what it was and I said Rice Cake. But rice cake seems to be a bit puzzling to him for there's also a salty and bland based rice cake being comsumed in England too, and it taste nothing like this! Lillian got excited when she saw the
Crispy Wor Tip
. Is it called Wor Tip? Both the Nian Gao and Wor Tip were moderately sweeten and tasted yummy. We finished them in a zest.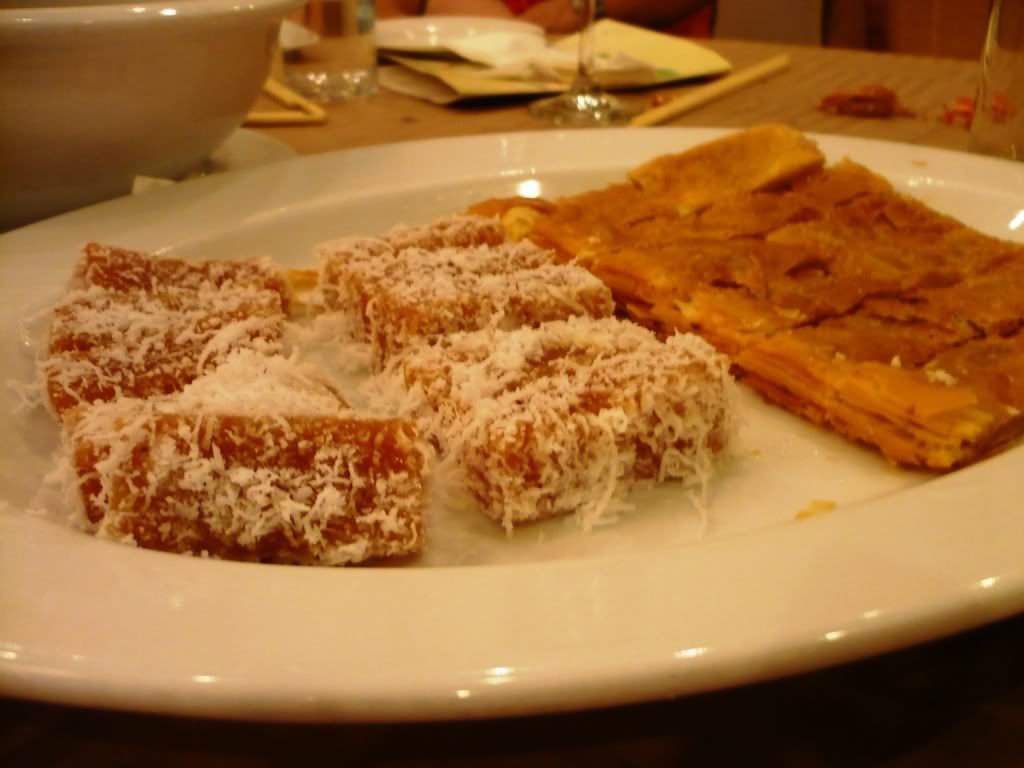 To end the dinner, we were all served a bowl of
Double Boiled Longan Soup
. It was served hot and were most welcomed to digest all that we've consumed.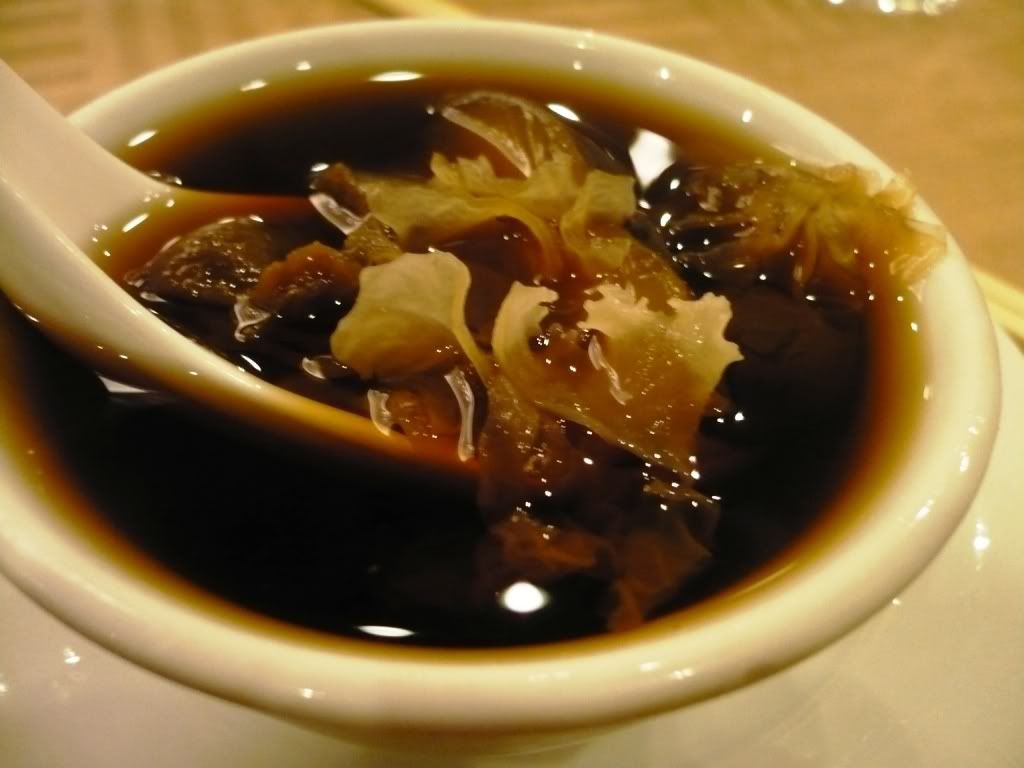 The dinner came to an end half past 10. Some of the guest were seen mingling still for there's a huge traffic built up outside. Me and the Walker's cam-whored a little. Seen here, the home's missus. Ahhhh ... I've known her for twenty six years, can you believe it?!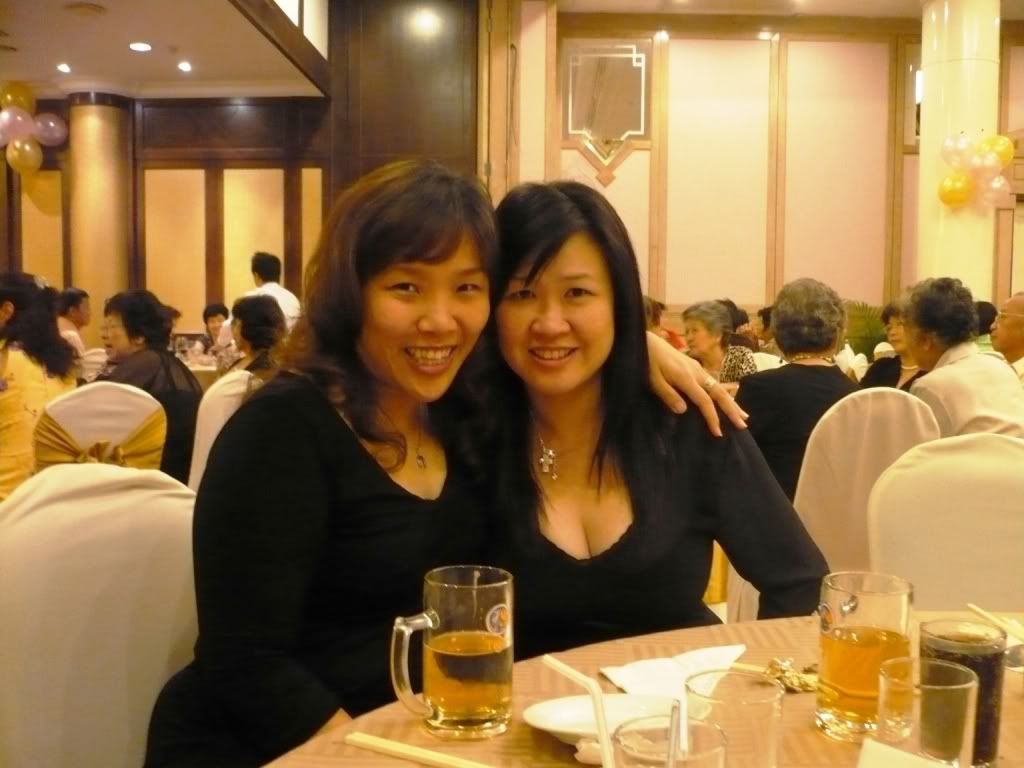 The big eater and the super eater. I'd just found out that Andrew speaks a little German. Prost! Oh Andrew ... did you mention that you can take up assignments in Amsterdam or Belgium too? It would be great for it would be nearer to Ahaus!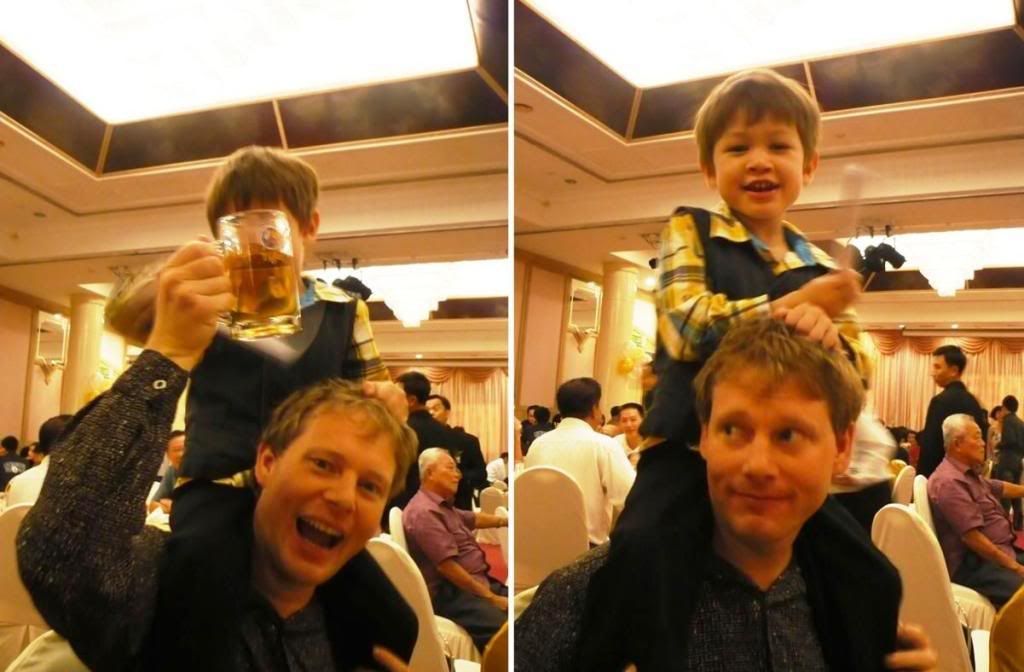 Please, please, pleaseeeee ....