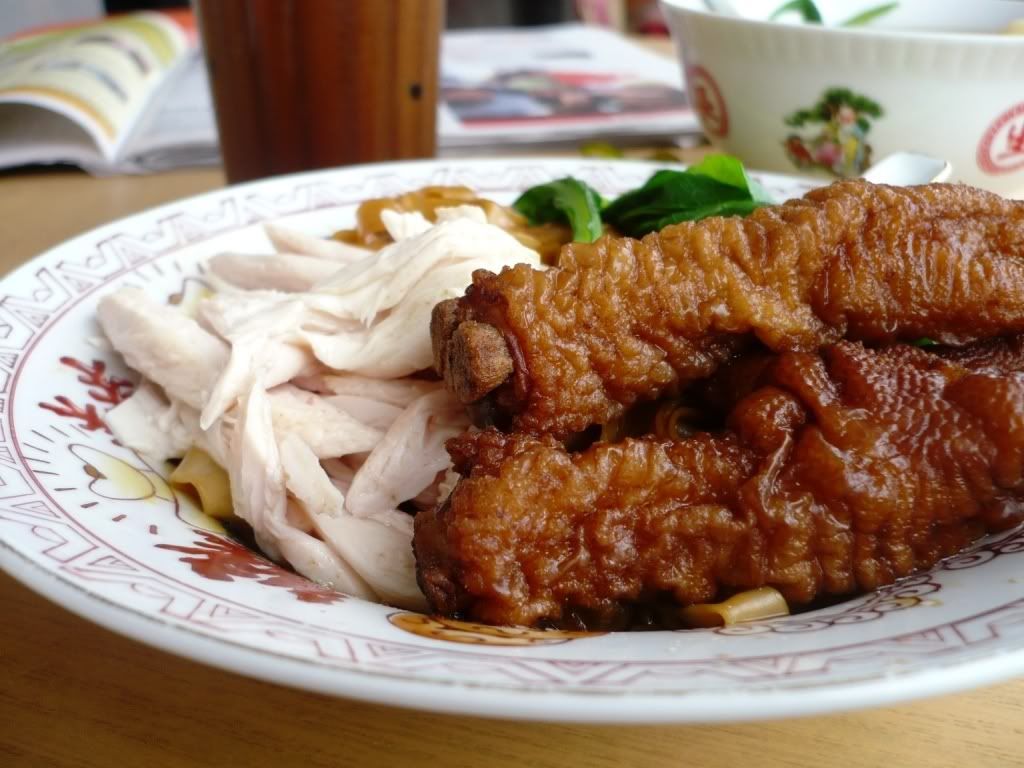 One of my absolute favourite place to go hunting for succulent, soft, fragrant Braised Chicken Feet is Koon Kee Wantan Mee, in Section 17's Lucky Coffeeshop. To me, this legendary wantan mee stall whom happen to be the apprentise of Paramount Coffeeshop's wantan mee stall back in 1980s - safes my day when the going get's tough.

There's something about chicken feet that shouts I'm chinese, I'm chinese and this is comfort food for the pure at heart. Koon Kee, understood the concept of making a good one. The chicken feet is braised for hours, and hours alongside chinese mushroom in a huge pot. When this is done, all you need to do is pop the whole feet or my case, half the feet into my mouth and what comes next, the best part is, spitting the bone specimens out. The glutinous texture from the feet, coupled with the rough, fried surface, needless to say is a bit difficult to understand for non-chicken feet eater but when once you experience the in your mouth effect, there's no going back.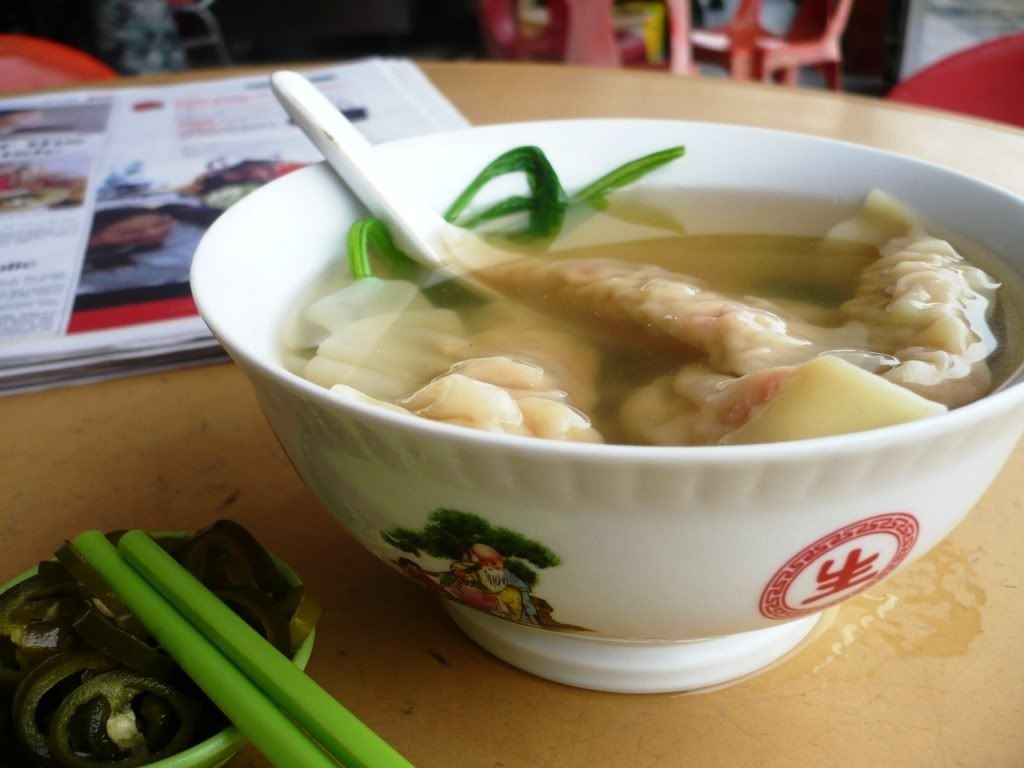 Lately, I'd been frequenting this reflexology centre called EmpressMa. They are new kids on the block of reflexology centre but what sets them apart are;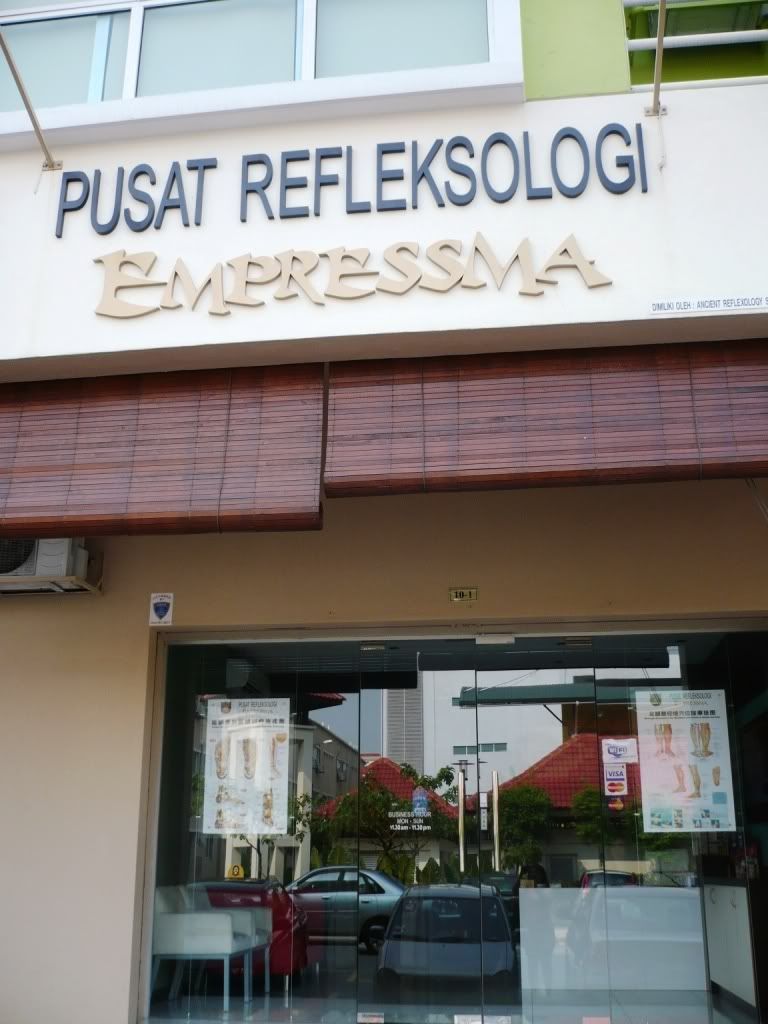 They are well trained and endorsed by The Ministry of Labour & Social Security of The People's Republic of China.

What instantly attracted me was, the place itself. The massage place; both the feet massage chair and the body massage bed were super comfy, clean and relaxing. As they need my ache away, soft music were playing at the background to lullaby me to zzzzz. Lights were kept low too, but if you wanna read, they will oblige to tune it up but trust me, when you get in, all you ever want was to close your eyes and enjoy.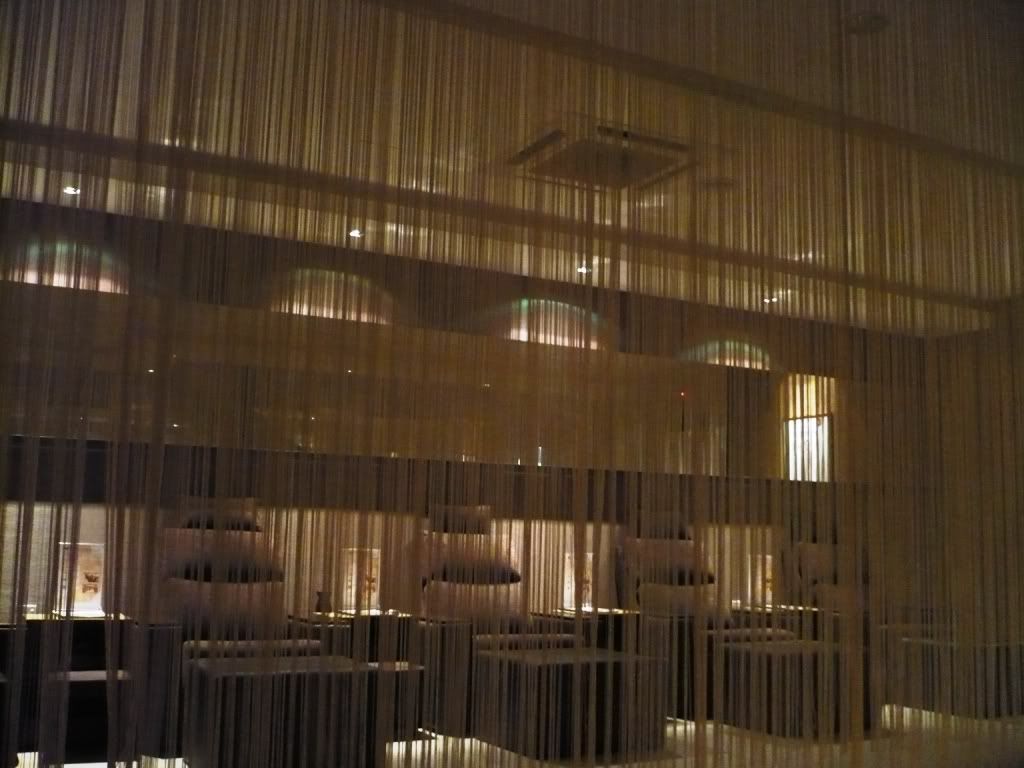 They emphasis highly on hygiene, with every guest being provided fresh, disposable seat covers, basin cover and towels during their pampering session. Every guest were served a glass of Pu-Er tea, water, ginger tea and biscuit cracker.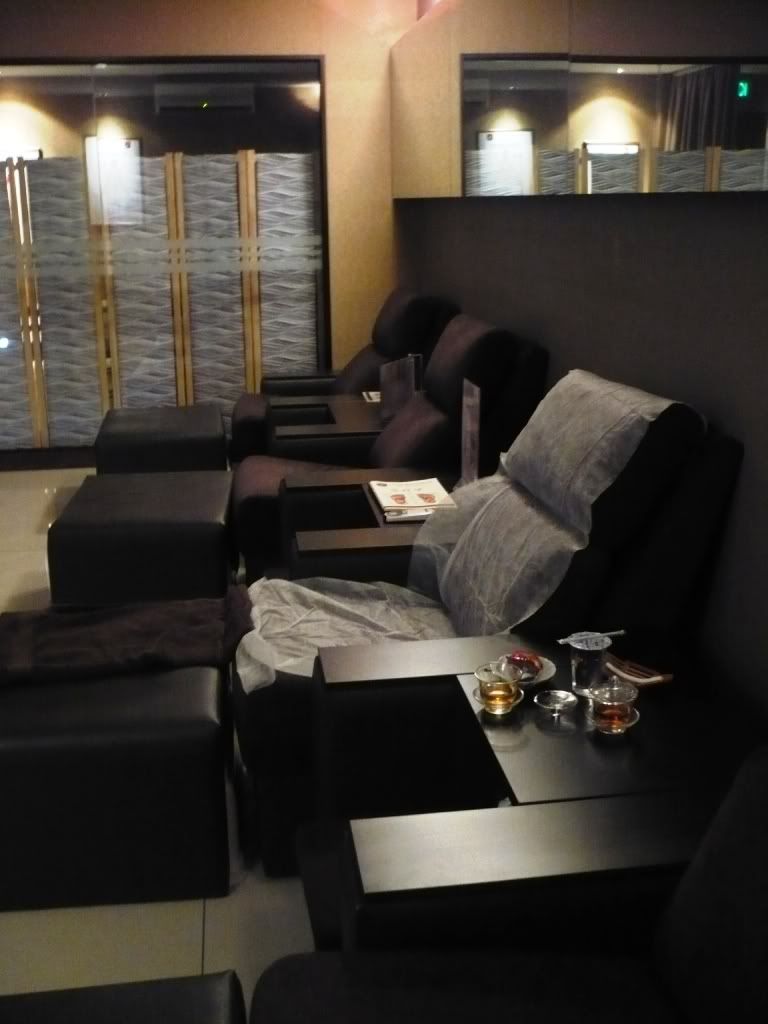 That's me soaking my feet in Ginger Enhanced Cleansing Herb.

Isn't it fantastic that you don't even need to walk to another area to soak your feet, or soak them in a separate tub. Theirs were cleverly hidden underneath the foot stool and once you're done, the masseur would just push the stool in to conceal the basin.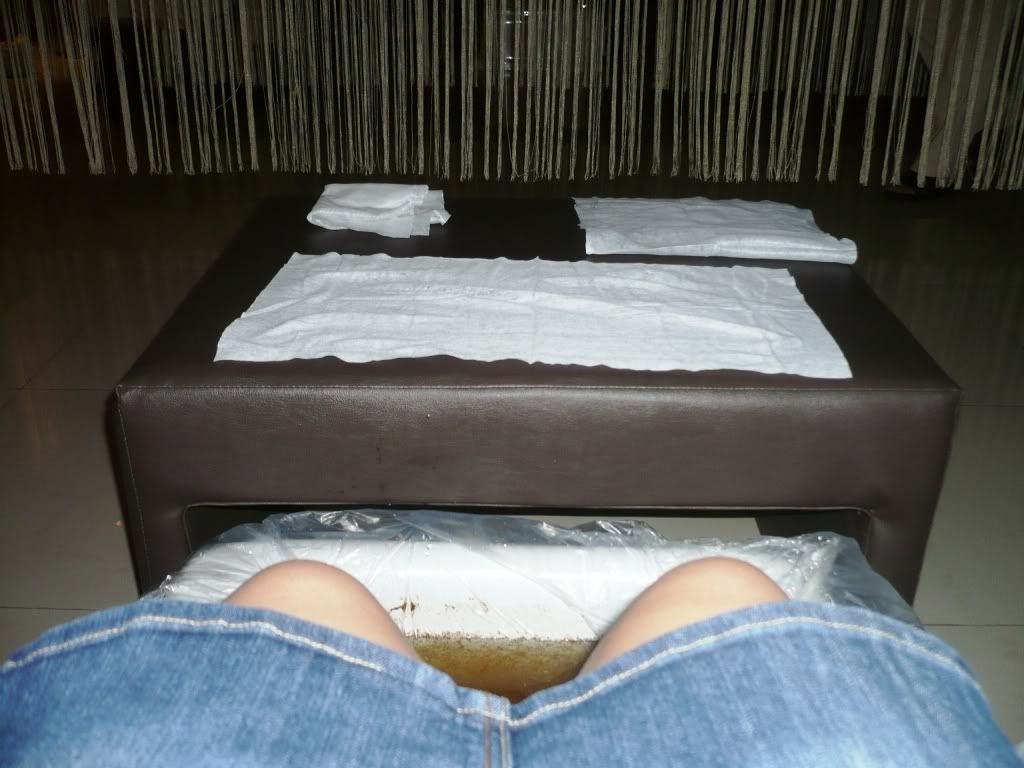 Everything were top-notched, and believe me, I've been to many, many reflexology centre but really, my camera is just not doing justice to this place for the lighting were dim.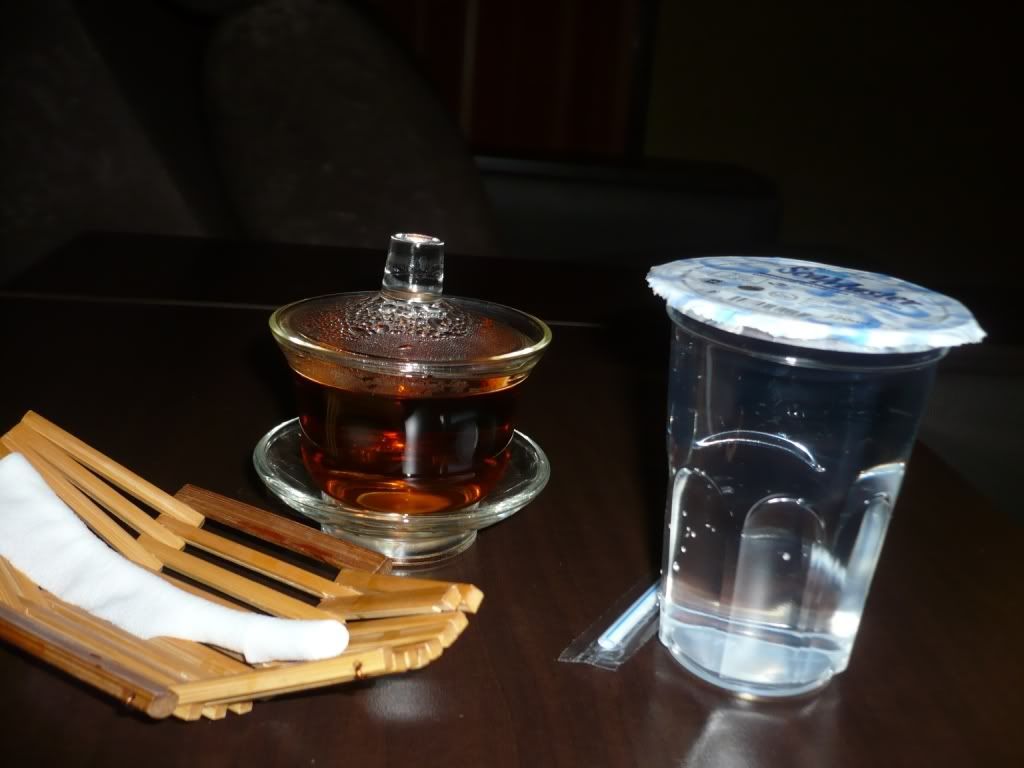 But the best part are their packages and promotion. It may seem pricey as compared to other places but please read along to find out why I'm so hooked! There's goodies of course!

Empress Ma offers following packages;
EmpressMa 50 - RM50 (50 minutes foot reflexology, foot bath & Cleansing Herbs)
EmpressMa 80 - RM80 (50 minutes foot reflexology, foot bath, Ginger Enhanced cleansing herbs & 30 minutes Partial Body Massage)
EmpressMa90 - RM90 (50 minutes foot reflexology, foot bath, Tibetan Classical Cleansing Herbs & 40 minutes Partial Body Massage)
Etc ... many more services.
You have choices of Oriental Style, for Stress Relief, for Insomnia, Detoxification and Relaxing & Refreshing. The package time excludes the foot soak time too.

NOW, the best part are the PROMOS.
Enjoy 50% discount if you walk in between 10am-11am everyday (my fav!)
Enjoy 20% discount if you walk in between 11am-3pm everyday.
Bring your dad there on Father's Day (15 June) and enjoy 50% (you have to be existing customer)
Free EmpressMa38 on your birthday month! EmpressMa38 means, 30 minutes partial body massage.
Enjoy 20% discount during your birthmonth.
Isn't this fabulous? I've been returning there for their EmpressMa80, for RM40 which includes 50 minutes foot reflexology, foot bath, Ginger Enhanced cleansing herbs and 30 minutes Partial Body Massage!
That's 80 minutes of massages for RM40!!!
Where to find!? Address here lah;
EmpressMa Kota Damansara Outlet, Ground Floor, No 10-1, Jalan PJU 5/7, Dataran Sunway, Kota Damansara. Tel : 03 6141 7696
EmpressMa Section 17 Outlet, No 1090 Jalan 17/29, Section 17, 46400 Petaling Jaya. Tel : 79587696.
Open Daily.