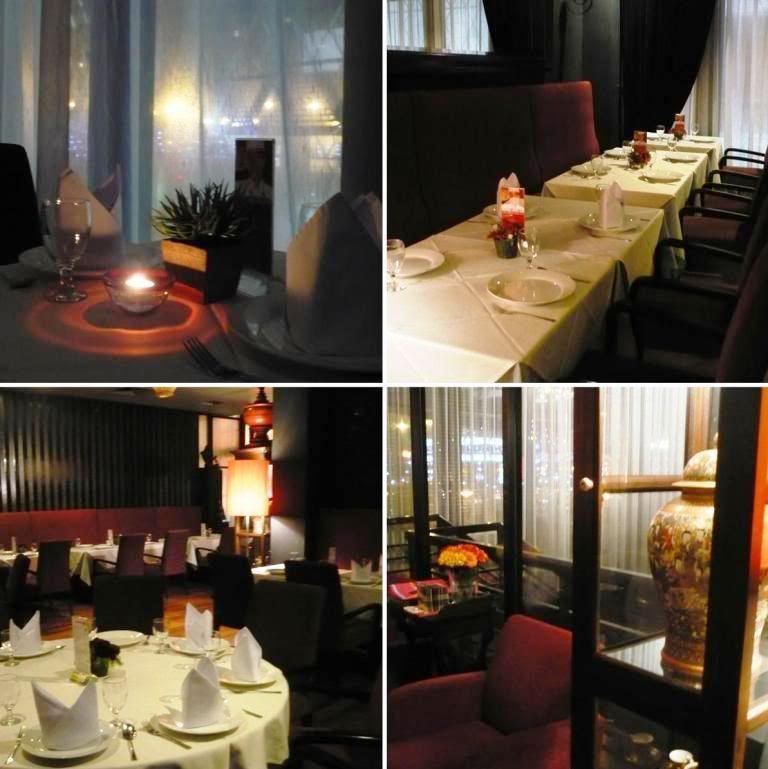 a
The girls had another elegant birthday celebration last night, and this time round, it was for oysterette Choo, whom birthday fell on last Wednesday. Our earlier plan was go check out Raw, a kitchen and bar place in Solaris Mont Kiara, but plan changed as we wanted proper dinner versus bar food, along some drink serving.
The birthday girl text us the venue a day before. She also added,
I'll get my own birthday cake ...
With Joyce getting her the presents on behalf of myself few days earlier, I must say that this is one hell of a birthday with little preparation on my side. Literarily with no make up on, and adorning just a LBD, a pair of entrusted gold Zara wedge, and my latest brown work tote ...
My effort? *shame*
Anywayyyy .... back to Bangkok Jazz; we had a bottle of
Salisbury Cabernet Merlot California 2005
wine. It's a house pouring wine, with a mixture of Cabernet Sauvignon and Merlot, bottled in 2005. The birthday girl had earlier asked if we were to choose a white instead, but my big mouth recommended a red as its more
powderful
to go with spicy thai food. Well, it is not true of course to match the wine this way, so just go with the flow as long as the wine is compatible with the food!
Their house pouring bottle were really good. I though it was perfect as the wine was a medium body, fruity and had an elegant taste.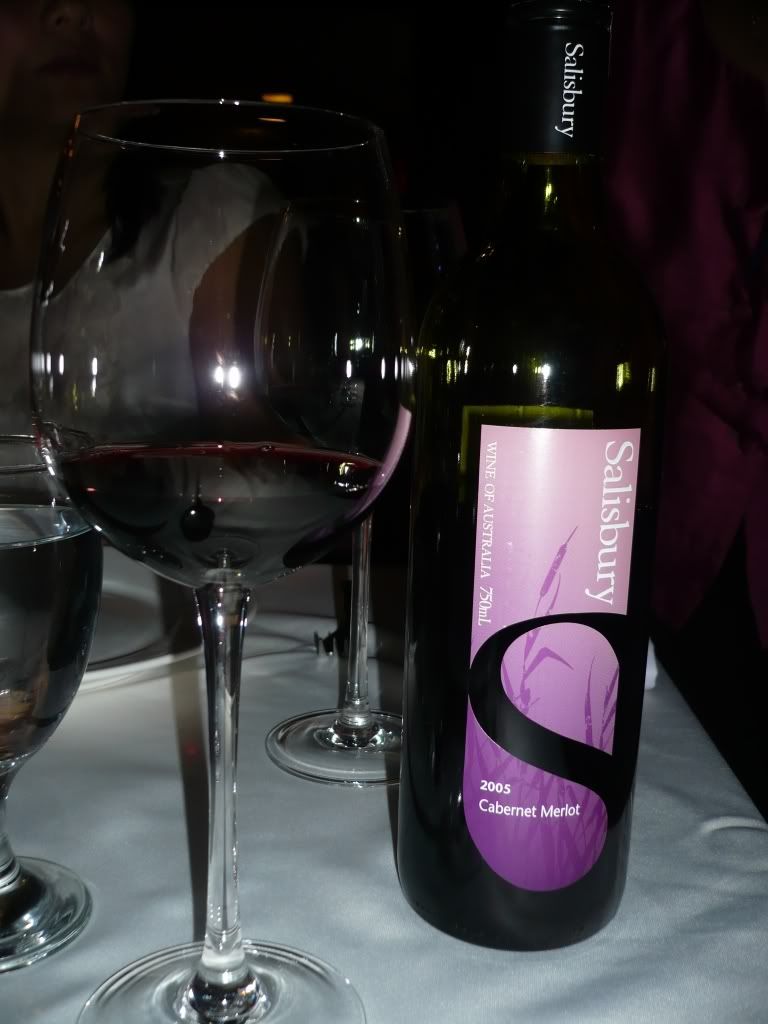 Most importantly is, the birthday girl enjoyed it.
We left the ordering to birthday girl. What a good move because she hit the spot with so many of the order and we had so much of yummy food! Starting with ...
Meing Kam (Betelnut Leave Wrap),
my first ever. I was surprise with the fragrant, crunchy, salty, sourish, spicy addictive taste. WE LOVED IT.
Our
Appetiser Combo
were HUGE! There's everything you can imagine coming from thailand from fishcake, prawn springroll, chicken springroll, fried wanton, grilled meat, grilled scallops to more. Though there were only 5 of us, we whacked the whole thing up in minutes.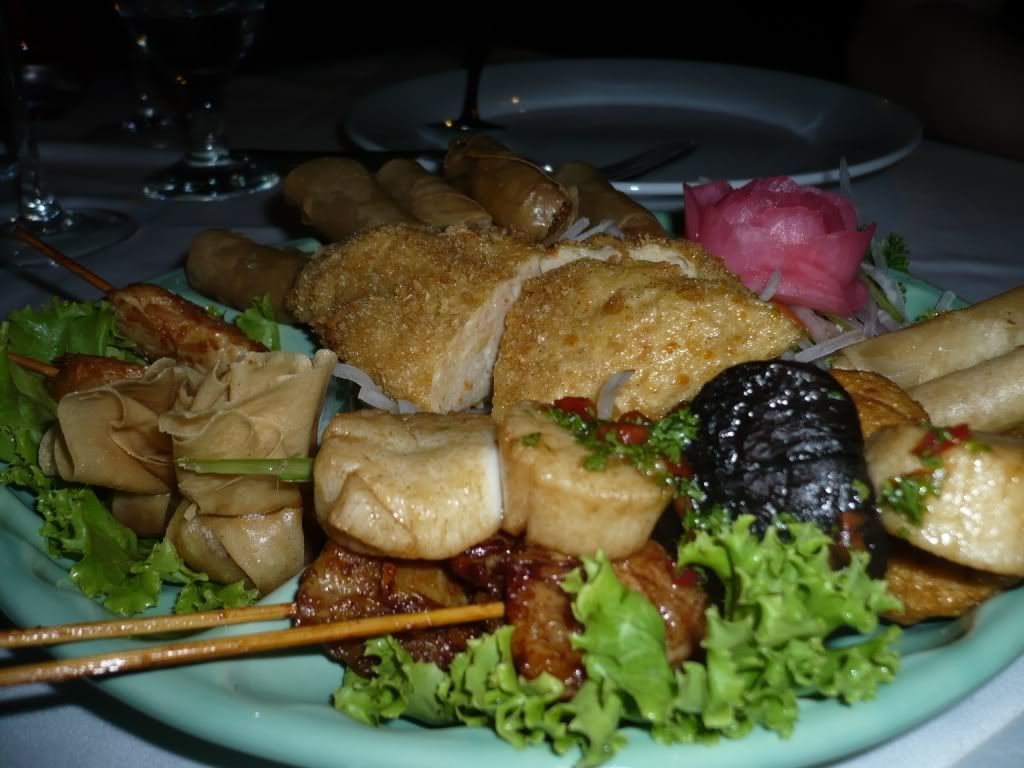 Sorry for not featuring the actual name of the dishes, as I was not doing the ordering. Besides, my usual practise of shooting the menu before leaving the place got distracted after a few drinks *wink*
Here's to another plate of appetiser of
Pomelo and Squid Salad
. It was gorgeously done with super fresh ingredient. I love their generousity as the seafood and pomelo were bursting out from the plate.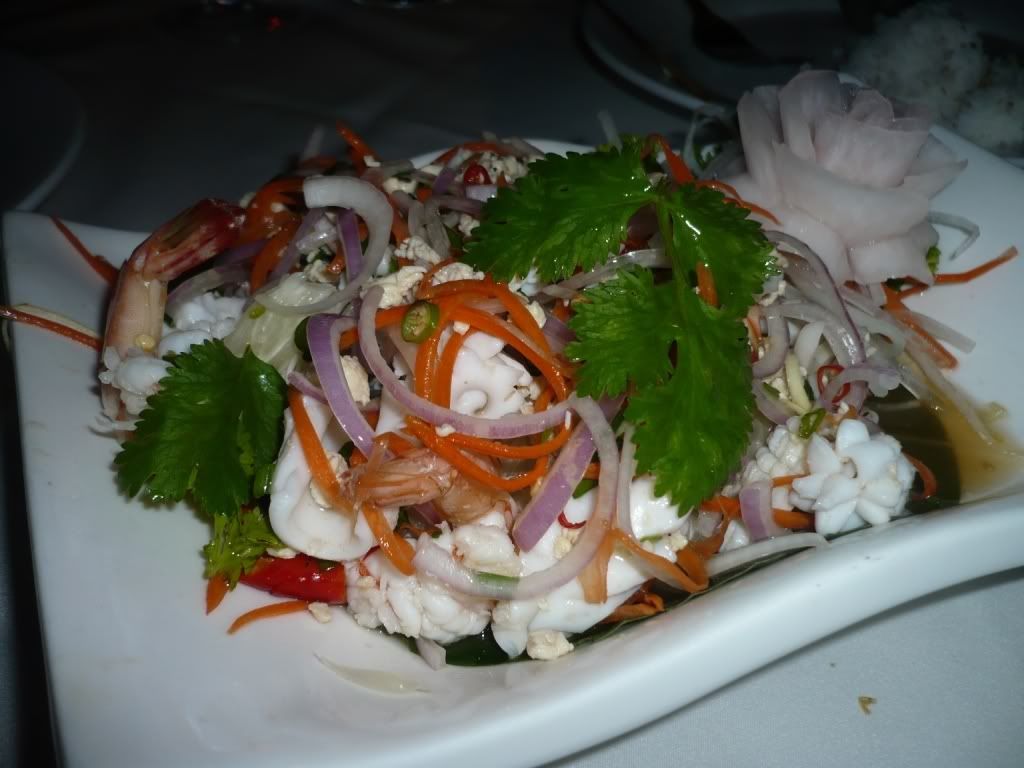 This
Green Curry Chicken
was lipsmackingly good! It was creamy, not too spicy and deeeeeeeeeeliciously yummy.
The only dish which I felt were not up-to-par were its
Steamed Fish, Thai Style
. Don't get me wrong. It was not that bad as the flavour infused from the lemongrass sauce was good and the fish was fresh too BUT, it was just NOT clean. I had and a few times nearly choked on its scale, YUCKS!
Birthday girl's word ... the fish was not wax properly!!! Roaring laughter followed suit.
Errrr *blush*, I had earlier shared with them my brazillian wax experience* (remember the brown envelope I received during my birthday dinner?). Well ... the poor fish kena suddenly *grin*
Their
Paprika style Chicken
reminded me of our roadside stall Nasi Paprik. Their touch of thai basil leave left us wanting more, as it was fragrant and tasted so homely. Another spot on.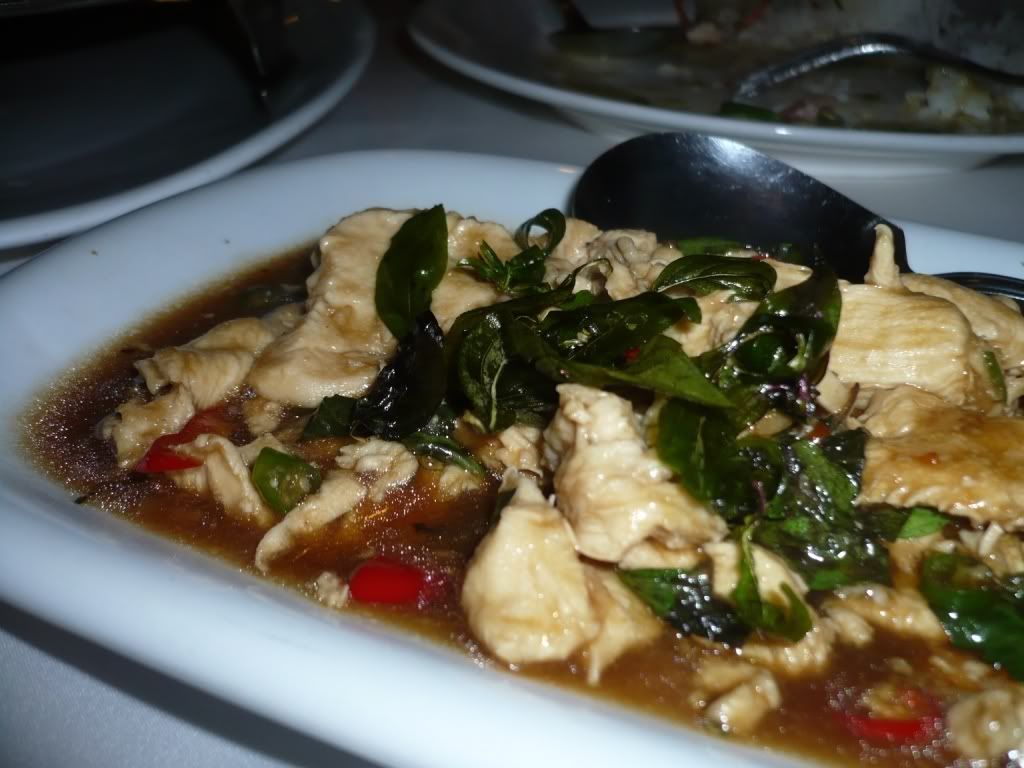 Lesiron, oops ... Kangkung ahhh, as how we call them here were perfectly al dente. I love how the
Kangkung Belacan
turned out un-spicy. Easier to enjoy instead of numbing your tongue. Enough of numbing experience today *blush*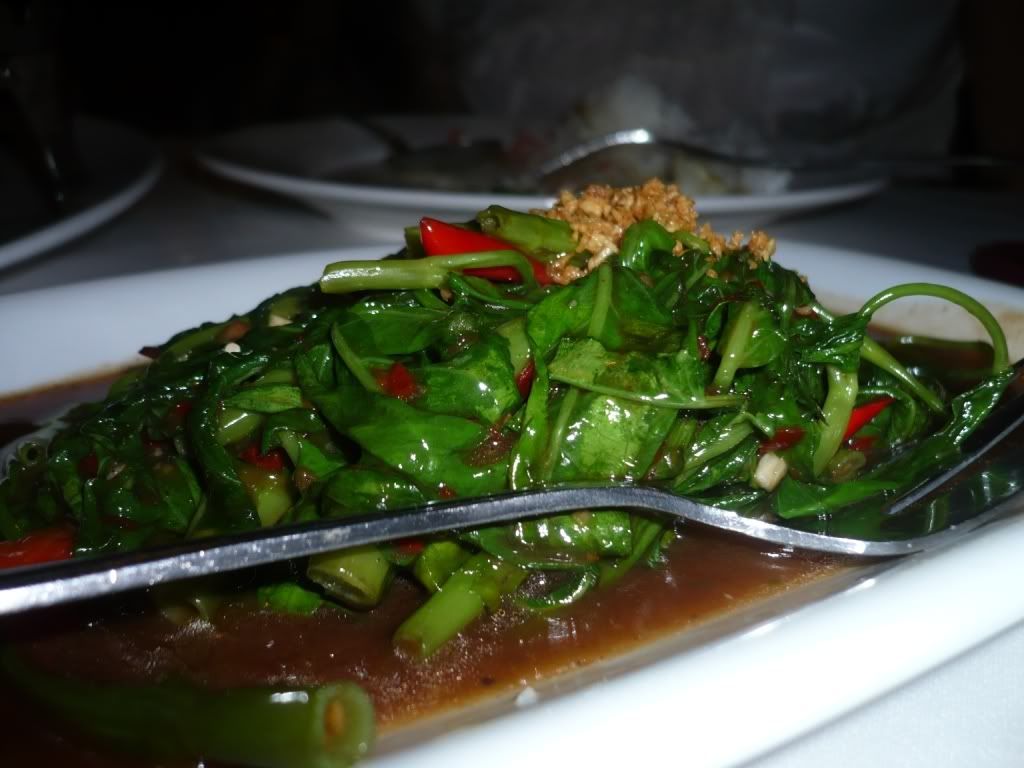 When dining thai,
Tomyum
is a must. Instead of the usual seafood combo, we had hugeeeeeeee tiger prawns in it! The soup were delicious, spicy and fresh while the prawns were such a good choice. Lye gave me her piece as a gesture that I might not get a chance to eat prawns during my 3 weeks stay in Germany.
Last but not least, their specialty of
Deep Fried Roast Duck
! It was crispy outside, and tasty. Though it was suppose to be eaten with some sauce, I though the yummy duck were good on its own. I love it!
For dessert, we had a exercise our vocal cord a bit. Seen here, birthday girl conducting us to sing in tandem *ahem* but how to concentrate if all we wanted to say was UH-HU-HU?!
The Real KL edition
U HU-Hu! Cheesecake
from The Loaf came with
Icy Lychee
(with delicate taste),
Durian Obsession
(damn good!),
Wholesome Nestum
(not bad, but was a bit weak on flavour),
Stylo Milo
(I love this),
Refreshing Longan
(our favourite of the lot), and
Banana Supreme
(another delicate taste cheesecake). Overall, it was good, japanese style cheesecake neitherless but, I would recommend to eat them on its own rather than having them after a feisty, flavourful meal.
We could not stop ourselves from UHU-Hu! UHU-Hu! The wholeeee night. Pity Ju.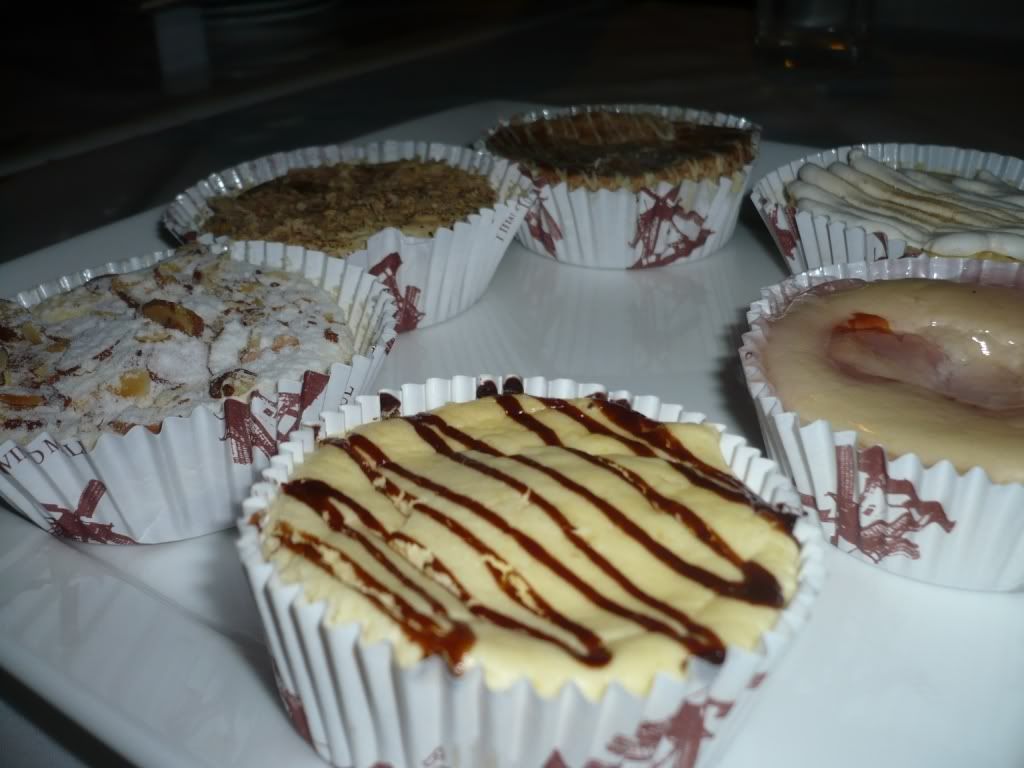 Our oysterette tradition of gift presentation ceremony *grin*
Lye got her a gorgeous room freshener sans french style. WE LOVED IT and I'm gonna find ways to buy one for J's parents, and one for J's home. The smell were wondrous, and fine and ELEGANT. There's nothing like it and the packaging was lovely too.
Me and Yoong got her the latest Aqua Lumiere Chanel lipstick and lip gloss. I love it too, but no budget for it now.
The bill came up to approximately RM400 for the 5 of us. I though it was good considering the amount of food we ordered with a bottle of wine. If you pay with CIMB, there's another 15% off the bill. UHu-Hu!!!
Honey got a table arranged for us downstairs so we headed down after dinner. Bangkok Jazz is famed for their Jazz lounge and its not hard to understand why. The place is done up nicely, not too big, not too crowded and not smokey! Veryyy important. We were given a nice table fronting the band. The bad were not too bad.
The birthday girl treated us to a bottle of Vodka! It came with a tasty orange mixer, which saw so many of us gulping a few glasses down. Another UHU-Hu moment!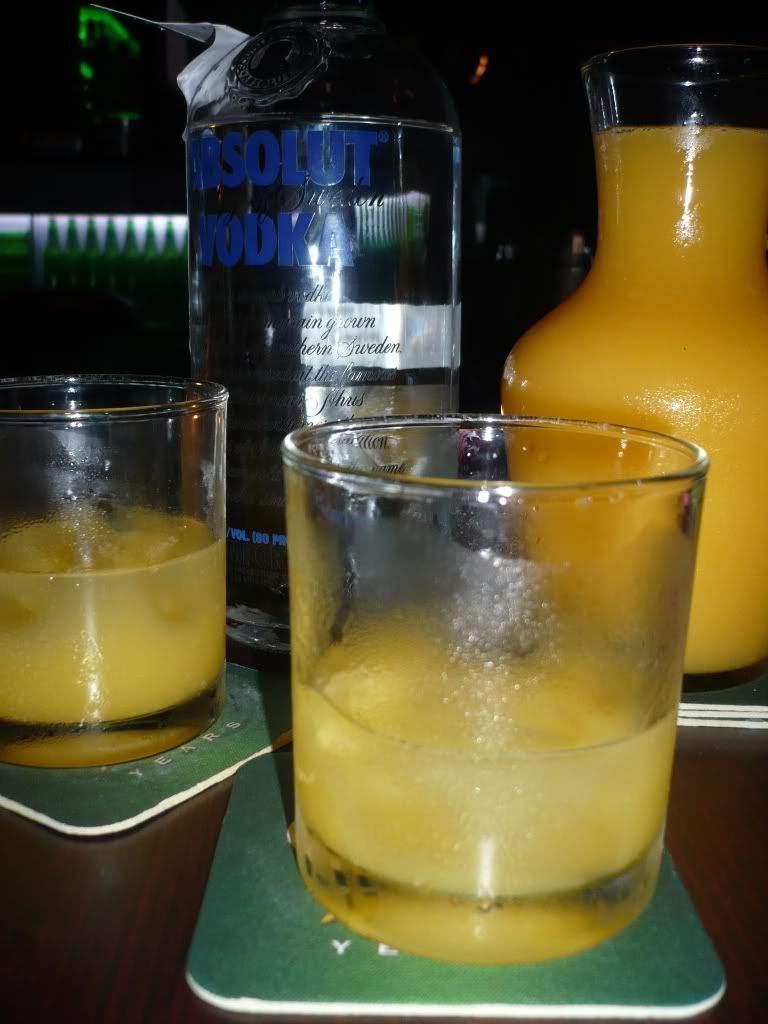 Birthday girl happy lah ... as usual, our conversation were like "pa sat".
The girls. Thanks Ju for the lovely pic.
The silly things we do.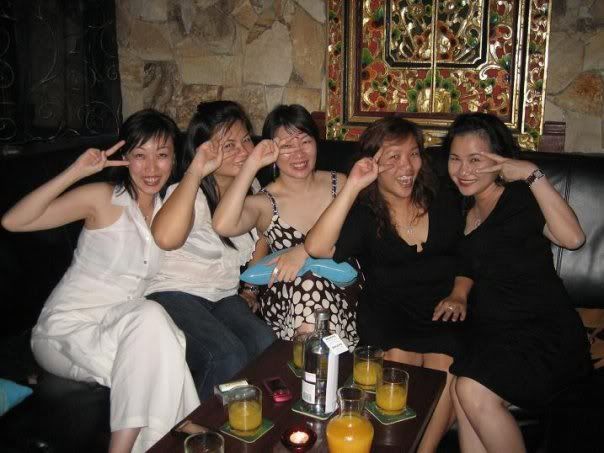 Well ... that's the oysterette's for us. I'm so happy that the group's back active in getting together after a slow 2007 year. They will be hopping to Hongkong/Macau to visit oysterette Elaine next month (I wanna go!) but that, I had to give it a miss coz "my boss would not approve my leave"
Oysterettes ... can we go Singapore and makan ah?