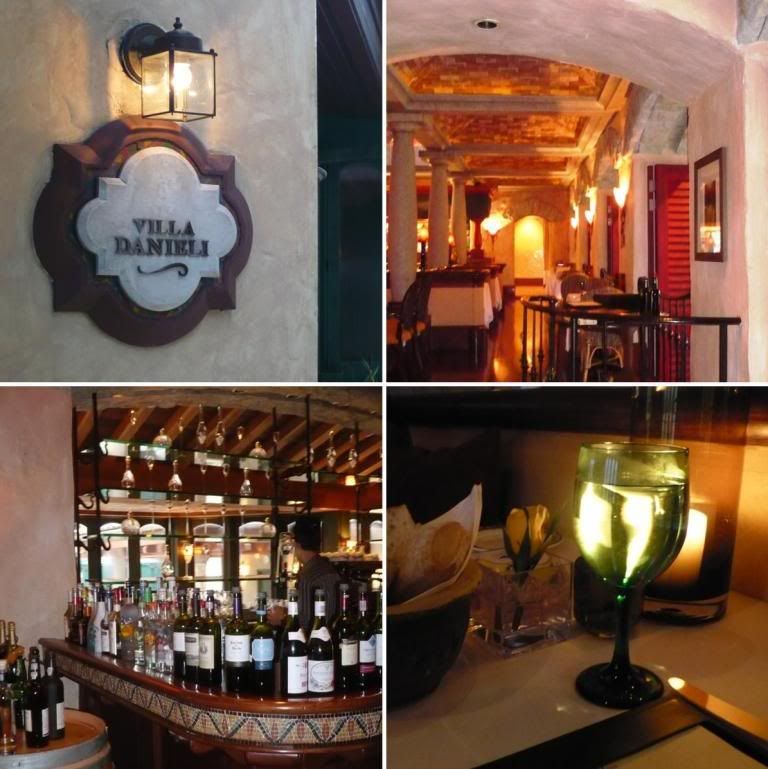 I had an awesome dinner tonight in town. It is for another birthday celebration, yes, another birthday celebration in March and it is for Ruby, a girl I've known for sometime. She's almost a decade younger than me, nonetheless, we clicked really well and despite the age differences, we'd found ourself venturing together for trips abroad, shopping and makaning session too.
It was pouring earlier but nothing can stop us from driving all the way downtown to go check out Villa Danieli, in The Imperial Hotel, or the hotel formerly known as Sheraton Imperial. But what's with Imperial Hotel's lift system? To get to 1st floor from Ground floor, you have to take their generic lift to level 2 first, before changing to another lift there to get to 1st floor. Now, I do wonder why isn't there a lift to 2nd floor from the main lobby lift. Rather puzzling isn't it. But that's not all. To get to 5th floor where Villa Danieli is located, you have to get to a side lift, instead of the generic lift lining the lift entrance?
Aiya ... the fengshui of this place is not happening lah, not happening at all.
We made it to Villa Danieli's entrance, after some roundaround. Housed next to the swimming pool in an independent building block, Villa Danieli transported me back to memories of dining in Italy with its rustic and authentic looking architecture.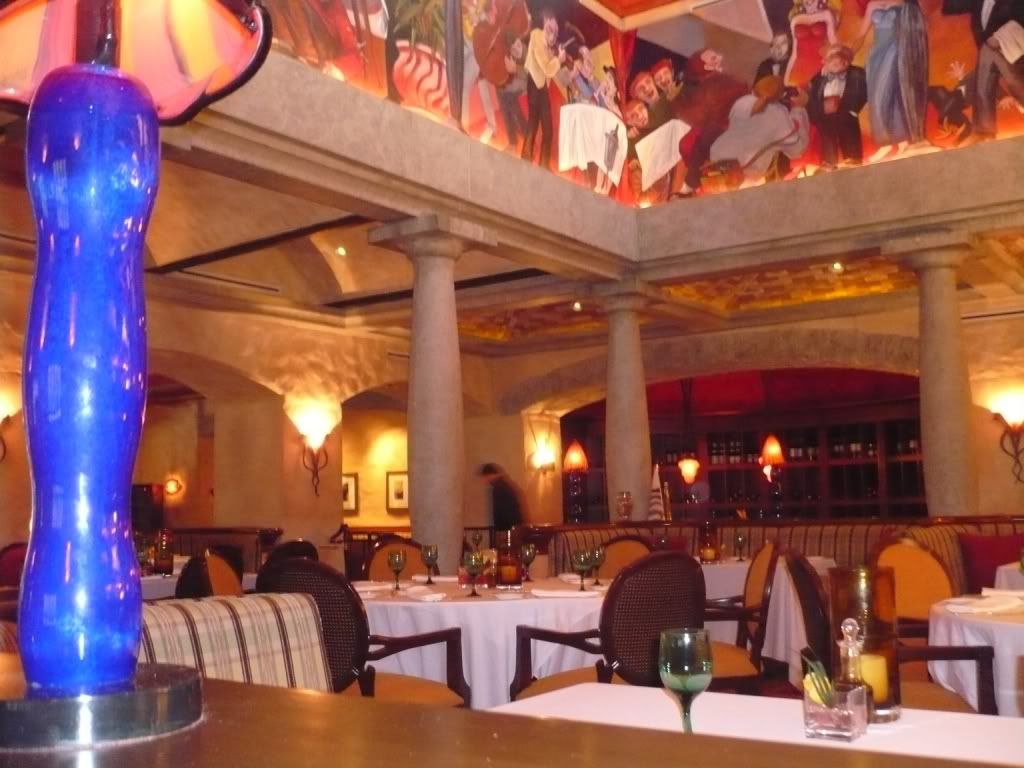 The wait staff ushered us to a lovely table overlooking the grand ceiling mural. Quickly too, a basket of
Italian Rustic Bread with Balsamic Vinegar
were placed infront of our table to kickstart the dinner. Their bread were not bad, but I prefer mine where I baked them with lots of garlic, rosemary, olive oil and sea salt *pat back*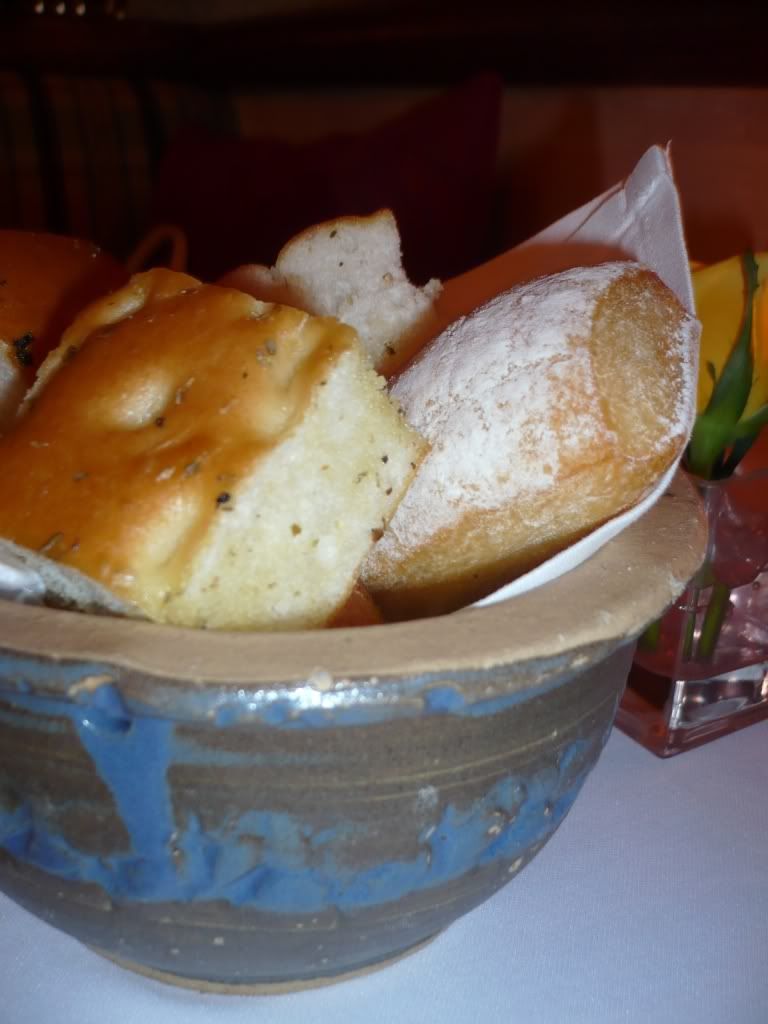 Then came the complimentary
Mushroom Brushetta with Basil
. It was fresh, and tasty.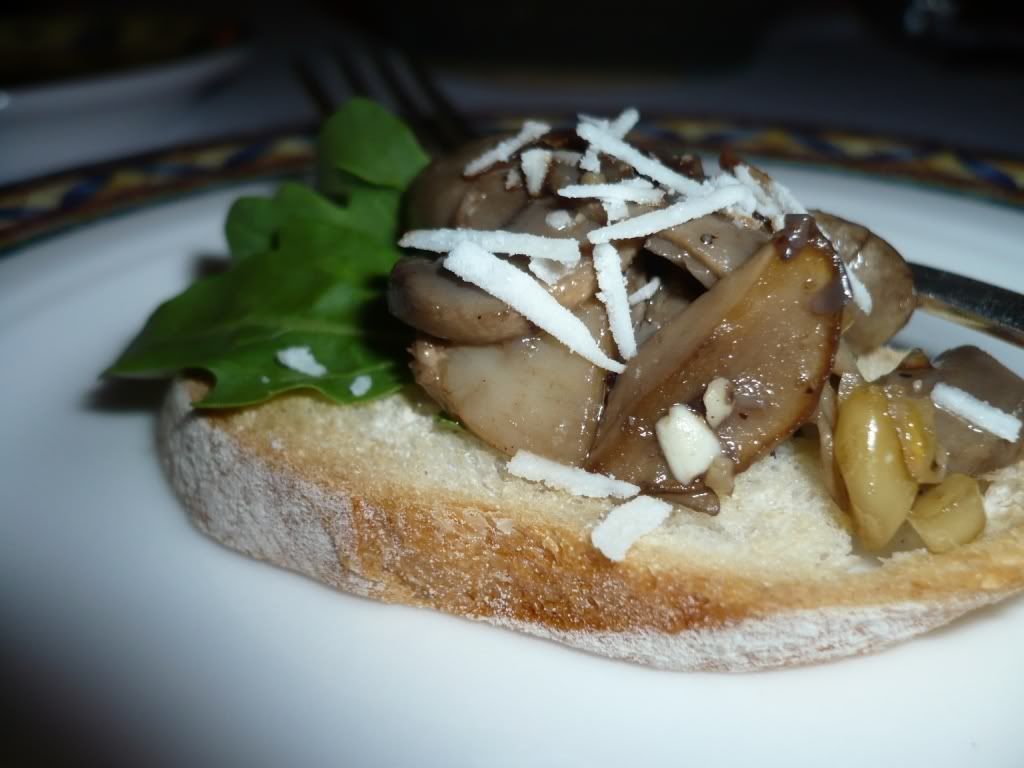 We shared two appetisers of
Salad Leaves, with Grilled Asparagus, Sliced Button Mushroom, Orange Segment and Honey Mustard Dressing
and
Pink Peppercorn Crusted Seared Tuna, with Endive, Radicchio, Mixed Leaves and Picollo Tomato Chutney
. The Salad Leaves were light, and fresh with raw mushroom. This is my first time tasting raw mushroom and I'm surprised with its taste. It was light and crunchy, a combination that gave this salad a crunch it needed.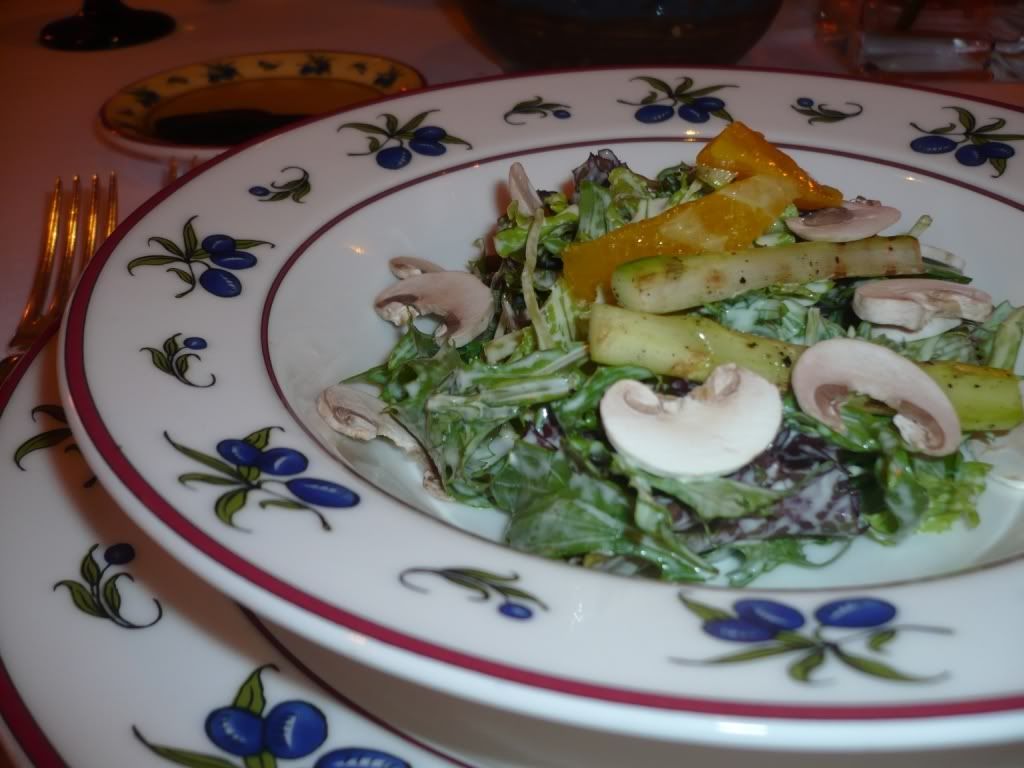 Me and Ruby totally dig the
Pink Peppercorn Crusted Seared Tuna, with Endive, Radicchio, Mixed Leaves and Picollo Tomato Chutney
. The whole dish were flawless and absolutely delicious. The seared tuna were top grade, and fresh while the sweet, sourish chutney were out of this world. It was so good that we wiped the chutney clean with the leftover salad leaves and bread.
I must learn how to make this!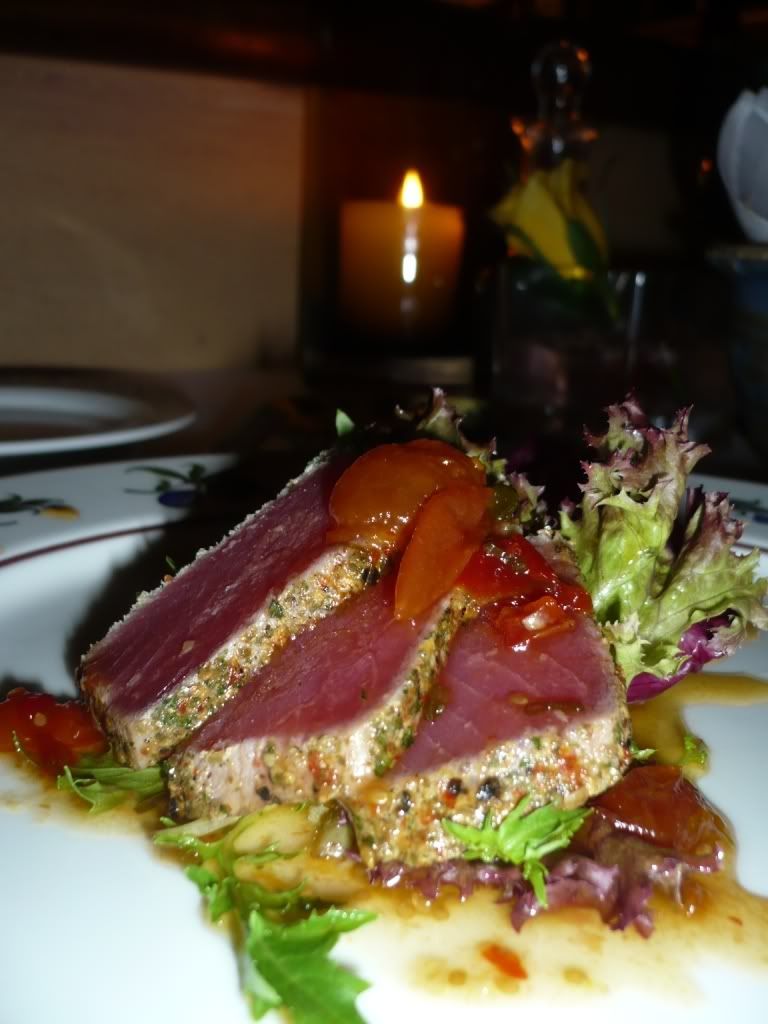 I had a bite of Ruby's
Black Ink Fettucine with Seafood Aglia Oglio
. It was another wondrous dish that surprisingly, had very little squid ink smell. Unlike the packet ones where its al-dente at its best, theirs were firm and solid. Their prawn pieces were crunchy as it was so fresh, where else the squid were just oh-so-soft and tender.
It was perfect.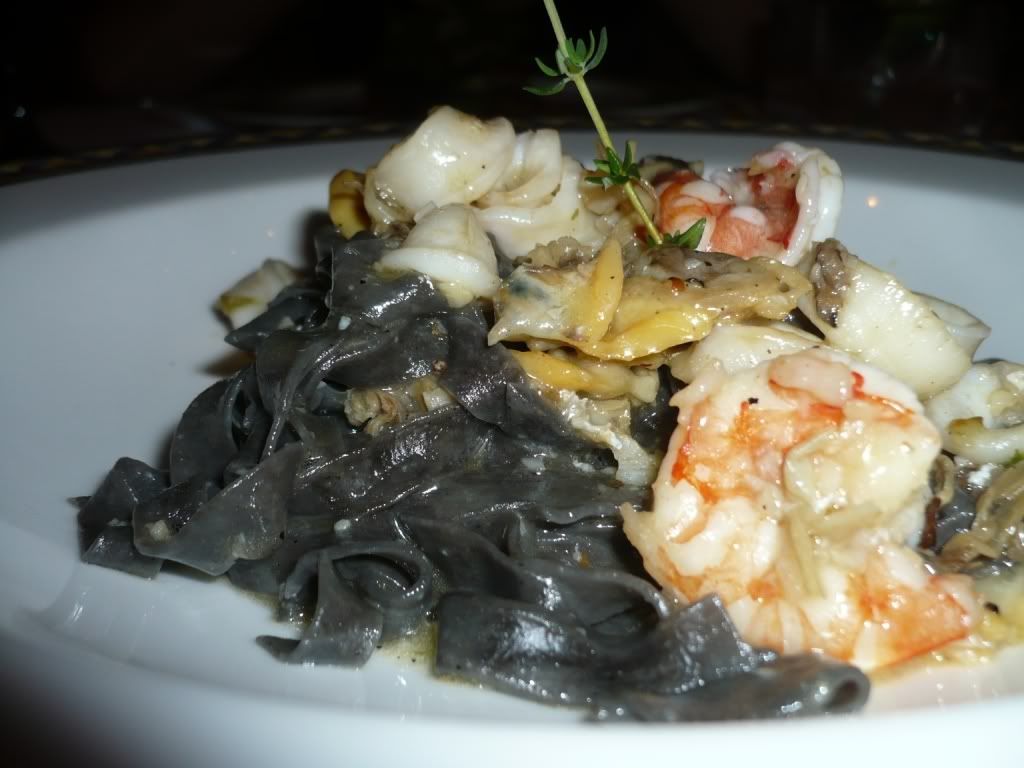 Their set dinner came with three choices of main of pasta, fish and chicken. Chicken would be too boring hence I chose the fish instead. The name of the dish says it all.
Crispy Skin Seabass Fillet, with Mashed Potato, Stewed Leek Radichio and Roasted Capsicum Coulis
which had me salivating for more. A combination that worked really well, I love the crispy skin of the seabass against the soft, tender flesh inside. I did not think much of the mash potato though, but what drew me further to the dish were its stew leek radichio. It was mild with delicate leek flavour that went well with the fish. Perfect.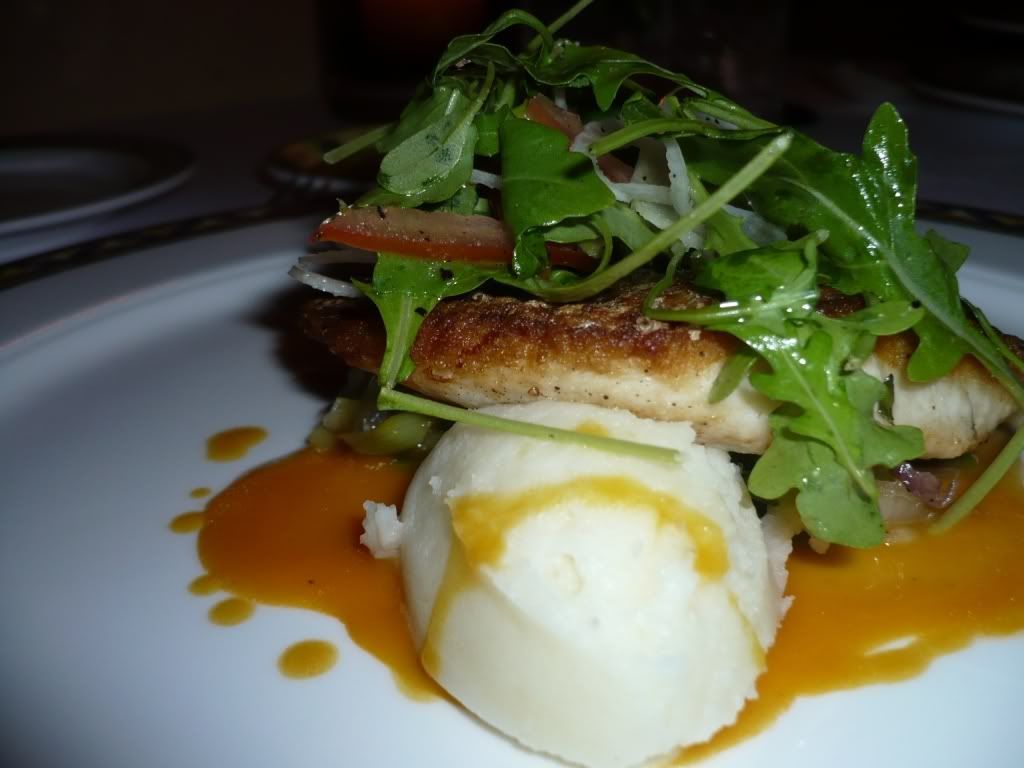 When me and Ruby get together, we would go on a rampant makan spree and today is no exception as we topped out Set Dinner with a pizza. Most of its pizza had beef topping, with the exception of two and we chose
Pizza Villa Danieli with Scamorza Cheese, Seafood with Bechamel Sauce (RM50++).
It was an awesome choices as we totally dig the Scamorza cheese topping that came with its pizza. The pizza crust were thin and crispy, and again, seafood were absolutely fresh. It was an flavourful, mesmerizing pizza that resembled those served in Italy. Nothing less.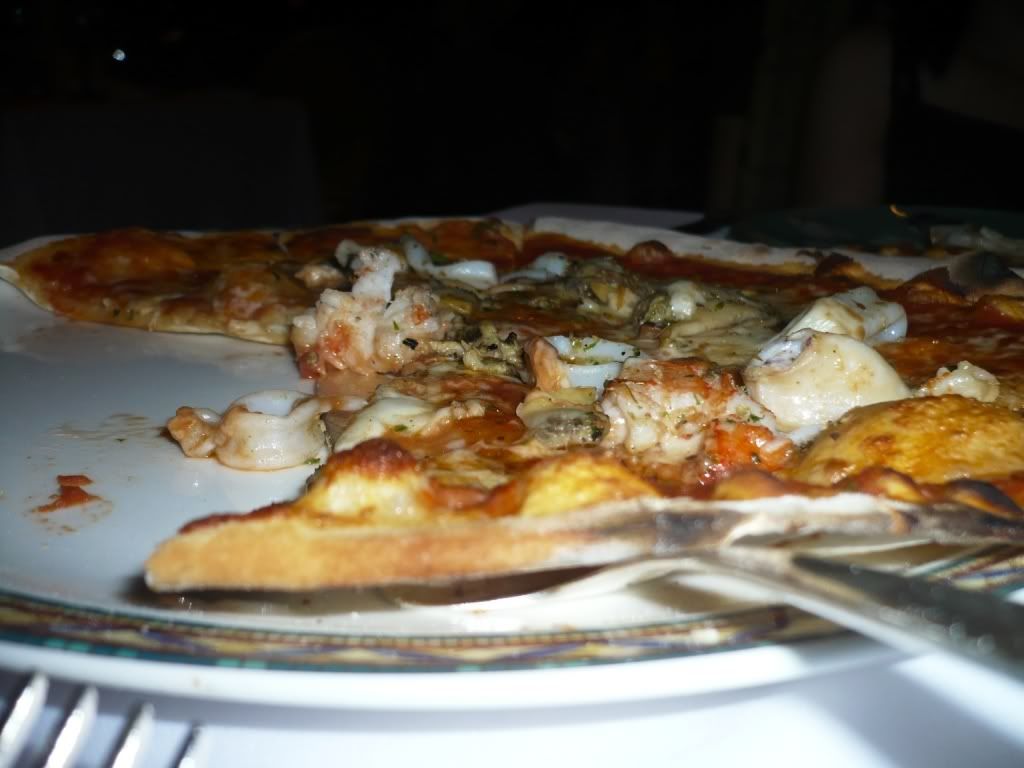 Some info on its cheese; Scamorza is an
Italian
cow's milk
cheese
. It can also be made of other milks, but that is less common. It is a close relative of
mozzarella
. Scamorza is a
plastic curd
(or stretched curd) cheese in which the fresh curd matures in its own whey for several hours to allow acidity to develop by the process of
lactose
being converted to
lactic acid
.
Artisanal
cheesemakers would generally form the cheese into a round shape and then tie a string around the mass one third of the distance from the top and hang to dry. The resulting shape is pear-like. This is sometimes referred to as "strangling" the cheese. The cheese is usually white in color unless smoked. When smoked, the color is almond with a lighter interior. It is reputed to melt better in baking than mozzarella. It can be substituted for mozzarella in most dishes. If using the smoked variety (scamorza affumicata), it adds a nice background flavor in replacement of mozzarella. Scamorza is a favorite cheese of the
Hazleton, Pennsylvania
area and is found on cheese steaks, salads and french fries. In Hazleton, the cheese is pronouned "Scah-muhtz" Scamorza is also the cheese of choice for a pizza topping in
Bridgeport, Connecticut
. Elsewhere in the state, mozzarella is used. Scamorza is also an excellent cheese to use when making
raclette
.
To wrap up our dinner, I had their
Dark Chocolate Mousse with Dark Cherry Compote
. Perhaps, there's been a mistake as theres nothing moussey about this plate for it was actually a piece of brownie. Its set dinner menu mentioned White Chocolate too. Perhaps, the white chocolate decided to
Billie Jean
a bit and hence. That aside, I was a bit dissapointed with the slightly dry texture of the brownie. The dark cherry compote were its saving grace, thankfully.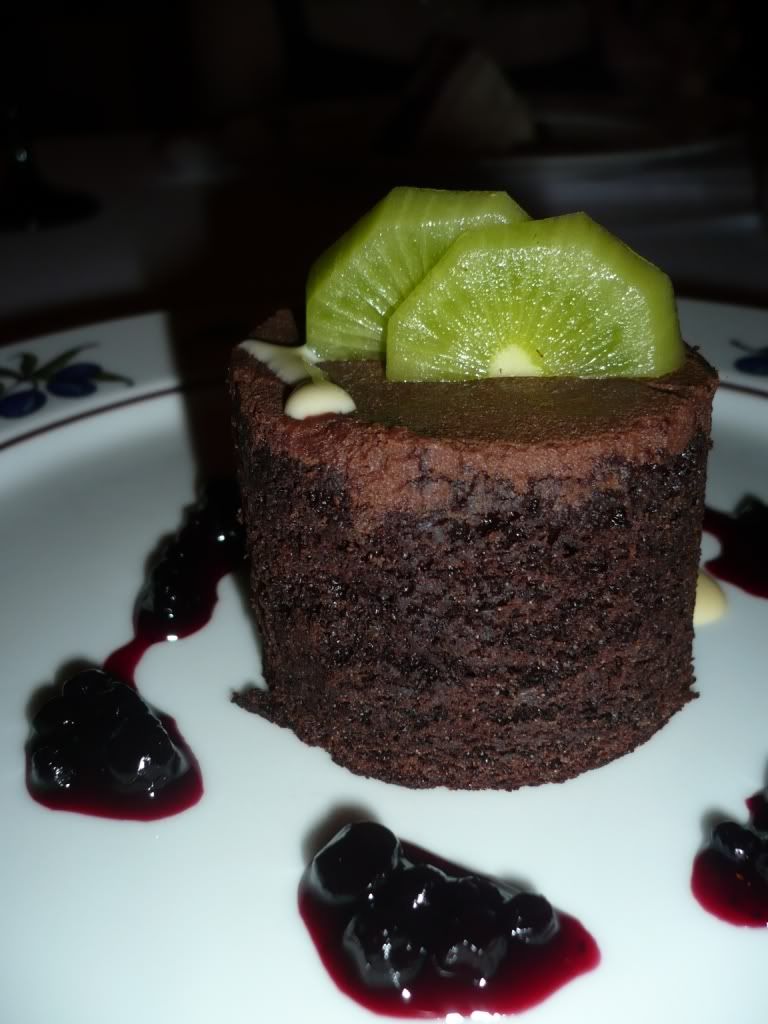 Ruby got super excited when she saw
Crostini Trio Ice Cream Sandwich
in their set dinner menu. First pasta, then ice cream. This woman is so predictable *laugh* Okaylah, let her enjoy her ice cream but, can I curi a bite? Whole heartedly ... she offered me a hugeeee bite which got me hooked. Vanilla, Chocolate and Strawberry smacked between wholemeal bread. It reminded me of Roti Ice Cream but better quality.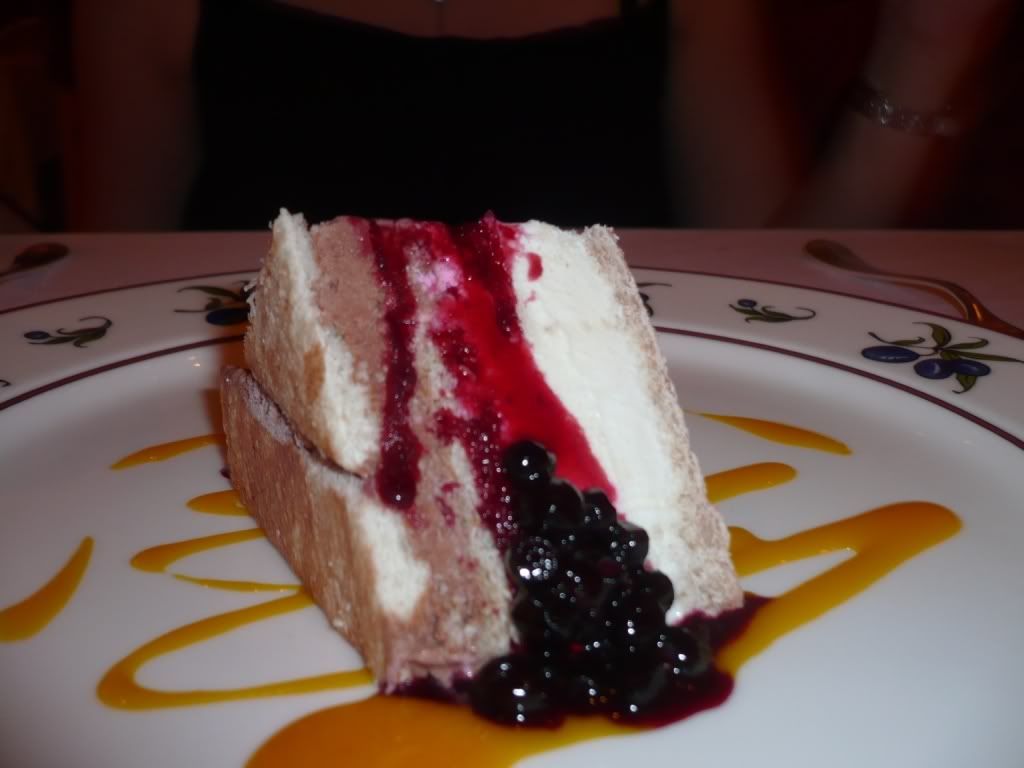 A cup of bitter
Hot Coffee
.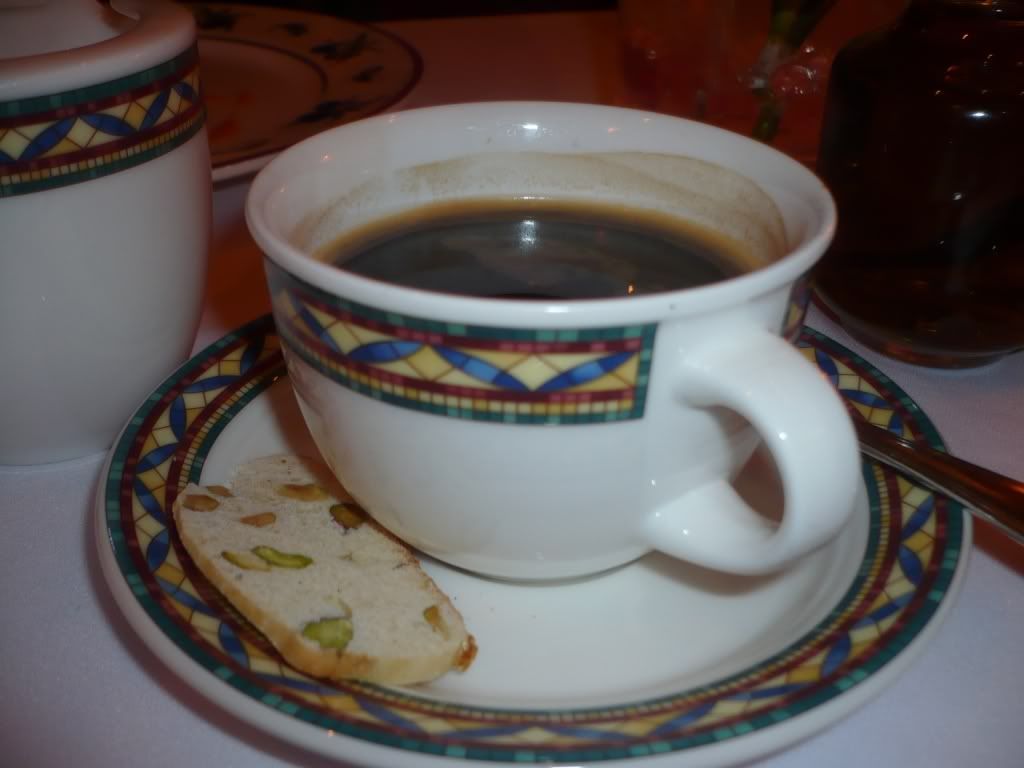 Birthday Girl Ruby.
With her sinfully wicked Chocolate Mud Cake that came with a mousse texture. Strange indeed. The Mousse cake came with a cake texture where else this Mud Cake came with mousse texture. ????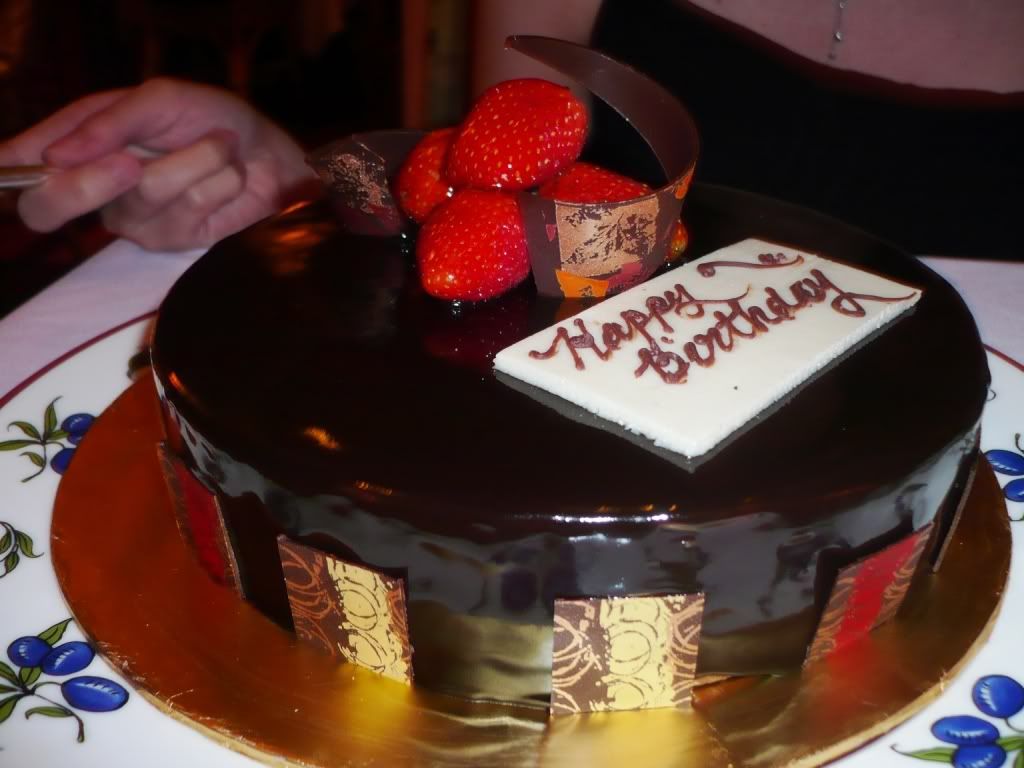 Whatever.
I had such a great time with Villa Danieli's food.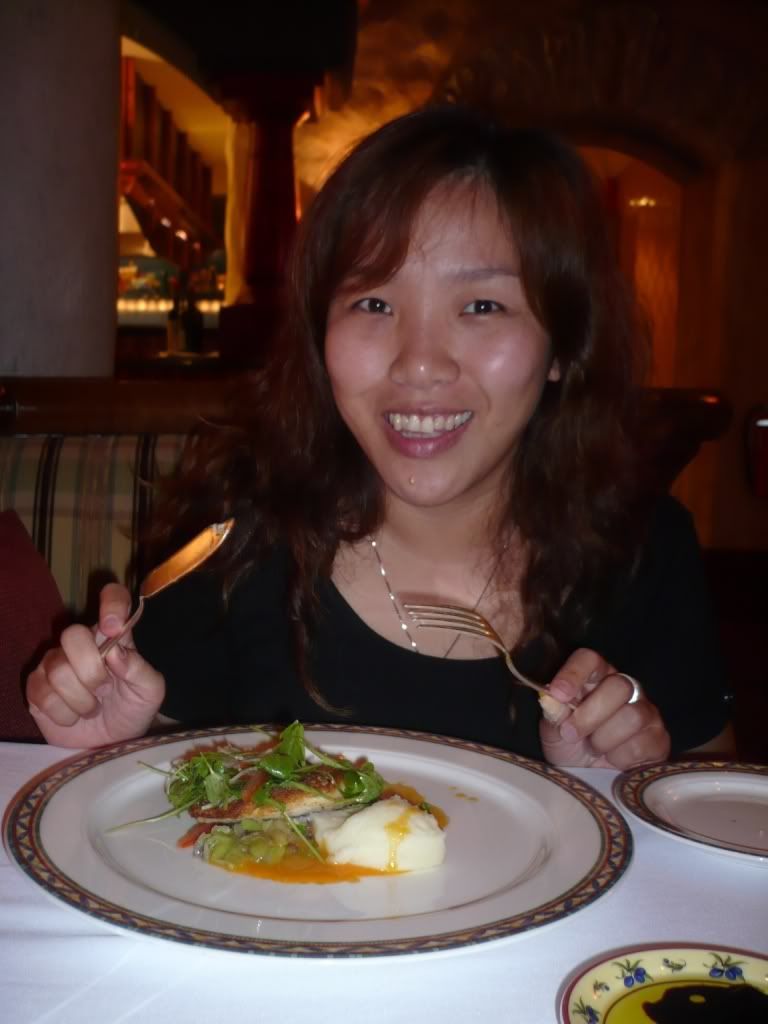 For RM125nett per person, I though it was worth every single penny although I was fortunate to have complimentary vouchers for usage. *wink*