This was how the event unfolded last weekend. It will be a super duper long post, so please have patience with the photo download, okay?
Ruby came to pick me up for our stay in Westin, Kuala Lumpur. We had a few hours to burn before our check in time at 3pm hence, we stopover
Sheraton Imperial
for lunch. Our initial plan were to go lunch in Villa Danielli but, they're open for lunch only?
Plan B, go check out their coffeehouse
Essence
instead and to our surprise, it was pretty good.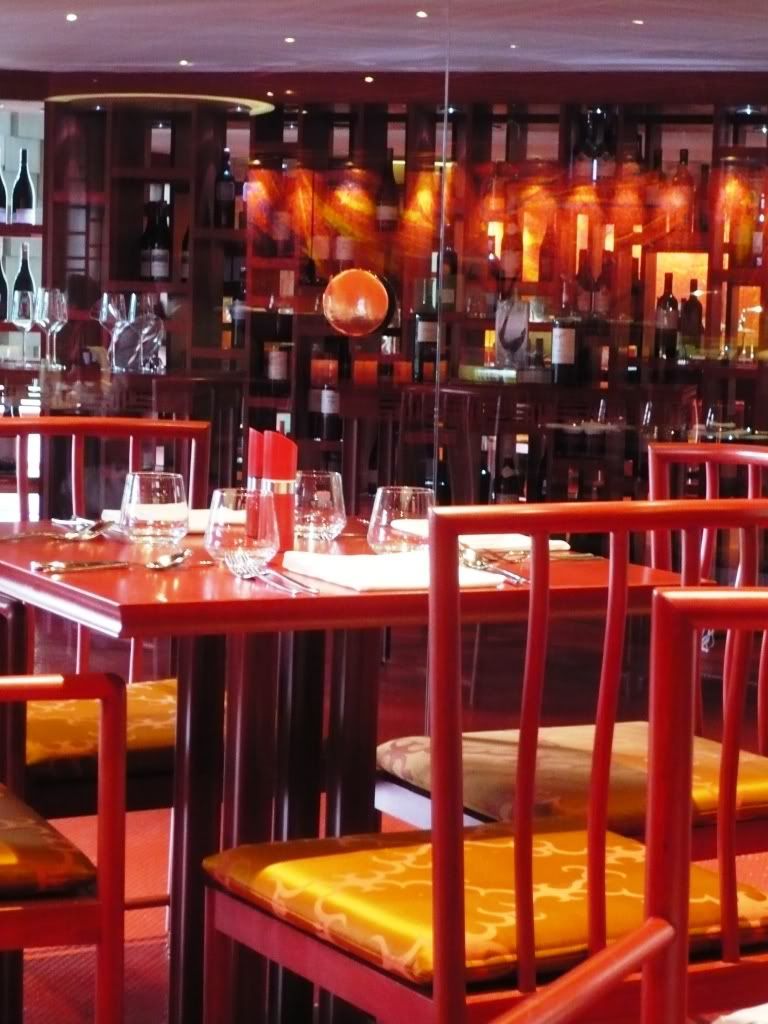 One section of the coffeeshouse were Chinoise inspired. From floor, furniture to intricate details. For a while, it felt like Chinese New Year.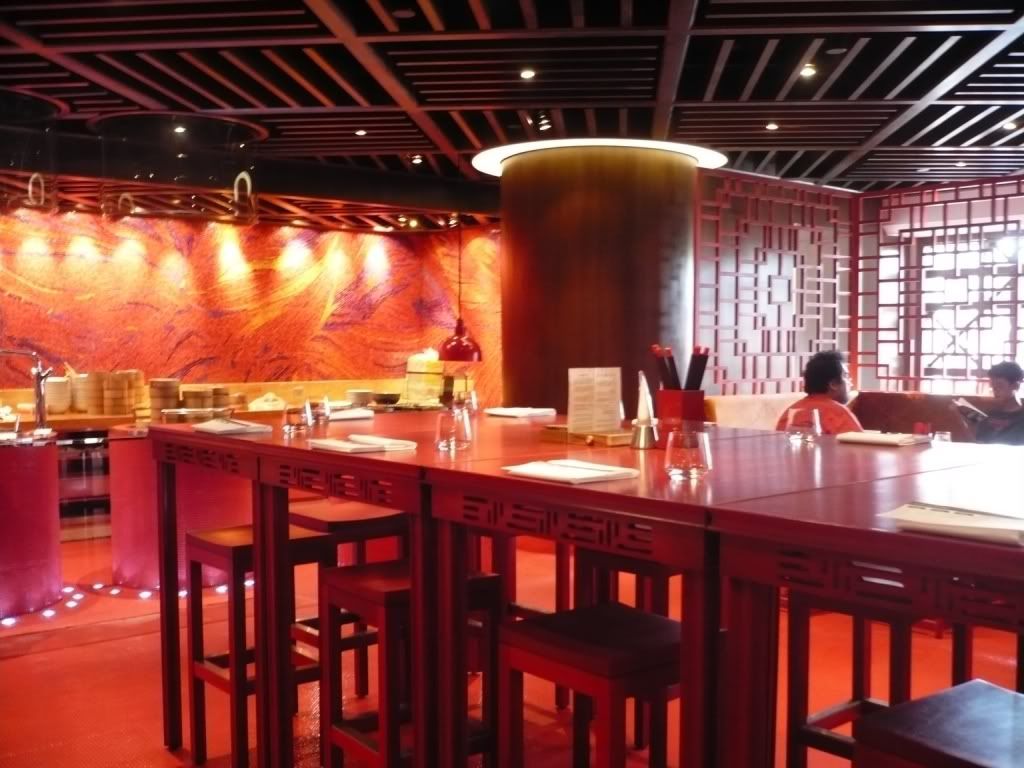 The appetiser bar, though small, had a pretty good selection.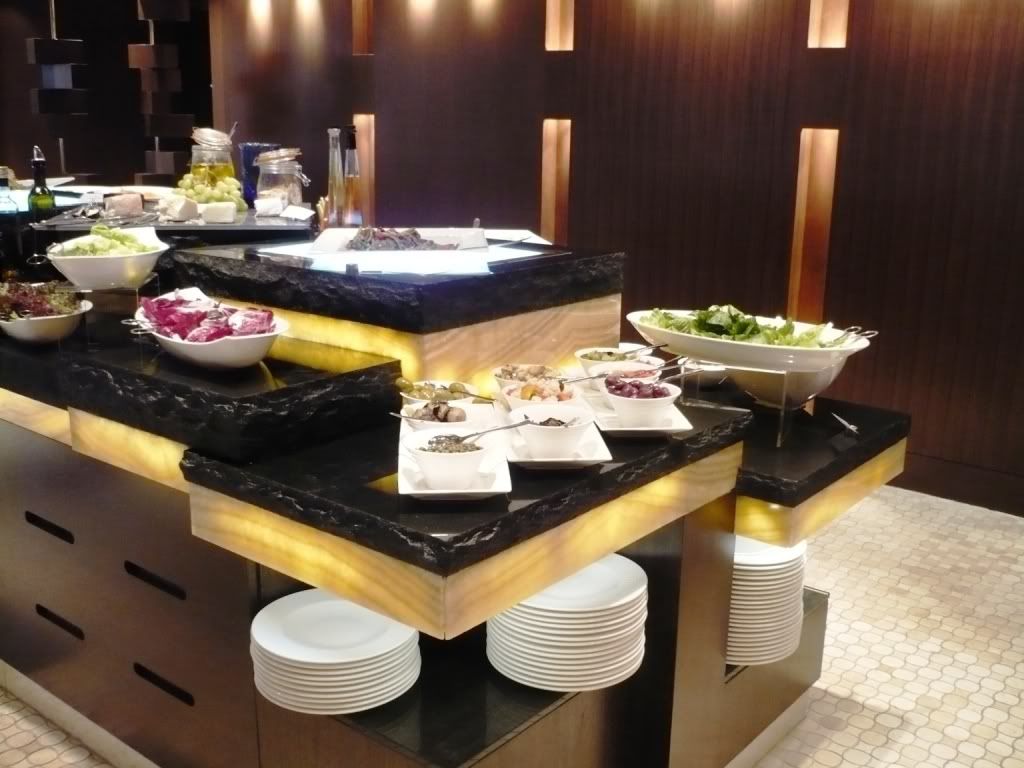 As usual, I went and attack the oysters. Quality not as good as those served in Lemon Garden, or Latest Recipe but its fresh nonetheless.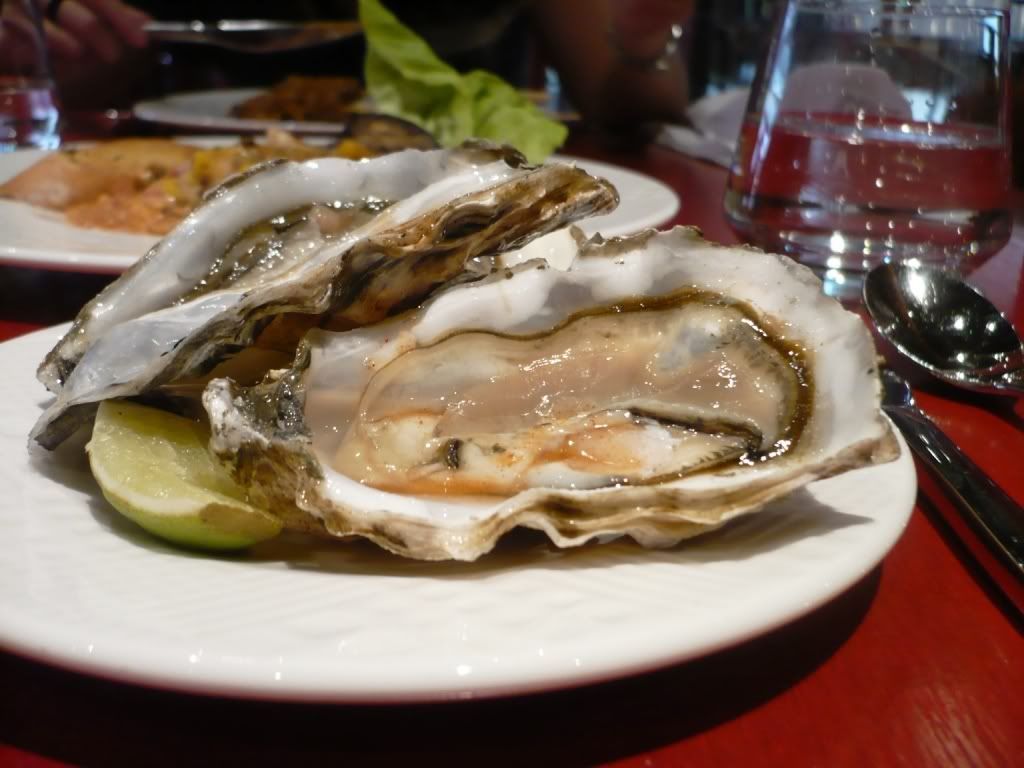 From their appetiser section, me and Ruby agreed that their
Steam Smoked Salmon
were good.
Couscous
were another hit, as I simply adore the combination of savoury and raisin mixture in it. The
Chicken Roulade
(hidden behind) were not too bad too. It had a combination flavour from herbs as well as bacon pieces within. The only dissapointment in this plate were its
Duck Salad
. Done up Thai Style, duck were too tough la. Too tough. Didn't fancy the sourish vinegar too.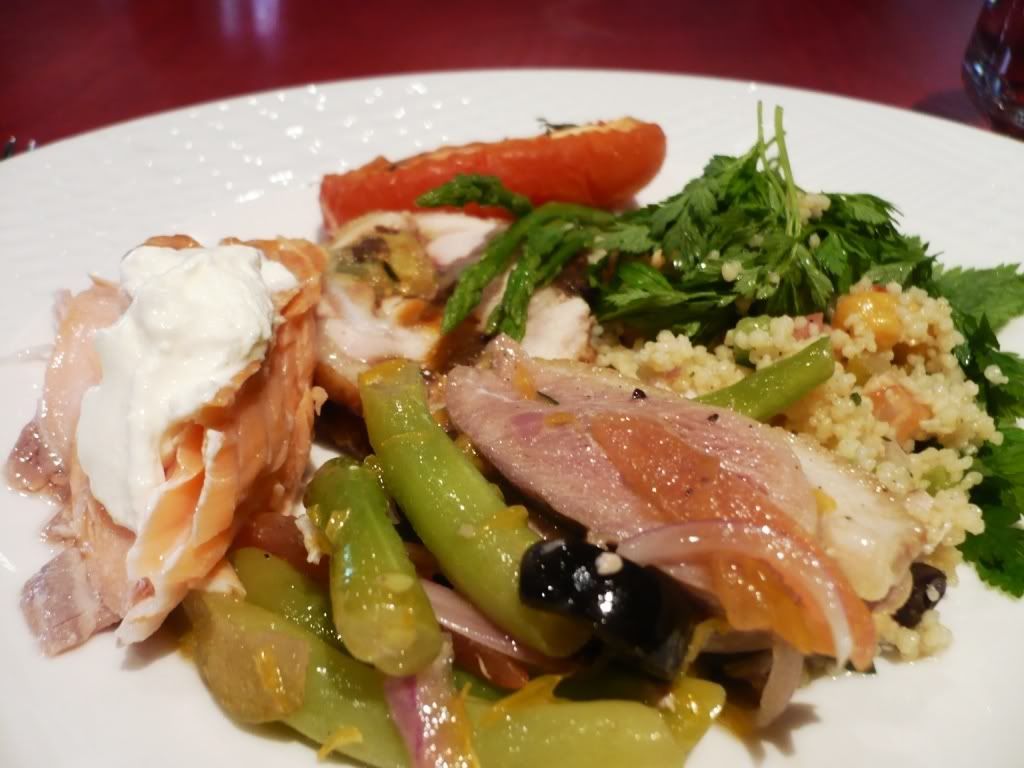 I'm always game for steam fish hence when I spotted
Steam Dory
, I can't help myself from going from stacking them up on my plate. Bad move as the soya sauce were too light, and as the result, the dory smell which I sometimes detest were evident in each bite. The
Chicken Satay
shown beside it however, ROCK! It came piping hot, the chicken pieces had just enough fats in each satay stick to coat the rest of the meat hence eating them were such pleasurable experience. It was moist, mouthful and tasty. The sauce were good stuff too. Yummy!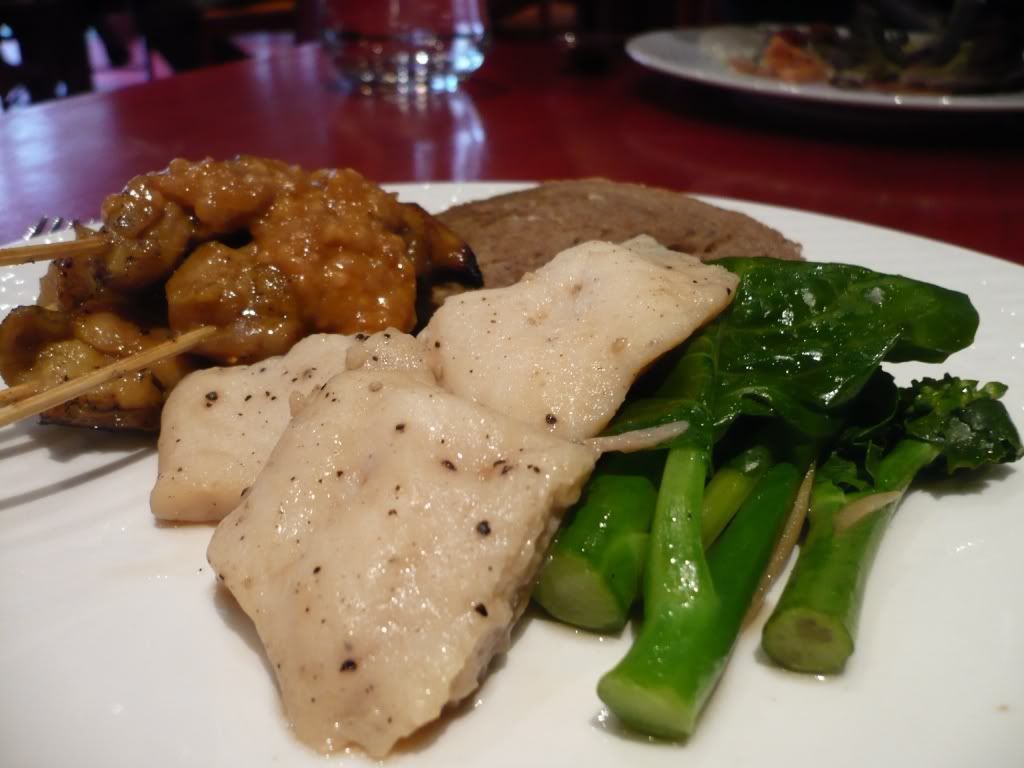 Ruby attacked the first
Seafood Lasagne
batch and came back with negative report. But when I spotted them replenishing a fresh new one, I though why not. The thing with cheeses are, it has to be fresh. True to that, the lasagne were really not too bad, it terms of taste and flavour. However, its a pity that they stinge on the quality of the seafood. In it were medium size shrimps, small mussels and what not. Nothing memorable at all. The other commendable dish is
Grilled Chicken with Pumpkin Puree Sauce
. Tender chicken pieces will spot on flavour from the pumpkin. It was good.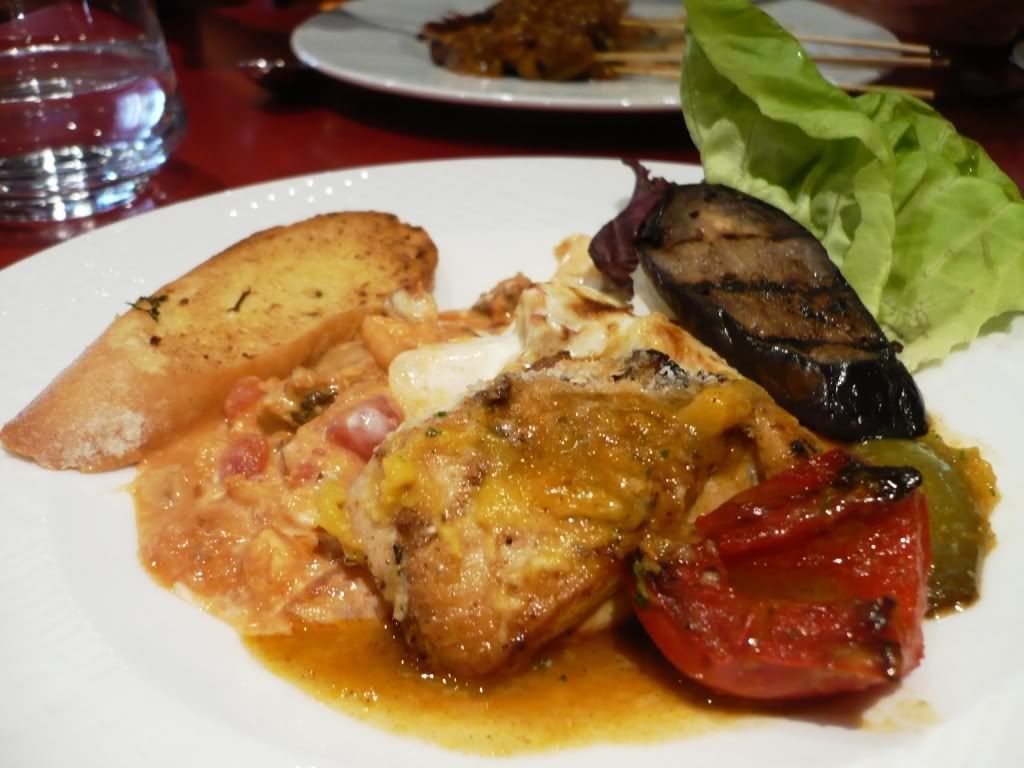 To our surprise, the
Black Pepper Udon
were so tasty and addictive! No wonder they had to replenish them few times.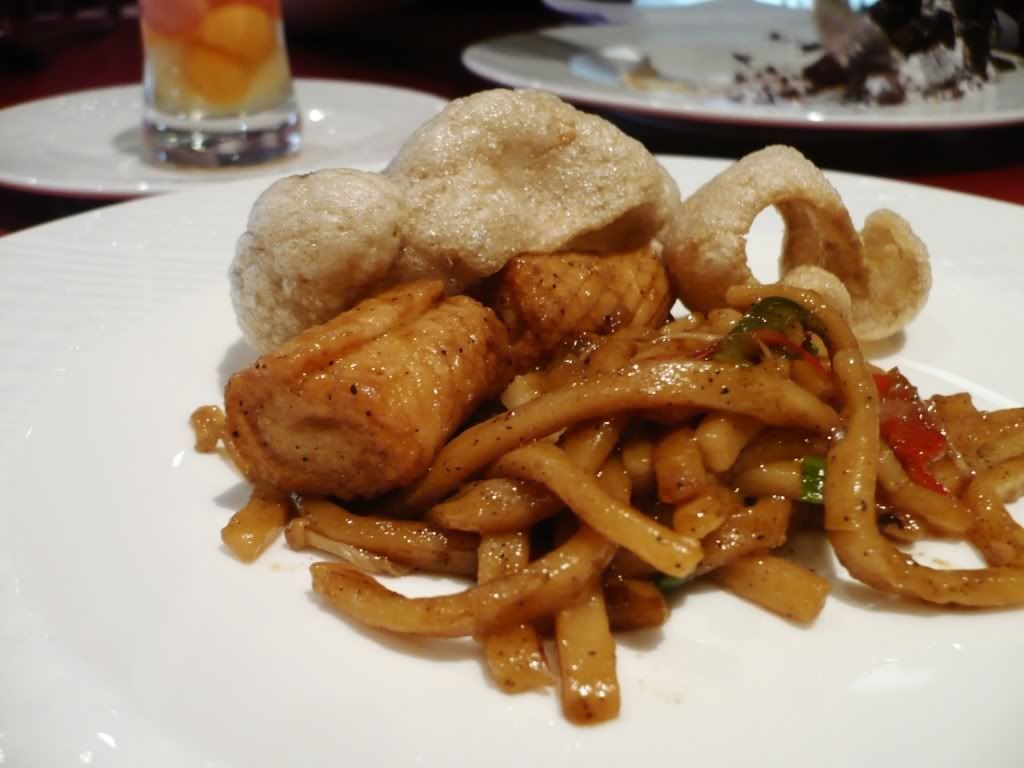 Moving to dessert, myyyy favourite section of any buffet table ... the first thing that caught my eye were their
Filo Apple Strudle
. Beside the filo were these ravishing rasberries shouting out to me, PICK ME, PICK ME ... so how to ignore lah? So this was what I did. Tadaaaaa ... so imagine this wonderful cocoction of crunchy filo with moist apple filling, drizzled with pure vanilla custard and top with rasberries. Heaven!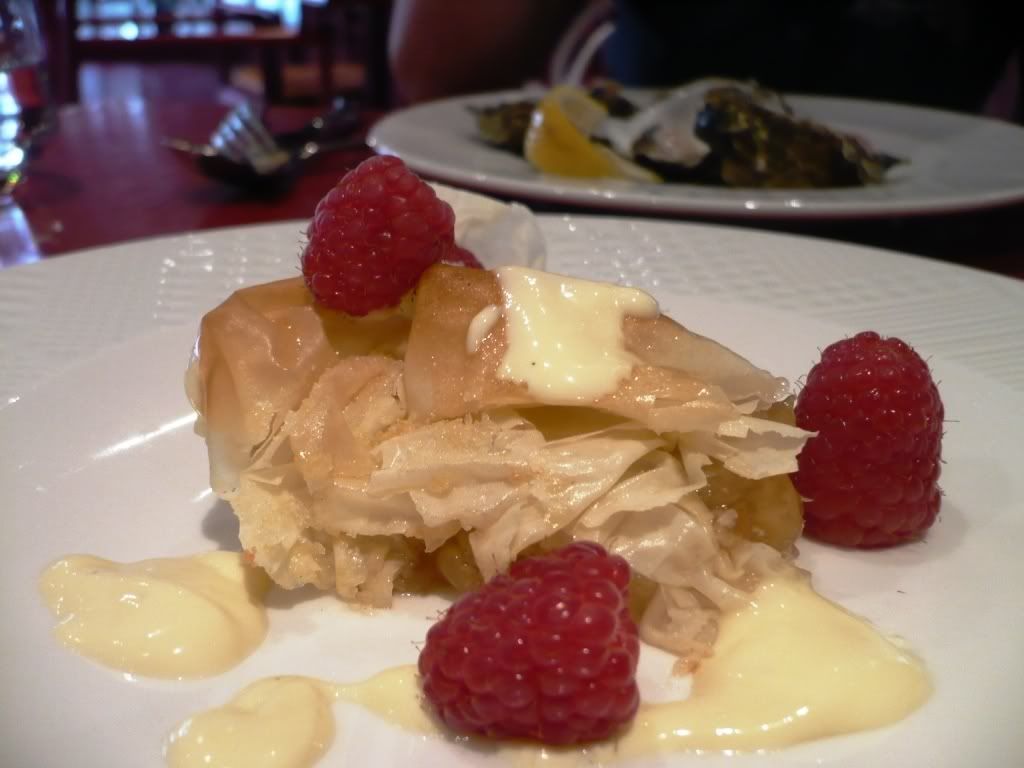 Something dark, something slippery and something wet *grin*
Valrhona Dark Chocolate Mousse
leh, how to resist? Its a hit with the crowd hence I was lucky to have grabbed one as soon after, the section were left empty. No replenishment after. The other one that hit my spot totally were its creamy
Creme Caramel
, but that's not it. I simply loved their Orange Sauce with bits of Orange Zest. How refreshing!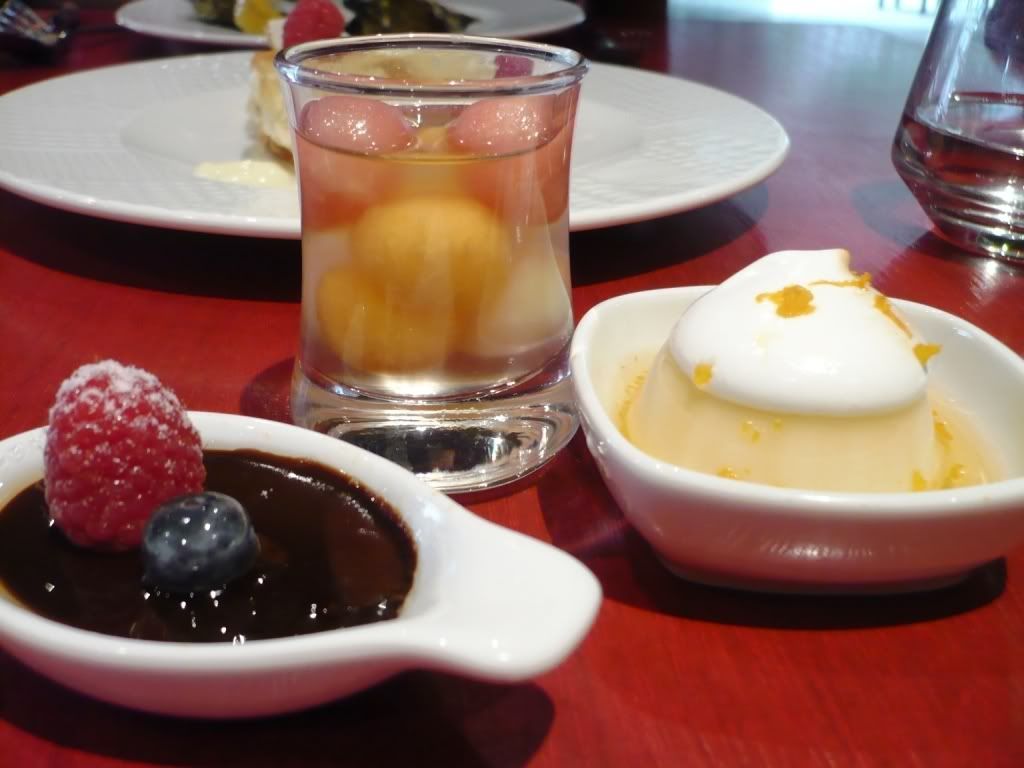 To end my lunch, my last, last, last plate were what else, dessert again lah. This was what I had;
Carrot Cake
(not too bad, but I prefer mine heavy with nuts in it),
Dark Chocolate Slice
(super wicked and dark),
Nutty Tart
(with very good tart base, but this one had too much nuts - I know, woman are very hard to satisfy) and lastly,
Hazelnut Pretonne
which is the one at below right. Simple looking with interesting chewy, rough texture. I love it.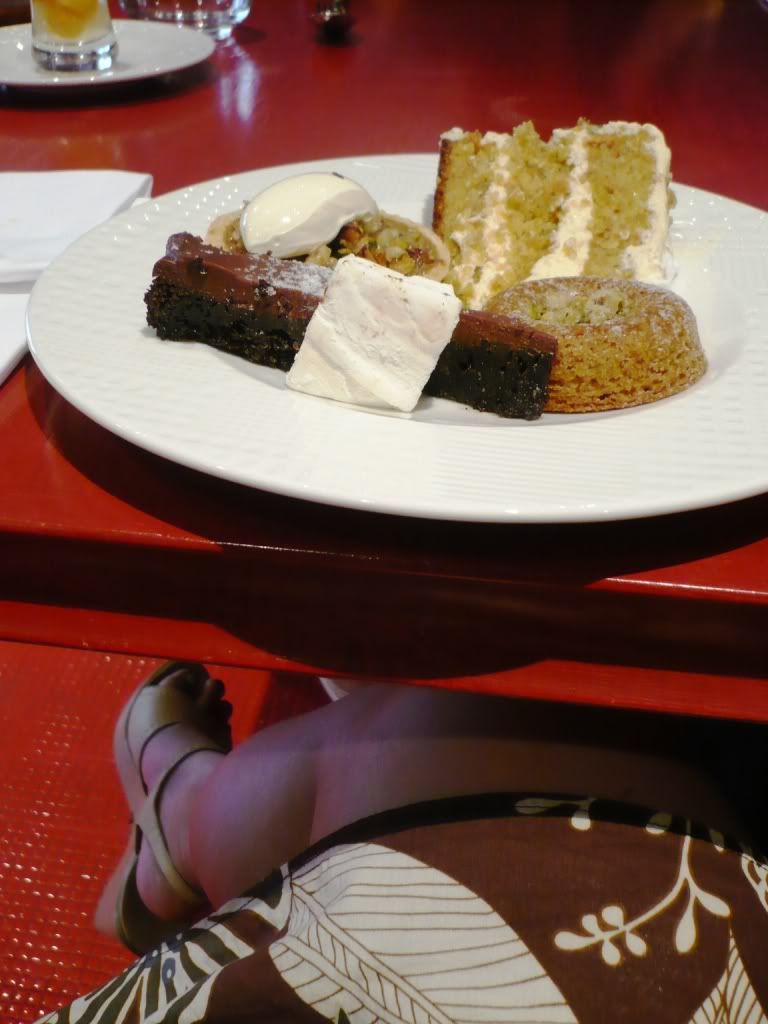 Time to check into
Westin.
I was looking forward to this day for I'm a hugeeee fan of Westin. This stay is extra special as I got them upgraded. It came with a gorgeous view of KLCC, and as I remembered it from my last stay, it was breathtaking.
Before checking in, we helped outself to two choices of welcome drink which they place infront of the reception counter.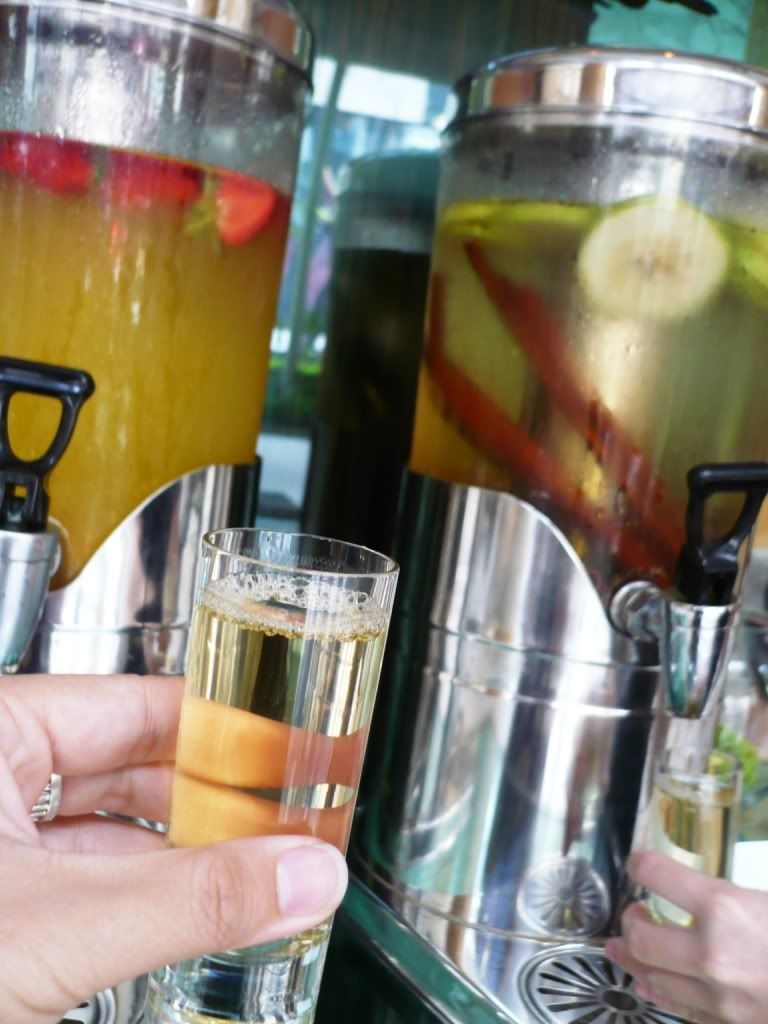 Camwhore a bit, can?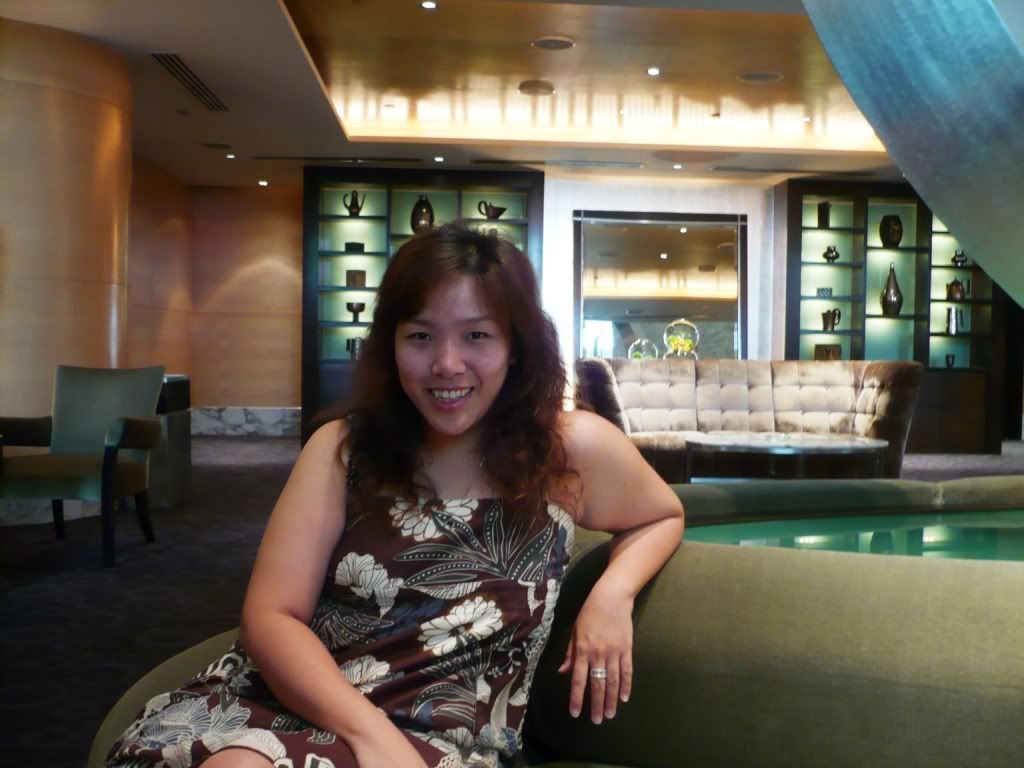 They gave me a room on the 29th floor, which was cool because that's almost close to executive floor. Here it is, my
HEAVENLY BED
. I've not forgotten you my dear friend. Eversince experiencing a night with you many years ago, you had not left my memory ...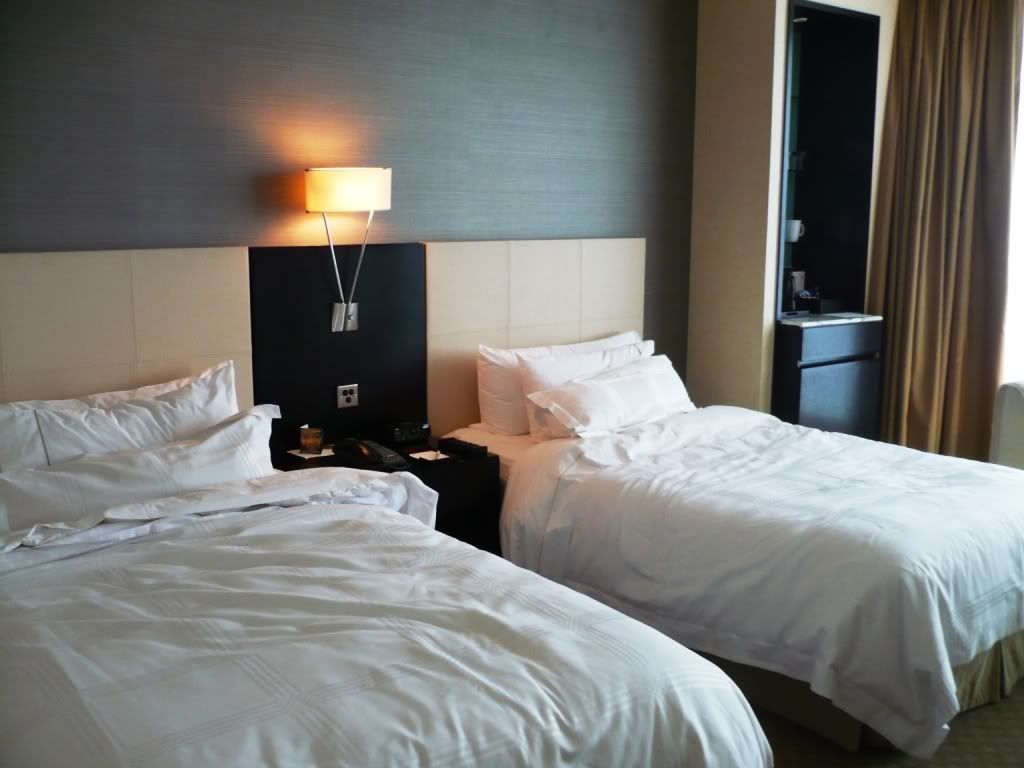 I have not forgottten you too, my beloved twin towers. But why must there be a third party in between us? Stupid development (#&!($&#)@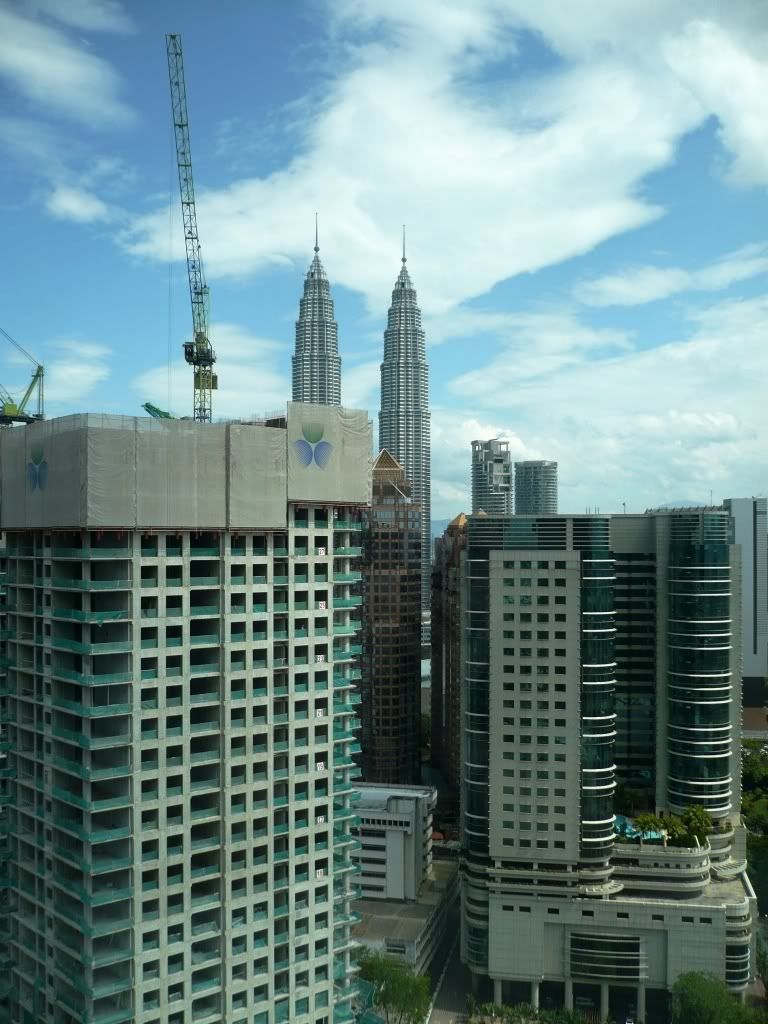 And for
Heavenly Shower
experience, all my needs and wants had been taken care by you. What else can I ask for. Thank you.
But why lah you place Condom and Lubricant together with Snacks? And at RM28 a box! *gasp*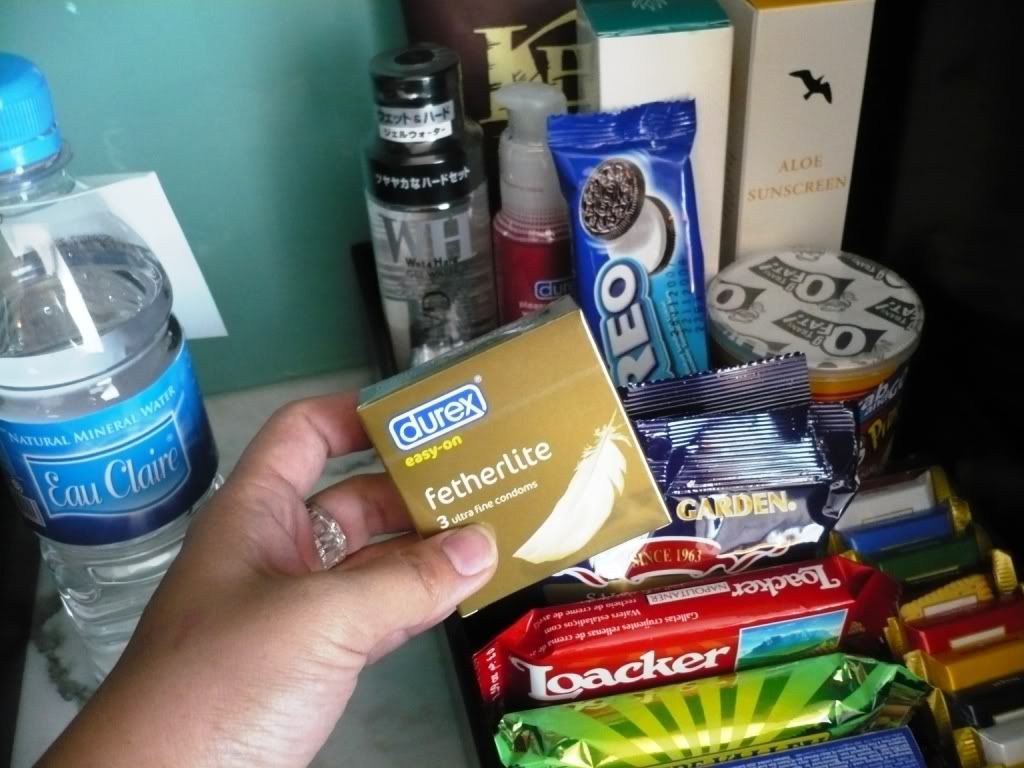 Enough of condom questions, I hopped over to
Tangs
to claim my surprise Bday gift. All I can say is, god must be listening to me and loves me dearly. Off all things, they gave me free makan voucher *grin*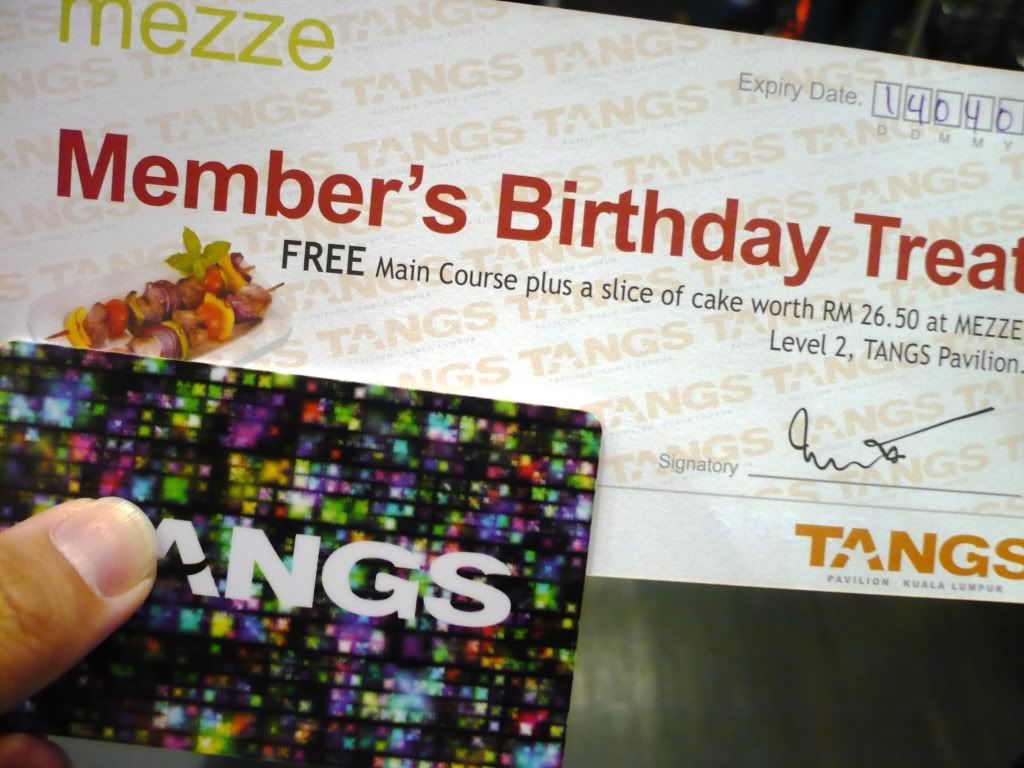 Came back to the room for a little nap, while Ruby shopped the whole of Pavillion.
Soon after, Ruby woke me up to remind me of the time. Yikes! Better get change before the girl's arrival. And gosh, it's been years since I last applied makeup and I SUCK real time. My eye shadow were patchy lah, my eye liner segek lah, my mascara clumped together lah and all kinds of disastrous results from the years of no practise. I was tempted to hop over to Shu for a makeover in Pavillion, but ... feeling a bit stingy lol
Save the $$$ for my trip better, right?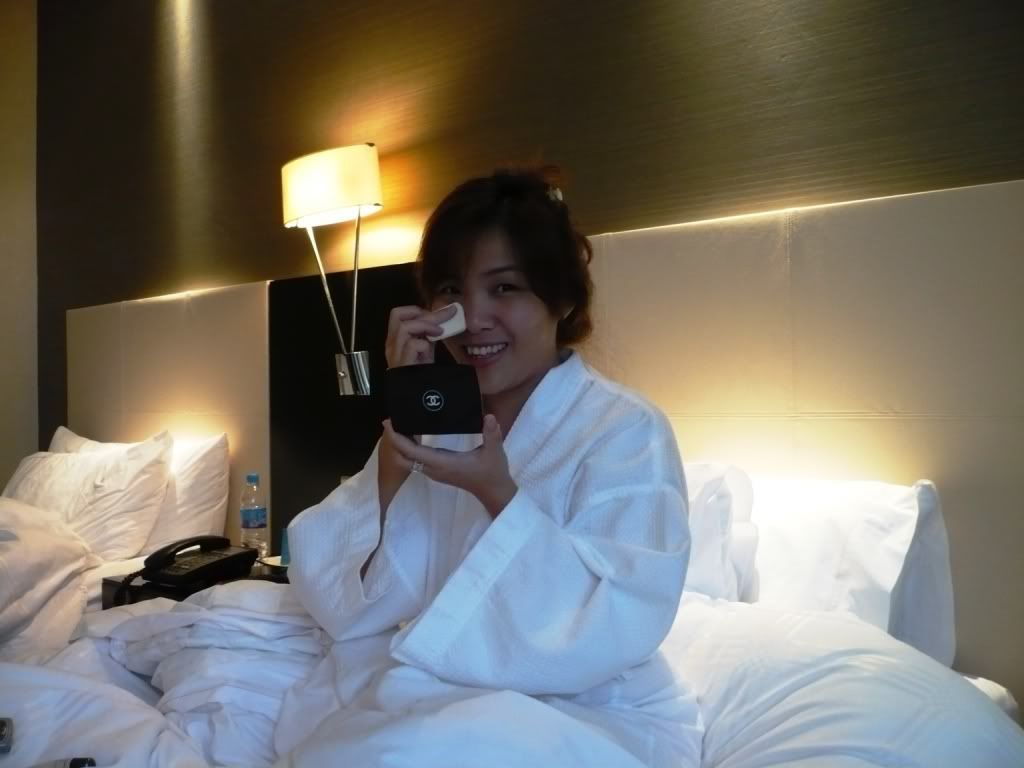 But funnily, this picture with my minimal makeup impress me leh. I though it made me look like a CEO of some big shot company *laugh*. It is the lights. But when the lights are out, gosh ... you will see later ....
This is Ester, my old friend from Patimas days. She removed her accident cast from her right foot for this special occassion.
Thanks Lye *big hug*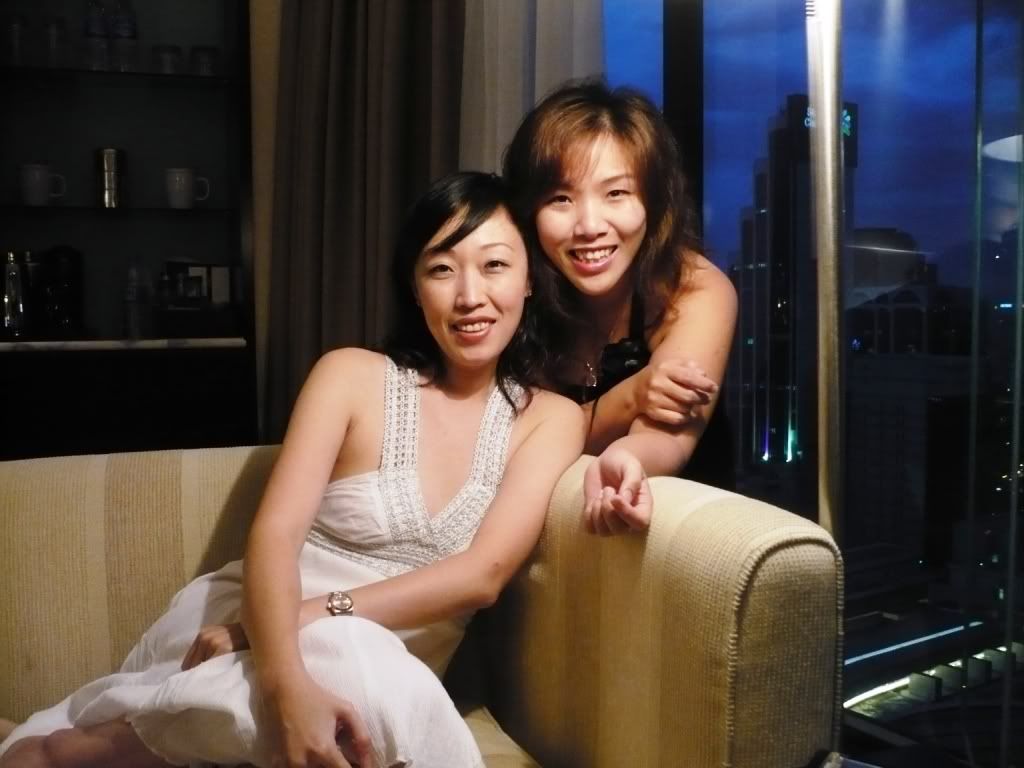 My birthday venue was held at
EEST
, a pan asian restaurant in Westin itself. Heard some rave review so we decided to go check it out. EEST reminded me of Jacky Chan's movie where he starred alongside a pretty Korean actress.
I love its decor style, colour and the usage of modern and traditional material, seamlessly integrated into a ultra hip dining spot.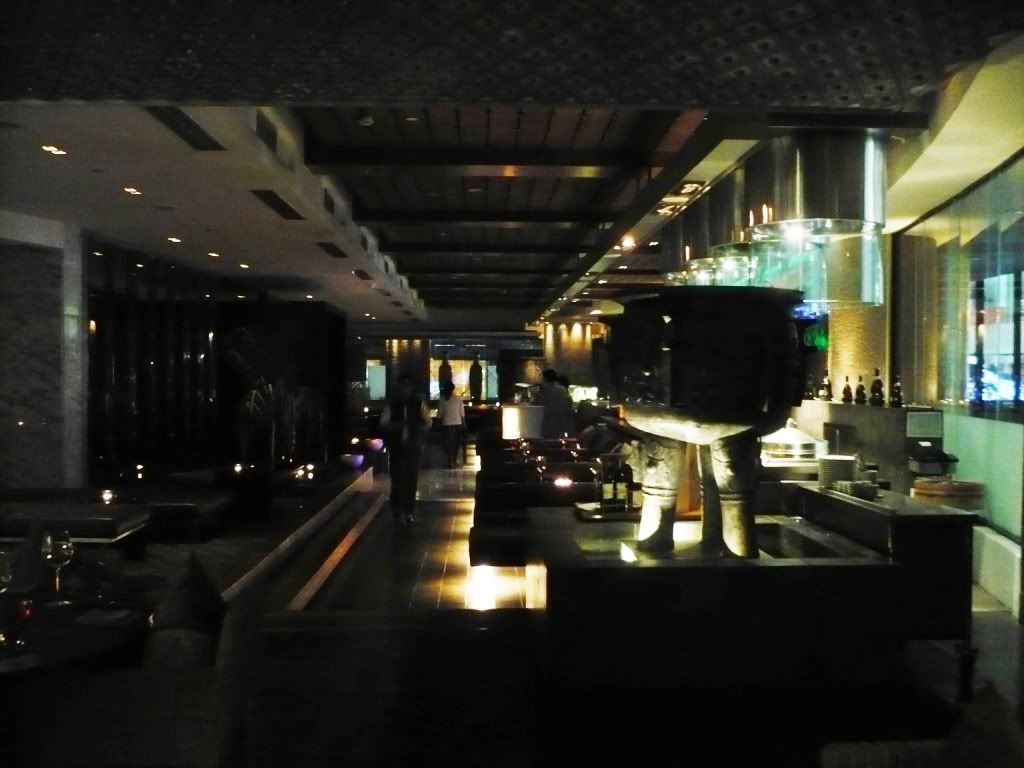 You can choose to dine tatami style, have them in a private room, right next to the sushi bar, or seen here, a round asian table with a magnificient backdrop of Bukit Bintang.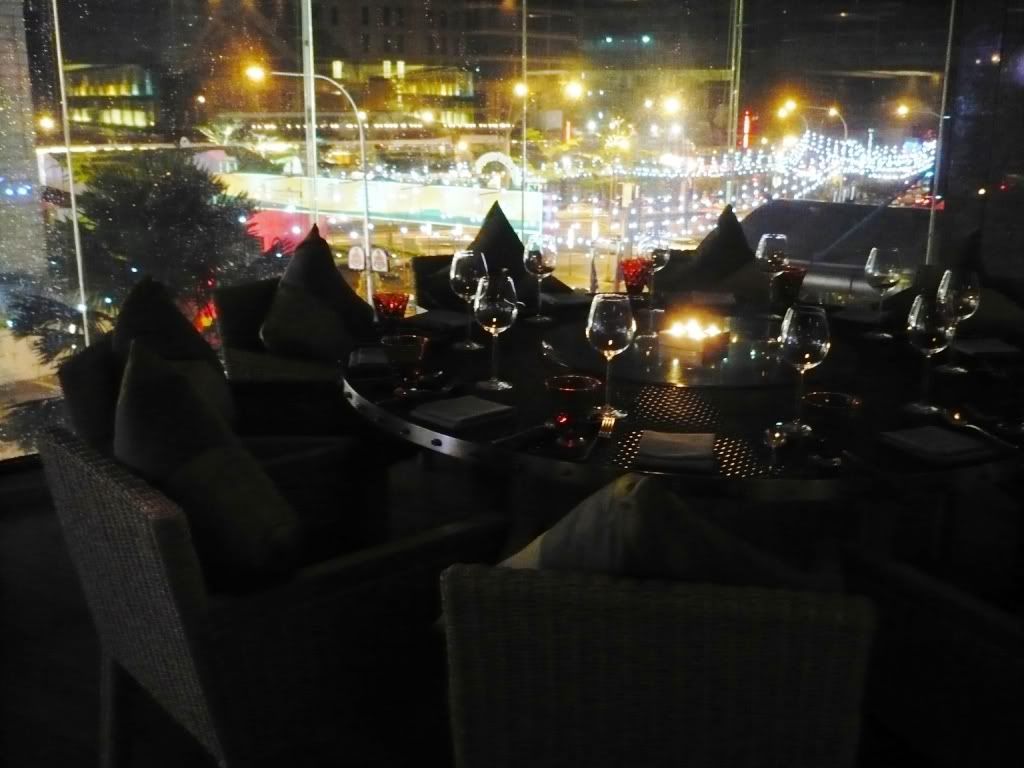 Another seating option.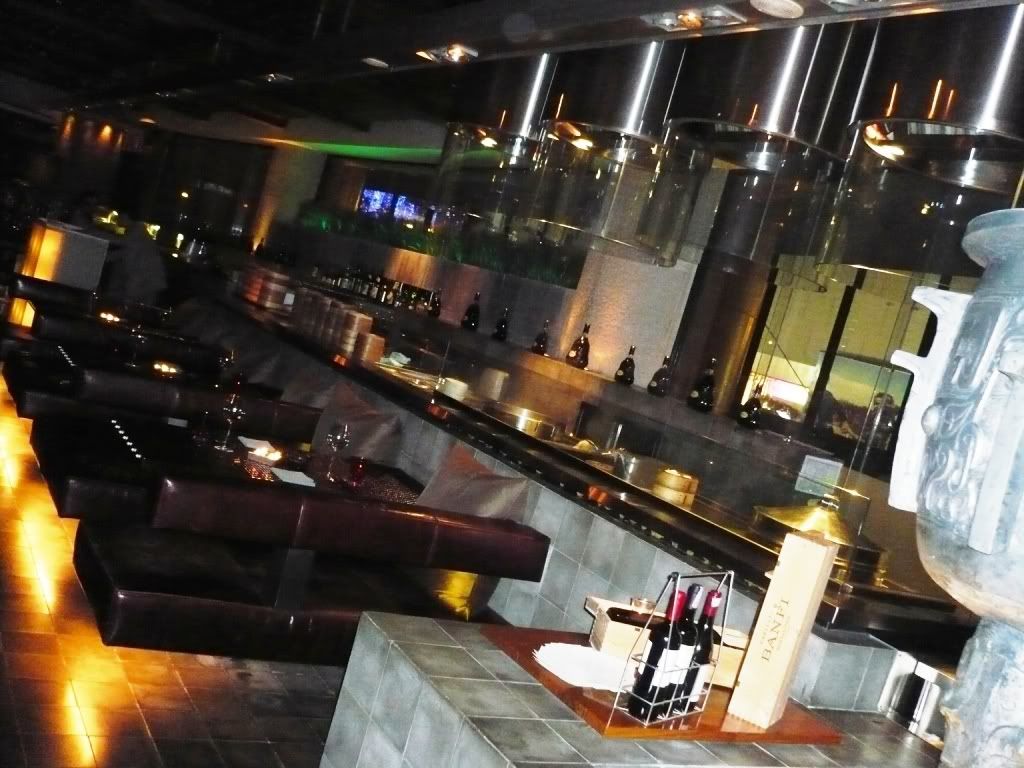 Open concept kitchen ... cool!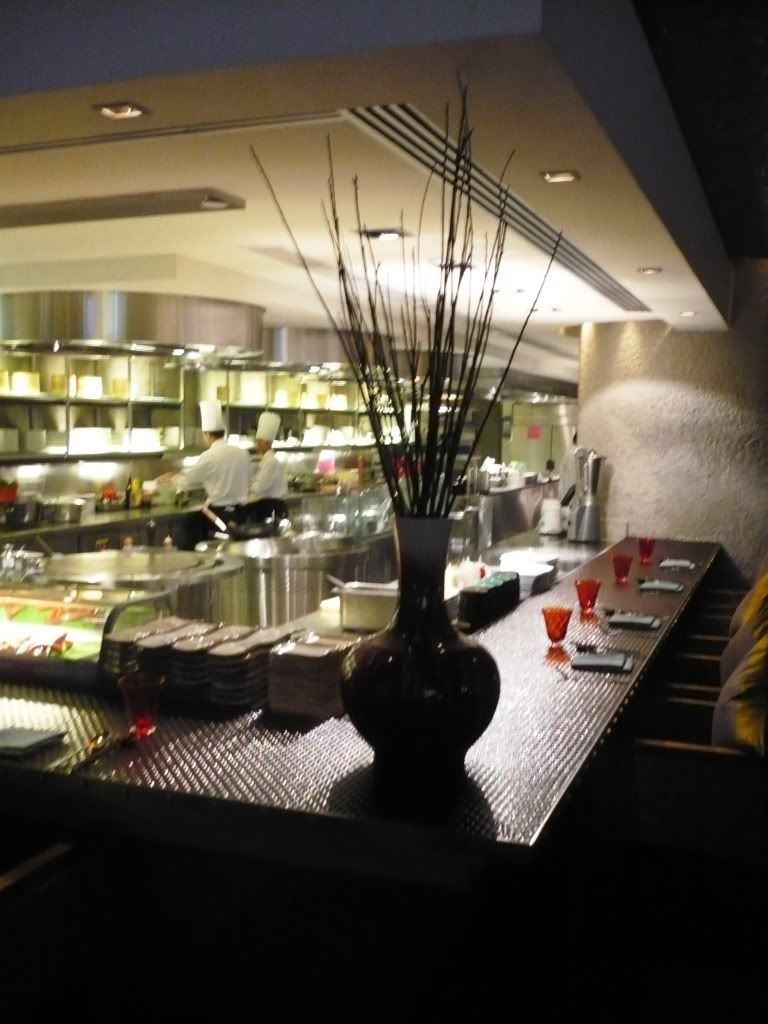 We kicked off our dinner with a bottle of Cabernet Savignon from Chile called
Frontera.
It was a medium body wine, with light floral taste. I though it was really good and friends loved it too.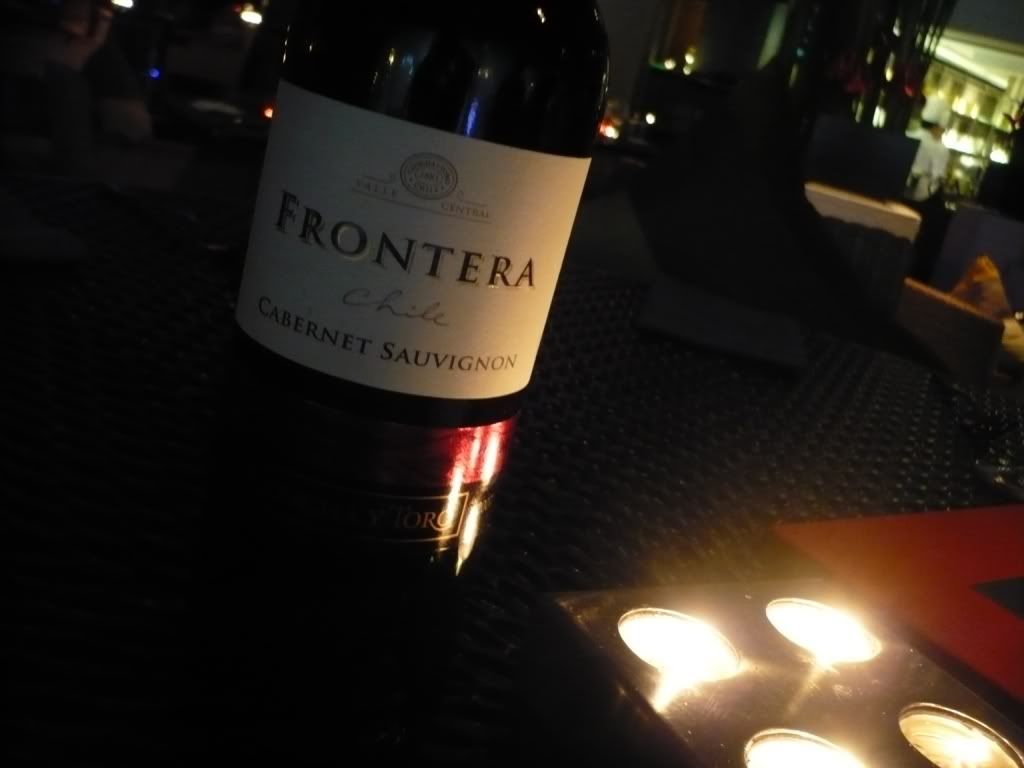 Amuse Bouche of Duck Consomme with Herb Mantao
to clean our palette, so to speak.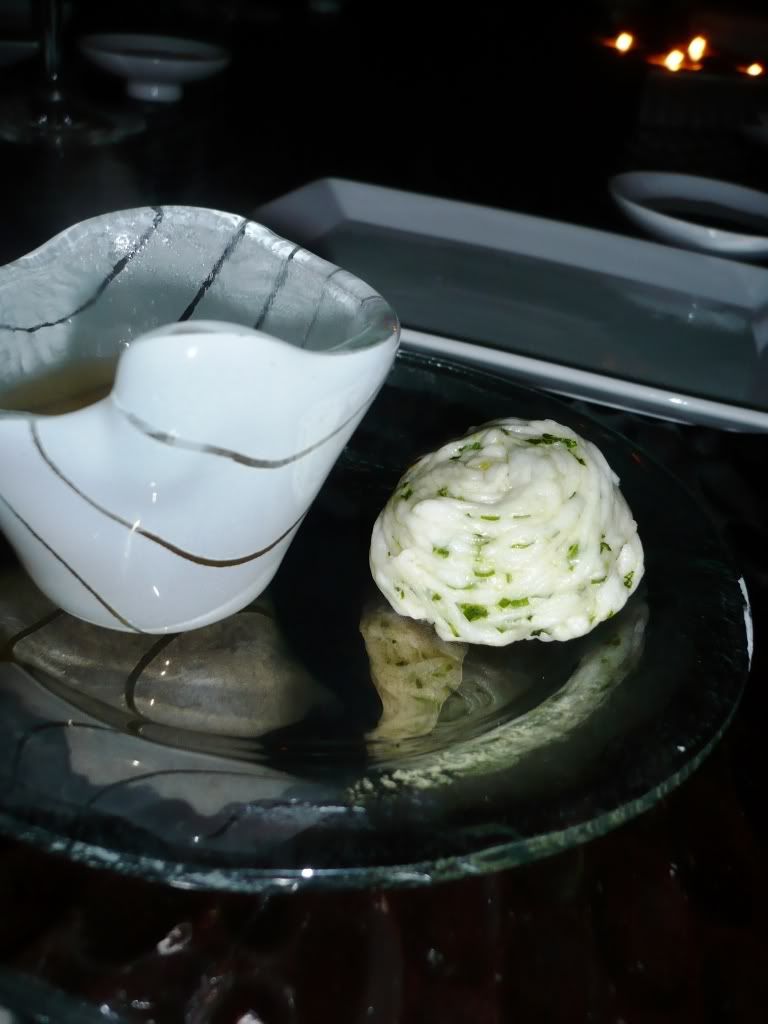 We had a wonderful starter of
Prawns, Pomelo, Salmon Roe and Roasted Coconut On Betel Leaves.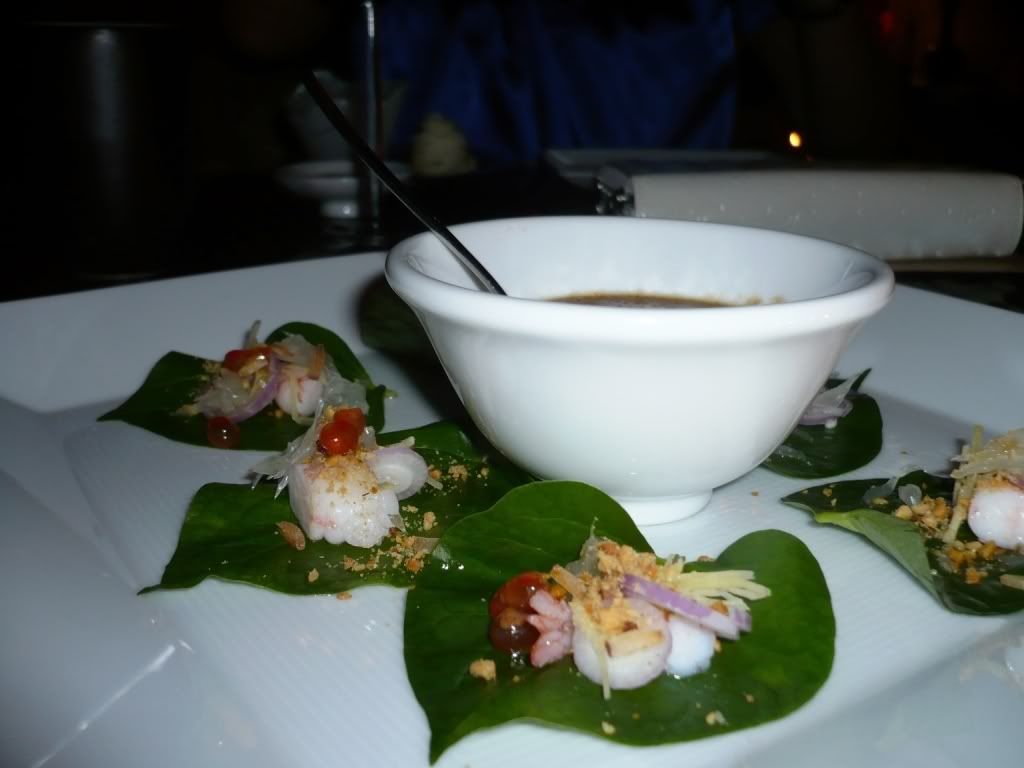 Up close ... a fusion combination that works marvelously. It was fragrant and fresh.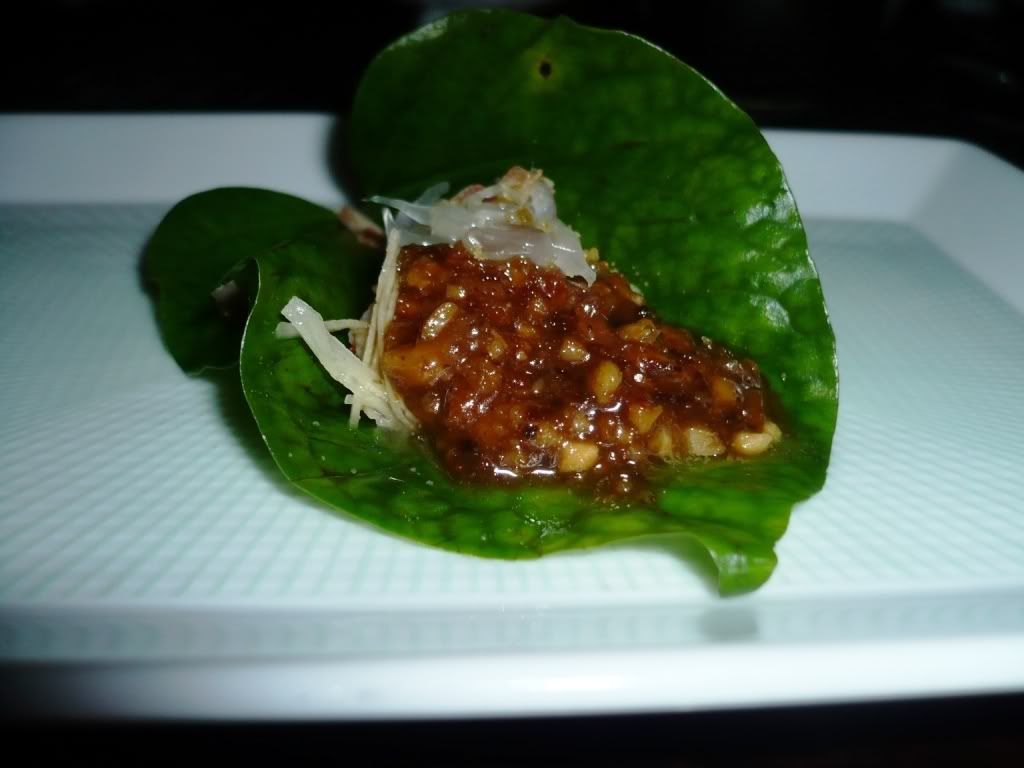 From the Raw Bar Sushi Roll section, we had an order of
Avocado, Eel, Pickled Yamagobo Root, Sesame & Chive Roll
.
What a combination of flavour that melts in your mouth!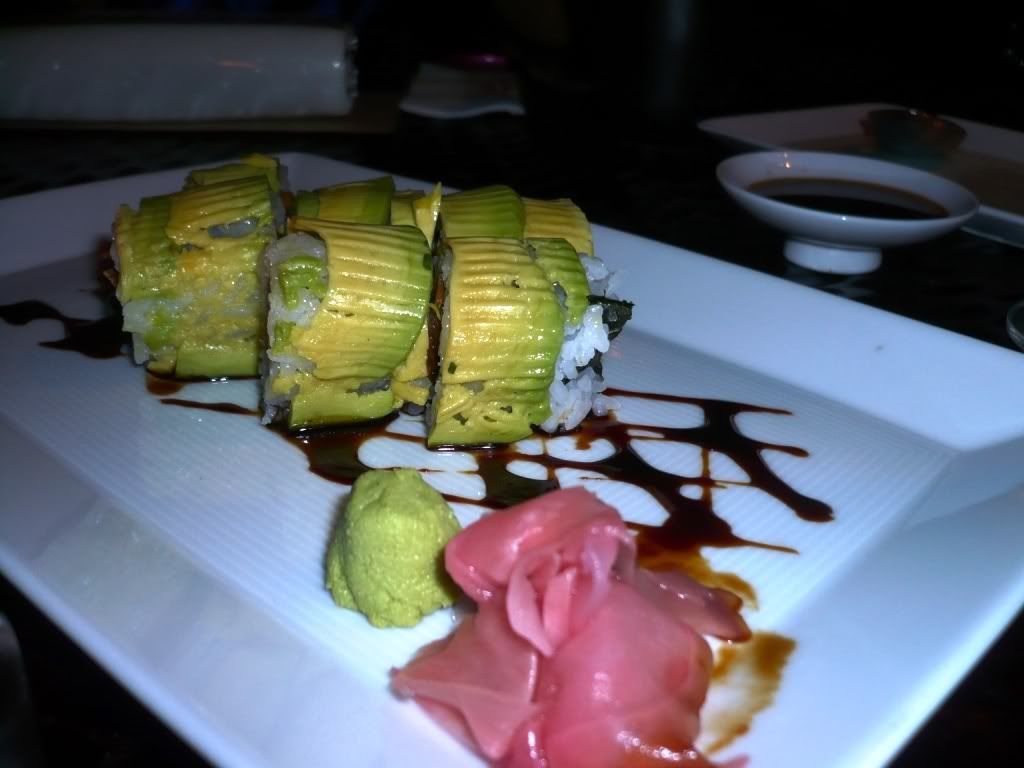 For main, you can opt for Wok, Grilled and Steamed preparation.
I was in the mood for duck today (no idea why) and the only prep they have this in is Wok style. Here it is, my
Crisp Fried Duck with Fermented Beancurd and Coconut, served with Glory Garnishing
.
My dear foodie friends, this is a must try as it was simply exquisite. The duck skin were crunchy still, while its meat remains juicy and tender. But what surprised me were the combination of fermented beancurd and coconut sauce. It was flavourtul and super tasty.
The kangkong (ahem ... lesiron to make it sound more exquisite) tasted so yummy too!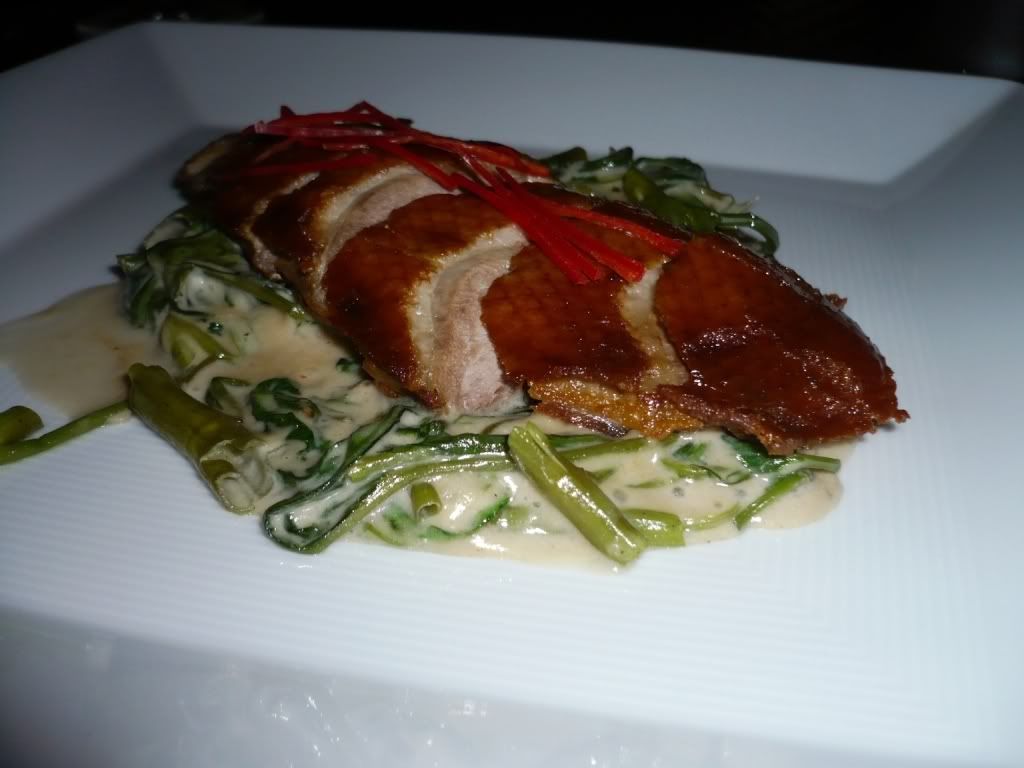 Some of our orders were
Ribeye Fillet, with Shallot & Sichuan Pepper, served with Baby Spinach
. Done medium rare, Ester commented that it was juicy, fresh and tasty.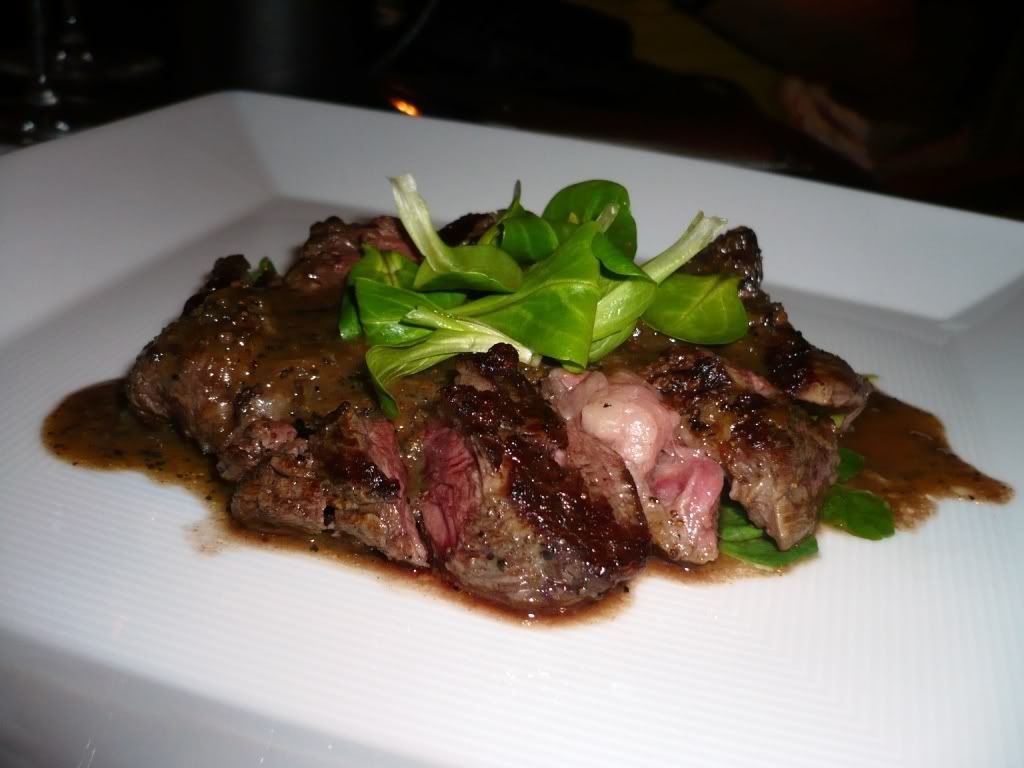 This is Joyce's order of
Lamb Chop with Miso and Gorgonzolo Sauce, served with Eggplant
. Though lambs not my cup of tea, I marvelled at the wonderful smell even from afar when the wait staff took it out from the kitchen. It was a wonderful combination that saw Joyce's polishing off her plate.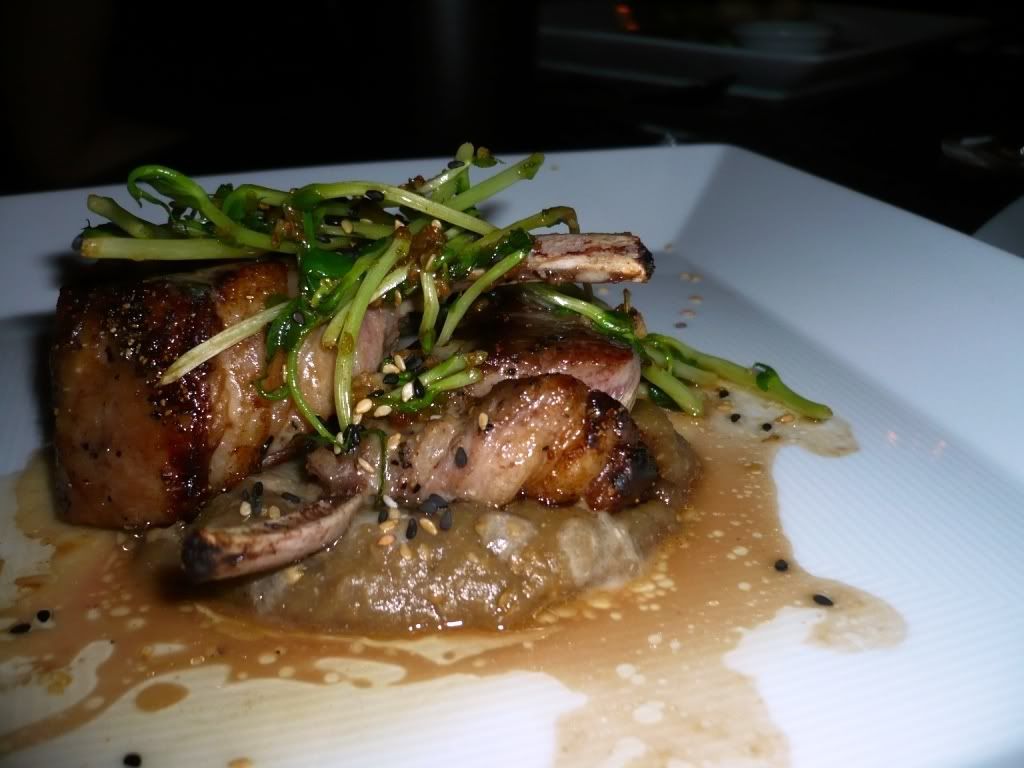 Another fusion concoction of
Grilled Seabass with Lime Chili and Garlic Okra
. Esther were seen enjoying it quietly and upon finishing, she inquired quickly if there's any special program on during Easter week. She plan to bring her family hence I'm guessing that her fish must be good.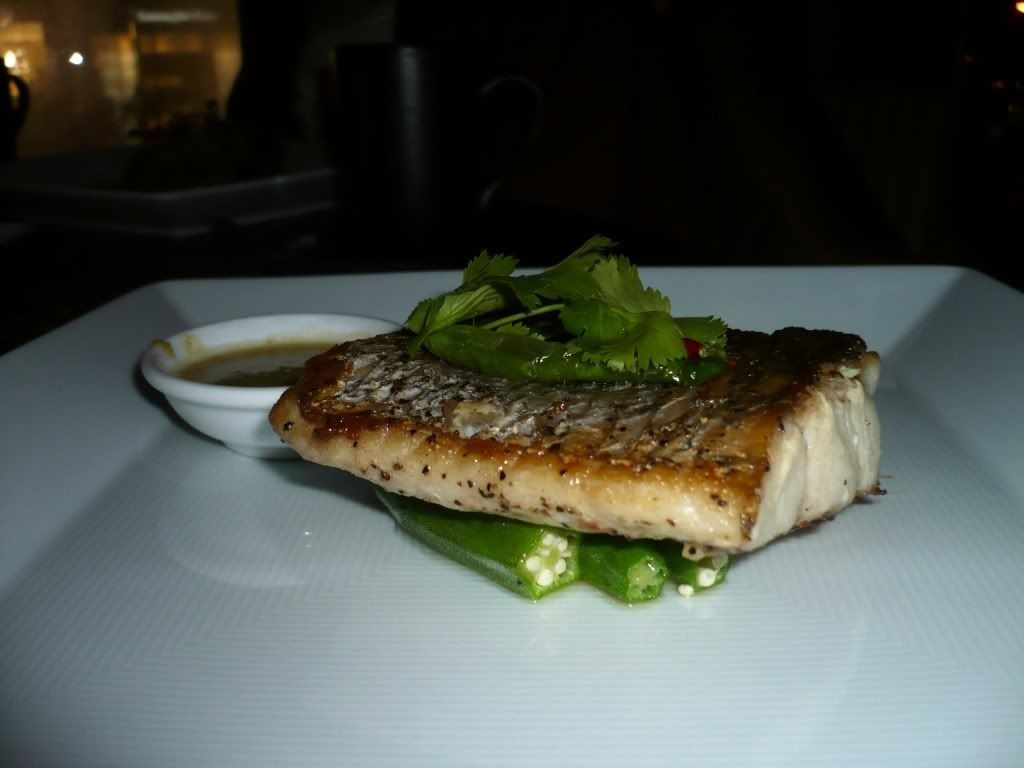 If it weren't for my duck craving then, I would have ordered their
Grilled Black Cod with Black Truffle, Soy and Calamansi Juice served with Baby Beans
.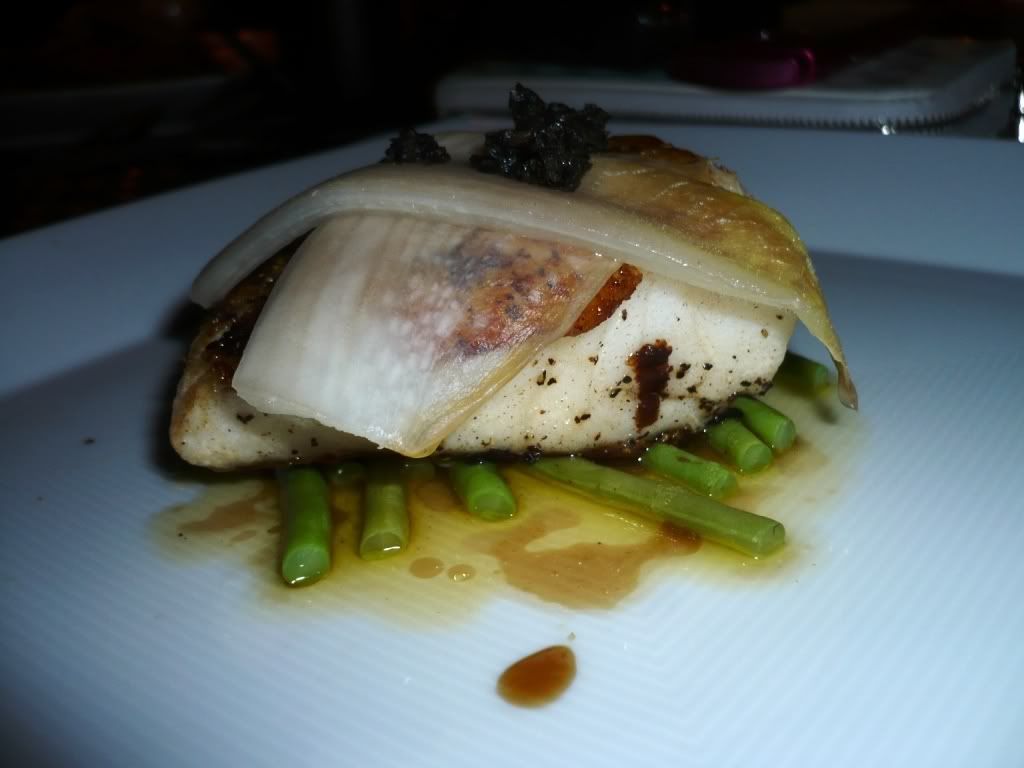 Last but not least, Shirley's order of
Crisp Fried Baby Chicken with Chili Oil Dressing, served with Choy Sum
. I had a bite and it blew me away with its juicy, tender texture. The sauce gave it a nice spicy flavour that's not overpowering. Good choice Shirley.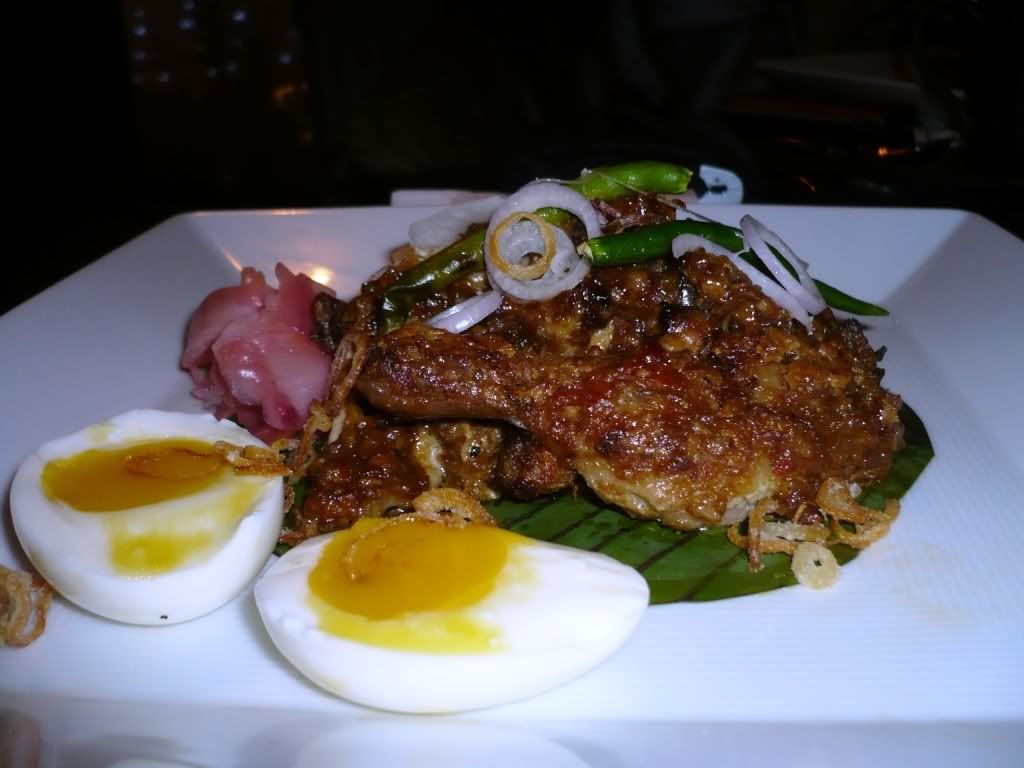 Our second bottle that night was a
Chianti 2001 from Checchi
which I got from Modena back then. It's an old wine with a table wine taste. Strange indeed but after our first bottle of alcohol invasion, we welcome all sort of wine *grin*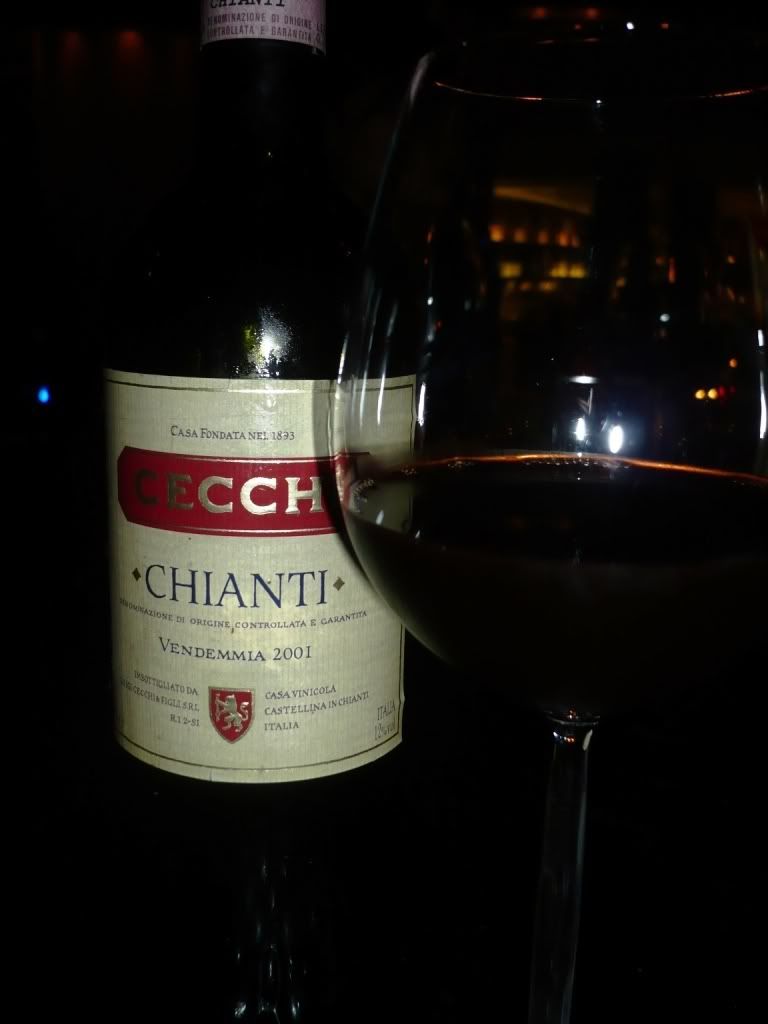 The wait staff came over to check with me on the number of candles to be placed on the cake, of which I furnished but not before inquiring whom the birthday girl was. She got tongue tied when I told her it was me.
She look damn paiseh lah because she hit the jackpot *grin*
Anyway, this is my Birthday Cake this year. My
Tiramisu
was sooooo good. It was fresh, with perfectly proportioned cake, mascarpone cream and coffee flavouring. I would rate this 2nd, after TCC Singapore's version, which are alcohol based.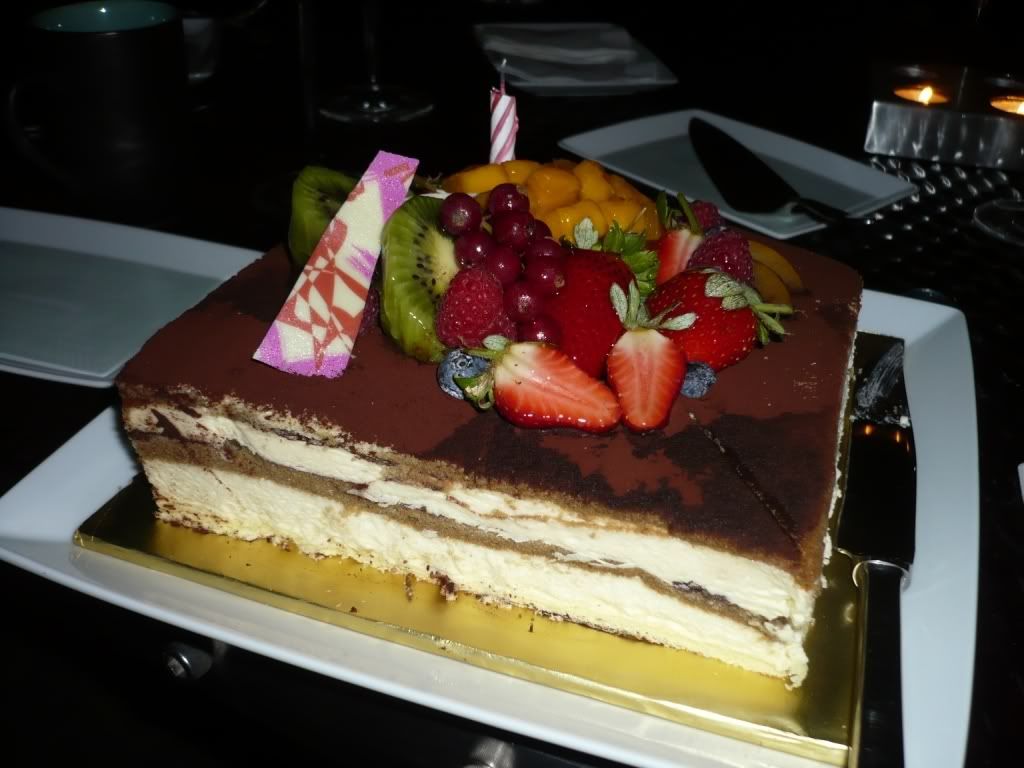 They took them to the kitchen to cut after all candle blowing activity. Wahhhh ... aren't I lucky to get the biggest, juiciest strawberries?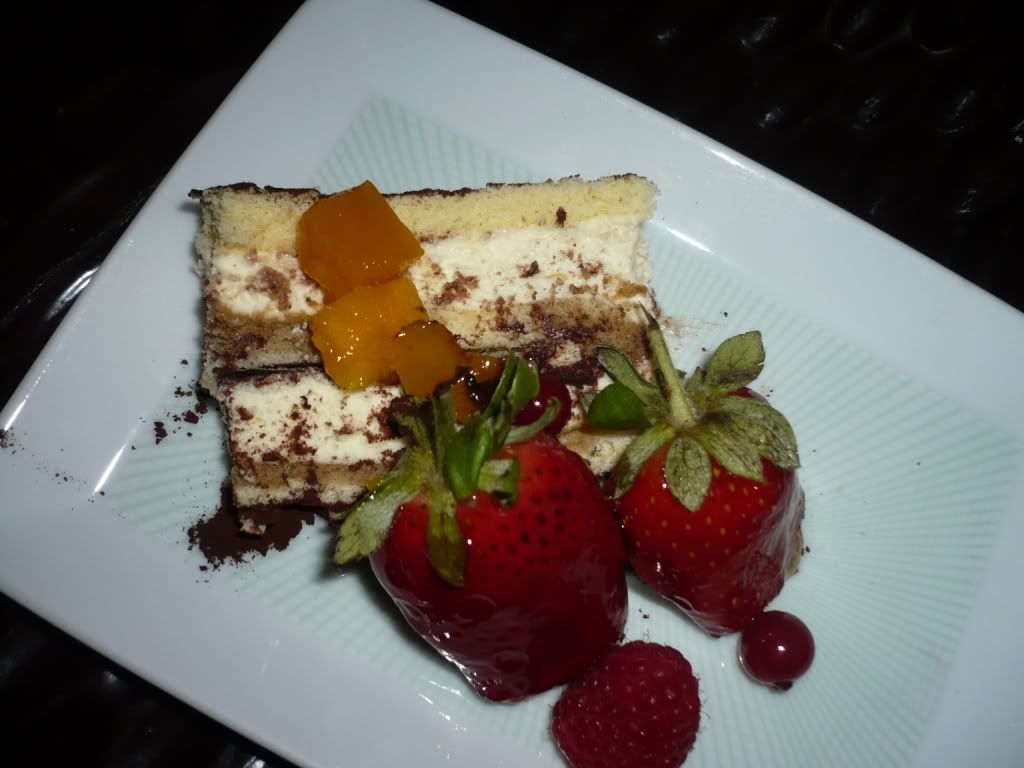 My pretty friends, with our
standard
group photo. Sorry ah, ALL not available. The only oysterette available is in Birmingham now, rubbing shoulder with Aston Villa football players *wide grin*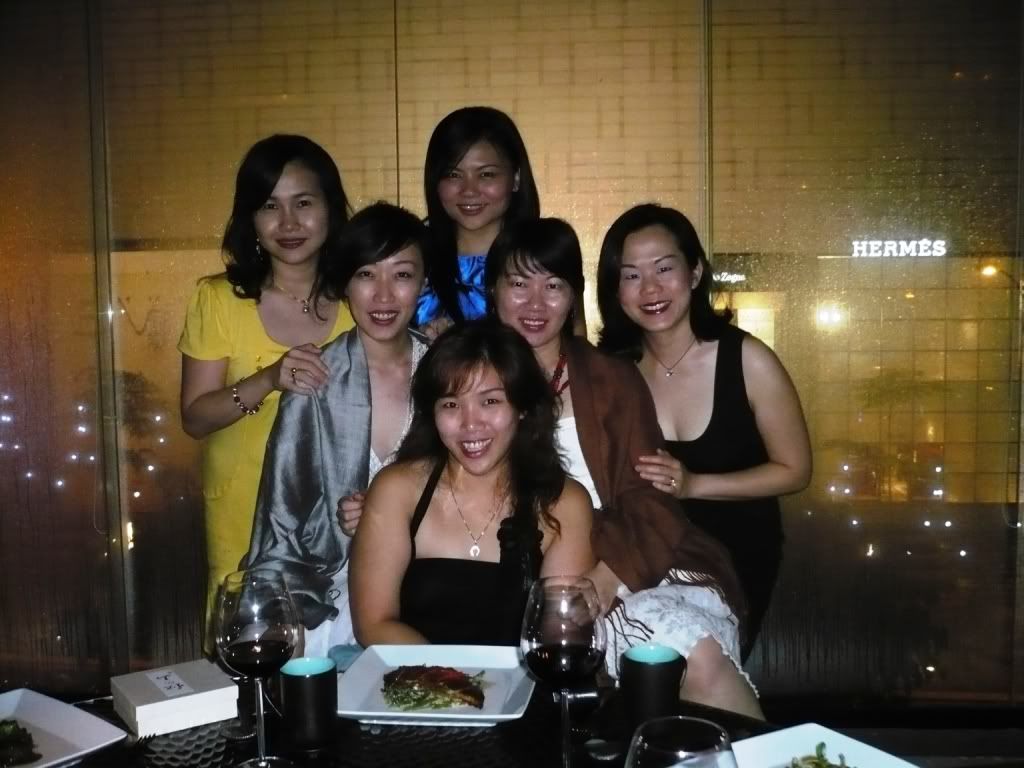 See lah my make up :-(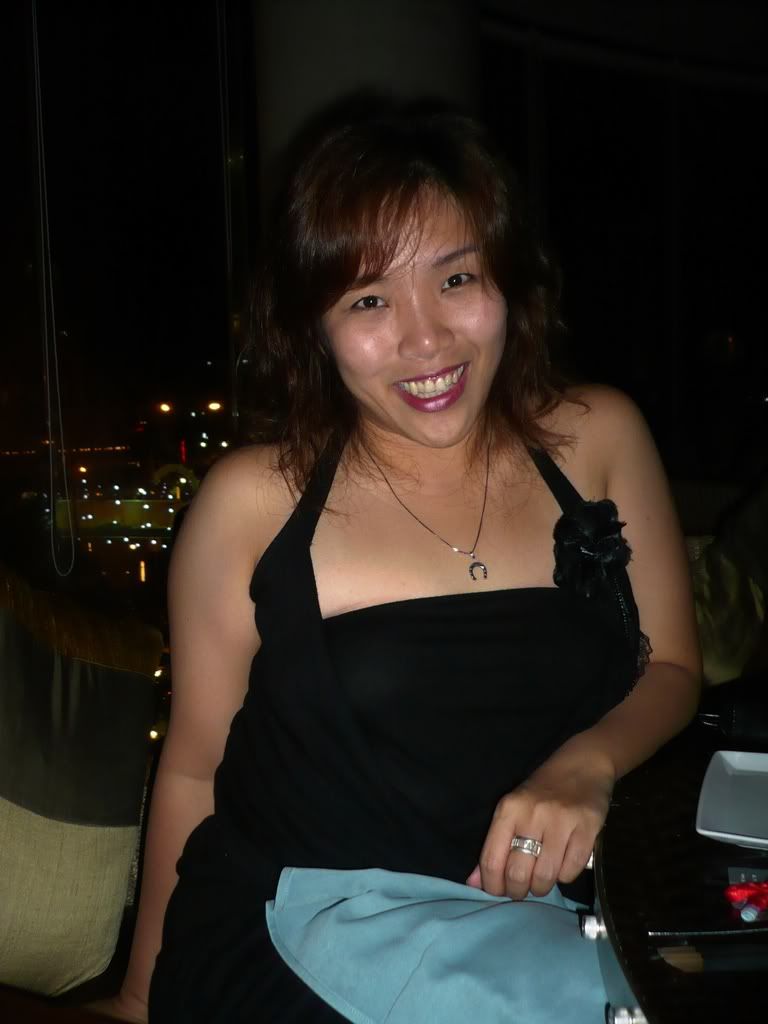 The night were still young and we decided to open a 7 year old
Taylor's Port
, which I got back then from ... errrr, can't remember where. It was really, really good. We chatted politely (we're in a nice restaurant so must behave ourselves), then drink a little, chat again, drink somemore and suddenly ...
all of us started giggling lah, laughing and talking loudly to each other! Wah liao ... like market leh ...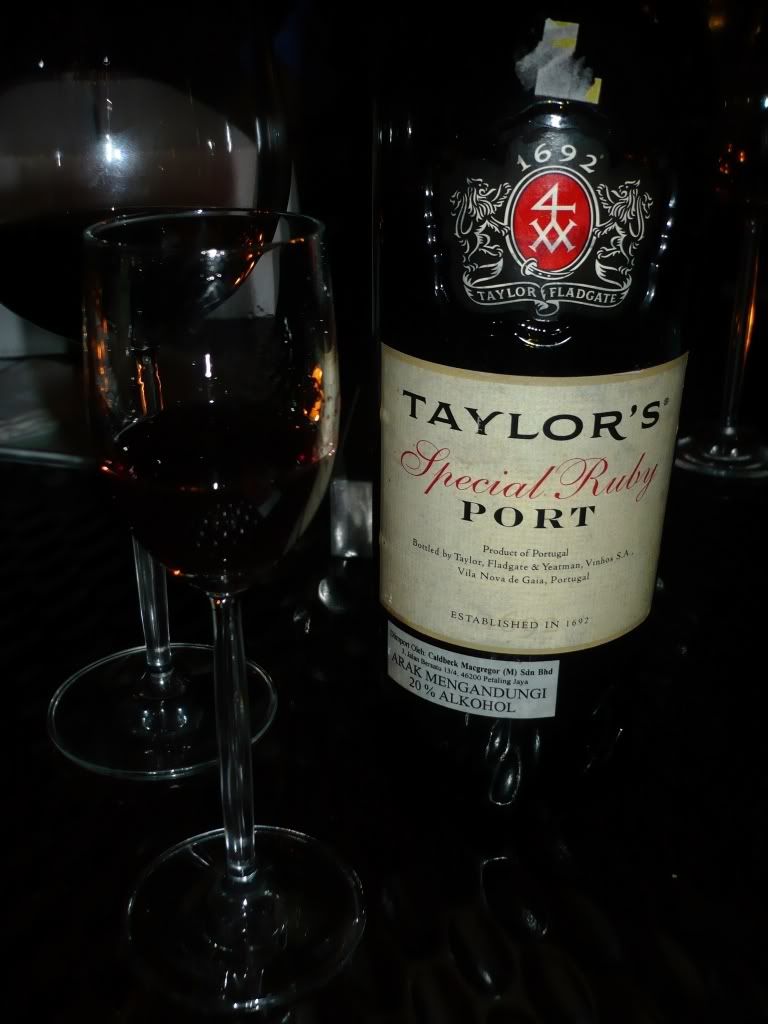 Aiyo ... no wonder lah ...20% alcohol!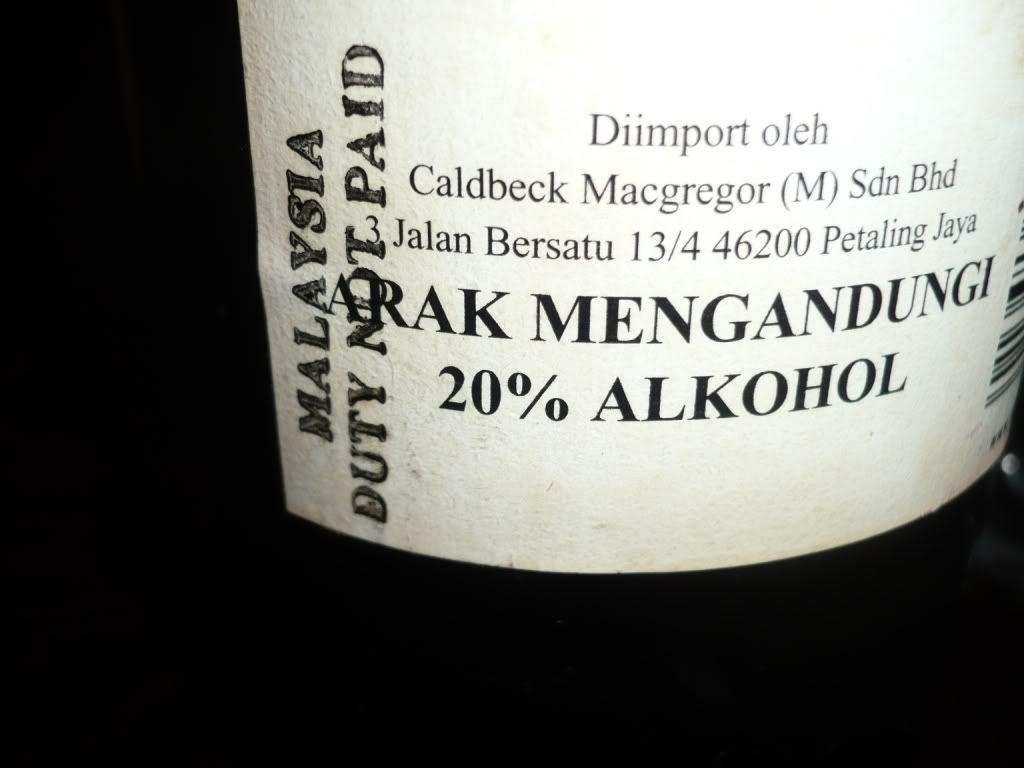 Needless to say, we finished up the whole bottle and got ourself high. Some of us adjourne to Ester's pub in Bangsar while a few of us adjourned to Club21 in Changkat Bukit Bintang. I must say that I'm impressed with Club21. It's ultra cool place with ultra cool crowd. It is a MUST GO place! For that coverage, please visit another fellow blogger's site
here
.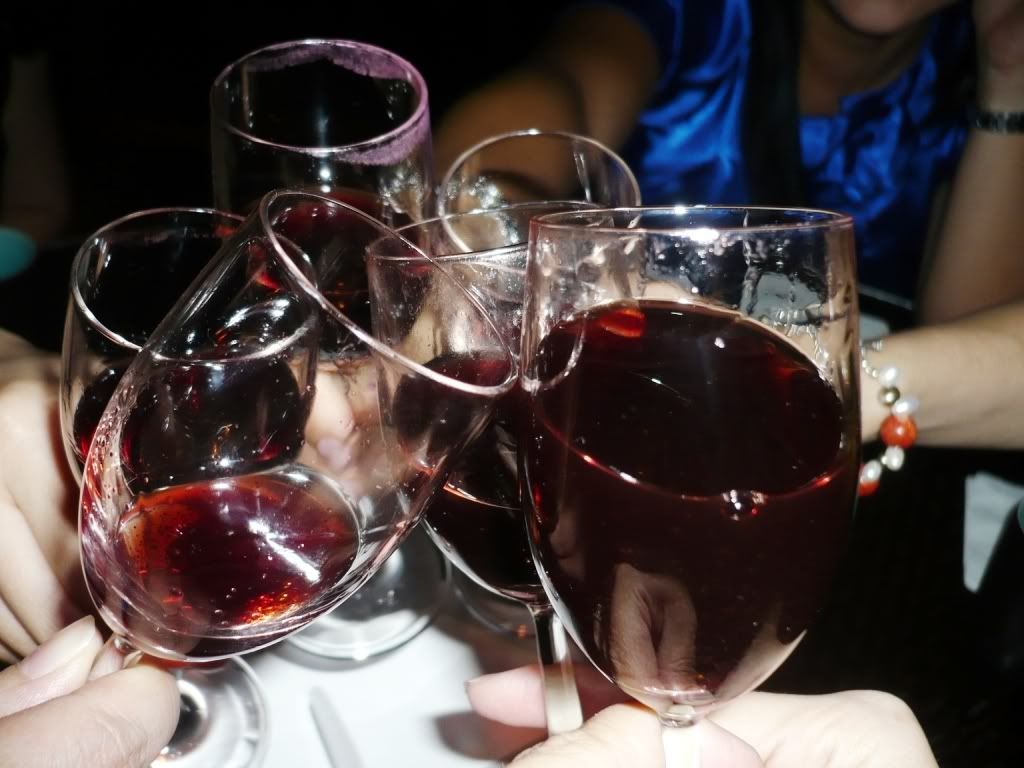 It was a perfect birthday celebration but its not done yet.
After a night rest swimming in high sea of alcohol which lasted few hours ... I finally doze off around 4am only to be awake again around 9am for breakfast. My head was thumping mad, and the right thing to do is rest still but I wanna eat!
So, off I went to
Livingroom
for breakfast.
Their choices of drinks were mind-boggling. There's there standard
Coffee, Tea, Hot Chocolate in addition to Cappucino, Lattes, Fruit Juices, Smoothies, Masala Chai, Lassi, and more
.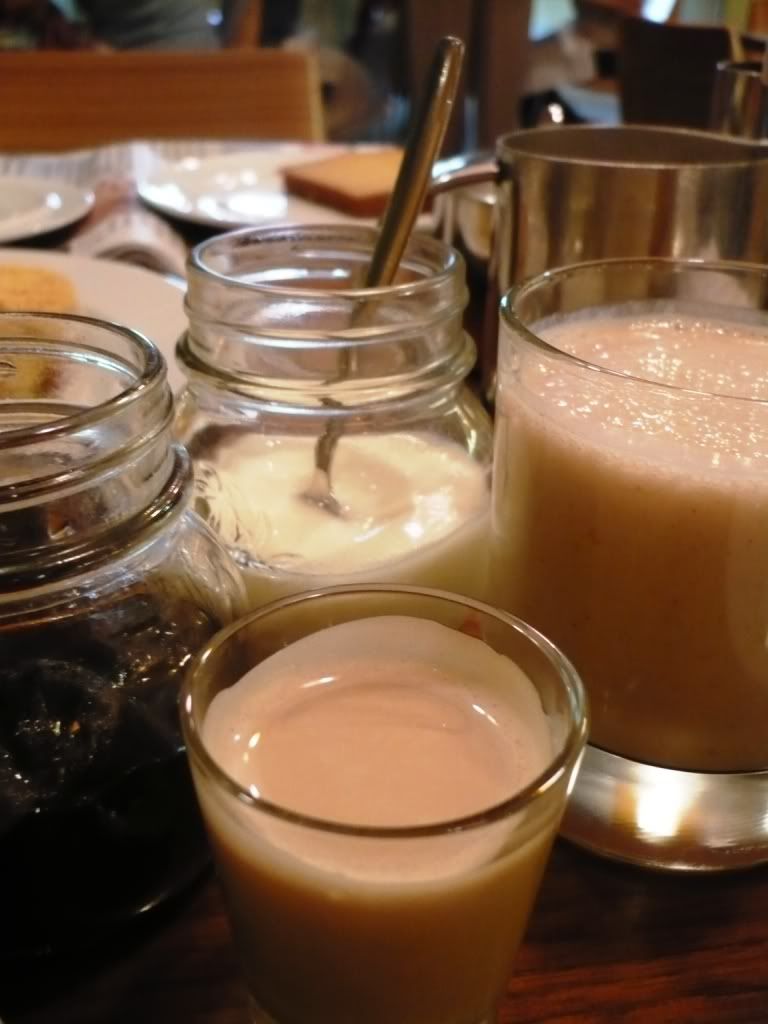 There's also a section full of bakery item. If J is with me, I tell ya ... he will be CRAZY! Ruby tried some of their
Quiches, Tarts
and such while I stuck to the standard fare.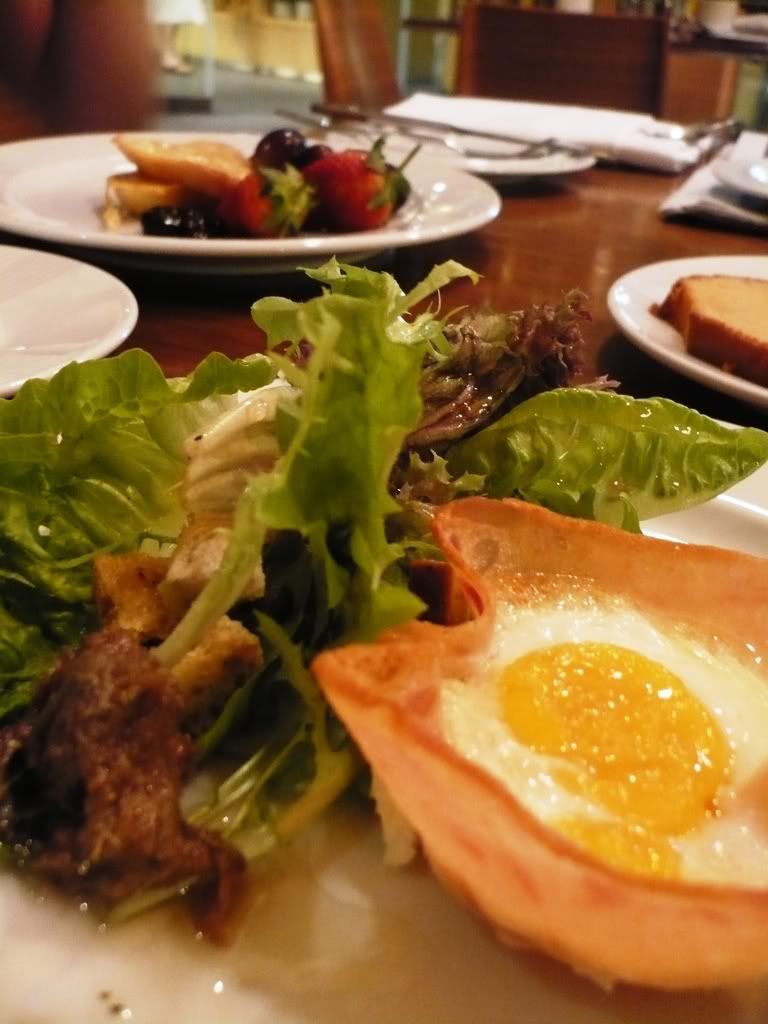 I love their light and fluffy
Pancakes
ala Japanese style. I topped them with slightly sourish cheries and dark chocolate chips. When done, I drizzle them with yummy mango and vanilla sauce. Ruby gave her thumbs up to their french toast and waffle too, all MADE TO ORDER.
From the local kitchen, my selection were its
Nasi Kunyit, Chicken Rendang, Sambal Egg and Acar
. Good stuff too!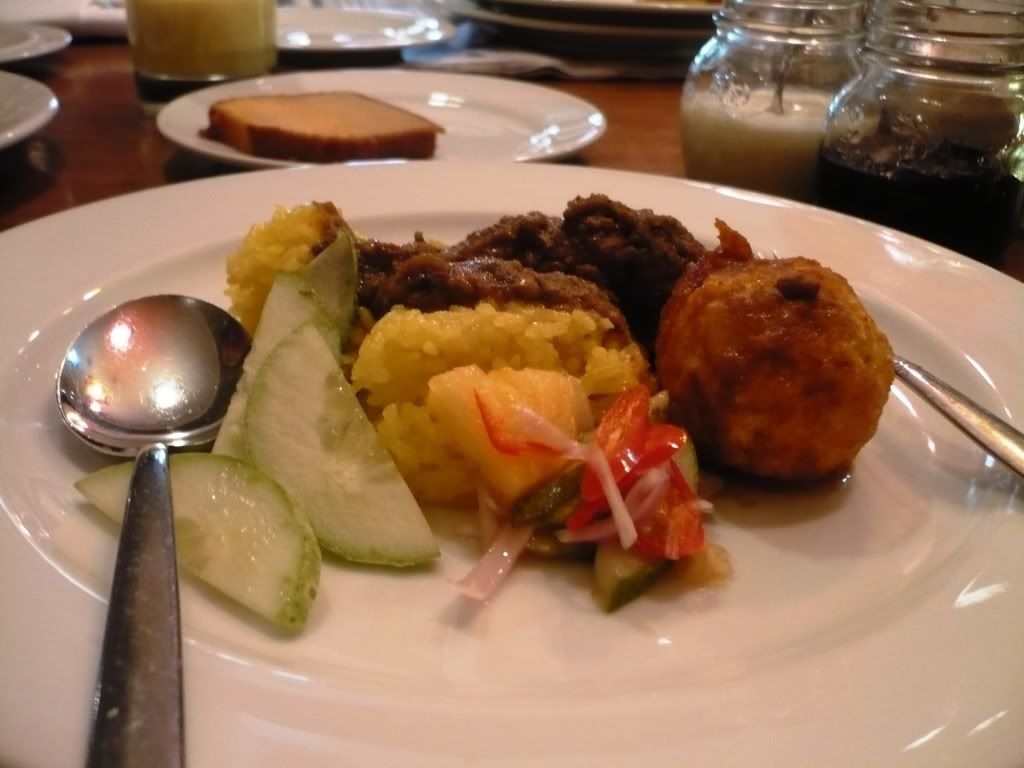 As always *grin*, I never forget my greens. Seen here,
Roasted Roma Tomatoes, Roasted Pumpkin and Roasted Fennel
. Though simple, it was so tasty and satisfying. Lovely.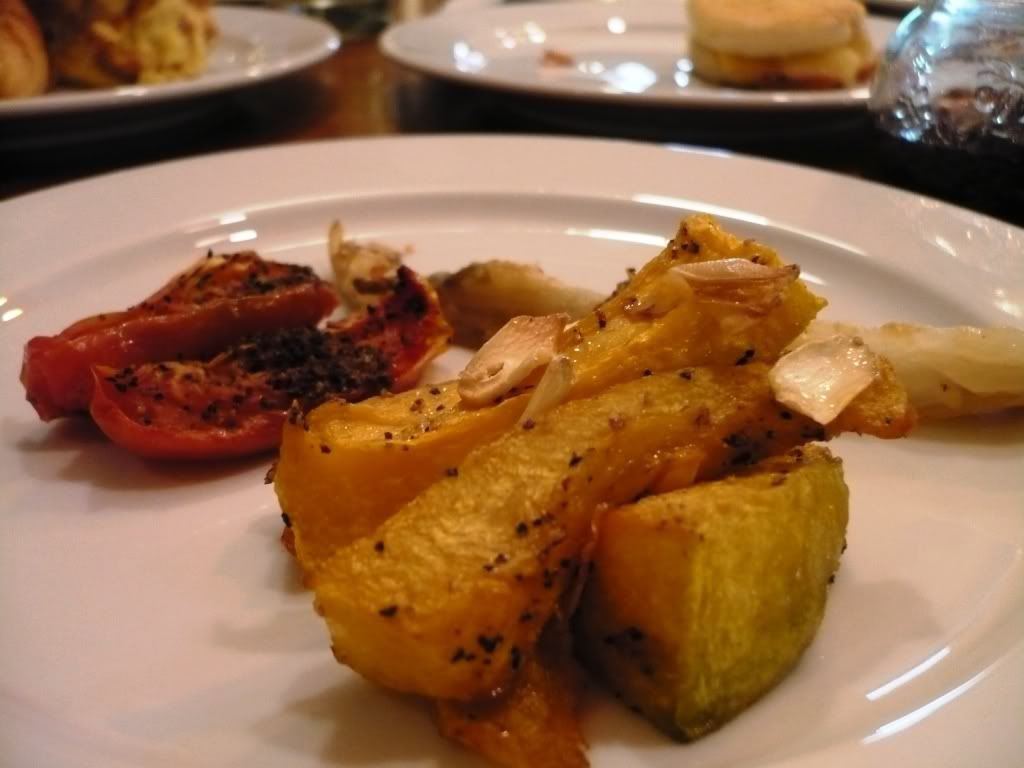 Me and Ruby shreaked when we spotted
English Muffin
. It was perfectly toasted with crusty outer and soft-goey cheese melting out as we bite into them.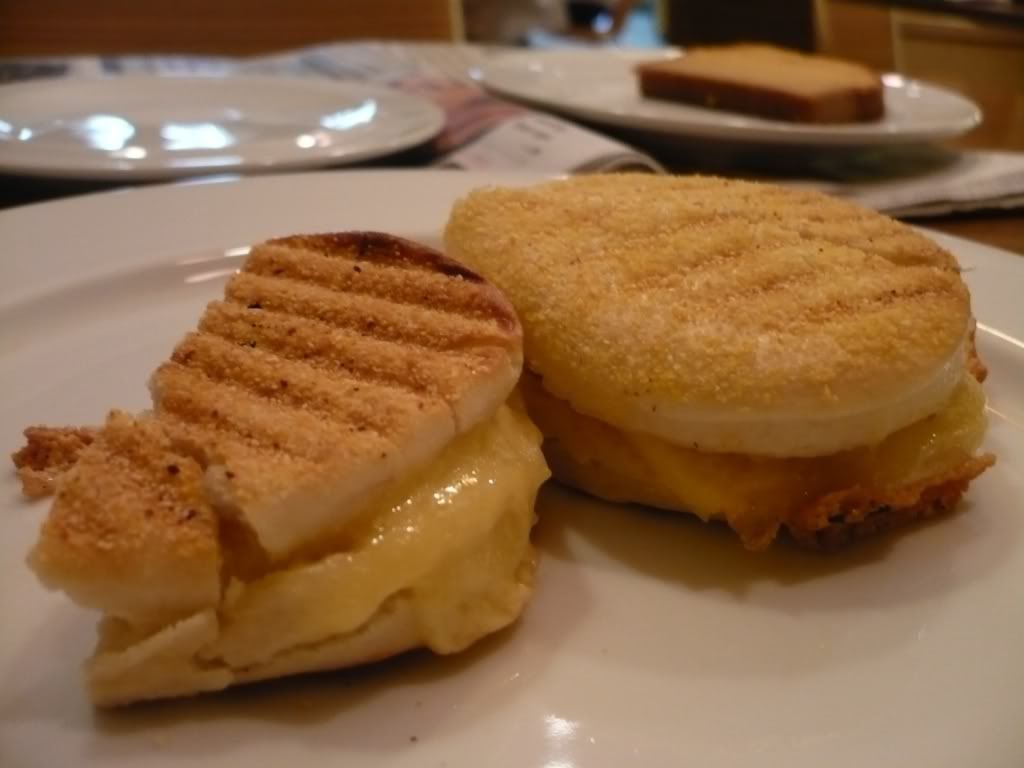 To aid in digestion, some
Greek Yoghurt and Prune Compete
please ...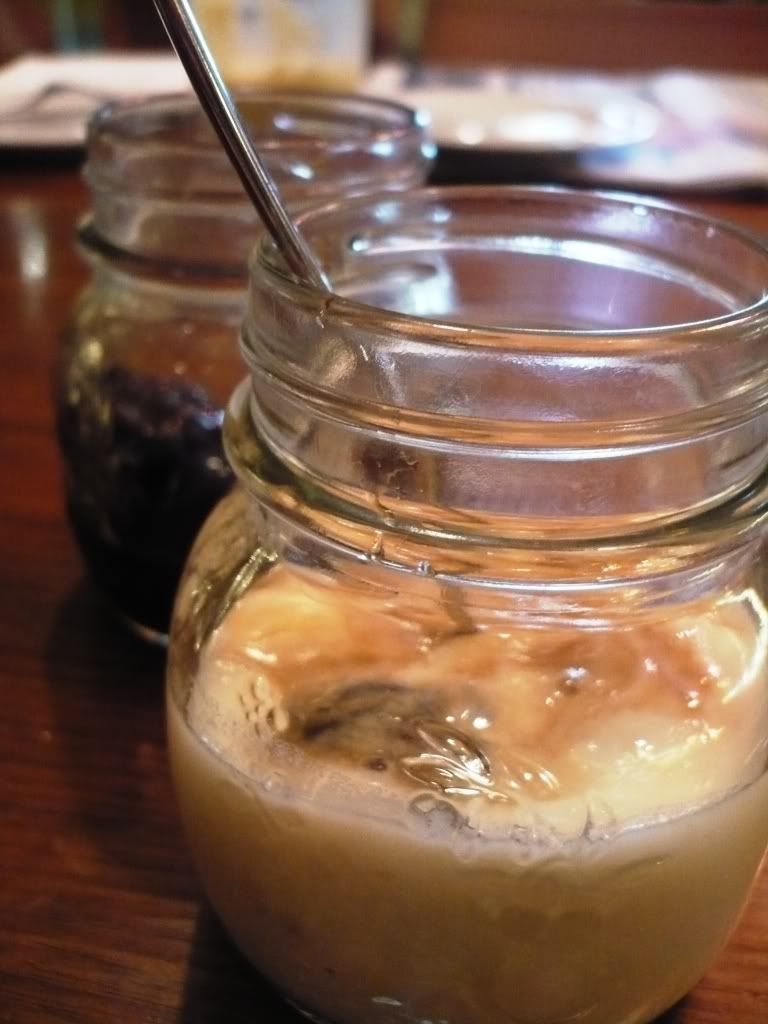 Moving on to their Gril section; their choices again were mind boggling. Ruby had their minute steak while I tried their
Grilled Chicken
. Damn, I can never get such juicy chicken pieces when grilled. How they do it? For sausages, they had beef, chipolatas and chicken in few flavours. Mine were chicken and herbed based. Good stuff.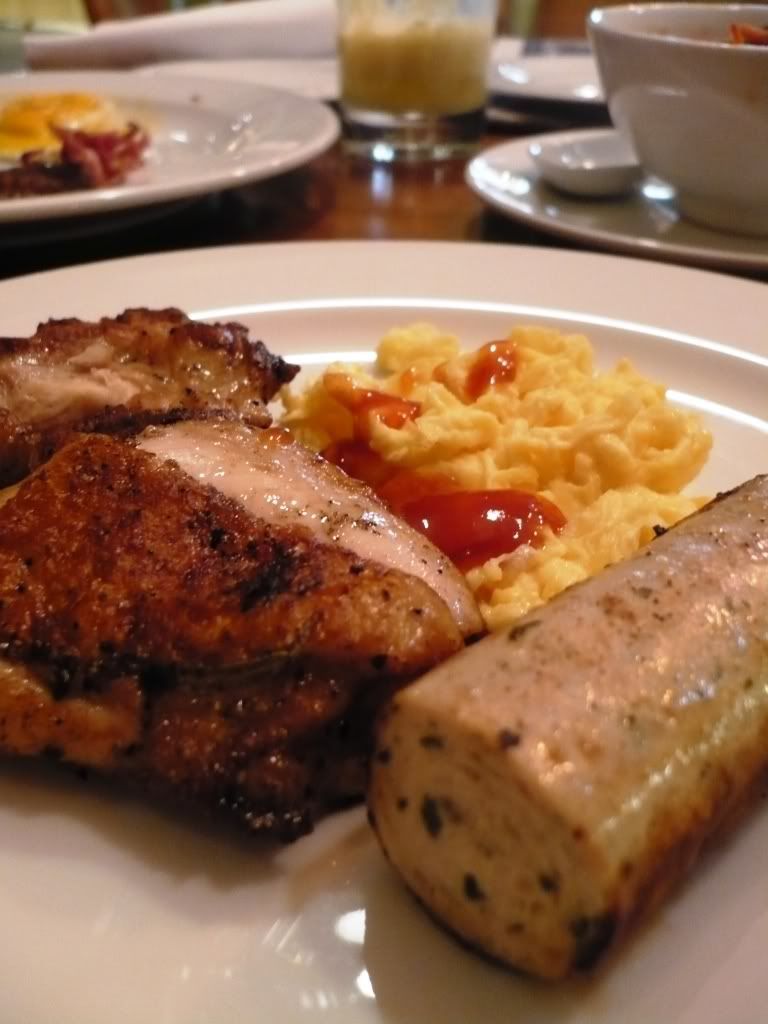 They even serve
Bloody Mary
for breakfast. I had a shot and it woked me up entirely. I love the sourish, and spicy taste of the tomato juice.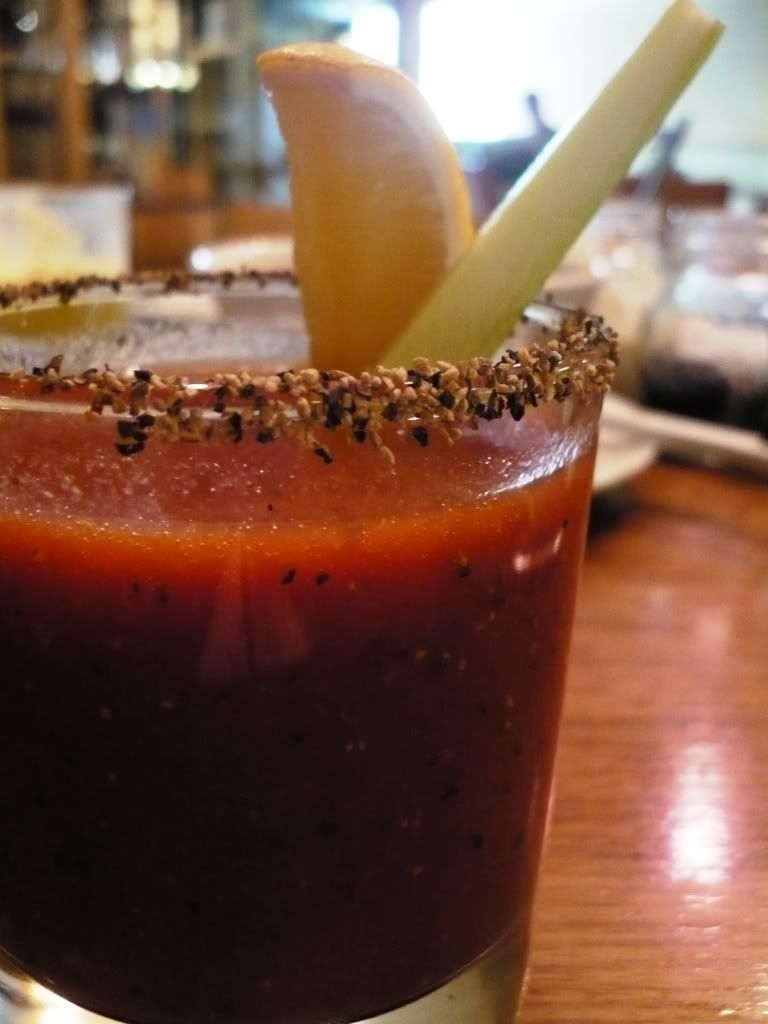 Cappucino
, made to order. Somehow lighter than usual, it was alright but no kick.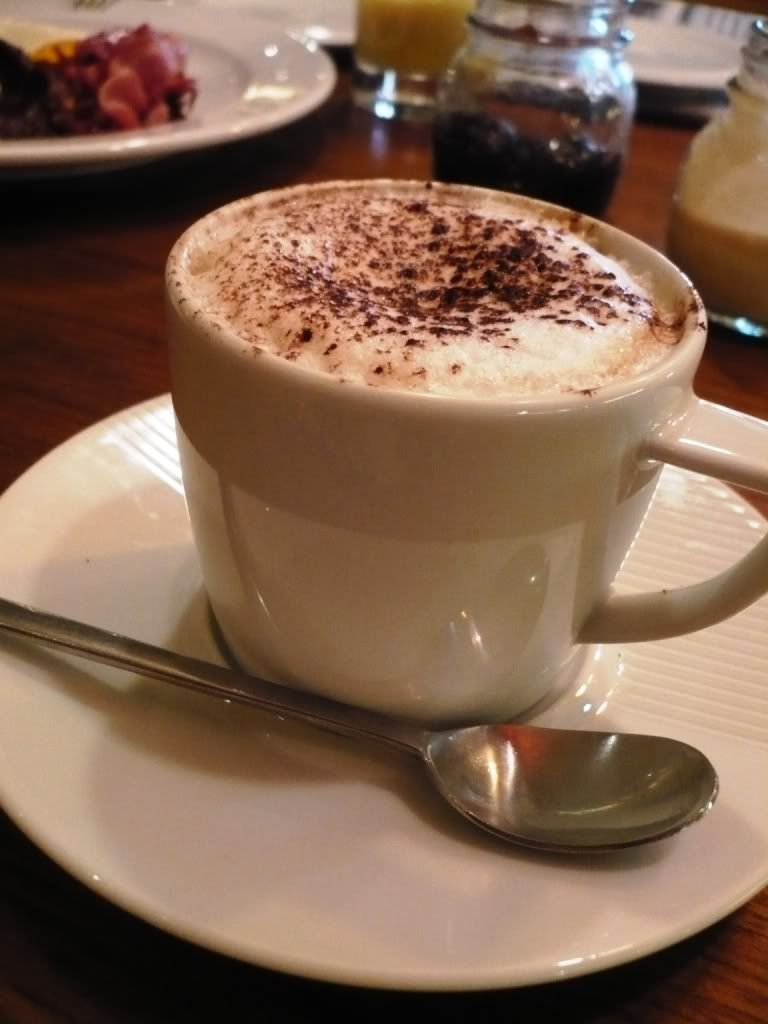 Still craving for something sourish, I spotted
Assam Laksa
. Though not as good as those you get from hawker stall, I needed something sourish to counter balance all the food I took in and it delivers just that.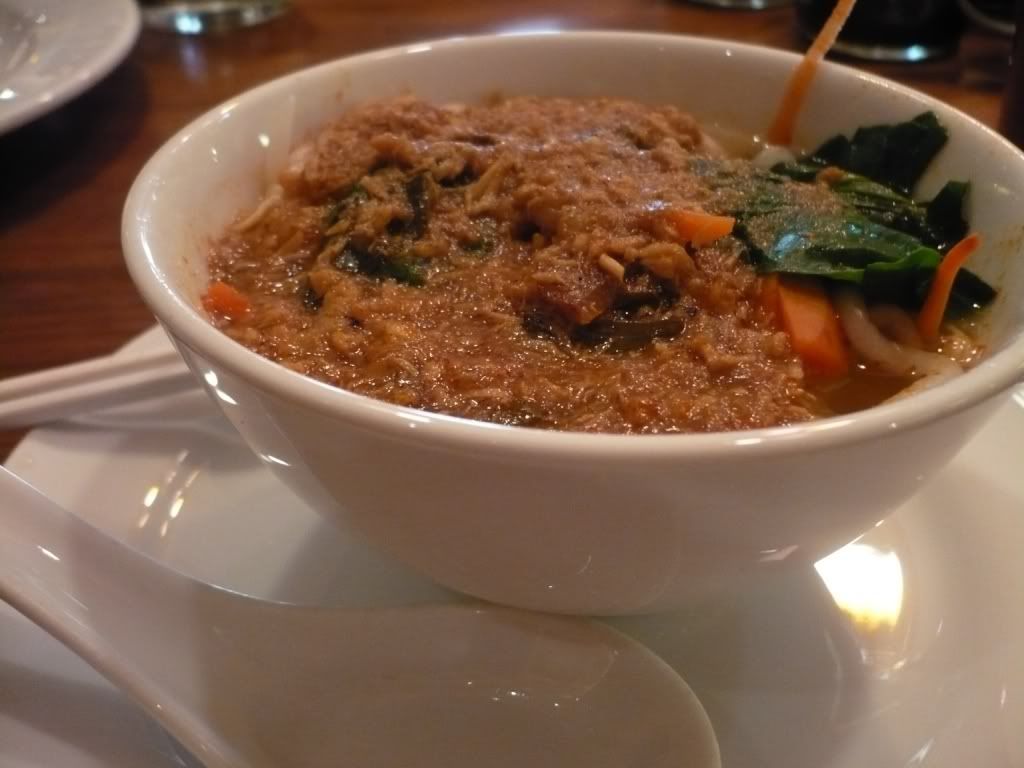 After breakfast, we went up for another round of snooze but not before taking another pic of what my friends got me. I'm a happy girl and no word could describe how I felt that day. My bday gift couldn't be more perfect. A stress kit from Dermologica, which I dearly need. Another set of body pampering kit of which both I'm going to bring over to Germany next month. Ester's gift came in such good timing too for J had requested me to pack a dress for our London weekend and my dresses are mostly sleeveless. The silk shawl matches perfectly to my dress. As for Lu, $$$ ... always comes handy.
The one in the brown envelope *blush* Something that we girls need and our partner appreciate. Wanna take a guess what is it? Its not an item but service based.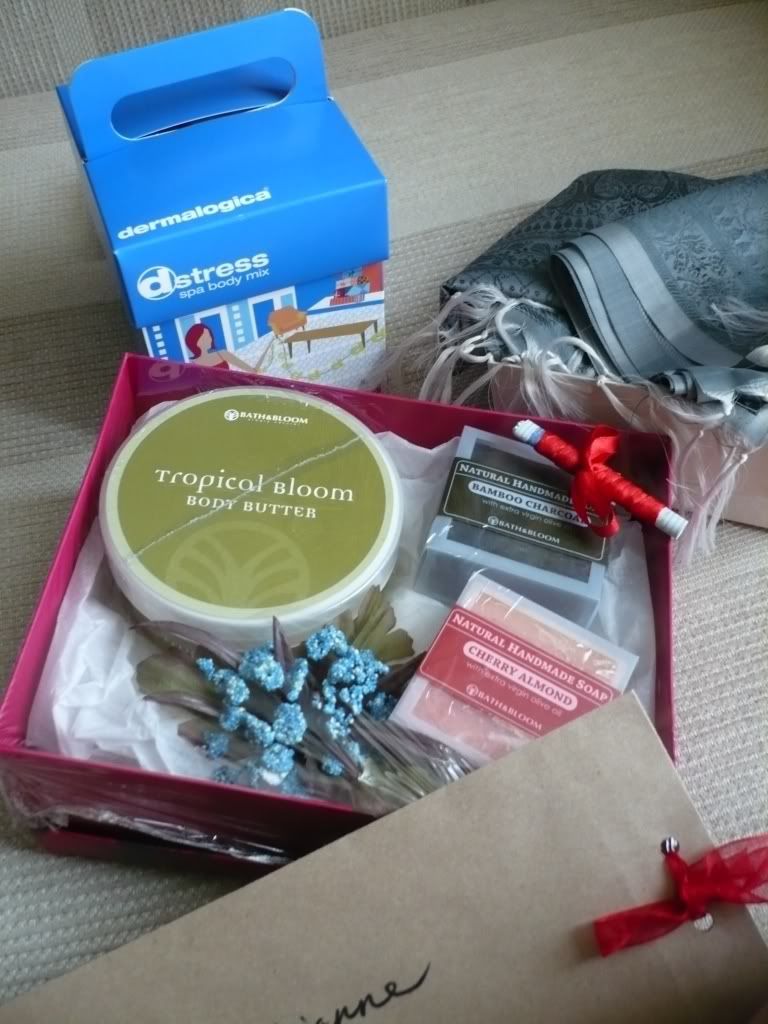 Well ... this was how I spent my weekend. Its been a blast from the begining till the end. What more can I ask, eh?