Jumping from one alcohol laden session to another, not that it was planned that way *wink*
Lye recently spotted a good deal in one of Bangsar's most desirable address and got herself a new home. I made it sound like she's buying a pair of panty doesn't it? Indeed. I am still amused with how she got the place transacted, done up and occupied in no more than 2 months. It's a hugeeee home, occupying an intermediate lot but instead of standard two storey, it's been extended left, right, centre, up and down to the max.
She invited a few friend's over for lunch today. AP felt like cooking for us and we did not hesitate to accept the offer.
Lye's living room. Spacious and minimalist with pretty cool furniture pieces. I adore the two rocking chair infront of the curtain. It was cool!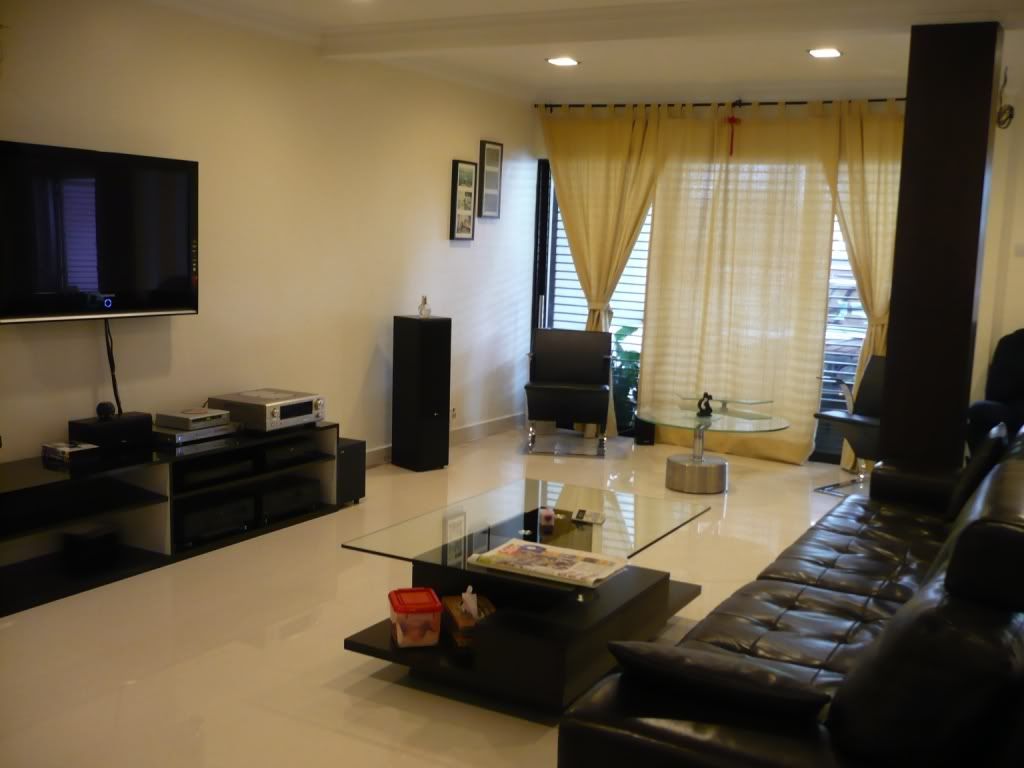 The marble table and leather seat dining set were sturdy and solid. This is where we had our lunch.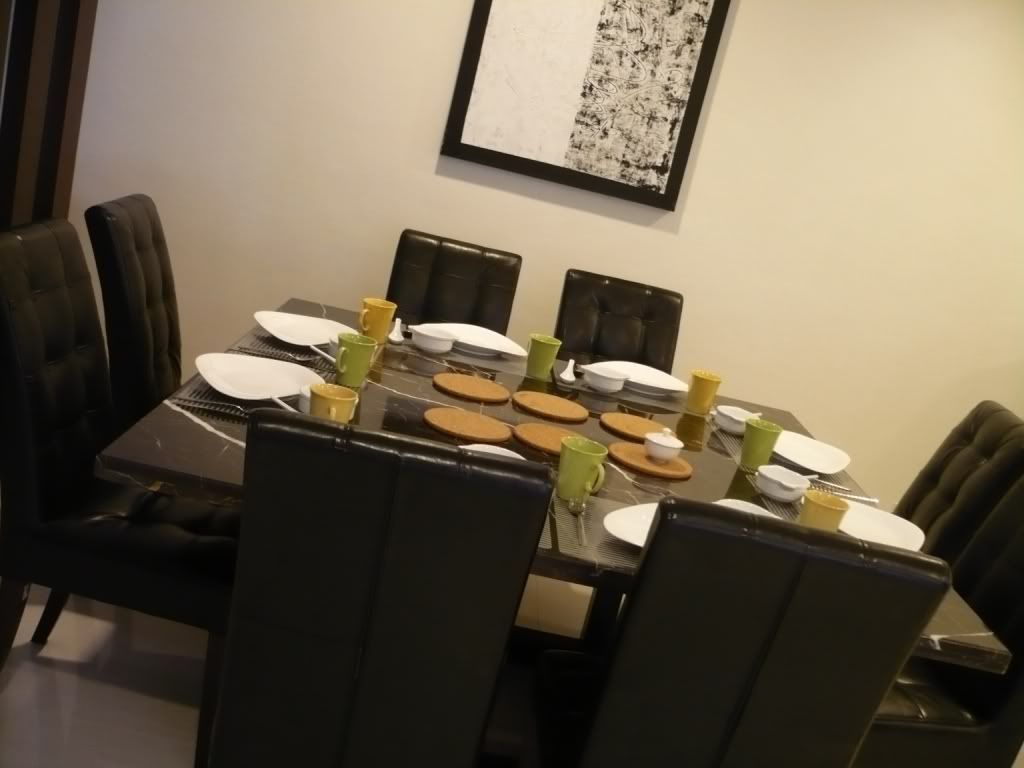 Something about white kitchen that turns me on. Even better when its fully equipped with the latest, newest gadget. How I wish to have such kitchen.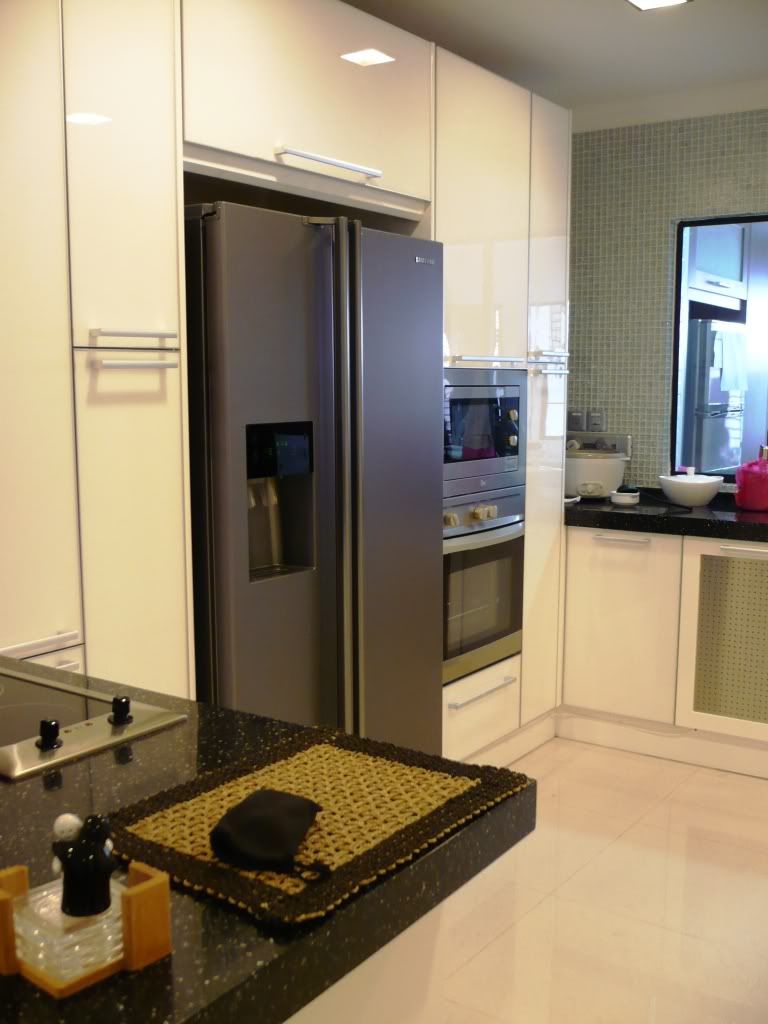 While Lye showed me around, AP's brother prepared and started reheating some of the dishes cooked.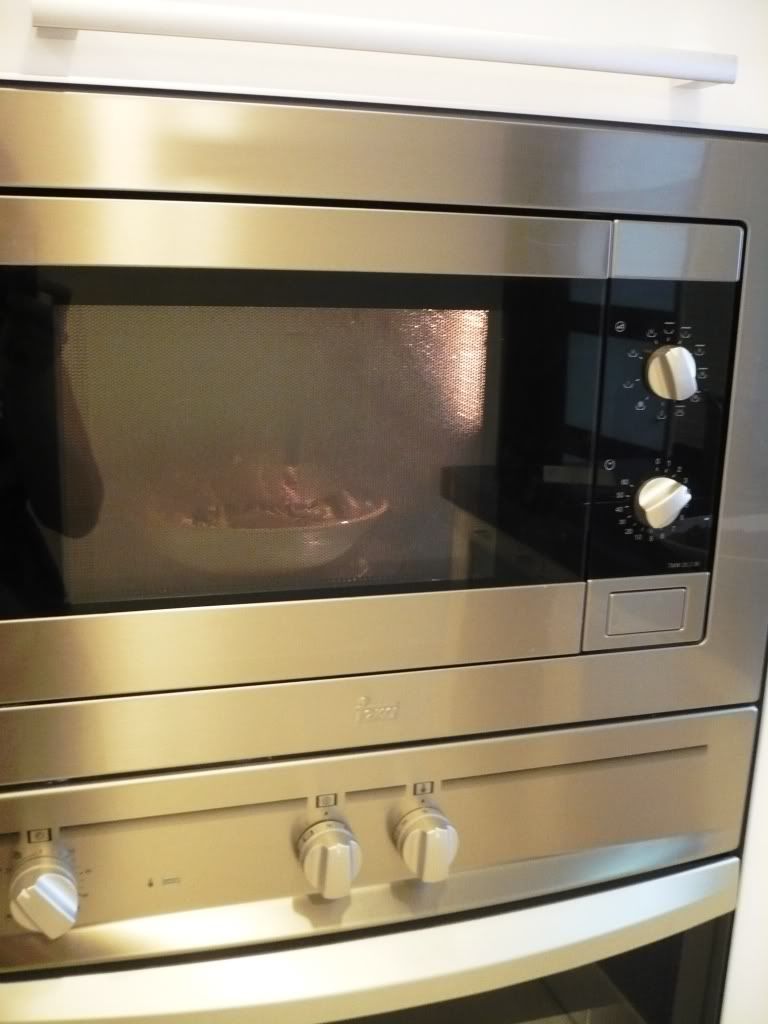 Pete came with some bottles of Frontera!
Recognise these wines? There were the exact one the Oysterette had in EEST/Westin two weeks ago during my birthday dinner.
As usual, I love taking a peek at people's kitchen and fridge. This was some bottles I found. Oh shucks ... my wine obsession is back after years of staying away. Help!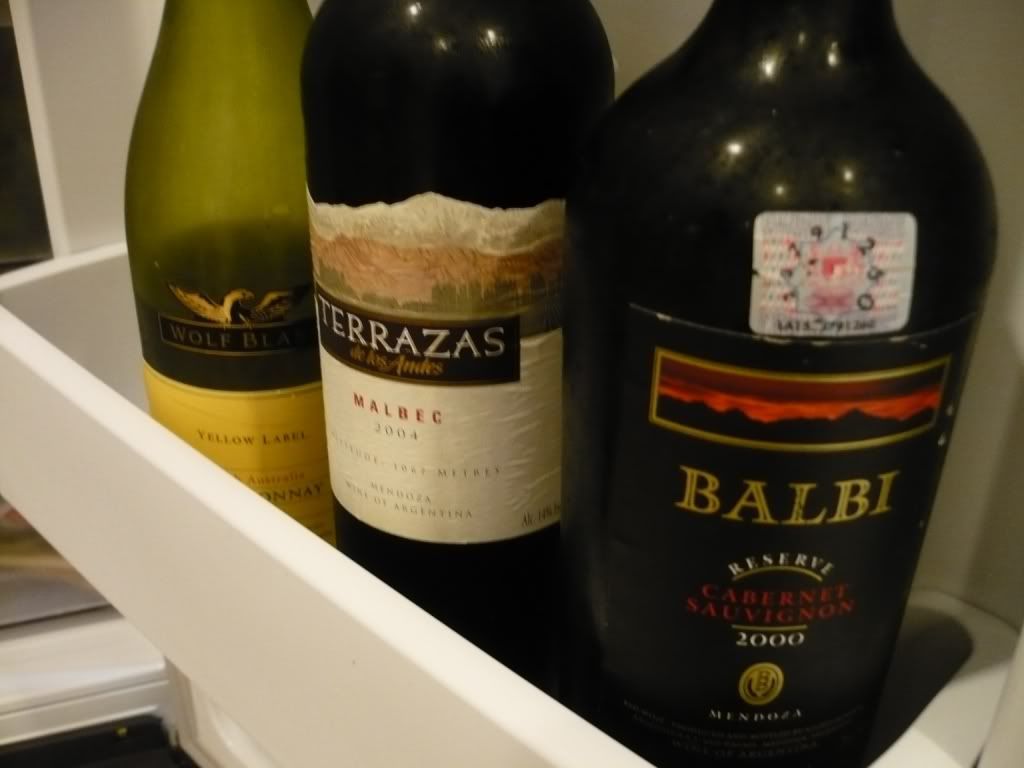 Lye showed me, Pete and Julian around as its our first time here. While the boys, Lye and Honey tested the bed (ahem, nothing as what you imagined), I spotted a drawer full of junk food and
Chocolates!
Needless to say, I helped myself to some, especially her chocolates *grin*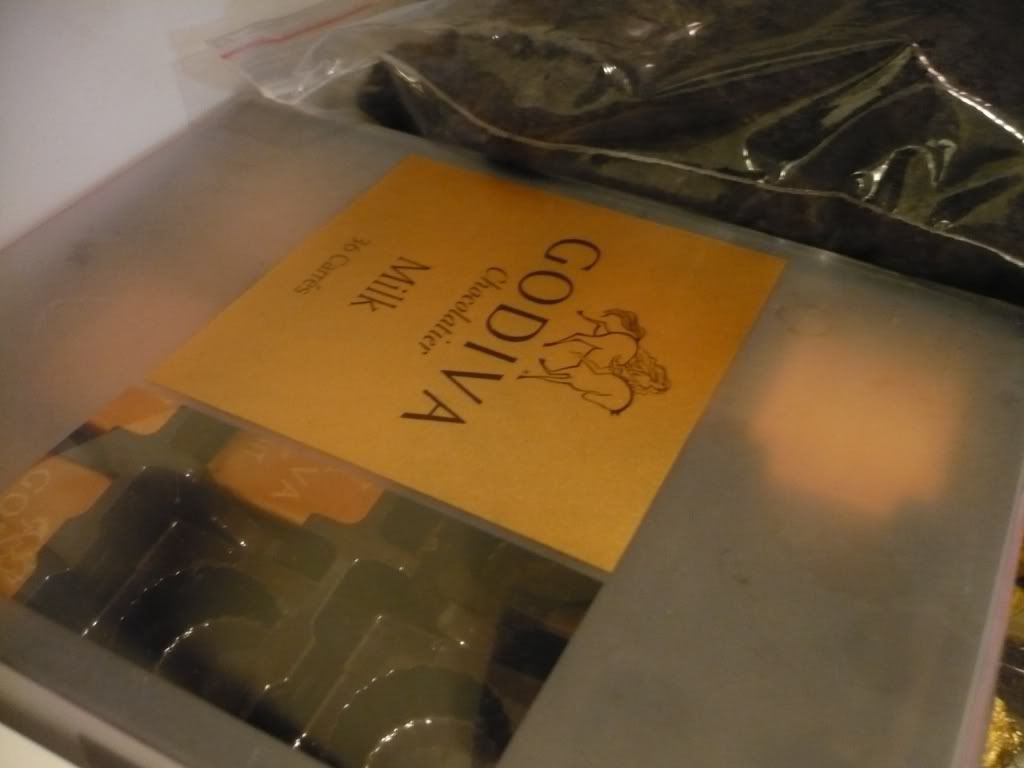 This Lye ah, really know how to enjoy life. Not only she's got a walk-in wardrobe, she's got herself hugeeee plasma TV's in all her rooms (including her two guest room), and a jacuzzi too. Lye's hotel anyone?
Her furnishing were tip top, with best of the best stuff.
We adjourned to the third floor to the party area! There's a hugeeeee balcony overlooking Bangsar and it was fabulous!
Look what me and Julian found!
That's
TWO DOZEN Veuve Clicquot
in her wine cooler!!! OMG!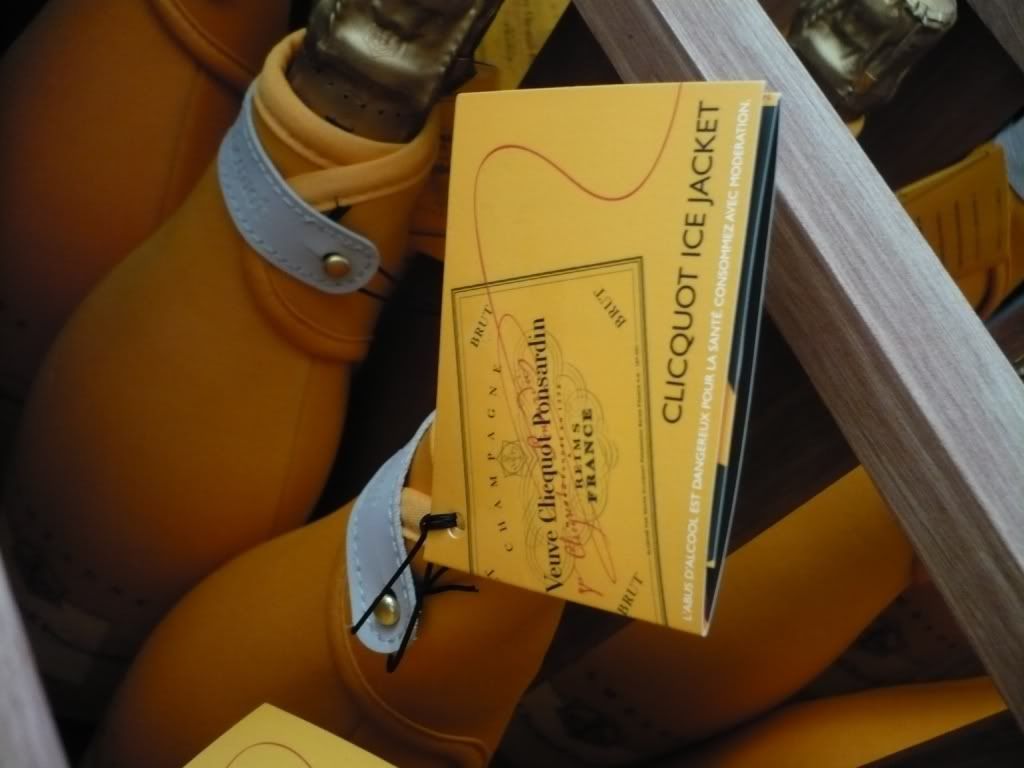 Soon after, AP intercom us to come down. Lunch's ready.
You should have seen how the two papparazi chased her around for a nice pic. We went underneath the table, around the table and finally, cornered here for a reluctant photo op *laugh* Poor Twinkle (correction, its spelled Tweenkle)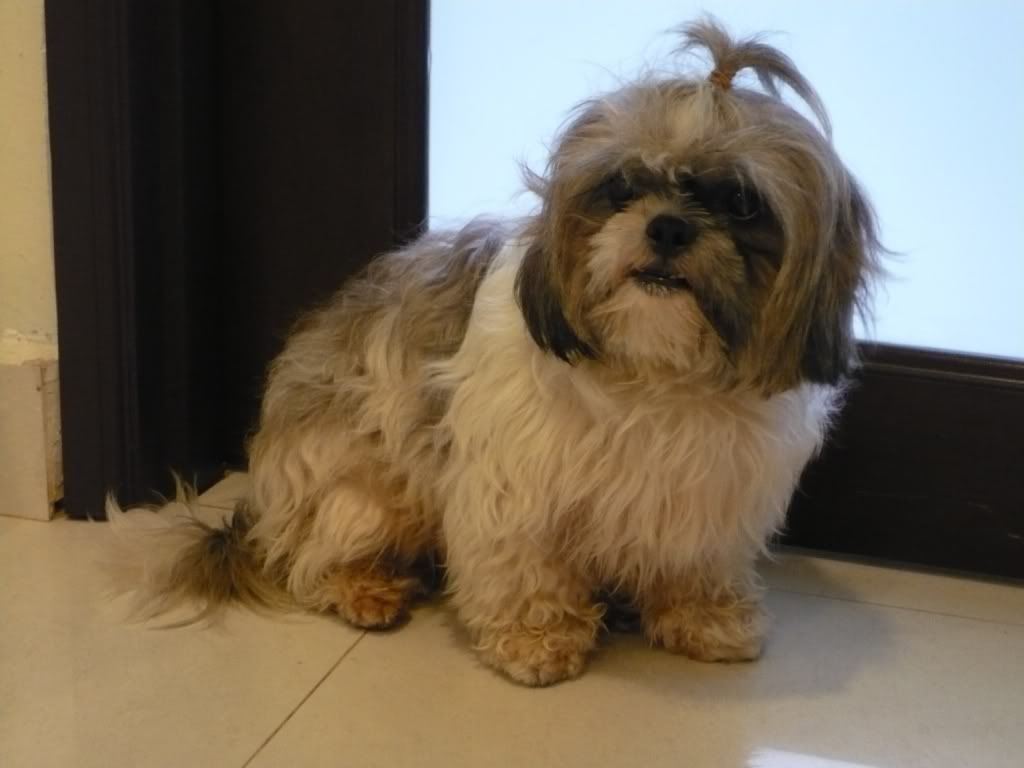 We started our lunch with a gorgeously
Boiled Soup
of Old Cucumber, Pork Ribs, Longan, Kei Chee and few other ingredients. Actually, I'm not sure what's in the soup but its so sweet and flavourful. It was so good that everyone sipped silently, and helped themselves to more.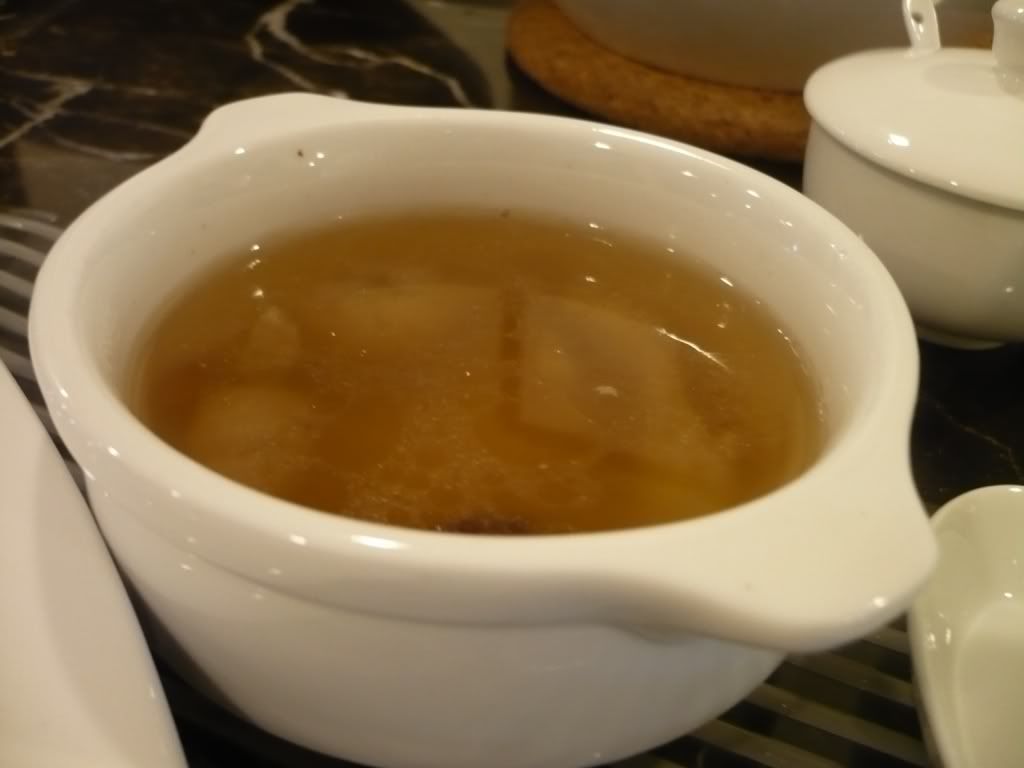 This is a really good combination of
Stir Fry Scallop with Kai Lan Head
. The Kai Lan head were so crunchy, and addictive that I had lots of portion. Scallops were lovely, lovely, lovely and I had heaps coz I'm a scallop fan.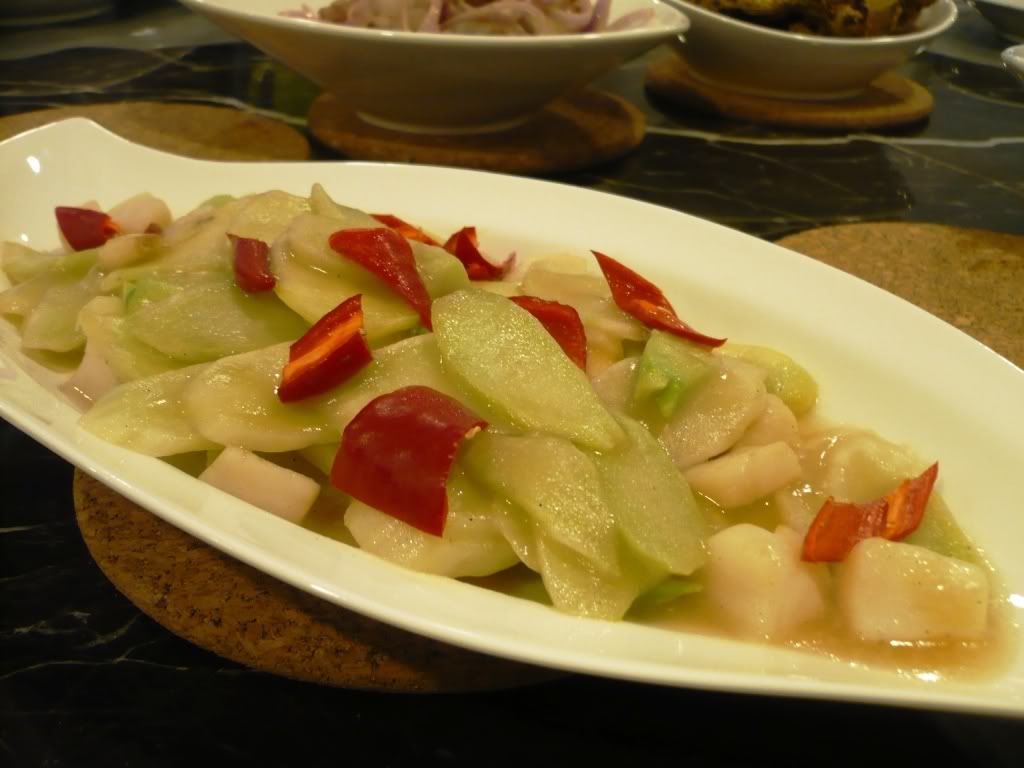 The next dish is AP's specialty of
Ham Yu and Red Onion Salad
which saw a few of us polishing it off with lots, and lots of white rice. It was so simple and yet, so fragrant and good.
AP gave this
Baby Pompret
a simply deep fry in a very hot oil. It was deep fried so well that we ate everyhing up, from its head to its tail.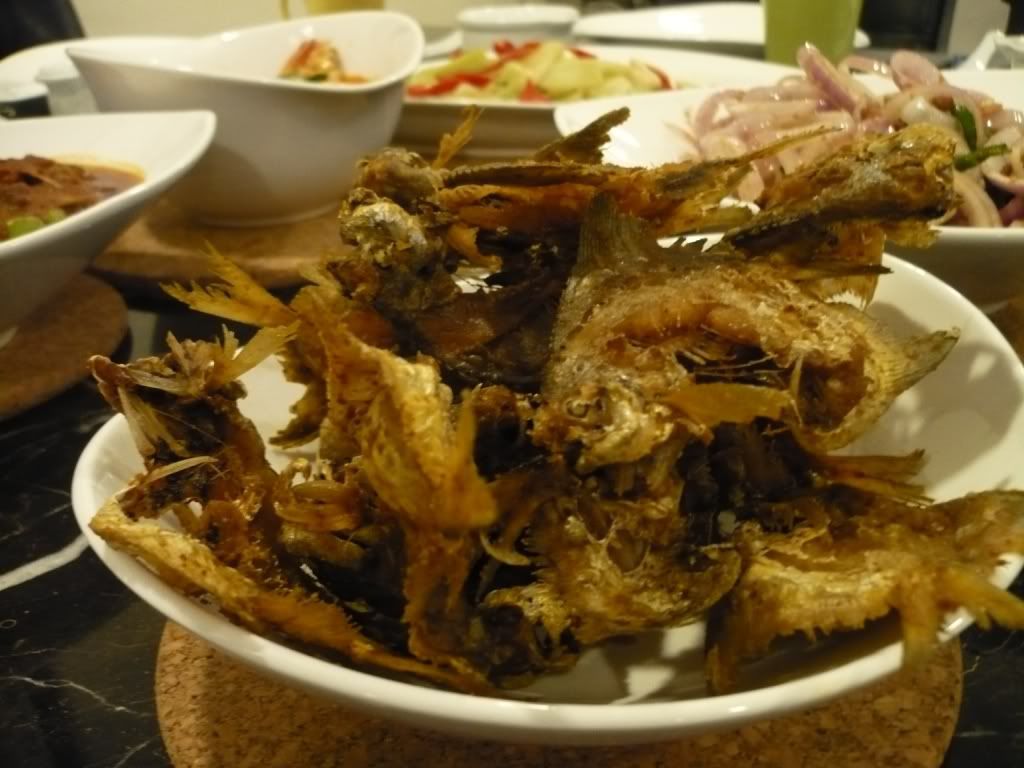 Sambal Petai
took centre stage with its spicy, pungent aroma. When its cooked right, this is all I need with my plate of rice. Though a bit saltier than usual, AP's version is pretty good.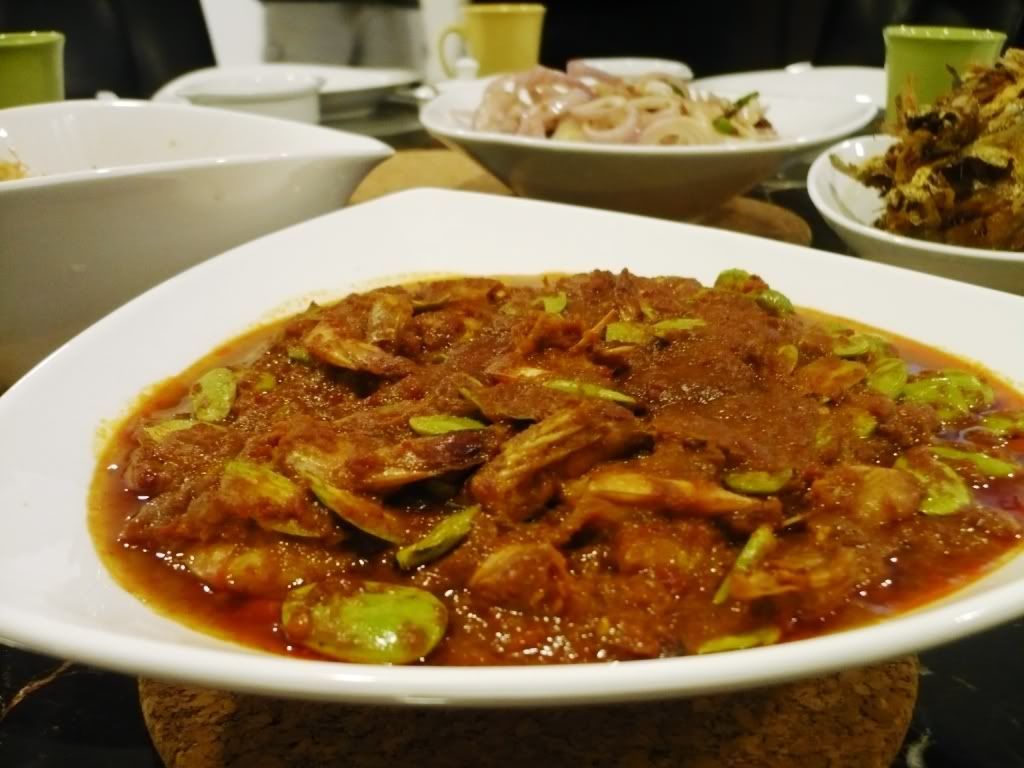 Spicy, creamy and aromatic, her
Curry Prawn
was very good.
Move over Prime; Julian's word. Apparently, this Roasted Lamb is really, really good.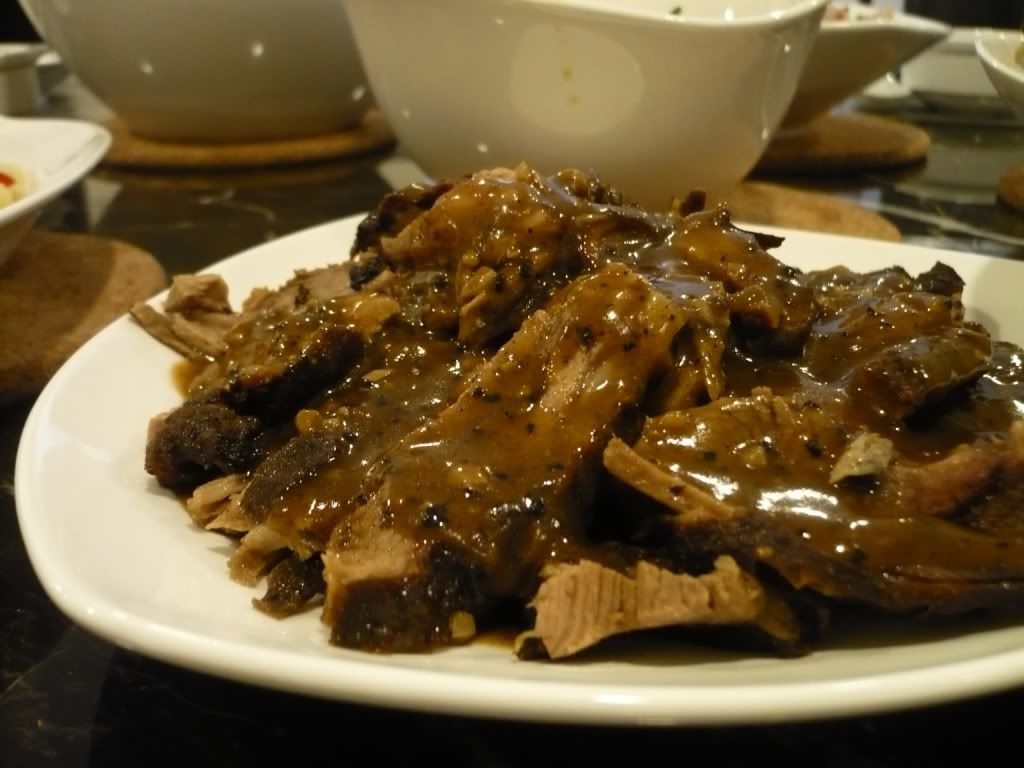 We had our lunch with
Ribena
. Lovely.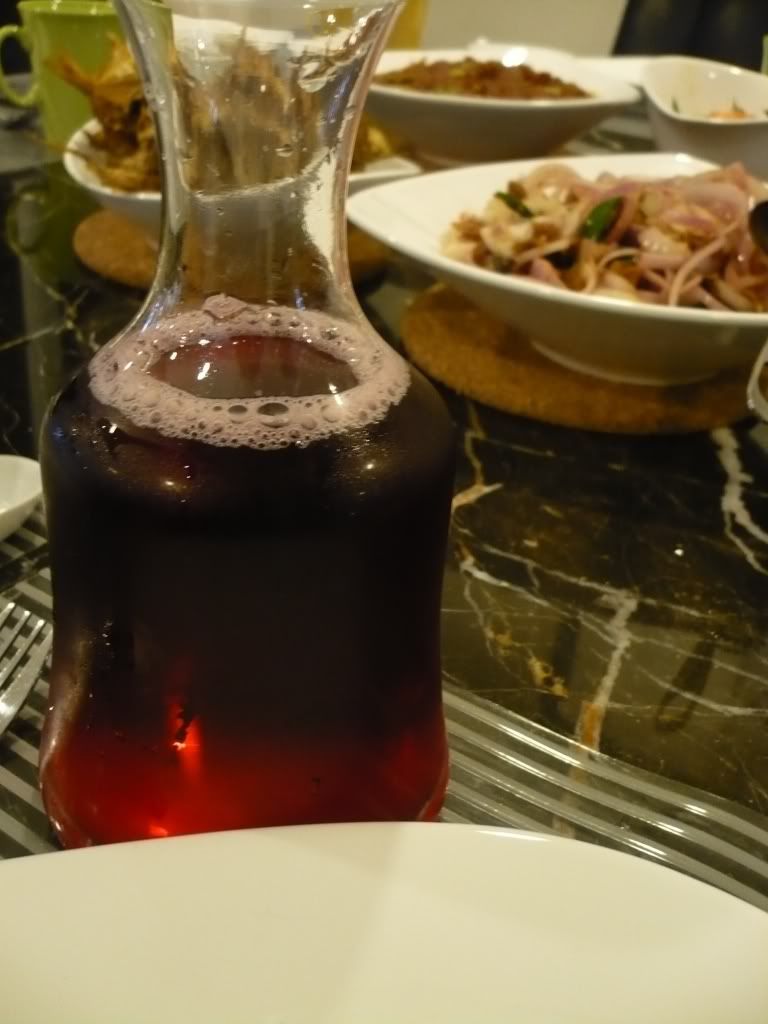 Tiba tiba, Pete and Julian were given the honour to open a bottle of Choya, which Ester's aunt bought all the way back from Japan.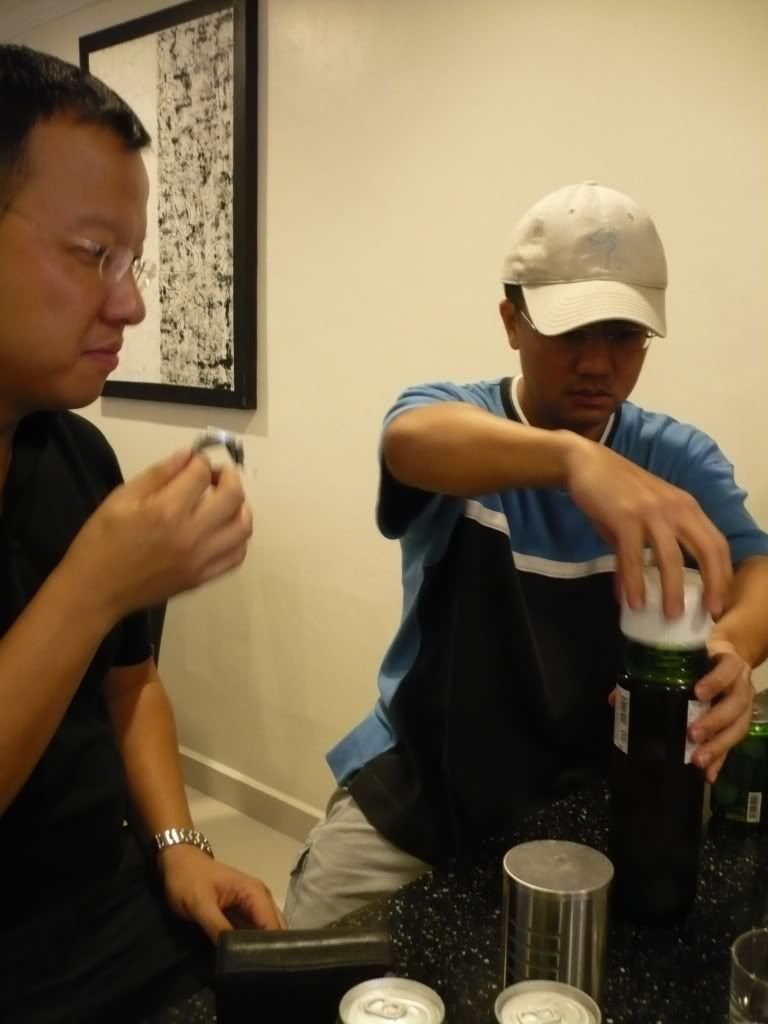 Its Plum Liquor but are of different brand. The taste were similar like the ones I had few months ago but somehow, I find Lye's Plum Liquor slightly lighter. The aromatic plum smell with its slightly sweetish taste got everyone's thumb up.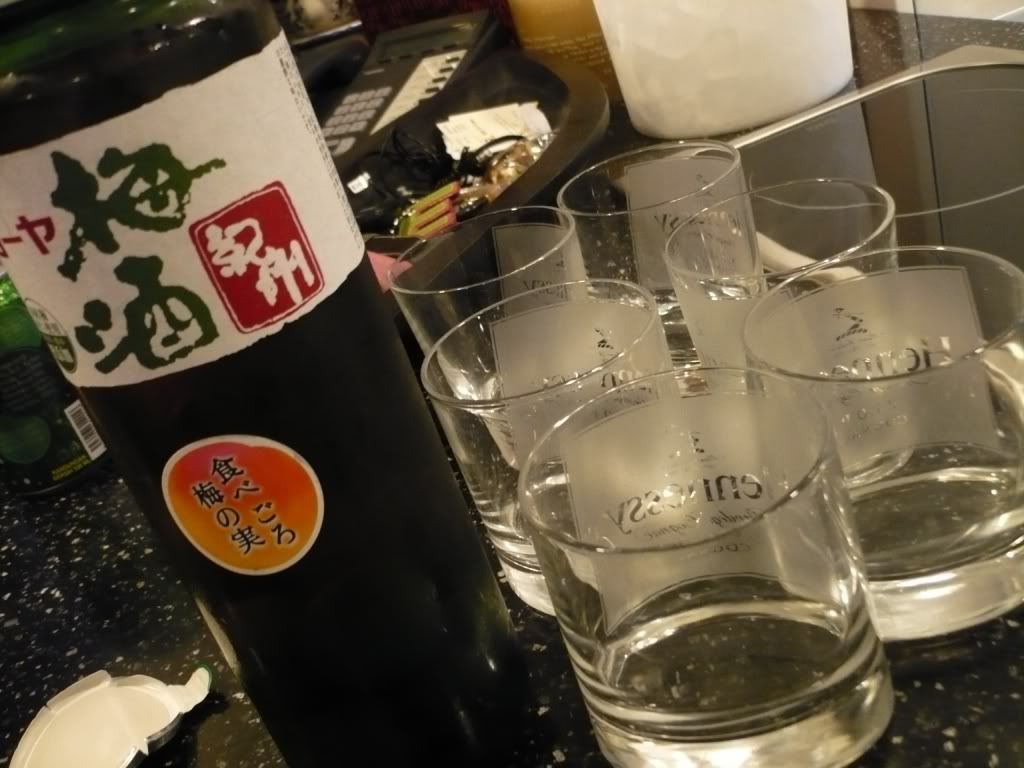 I can't remember what transpired that got Lye opening up a bottle of
Prosseco
. She had urged us to finish up this bottle in order for her to open up a bottle of Veuve, for taste comparison! Sadly, we were simply too stuffed. Next round first alright? We shall organize another makan session.
Thanks Pete for the wonderful insigh of using the right glassware when drinking. Thanks to for enlightening us why chef adorn a tall white hat when they cook.
Can our next session include Buddha Jump Over the Wall??? *big grin*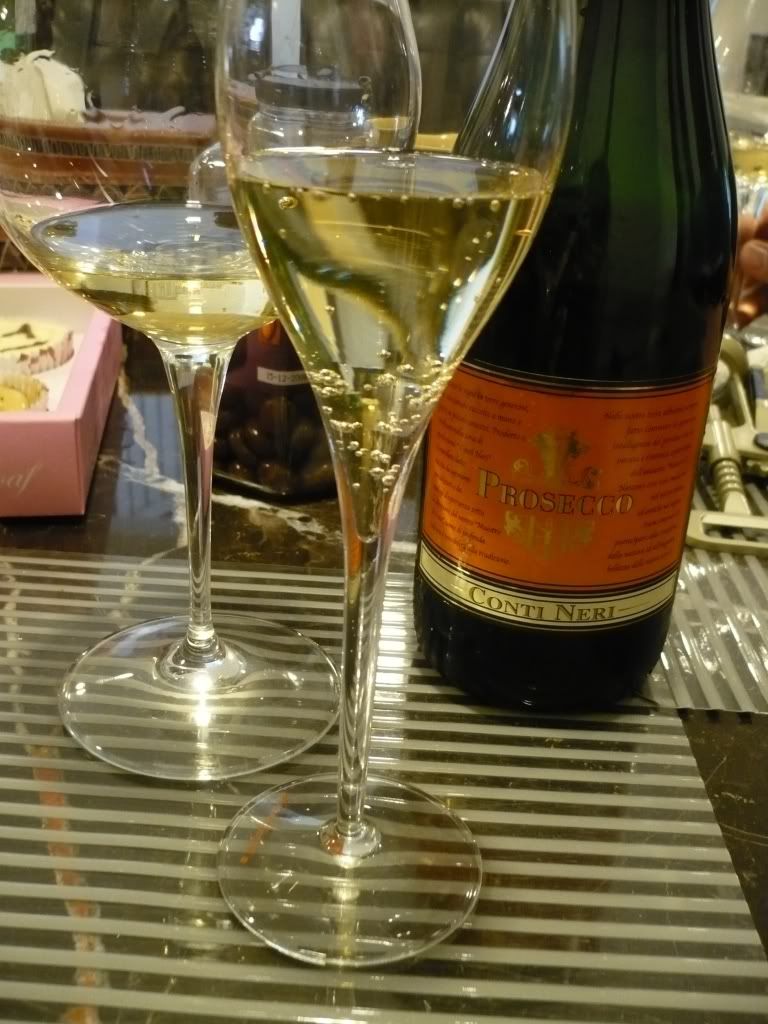 For dessert, we had The Loft's yummy cheesecake. I had to honour of slicing each flavour to six pieces but really, it was not necessary. The flavour's we had were Blueberry Treasures, Kiwi Surprise, Berries Essemble Cheesecake and Inspiring Fluffy.
I loved them all. It is THE BEST japanese style cheesecake I'd ever eaten ... UHU-Hu!!! UHU-Hu!!! *don't laugh*
It was not as light as the usual Japanese style cheesecake, it was not as heavy as the western counterpart which I find gets a bit too much after a few bite.
After our cheesecake session, we adjourned to the living room for a little R&R.
It was after awhile that Honey remembered something. Here's the finale item for lunch today;
Baskin Robbins Ice Cream
with Shortbread Crumbs, Grapes and Cream Topping of which she'd earlier brought over.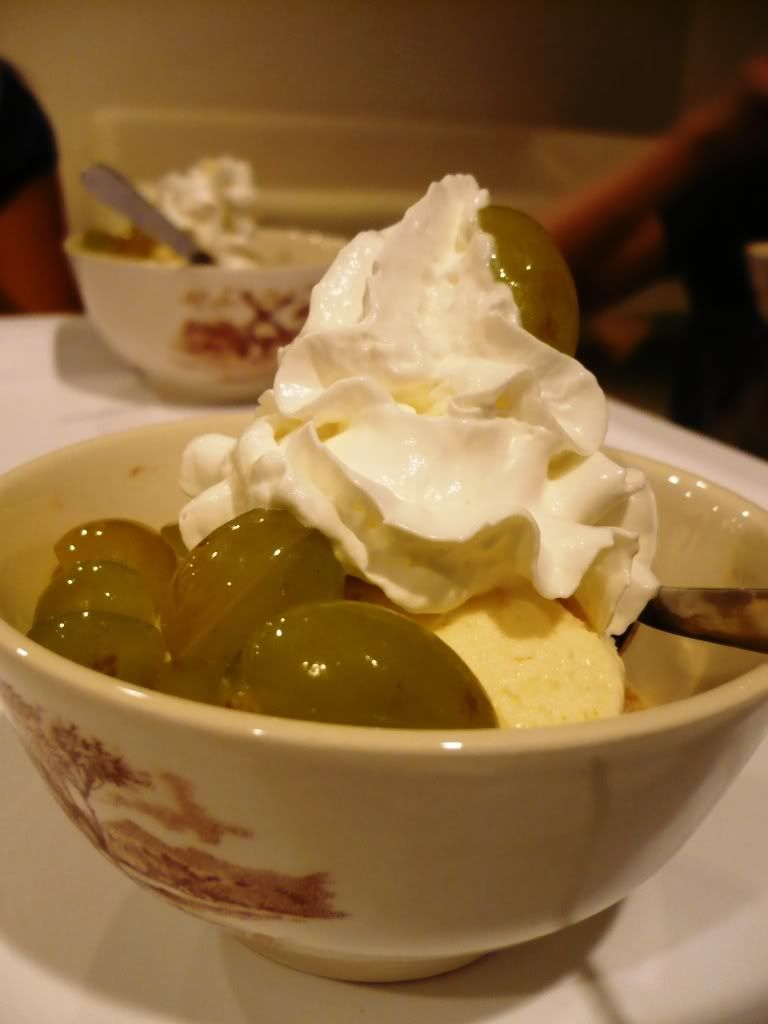 4 kg's to go before next Sunday. Can I make it? I doubt so.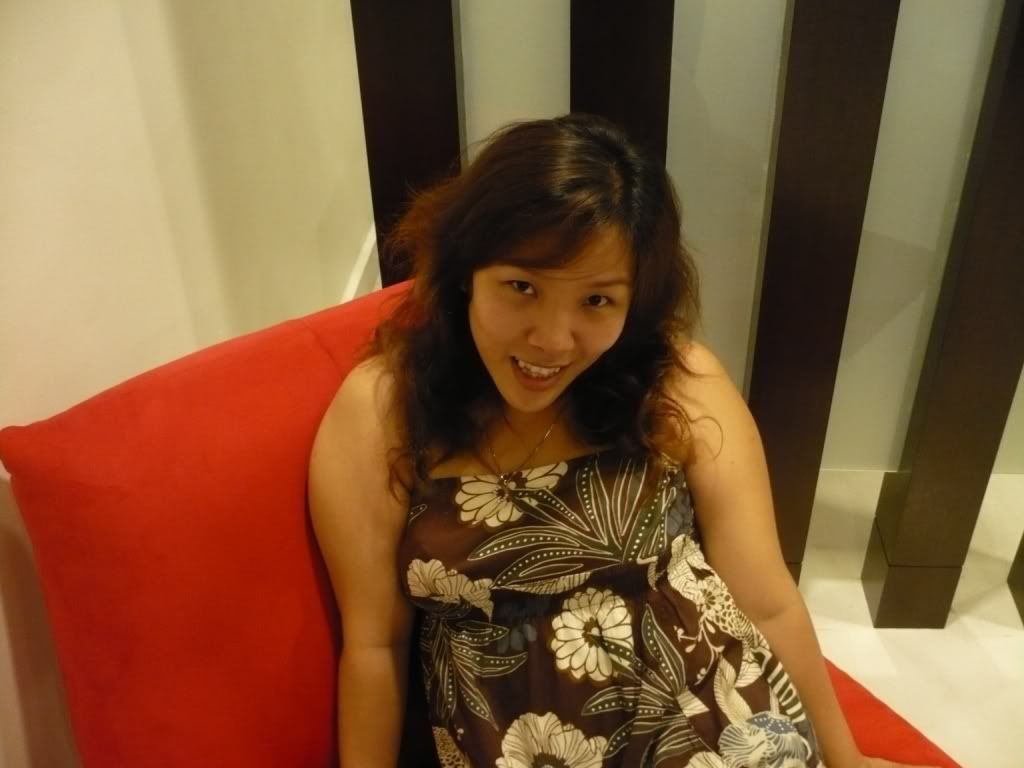 Finally, Twinkle warmed up to both the papparazi aka Julian and me towards the end.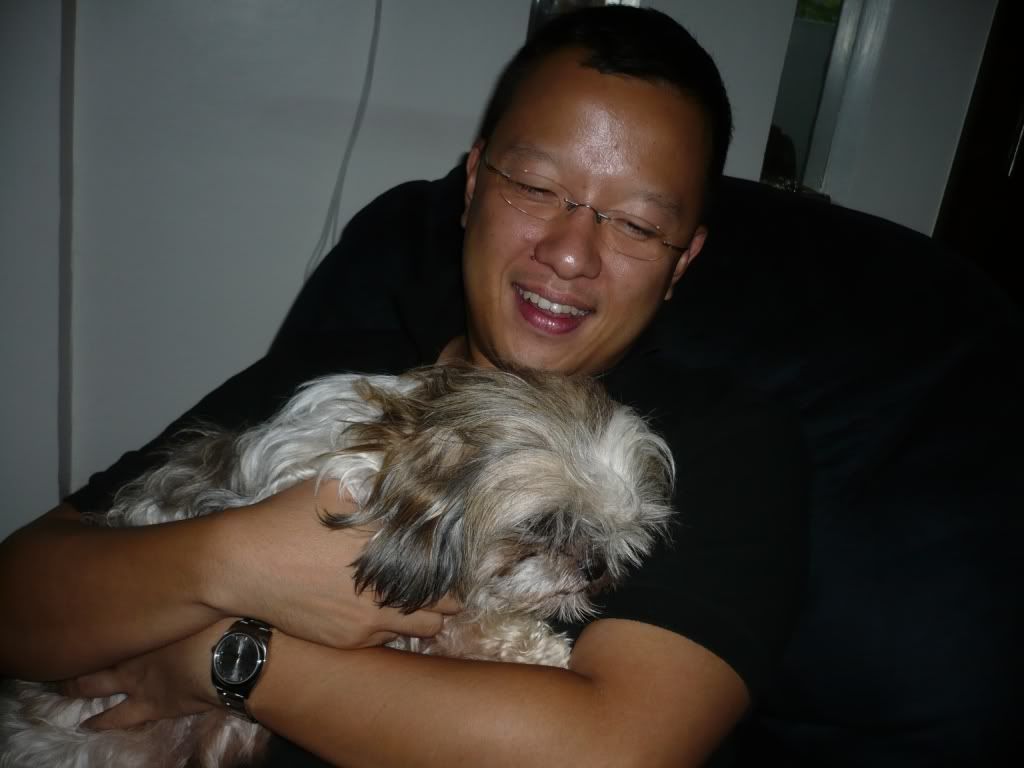 That's our Bubbly Lunch in Lye's place. I can't wait for the next one, but that had to be at least a month later.