These are photo's of my friends whom I've known for ages.
After yesterday's dinner (which I'm going to blog about after this entry), it dawned on me on when else will we all, the nine of us, get the chance to sit down for a nice dinner like how we use to.
The chances looked slim, no? But we never know, yes Oysterettes?
We'd had great fun and joy with each other's company. We have shared secrets and fear. We have consoled and stood by each other during moments of need. And we have also forgive and forget each others past mistakes.
Because we are friends, and nothing can change that fact.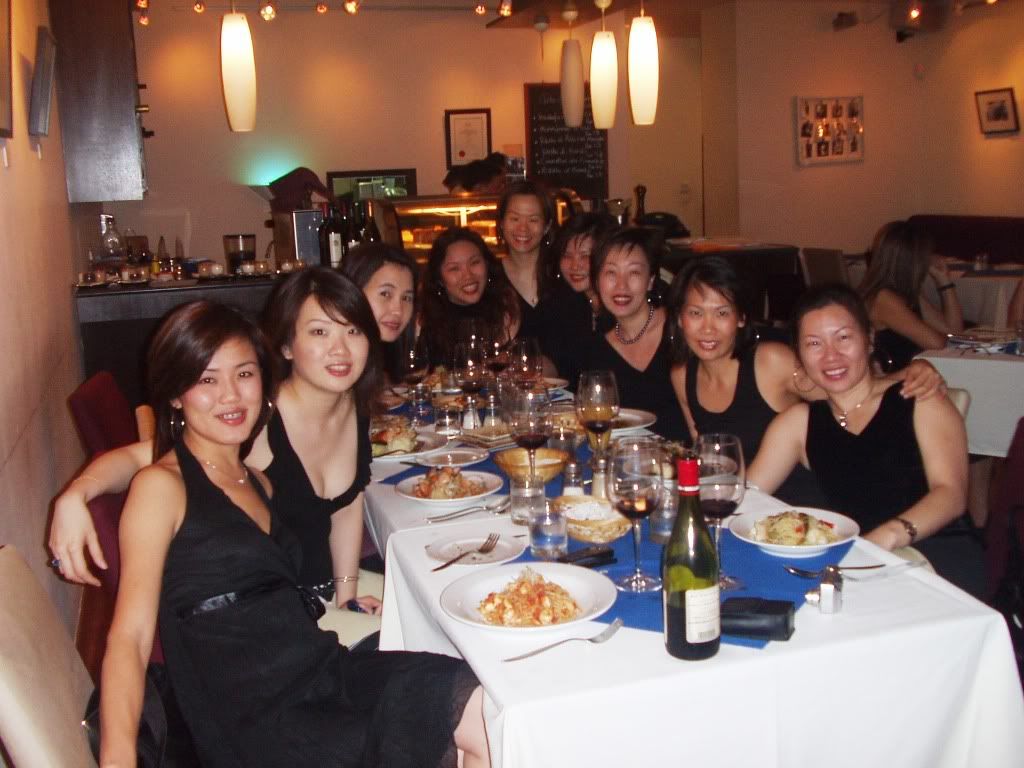 To the two living outside Malaysia currently.
Cindy in Birmingham, an
Azalea
is chosen for you for you are faraway, and alone in a foreign country. Take good care of yourself yeah. Though you're the youngest of us nine, you've one of the brightest and most gutsy of all We miss you heaps here. Just wish that you'd be able to serenade us like how you do before.
Elaine in Hongkong, no other flower is more perfect than a
Camelia
which carries the meaning - you are perfect in every way and I admire you. Though settling in a new land is not easy, like anything else in your life before this, you pulled through marvelously. Thank you for being a friend. We have come a long way since primary school and I've seen so much of progress in you in many aspect. Keep it up!
To the rest of the girls here;
A
Bell Flower
is specially dedicated to Esther for your thoughfulness especially during moment of needs.
You may walk, jump, run or fly, but please never lose sight of the reason for the journey, and don't miss a chance to see a flowe on the way.
To Selin, a bunch of
Pink Carnation
are chosen as I'll never forget you. We have come a long way, from meeting boys in McD Sect 14 after school on Friday, to learning to make clay craft for Interact Clubs fund raising in your room before your family decided to migrate. But you came back soon after. Life had been a roller coaster ride eh? We have managed half and there's another half to go.
Daffodil Narcissus
, no one deserve it more than Joyce. A flower representing pureness, in mental, physical and spiritual - you've been an angel to us all. You may not have realised it but you go all the way out in many things you do. For example putting your precious hours after a hard day at work making us invaluable cards and momentos, just to see a smile on our faces.
My next friend is someone whom appears tough on the outside, but beneath her tough exterior is someone whom are tender, generous and giving. To Ester, what else but a
Yellow Lily
for her. Lily is her favourite flower but what's significant is, it represents my gratitude and thanks for being there when I need her.
Mother of three, and a scatterbrain at times, I'd like to dedicate
Forget Me Not
to Shirley, hoping that she won't forget me. Just kidding! I just can't resist sending this flower to you. I admire your dedication and strength, and hope that one day, when I have my own child, I will be as agile and patience as you.
Last but not least, a lady with a big personality and a big heart to match. Our life journey is always testing us in many ways, from the people we meet, what we do to our aspirations in life. Strangely, we went one big round and here we are - coming back to the same spot. To Honey, a
Geranium
is most perfect for our friendship had stand the test of time.