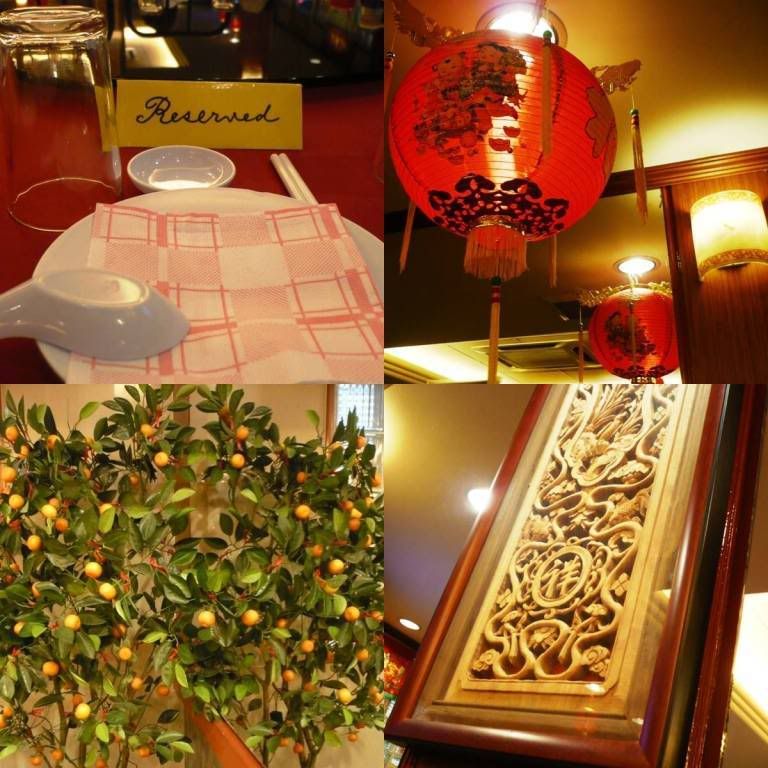 Tick, tick, tick ...
Time was ticking close to my long awaited holiday. My suitcase were packed. Chinese New Year clothes, checked. Stuff for Bearmaid, checked. Toiletries, checked. Bikini, checked. Cookies and Coffee, checked.
Phew ... now that its all settled and in place, there's half hour more to make my to SS2 for my pre-festive dinner.
This is important I told myself. I'm going to miss this during Chinese New Year hence I better had a proper dinner before I leave for Singapore.
The roads were jammed up from Damansara to SS2. Not surprising as Lunar was just two days away. I might be late as my time was already showing 7.30pm and I was still stuck halfway. Luckily, everything went smooth after certain junction point and I was right on the dot.
I walked in.
The restaurant were buzzling as usual. I tried spotting a familiar face but none were found. Strange. Did I get the dates right? Well, it happens to me all the time when a few things are at hand. Scatterbrain and forgetful. But I'd decided to walk up to one of the wait staff to inquire instead. He confirmed the occassion and I was urshered to a special table.
Food arrival were prompt the moment everyone were present.
Whenever I have dinner here, this
Sour Plum Drink
is a must. Sweet, sour and refreshing ... addictive is an understatement.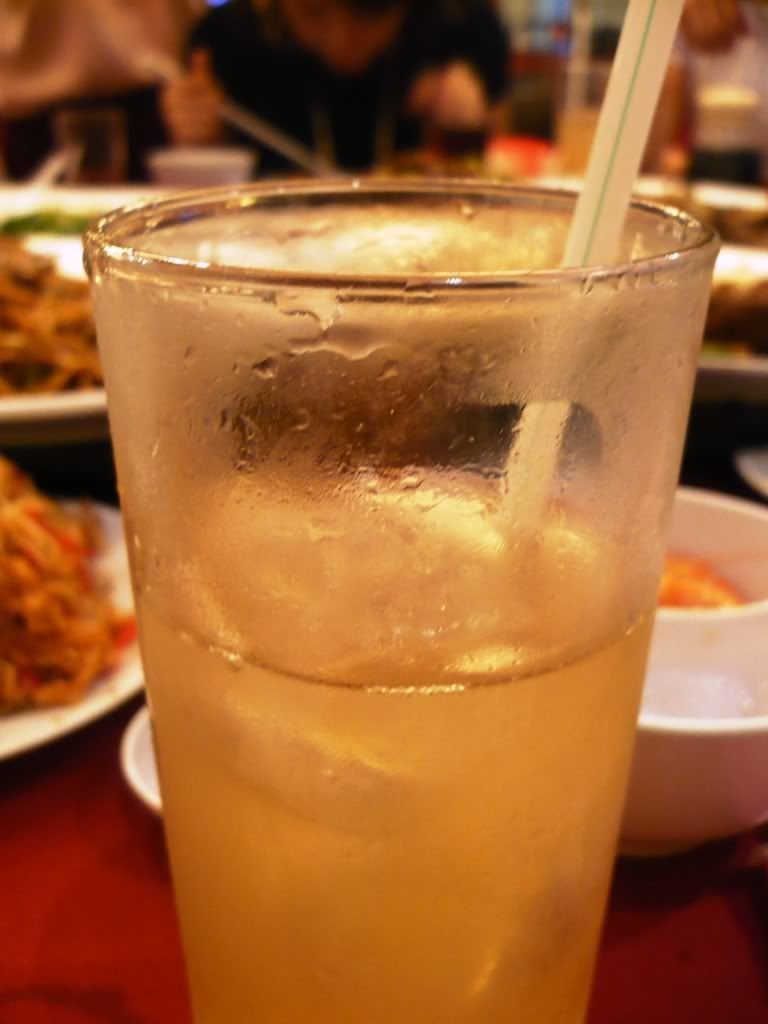 Jeanie, the proprietor arranged us a special
Chinese New Year Menu
, available from now till the 17th Day of the Lunar Calendar. That's
23 February 2008
, which is a few days to go from now. Priced reasonably at
RM438++ for a table of 10
, see to believe whats inclusive. I don't think there's anywhere else with better deals than this.
Formosa Salmon Yee Sang
kicked start the dinner. Instead of hearing chants of Pou Pou Kou Seng, San Tai Keen Hong and the likes ... ours came with wishes like
Who wants to get married, go get married, Who wants to have kids, faster go have kids.
So Manglish.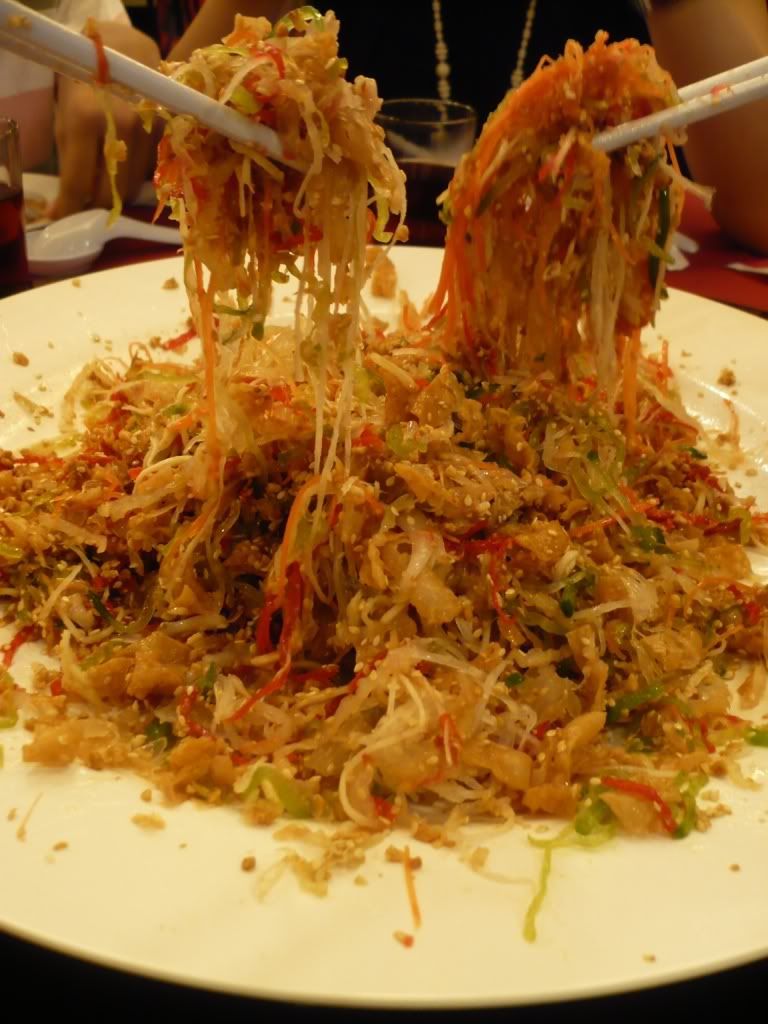 Sweet, sour, crunchy and delectable ... my first Yee Sang to usher the Rat Year.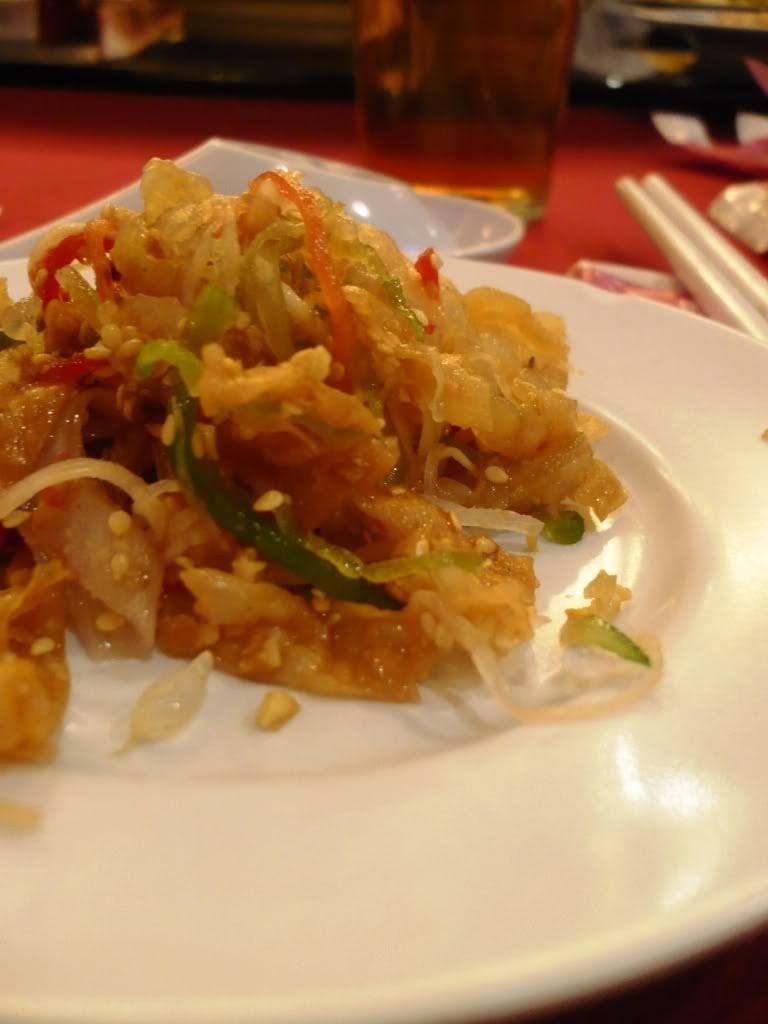 Next came my favourite dish whenever I'm in a chinese restaurant. Although I feel guilthy consuming it each time, I've yet to raise to the call to boycott them, yet. Simply too hard to resist.
Braised Shark's Fin with Dried Baby Scallops, Crab Meat & Bamboo Pith Soup
; it was flavourful and rich, with spot on taste.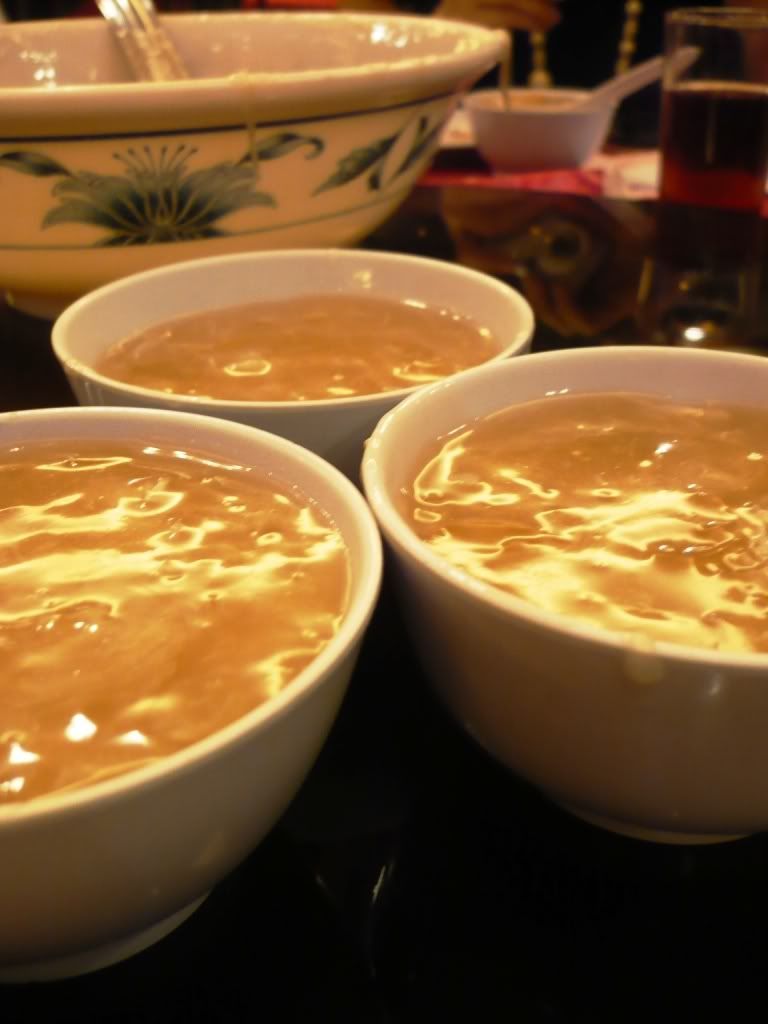 I enjoyed the next dish for its sheer freshness of prawns used, and the sweetness of the broth that came with it.
Steamed Tiger Prawns with Herbs in Hollow Bamboo Taiwanese Hakka Style
is highly recommended if you like it with an alcohol kick.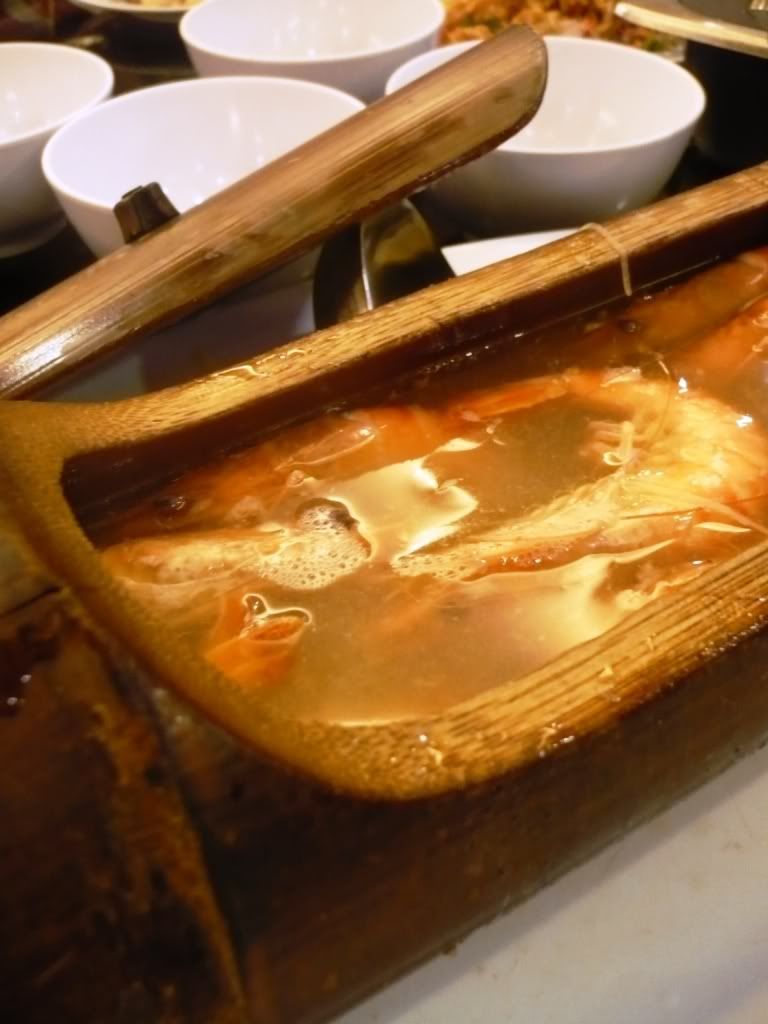 Fresh prawns from up close.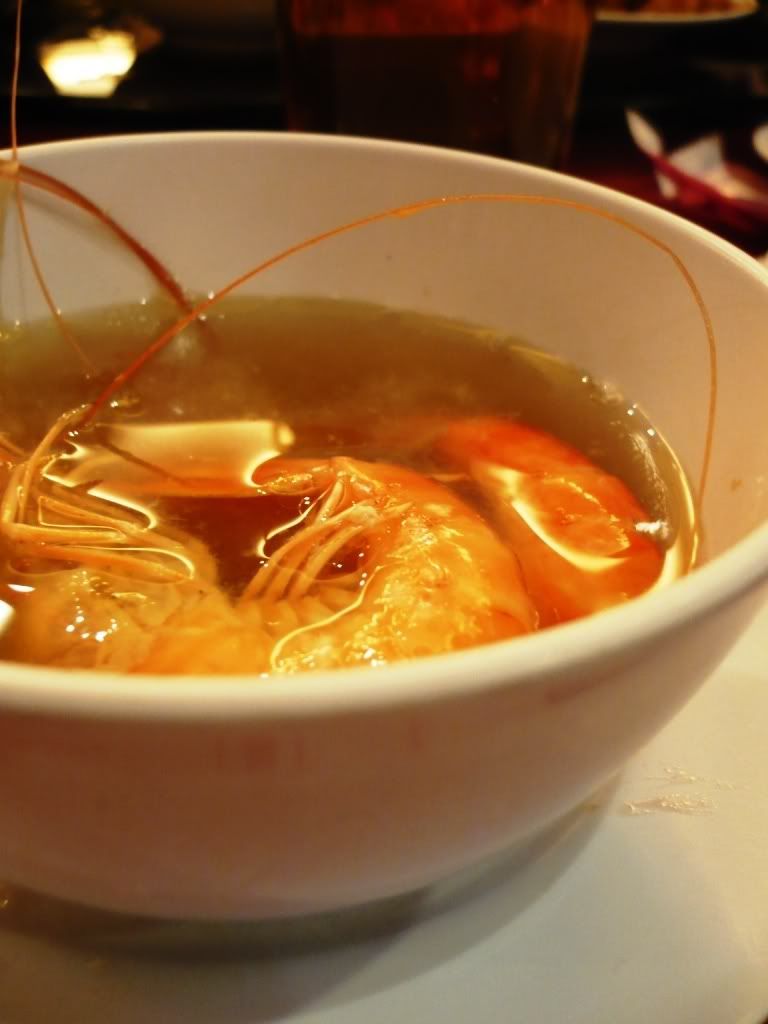 The great thing about dining in a Taiwanese restaurant is, you get to try chinese food with a different tweak. I'm a huge fan of pork ribs and I've tried many version but it is my first time having them cooked with pineapple.
Fried Spare Ribs with Pineapple
was tender, sweet and a hint of sourness from the pineapple. It was a nice change and tasty.
Crunchy, and flavourful. The
Taiwanese Sesame Chicken
complimented the accompanying smouldered ribs well.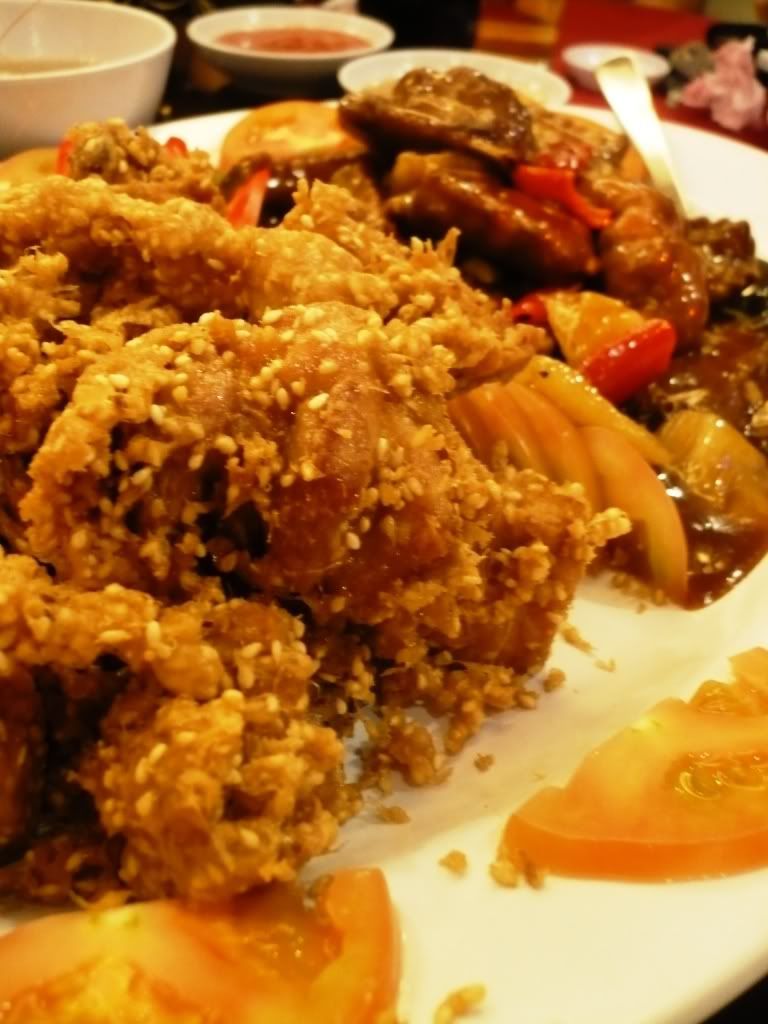 Momentum slowed a little by now. The portions were huge after all but a change to more vegetable concoction were most welcome.
Next, were their
Braised Duck with Seafood & Vegetables.
A rich dish with varieties of ingredient, I enjoyed the vegetable crunch a lot. The duck needed a bit more braising time.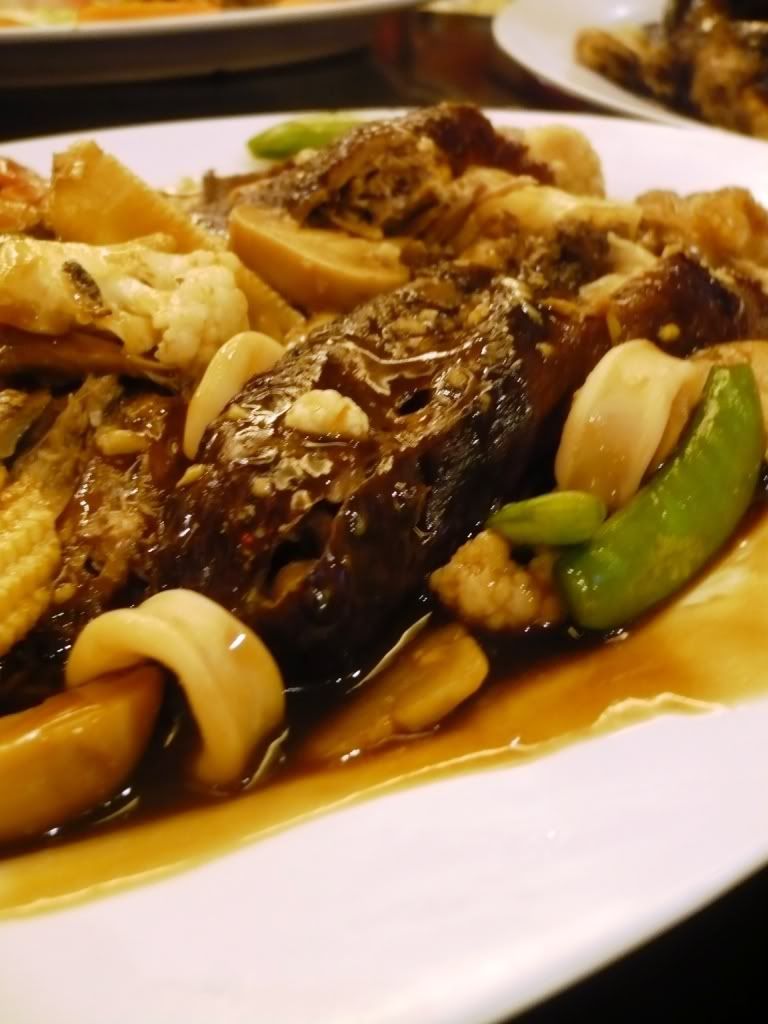 This must be my favourite of the night.
Braised Pig's Trotter in Black Pepper Sauce.
Loved how tender the trotter turned out, and how the gravy coats every single, inch of the trotter with full, spot on flavour. I had lots of helping.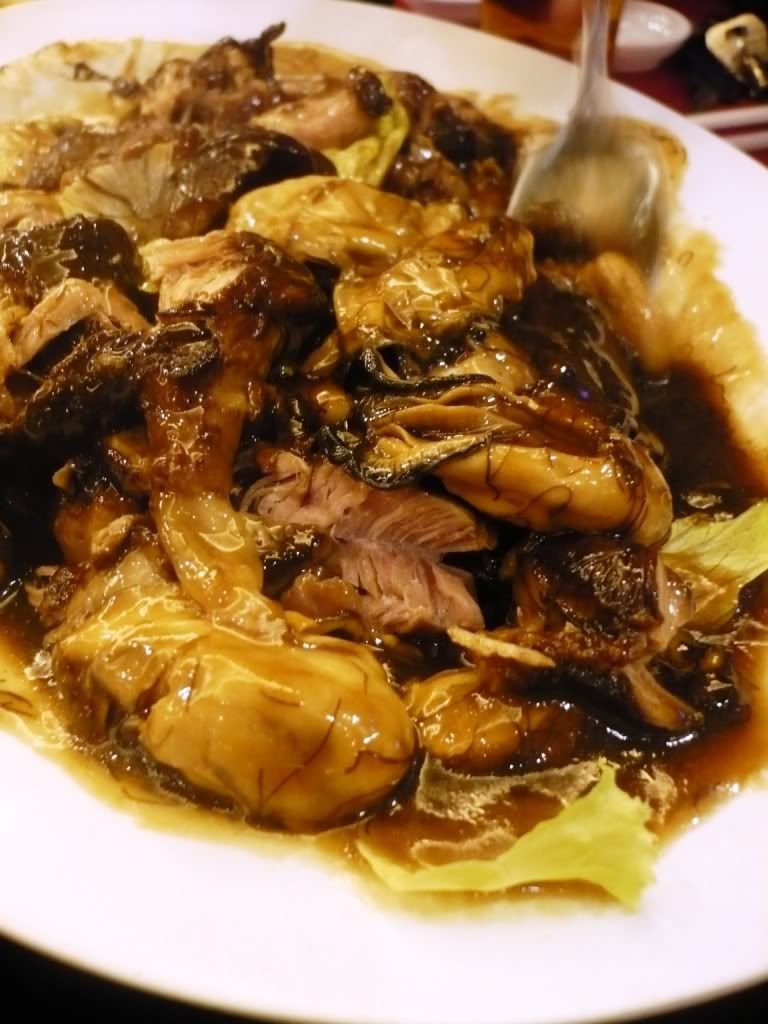 The
Sea Bass in Homestyle Cooking
were marvelous. The cream were appetizing with an
unexpected sharp, flavourful taste. Hint of lemon? Orange? I can't make up but it is really good.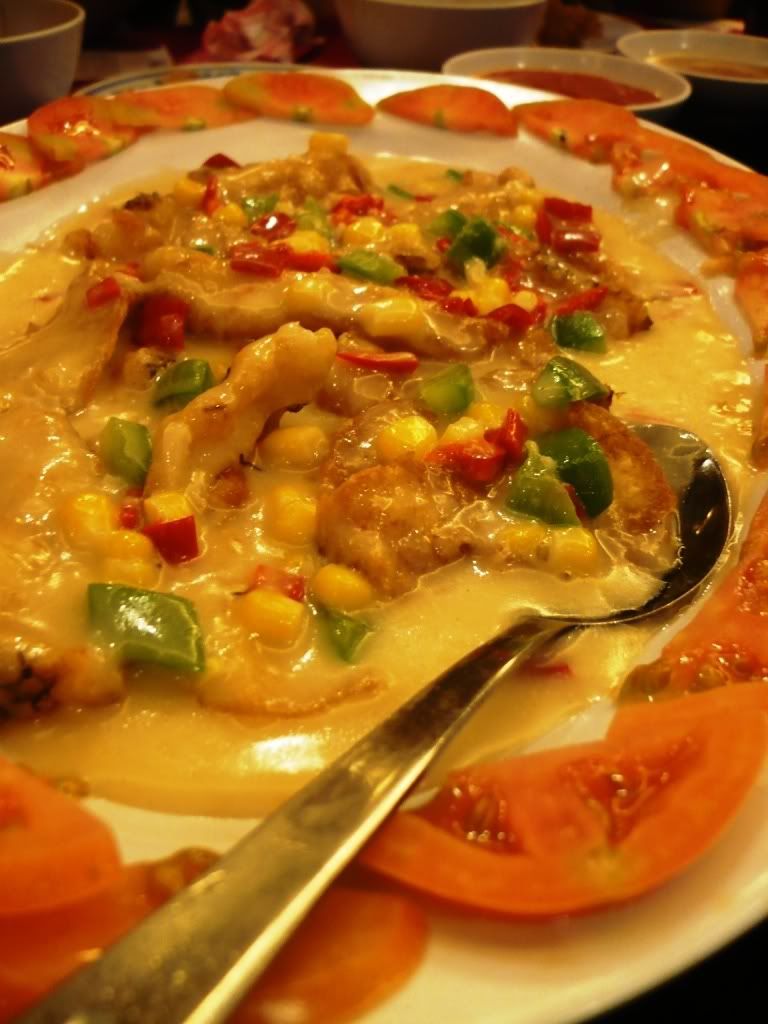 Something I always look forward too, during big dinners like this.
Fried Vegetables with Scallops
. It is a simple dish that you can easily assemble and cook at home, but New Formosa
did them well. The pairing with scallops lend a wonderful deep taste to the vegetables.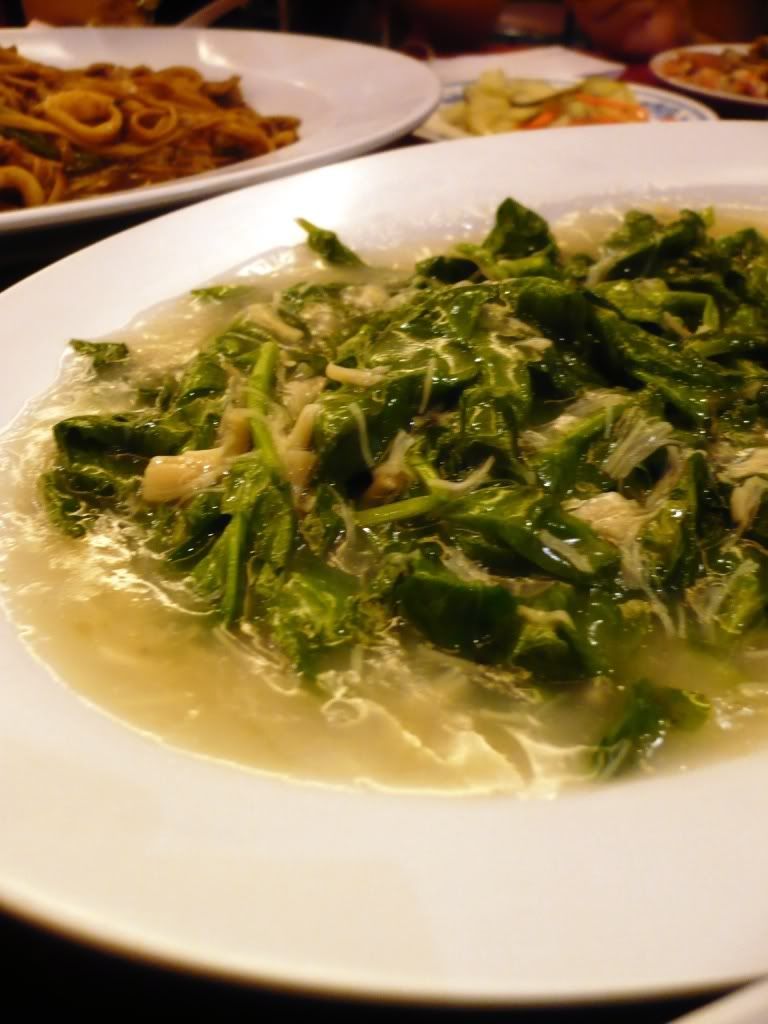 Fried Noodles Taiwanese Style
caught us off guard. Not only was it tasty and flavourful, it was spicy too. What a wonderful surprise.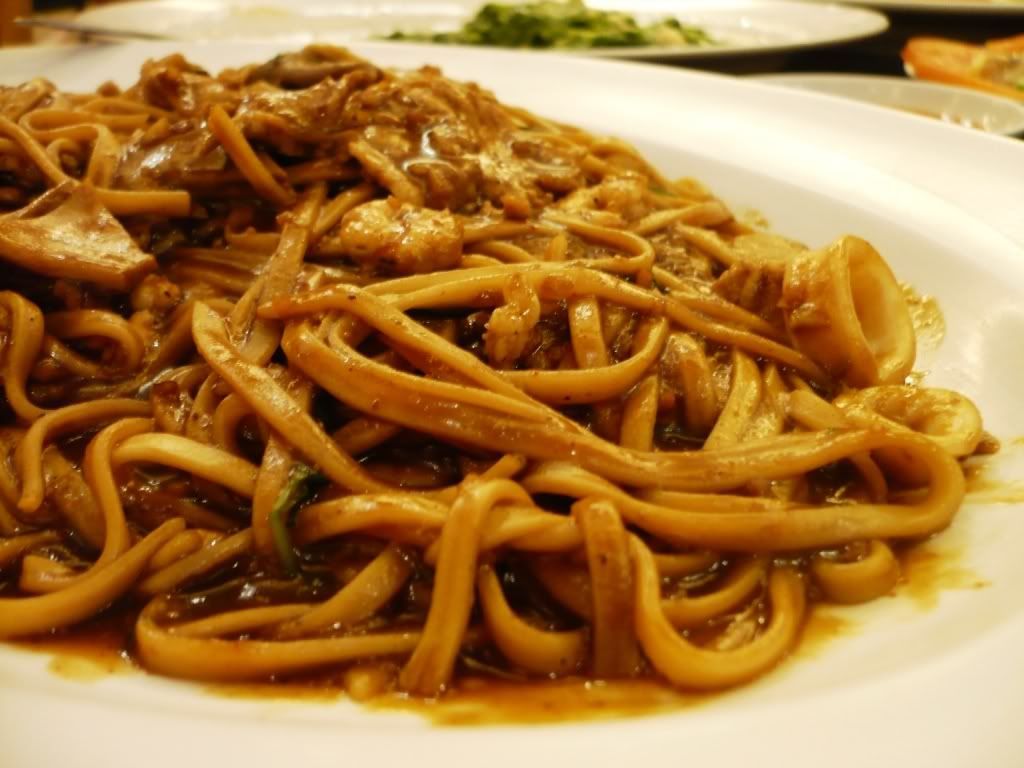 If you prefer something mellow, and delicate,
Braised Mee Sua
would be an ideal carb ending to your dinner.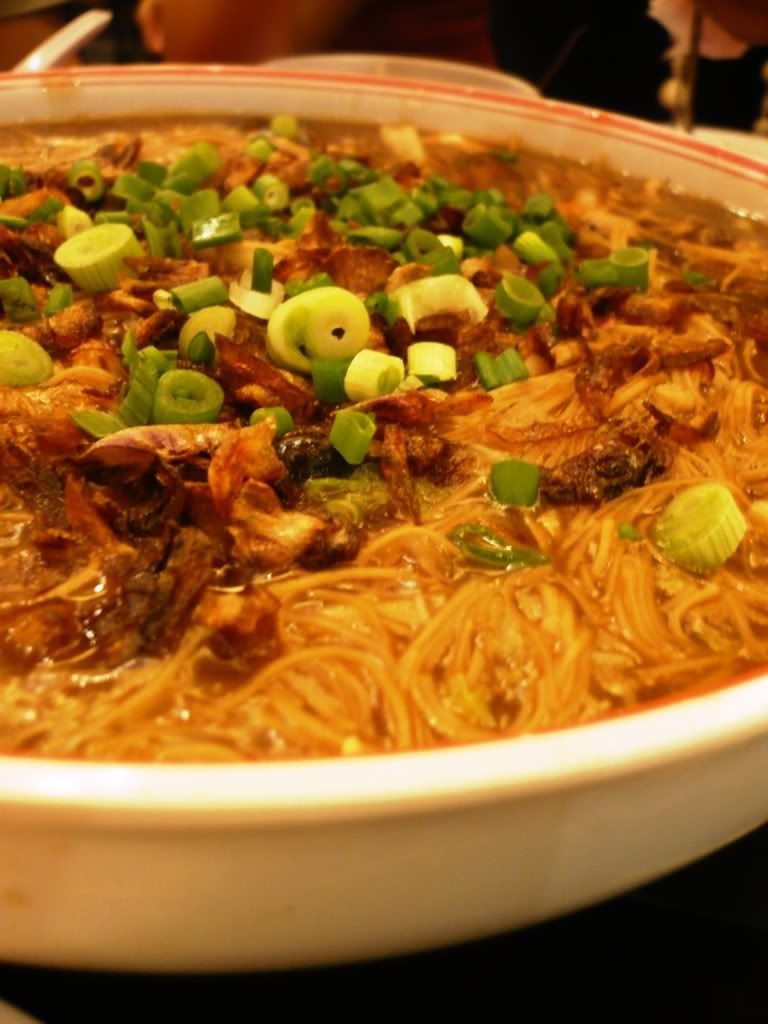 We ended our heavy meal with a portion of
Taiwanese Muachi
. I still love their freshly pounded peanut topping against the softness of glutinous rice muachi. It was not too sweet, soft and crunchy.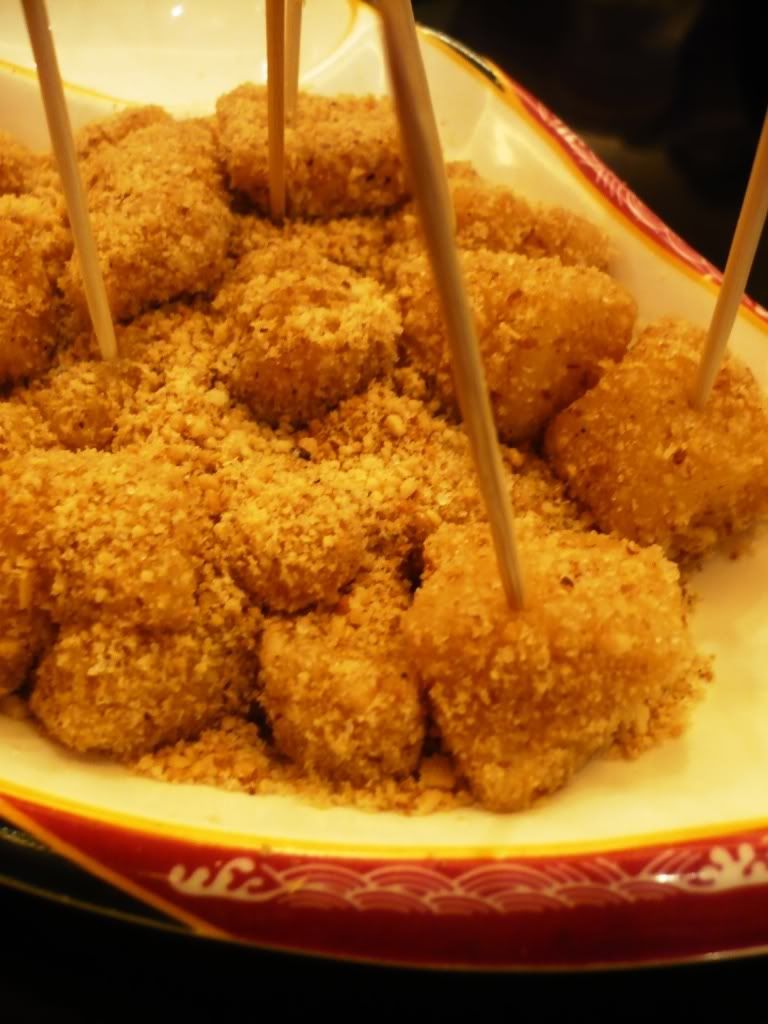 One of their inhouse specialty which I believe its hard to find here is,
Formosa Sweet Yam Special
. The making of it is an art itself, with the staff dipping the yam into a hot, caramel coated sause before dipping the whole piece in an ice bucket of water to harden the caramel. What you get is a wonderful concoction of hot, savoury yam on the inside and hard, sweet caramel crust on the outside. It is a must try.
This, however is a separate order from the set menu.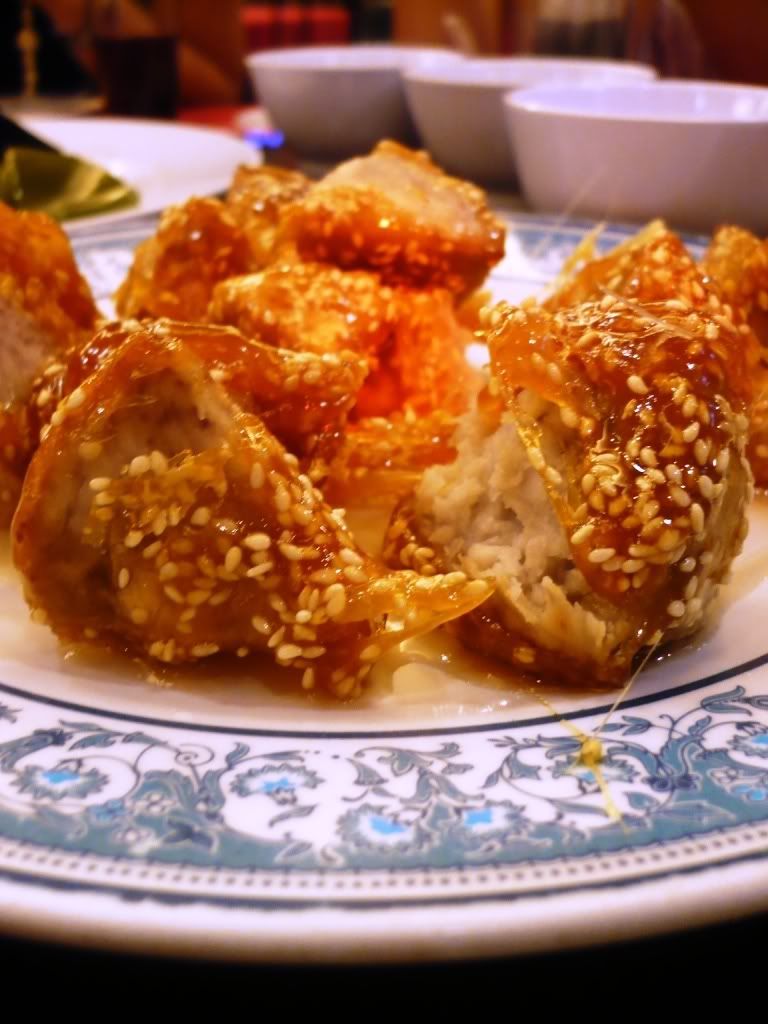 Last but not least, we had their fame and delectable puddings variety of
Herbal, Green Tea Aloe Vera, Custard Caramel, Mango & Yam
flavour. My favourite is still the Custard Caramel. Really delicious and creamy.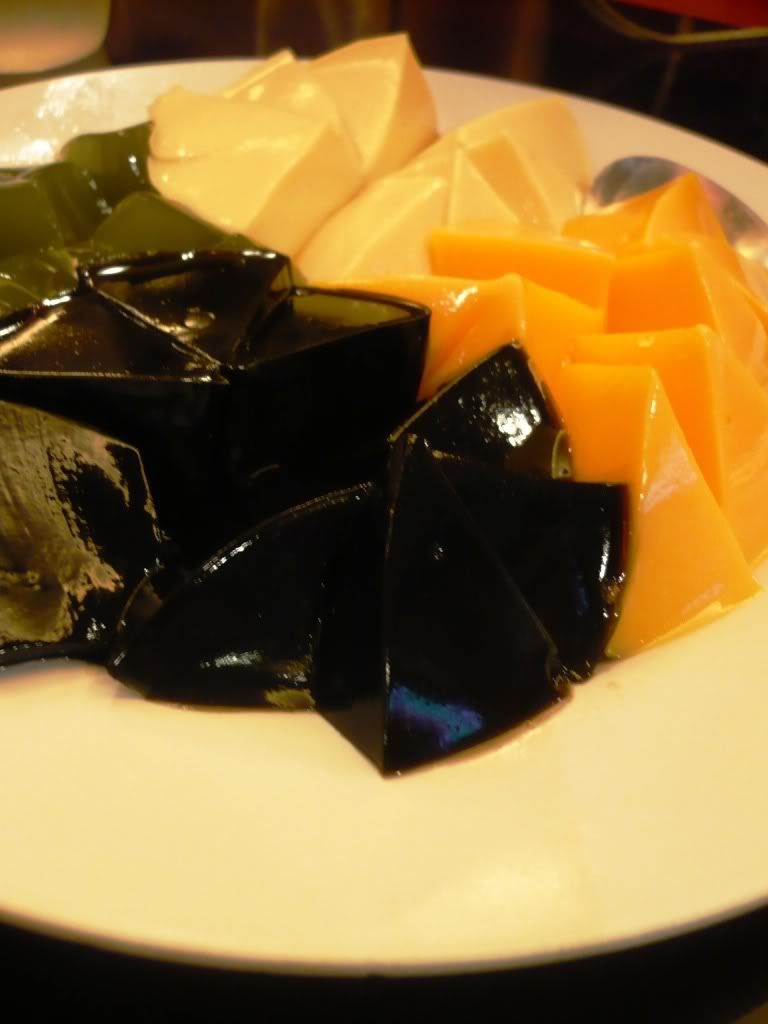 I bidded farewell to everyone and head home. My body was full and exhausted from the running around that day. It is a pity that I did not manage to catch up much with many food bloggers that night, but I know, we'll meet again soon.
Overall, I enjoyed my dinner tremendously. The food here had been consistent, but I must comment that it is not fully Taiwanese cuisine that we are experiencing today. It is Malaysian Chinese cuisine somehow, but what mattered most are the food quality to ursher us to a wondrous year ahead. With wonderful company, is it all that, that matters, isn't it?