In a few hours time, I will be on a coach journey to Singapore to meet Juergen, my boyfriend. Though it may take up to 5 hours journey due to the anticipated crawl for last minute balik kampung rush, I guess I should not be complaning at all as Bearmaid will have to bear a 5 hour transit in Frankfurt plus 13 hours or more flight time which he is currently enduring now.
It had been an eventful day, today. It started with me waking up as early as 6.30am to bake a cake. Well ... apart from the reason that my niece absolutely adore my pound cake and me being sentimental, wanting to leave something behind for everyone to remember me back here, while I'm holidaying elsewhere, I'm also baking it for reason that Lillian, my childhood friend since standard one - is visiting. She is back from France, and had brought her two angels along. Correction. One angel and one monkey :-)
Before their arrival, I manage to take some photo of my niece behind the jars of chinese new year cookies and peonies flower in my living room.
My niece Ashleen looking a bit frail here. She had lost a lot of weight as she had been unwell on-off for almost a month. I hope she get well soon my beloved niece. Auntie Lianne will miss you very much while she is away.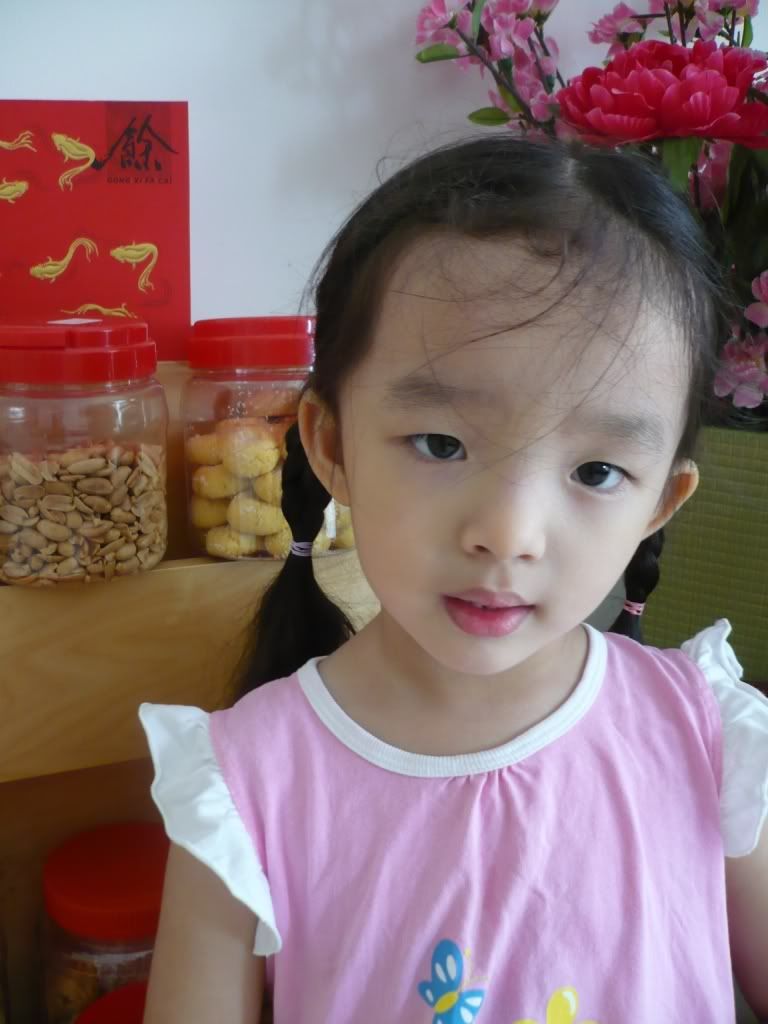 Lillian, Kiri and Aiden arrived shortly, while their daddy were in Geneva, working hard (Andrew, if you are reading this, do remember to go have a niceeee break around April *hint hint*). Like for example, go and have a niceee meal and make sure you have some nice company with you *bigggggg grin*
Seen here ... Kiri posing for the camera. She's such a pretty girl, isn't she?
This is the monkey (Aiden), crawling away after spotting my camera trying to take his pics.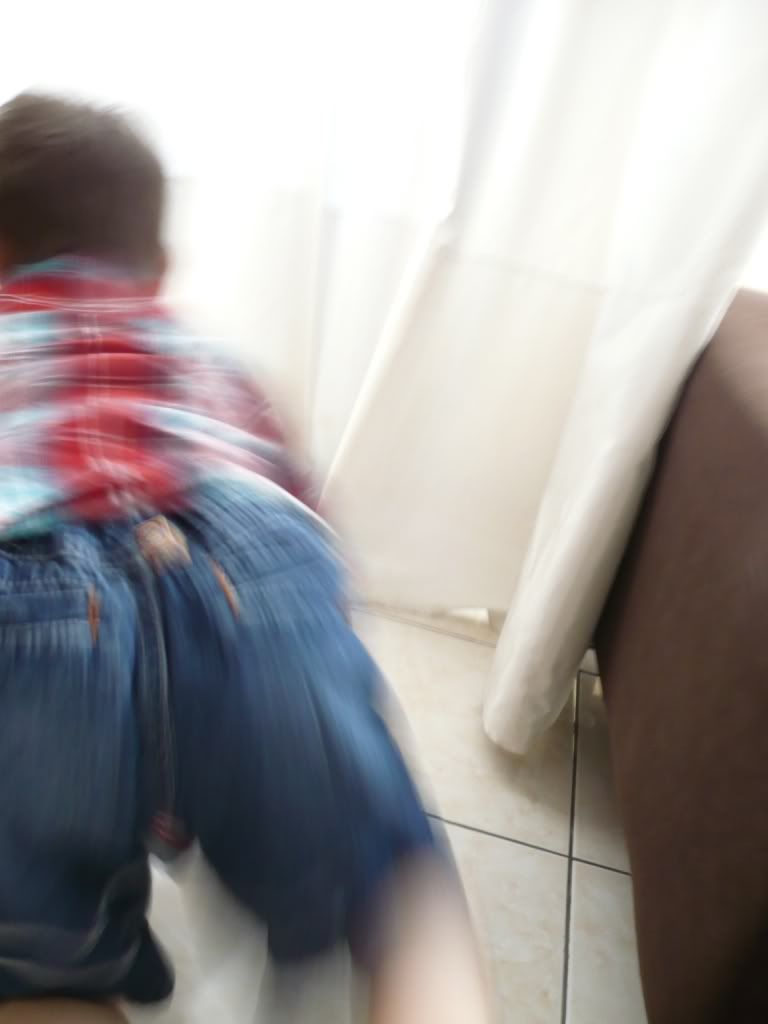 Soon after, it was lunch time. They were all hungry hence I made lunch. But before getting to that, I had made it a point to ask Kiri and Aiden what they want to eat. Then Lillian taught me something. Never ask kids an open ended question. Just give them two choices to choose from hence, I plucked out from the sky ... Pasta or Rice, and they replied flat ... PASTA.
OKAY ... hopefully I've got some pasta in my pantry *praying hard* Why did I say pasta at the first place? Beats me.
Lucky me ... as always, I found a packet lying around, and its still not pass expiry date YET.
You know, before this ... I never knew that I can cook under pressure. I mean I do cook but I made these pasta dish in less than 10 minutes flat from thawing the seafood to boiling the pasta, to making the sauce. From A to Z. Seriously ...
I felt like Jamie Oliver has invaded my soul
.
I'm impressed with myself! *big grin*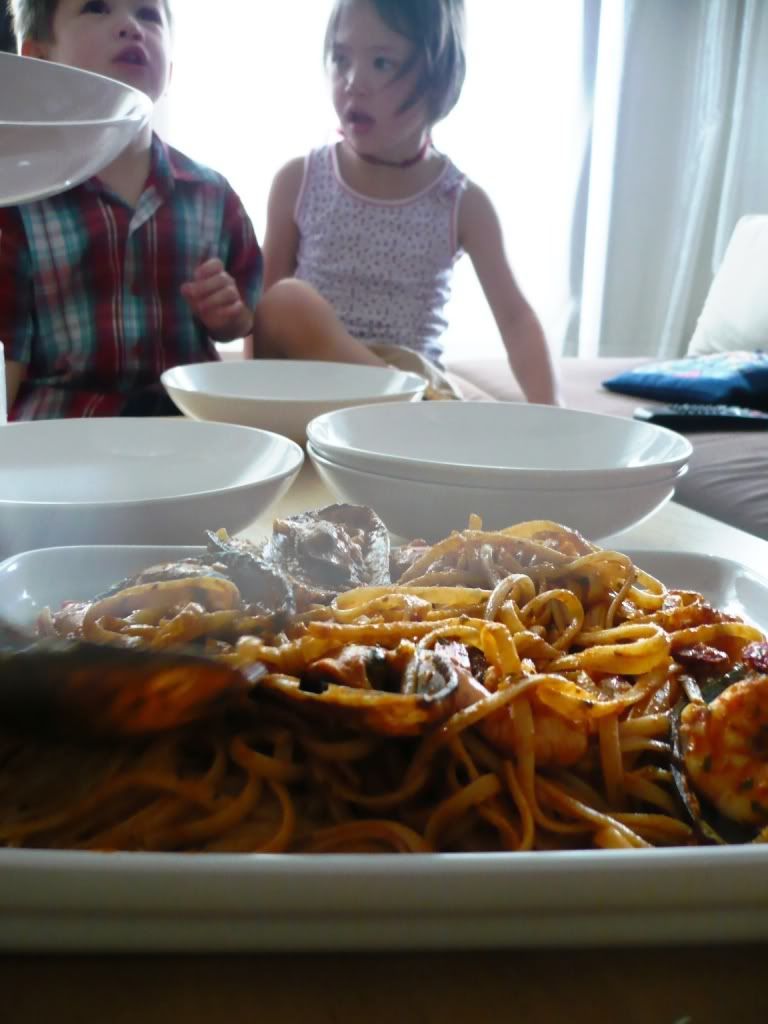 Close up ...
Tomato Basil Sauce Pasta with Mussels and Large Prawns.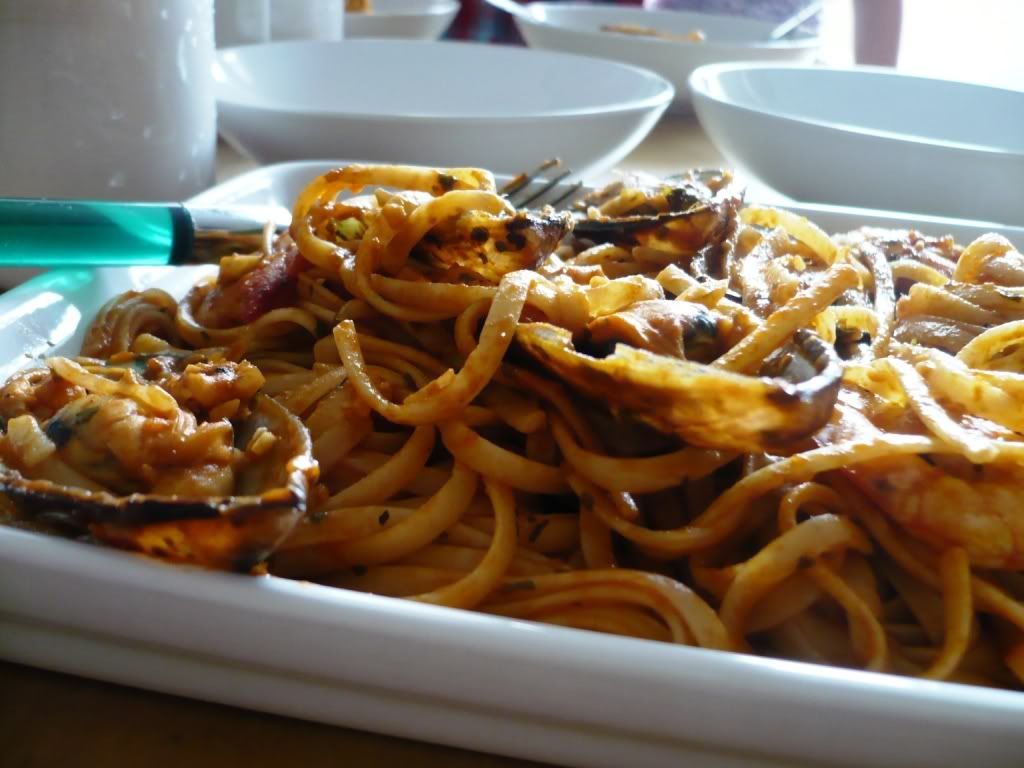 Cooking under pressure result ... top view.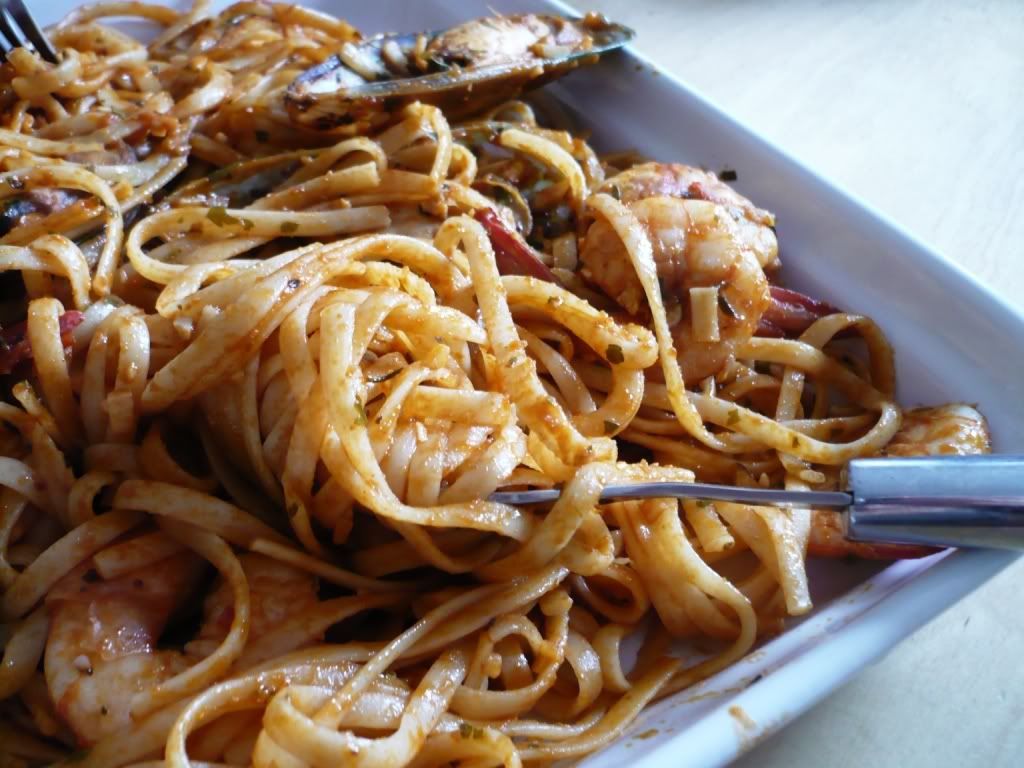 But you know ... some pressure are so worth it. They enjoyed my cooking *big grin*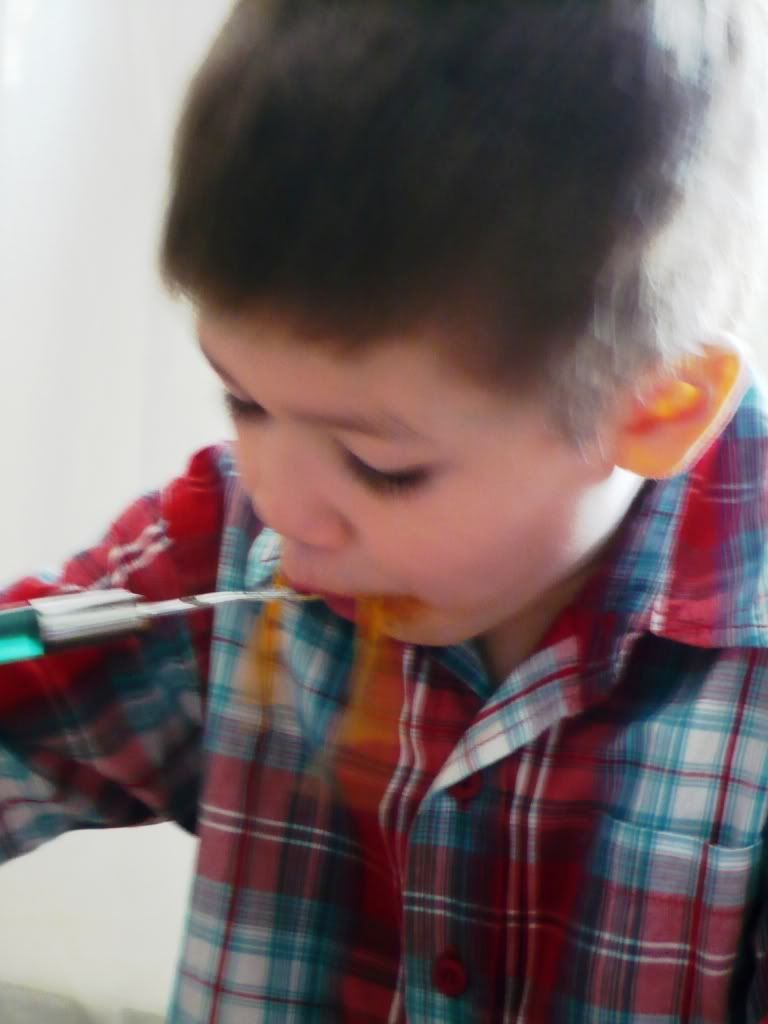 He was really, really, reallyyyyy enjoying his pasta ... and had totally forgotten that I was snapping pictures of him this time. No more crawling awayyyyy ... GOTCHA!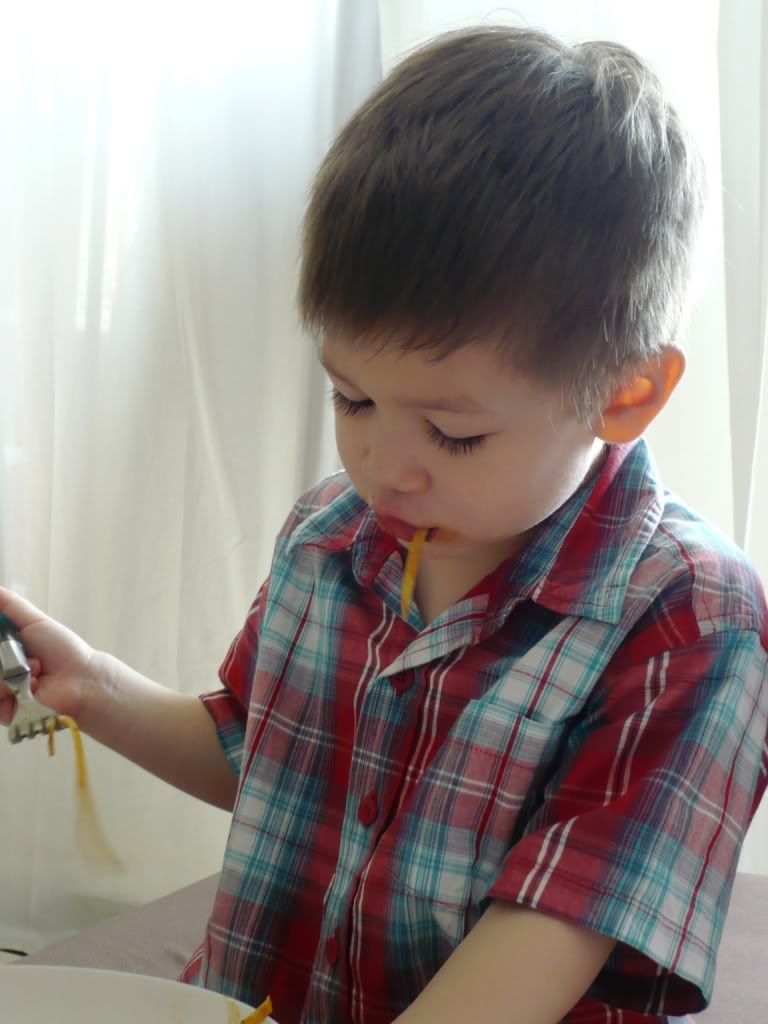 Remember the cake I baked at 6.30am? Here it is ...
Lemon Pound Cake
.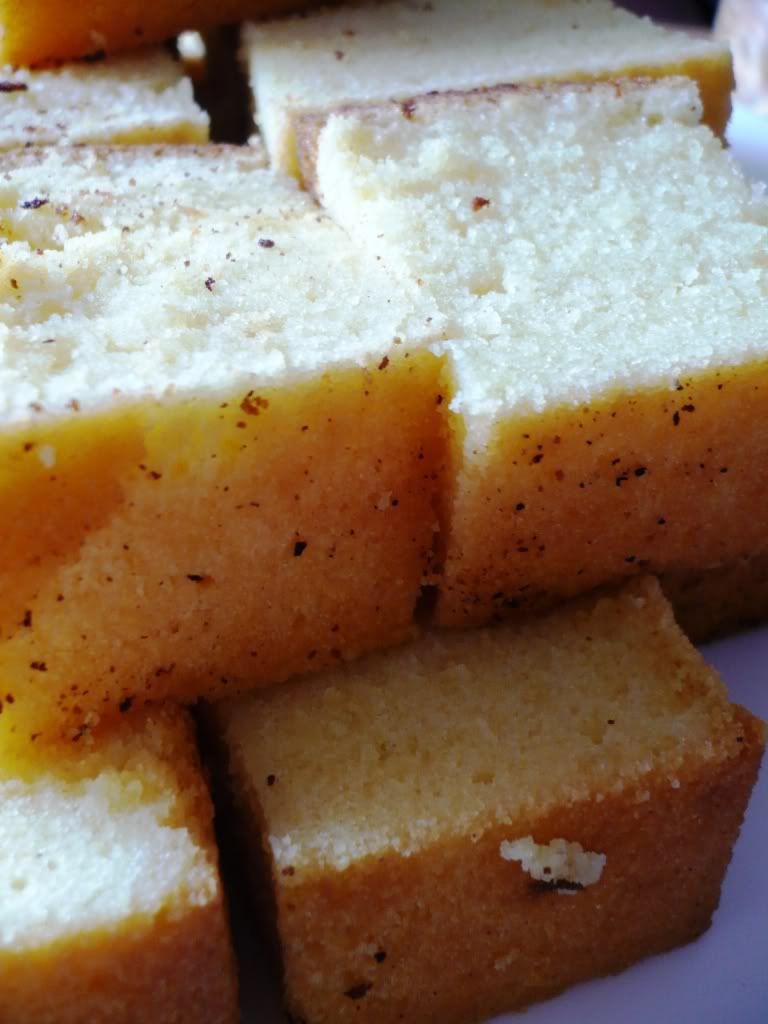 Munching on
Pineapple Tart
... yummmmm! Store bought lahhhh ...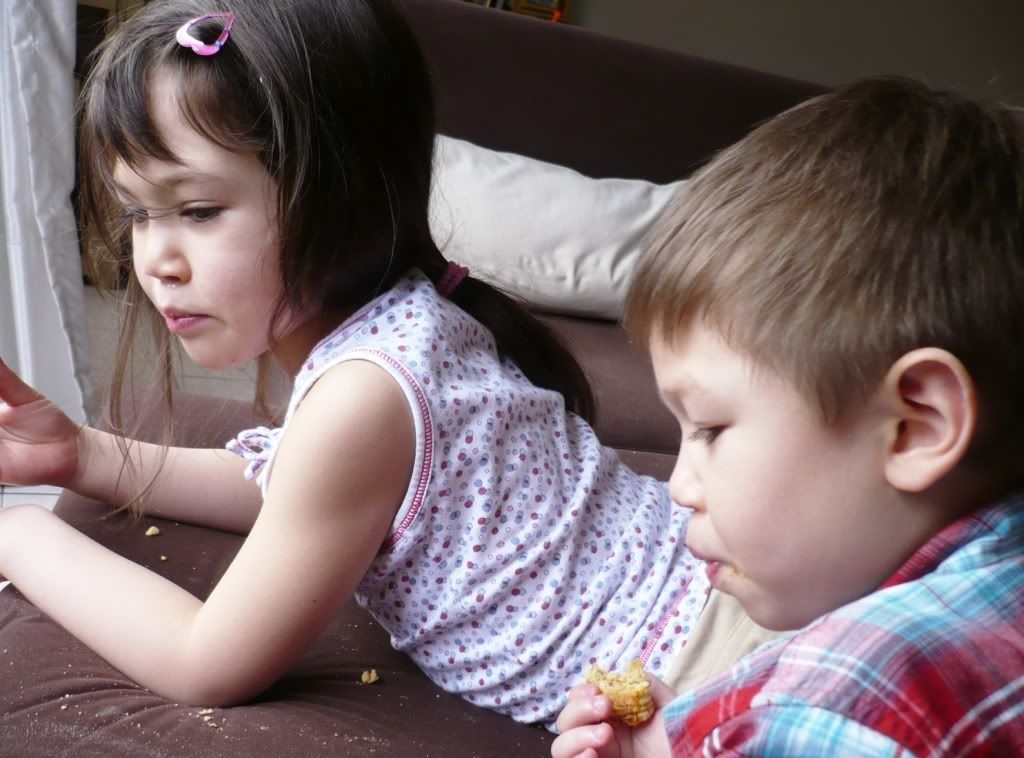 After lunch, we made our way to their grandmas place. Seen here ... Kiri's trademark look, just one of them and she absolutely adoreees taking photos. Kids nowadays ... *big grin*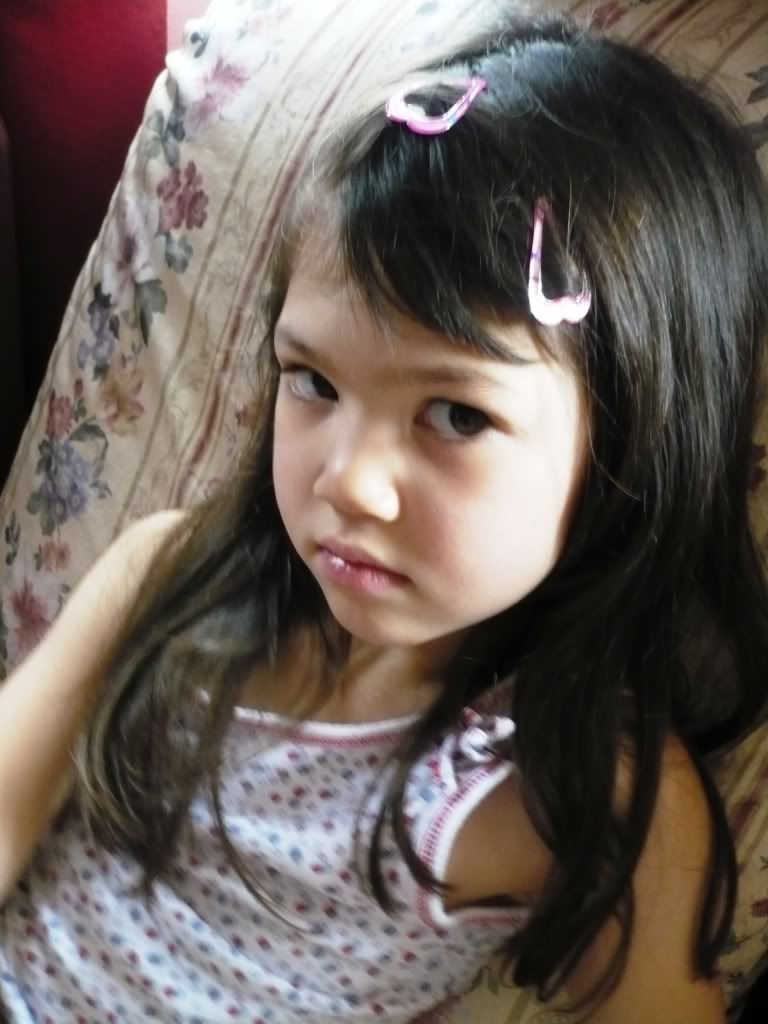 After a quick chat, I made my way home quickly to "send" Bearmaid off to the airport. Afterwhich, I joined some fellow bloggers for a makan makan session whereby, I'd wanted to originally blogged them up before I depart for my trip but .. its 1.30am now, I'm super duper sleepy hence ... please let me go okay? Hehehe ...
I promise to bring you some interesting pictures from Singapore *wink*
Here ... I would like to take this opportunity to wish you all
Gong Xi Fa Cai
!