Chap Goh Meh or otherwise known as Chinese Valentine's Day were celebrated with a delicious feast in Damansara Palace, in Kota Damansara last night with close friends. Though just a stone throw from my condo, there's no harm dressing to the occasion where I adorned myself with a loose fit dress, while accessorising my dress with my heart shaped Swarovski, a gift from m J a few weeks ago.
Ring, ring ...
Lianne, where are you? Honey asked.
Errr ... while looking at the clock at my living room. Quarter past eight.
I'm on the way lah. Walking (I'm such a big liar) *grin*
Okay, okay. I will wait for you at the entrance yeah.
Will do, see you shortly!
It had been a while since the girls caught up with each other.
The first course were Prosperity Yee Sang, but we'd requested for the captain to serve them last while Shirley made her rounds around the shop area. Missed a turn, she apologized. But everything turned out fine as the moment she walked in with her hubby, the dishes arrived.
Talk about good timing!
Braised Sharksfin Soup with Crabmeat
. I'm afraid they are real sharksfin. It was good, with pretty substiantial amount of sharksfin it in. A bit of vinegar gave it a nice, sourish taste. Shirley declined. She and hubby
em sek chou one (DOES NOT get jealous).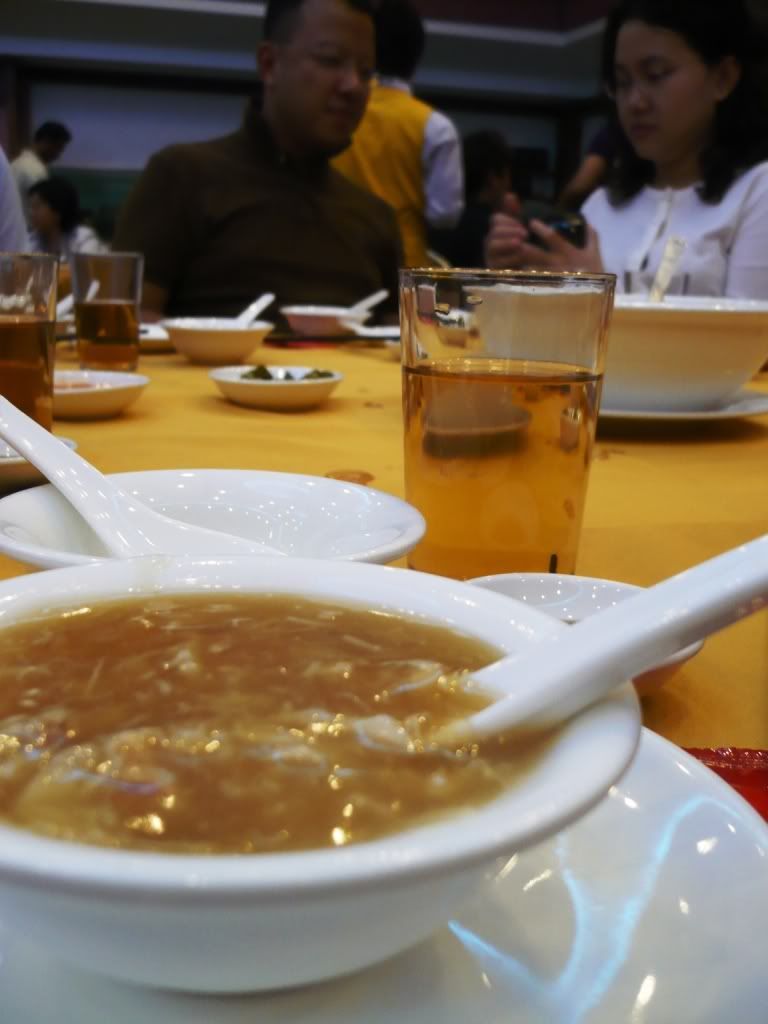 Mr. Low Profile Blogger (guess who!), were seated directly opposite me.
New Toy?
He is seen here taking a pic of
Wealthiness Braised Pig's Trotter with Black Moss
. No words could describe how delicious this is. Was it just me that I'm missing chinese food, or is this really that good?
The braised trotter were soft, flavourful and meaty. I loved the fatty bits, the skin, the black moss, the sauce and everything else edible. Yum!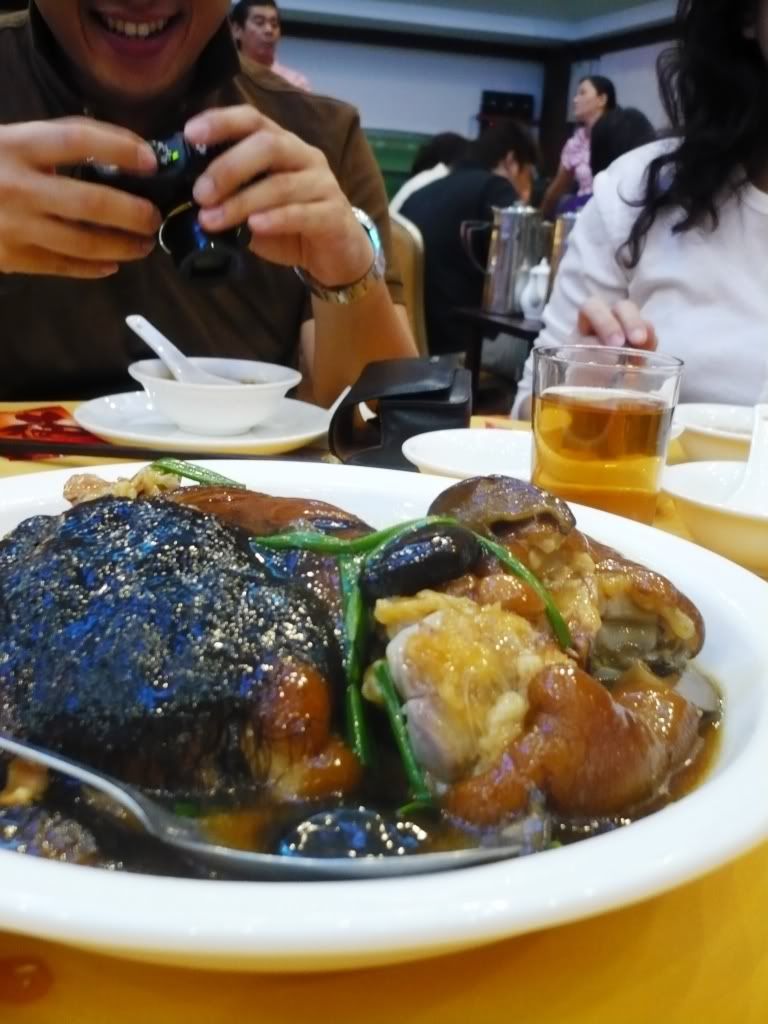 I can't help cringing upon hearing the name of the next dish -
Luckiness Braised Dried Oysters with Fatt Choy
. It was placed closest to me hence I was lucky to be the first to try. The sauce where the dried oyster, cabbages and fatt choy were soaked in, were delish on its own. Everything else were cooked to till its soft and all flavours were absorbed into each other.
One of the best vegetable dishes I've tried in the longest time.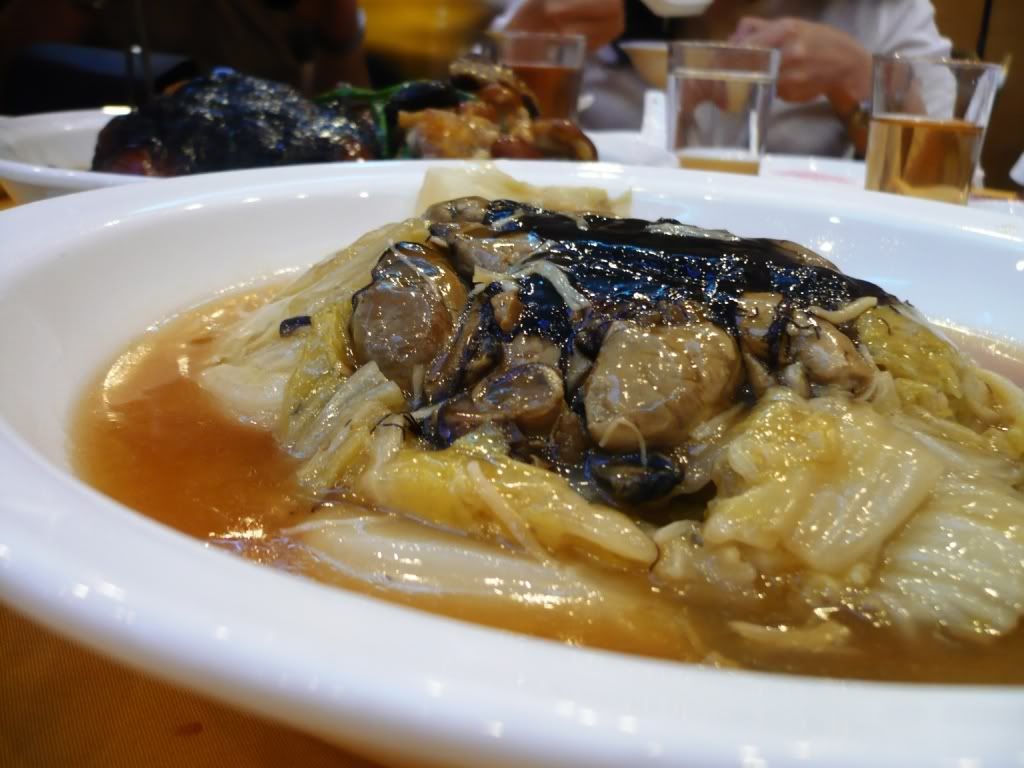 Fish is one of my favourite fish. It need not be complicatedly made, but just steamed them with premium soya sauce to reveal its tender, fresh, juicy flesh. Their version of
Steamed Mandarin Fish in Soya Sauce
got the thumbs up for taste and freshness, but were a bit overcooked.
Am not sure if we have left it on the table far too long for photo taking?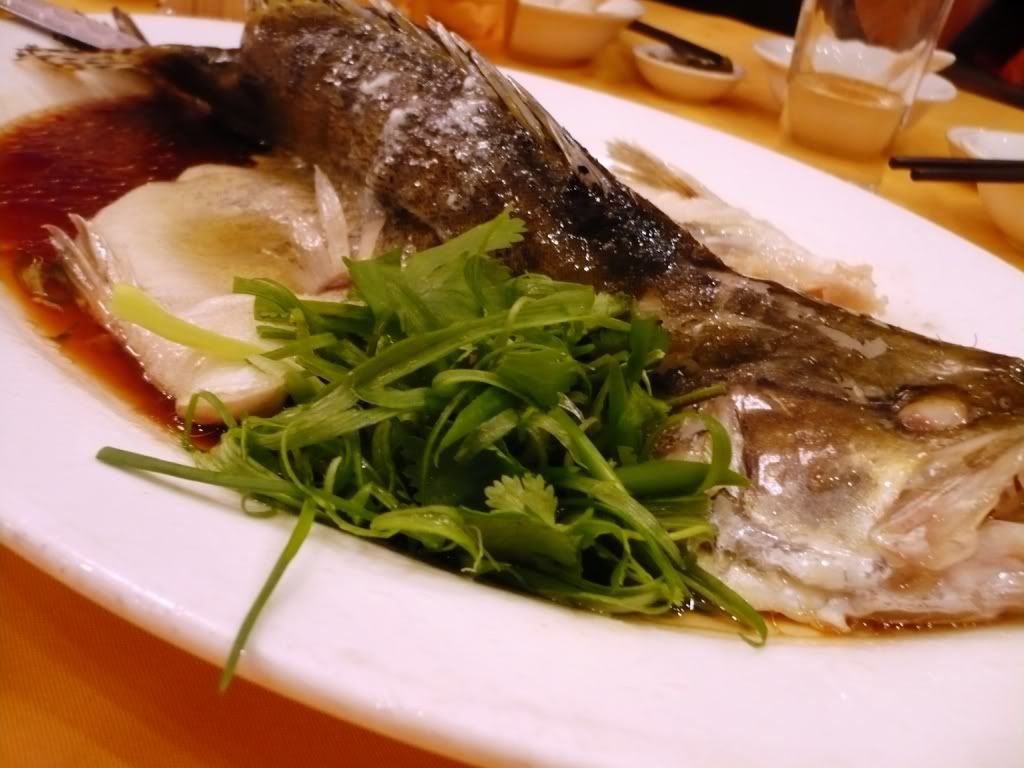 In Chinese custom, prawn and fish are customary to signify longevity and happiness. Everyone had a piece or more (especially the low key blogger, whom was eyeing it for sometime), the
Portugese Style Pan Fried Prawns
exudes sticky caramel texture with deep, salty flavour.
The prawns were fresh, and sized perfectly for the feast.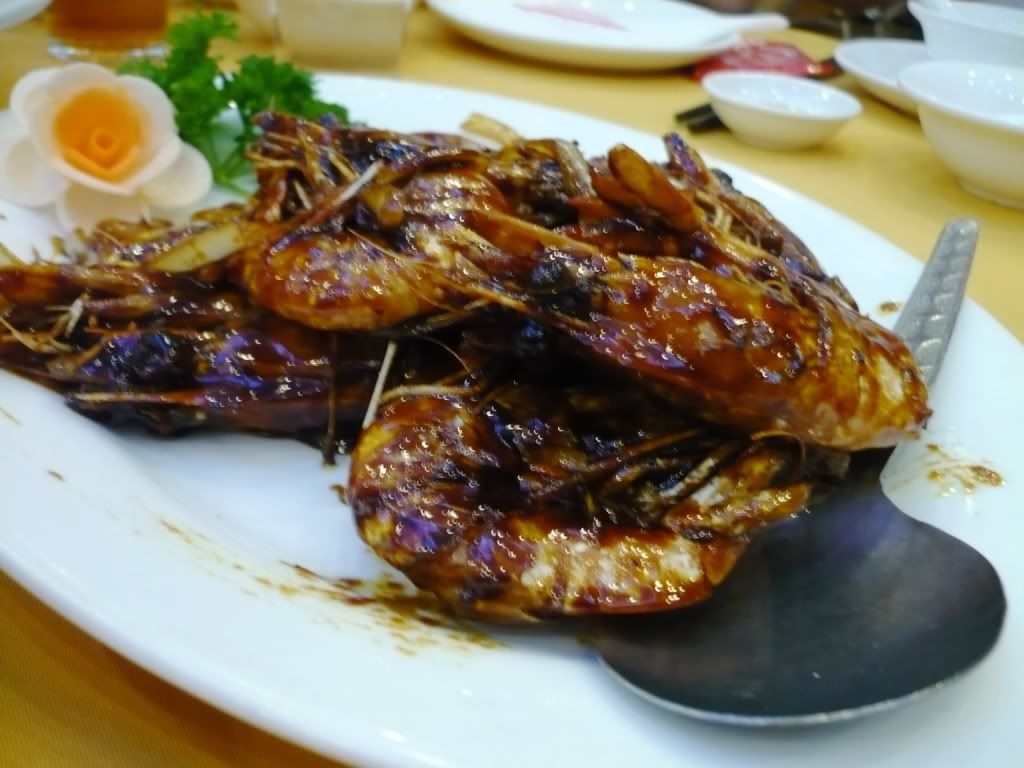 I will so going to learn how to make this
Waxed Meat Rice
. Love at first sight? Oh yes. You have been tasty, flavourful and surprising. Yes, you ... the dark one there.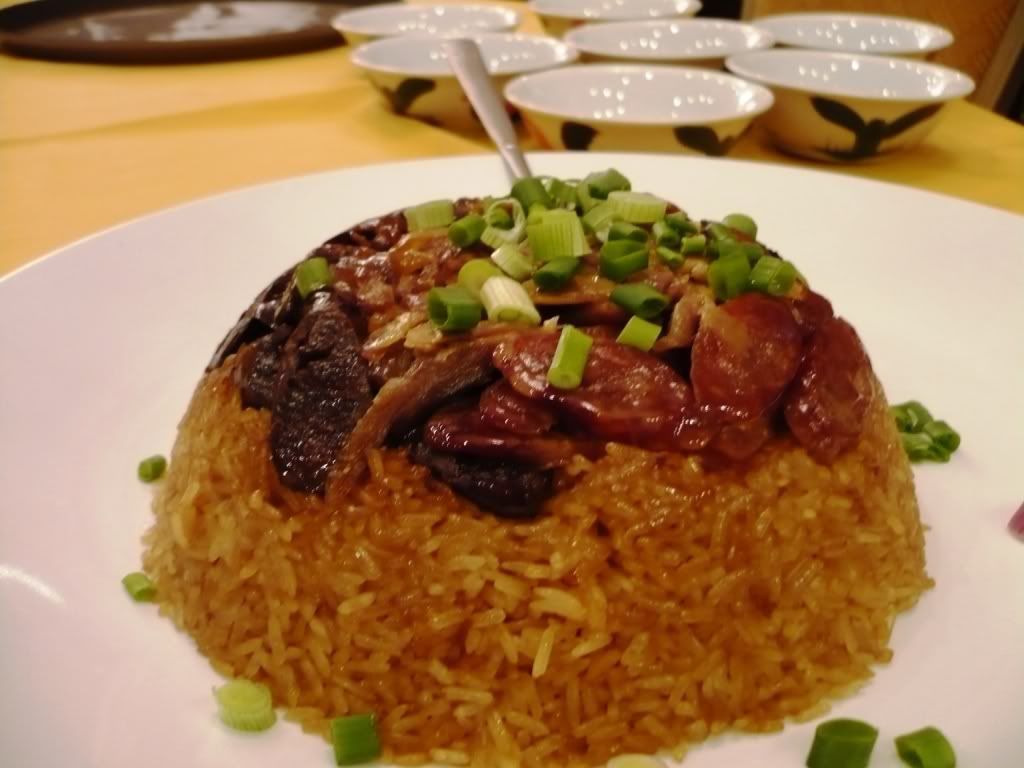 My portion which I finished in seconds. I love the simple chewy, and salty glutinous rice texture.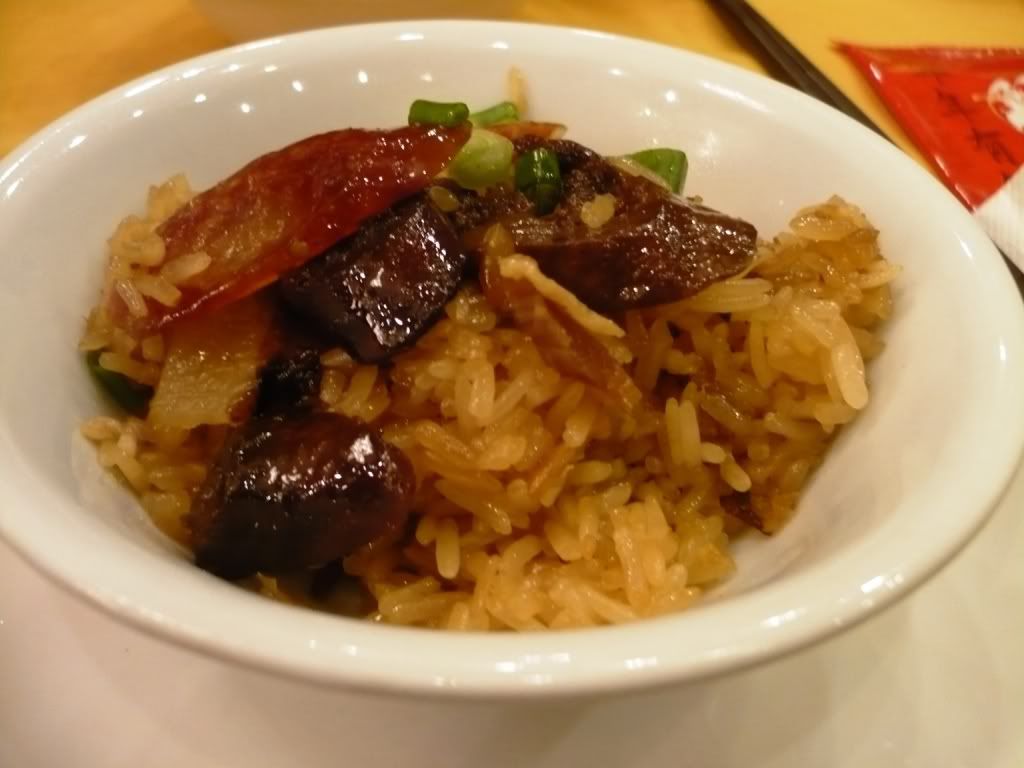 Everyone of us grabbed a
Joy of Luck Lotus Paste Dumplings
. This was to me, the dissapointment of the night. My first impression were, it's like those sold in the store. Taste wise were good, but it lacked the extra factor for a restaurant quality.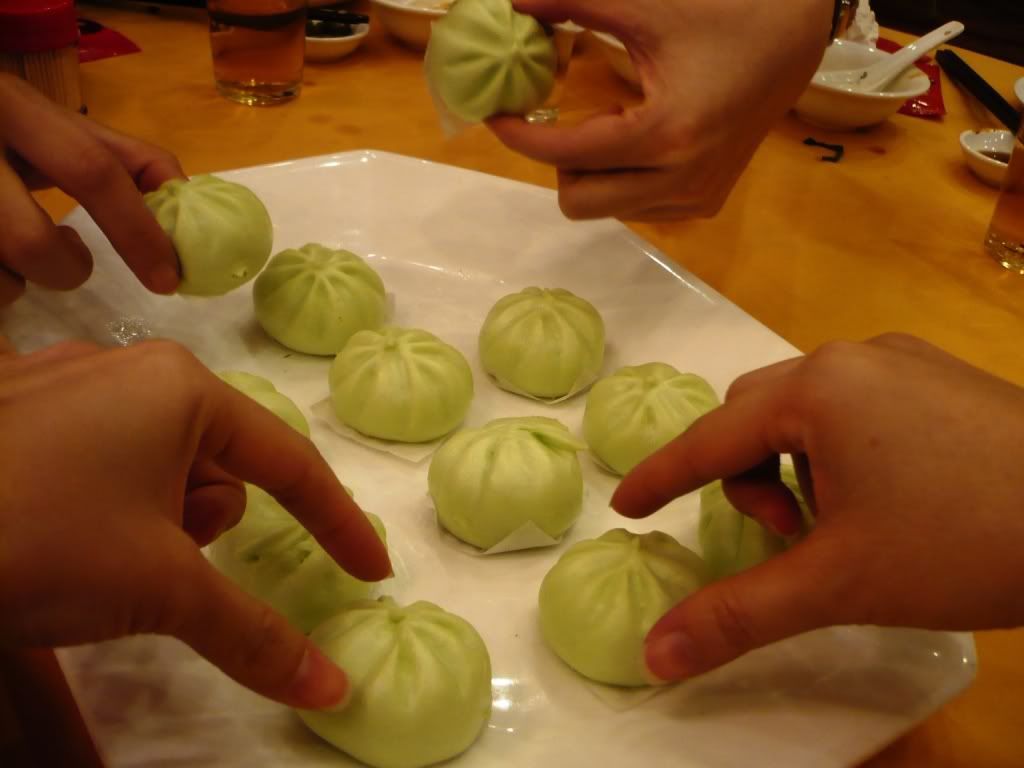 We ended our meal by washing it down with with a refreshing end of
Ice Cold Sea Coconut With Lemon Juice.
Not too sweet, with a lingering lemon flavour, Mr. Low Profile Blogger thought otherwise of the lemony flavour as he struck a hard note with the lemon bits itself on this first bite.
We were much luckier.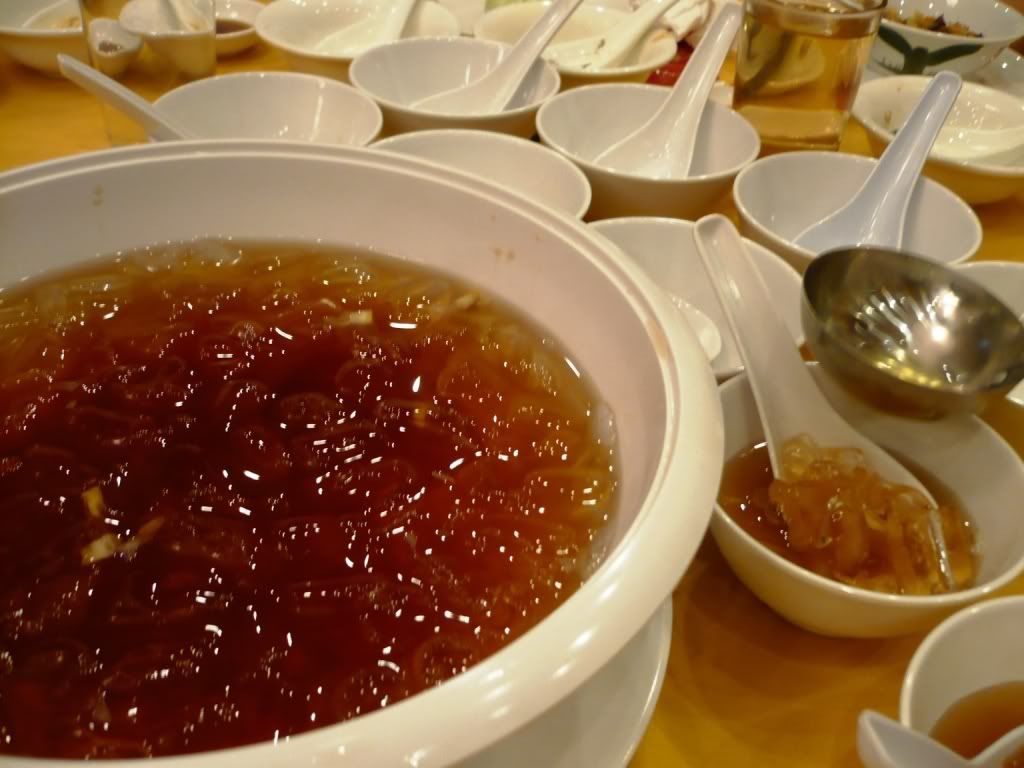 Well, almost the end. A must dish of
Prosperity Yee Sang
, the last for year.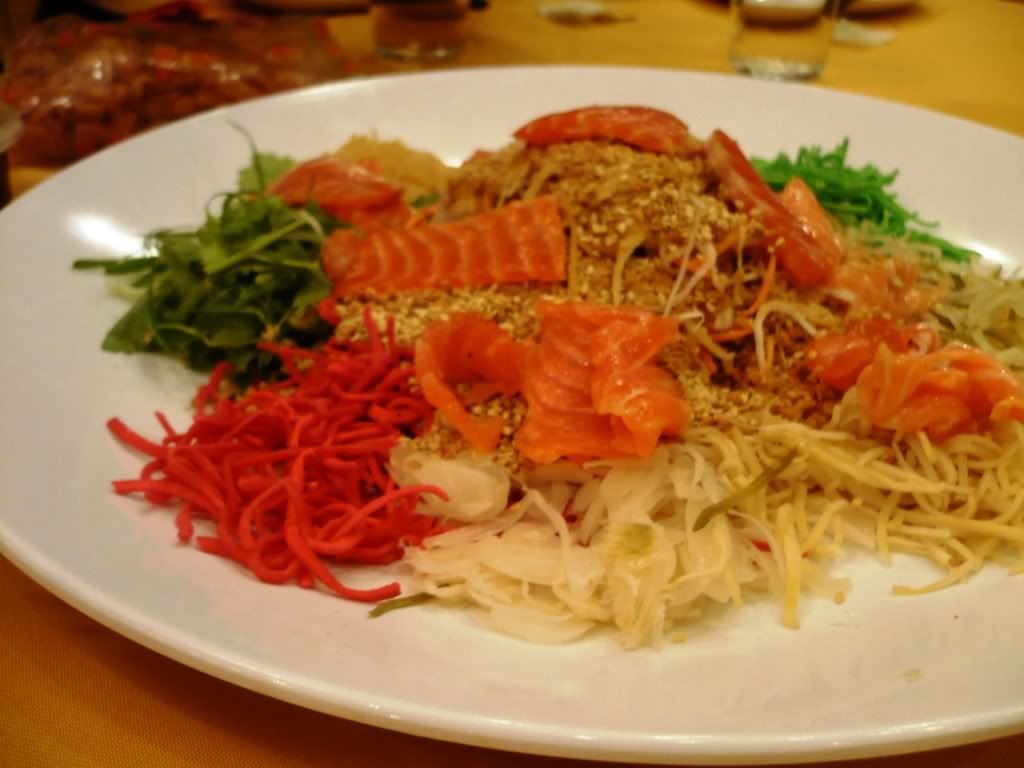 Let's tossed the year of the Rat with a year full of wealth, happiness and love.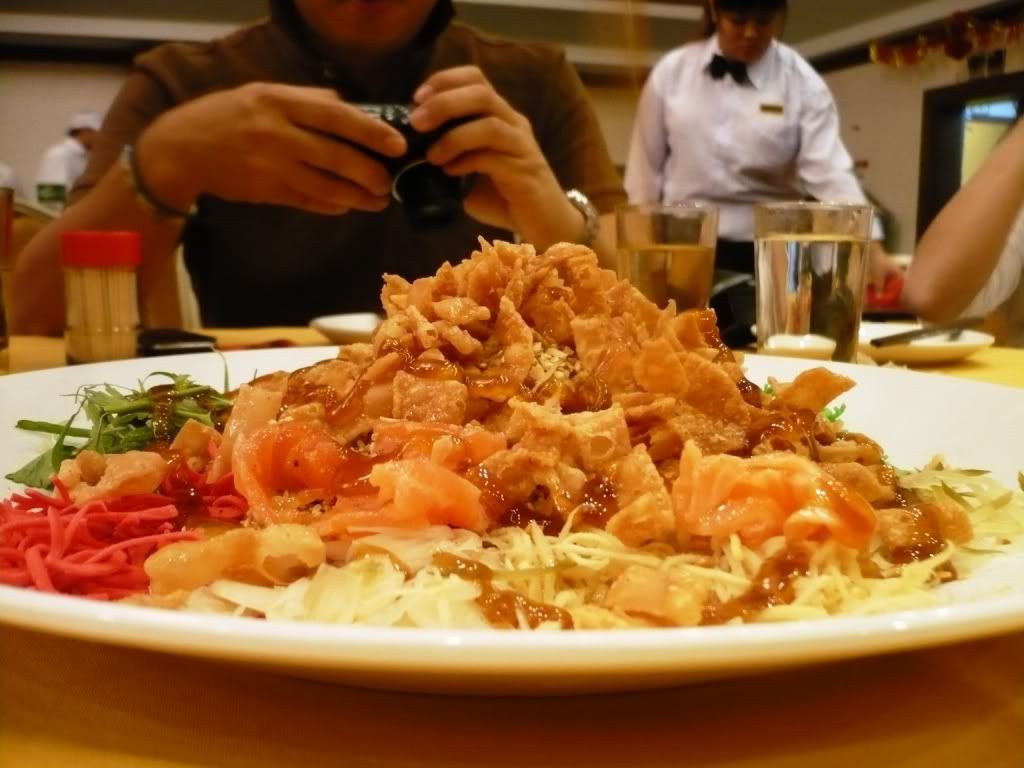 Their Yee Sang is one ofthe best I've tasted. Don't believe me, try it next year!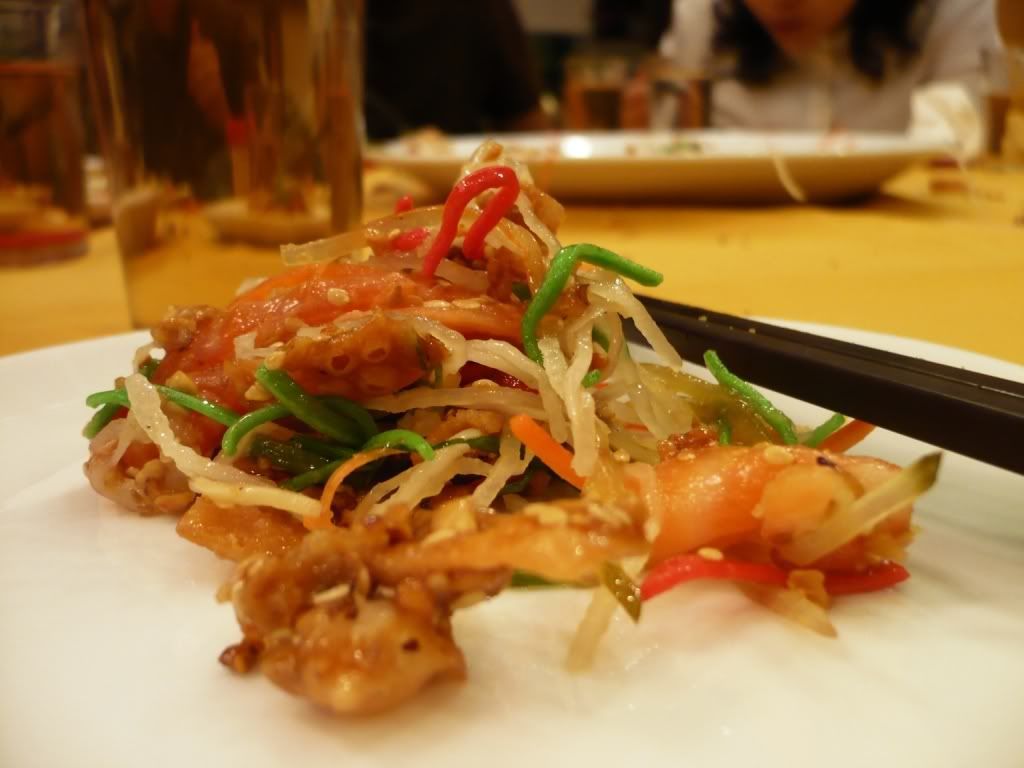 Before bidding goodnight to the girls, and a few invited friends, a custom we practise. Group photo lah.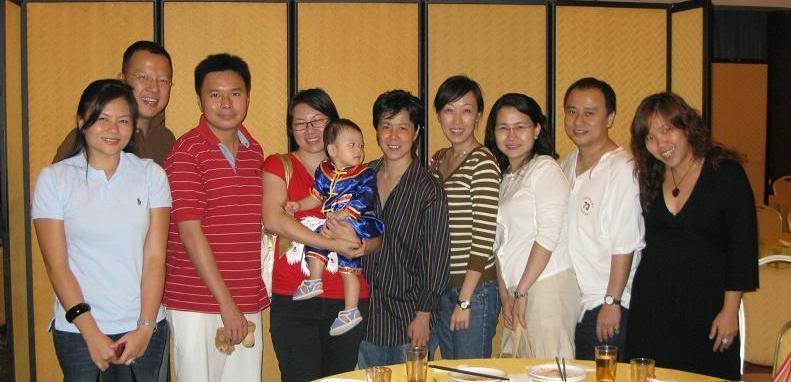 While they were still waiting for the car's to be delivered to them via Jockey, I was already at home in my PJ's settling my stomach down in front of the telly.
The feast had been great, and with a price of oRM438++ only for the set, we went home with good memories for a night, well spent.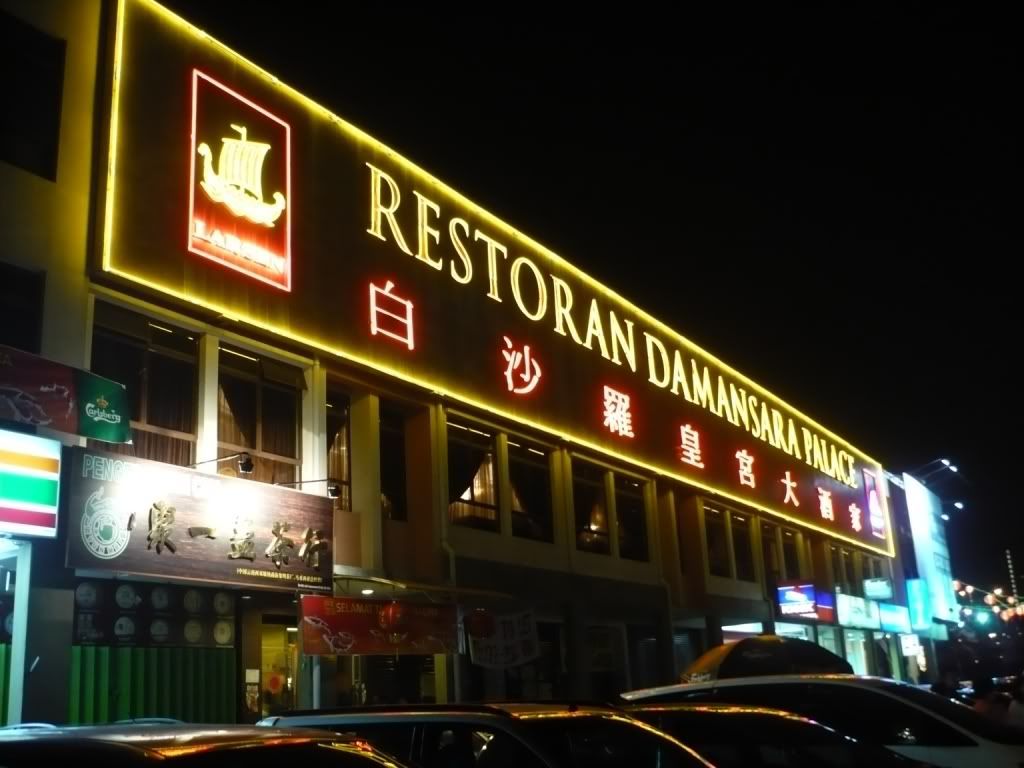 But wait ... have you guest who the Low Profile Blogger is? None other than Julian Si lah. Visit him
here
for his version of the review.
Have a wonderful Rat year everyone!