It is inevitable that when food bloggers get together for a potluck, good food are guaranteed.
Saturday, 23rd February 2008. A date set by Big Boys a few weeks ago for a get together at their place Opal, Damansara. Opal was after all, right next to where I live so I quickly responded to Sid.
Sure! Count me in!!! I replied after checking my mobile for any other appointments on the date and time. Just incase I have anything up on that day, just in case.
I tested what I wanted to bring that morning, to make sure the taste is acceptable. Then, come 8pm, I made my way to Opal by foot. It is about time that I walk more, with all the festive eating and all as I can feel my thunder thighs rubbing against each other whenever I walk lately. Unlike a month back, it was such a brisk.
I also reminded myself to pace myself and eat in small quantity too. But I failed miserably.
How could I have passed? Look at all the glorious, glorious food!
Starting with appetisers ...
Originally mistaken for a pancake stack with apple filling, it was quickly corrected by the multi-talented and adventurous blogger aka
Teckie
, may I introduce you ... hmm, a
Pasta embedded Omelette Stack with Caramalised Pork
. The caramalised pork had a wonderful, deep marinated flavour which were slightly sweet to the bite. The pasta was a good companion and complimented the caramalised pork really well.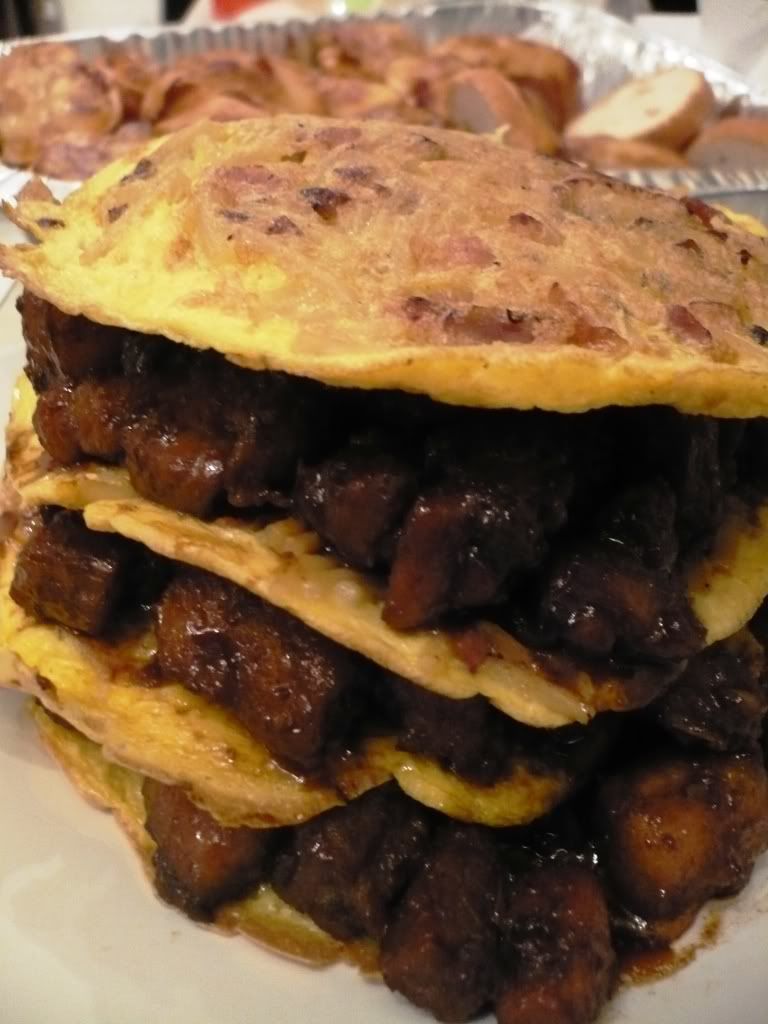 The ItchyBitchy, ItchyBitch or Imbi is Itchy ... (should I change my blog name?), prepared the base ingredient and Teckie came in to help with the assembling.
Itchy Bitchy calls them
Canape of Mango & Sardine
.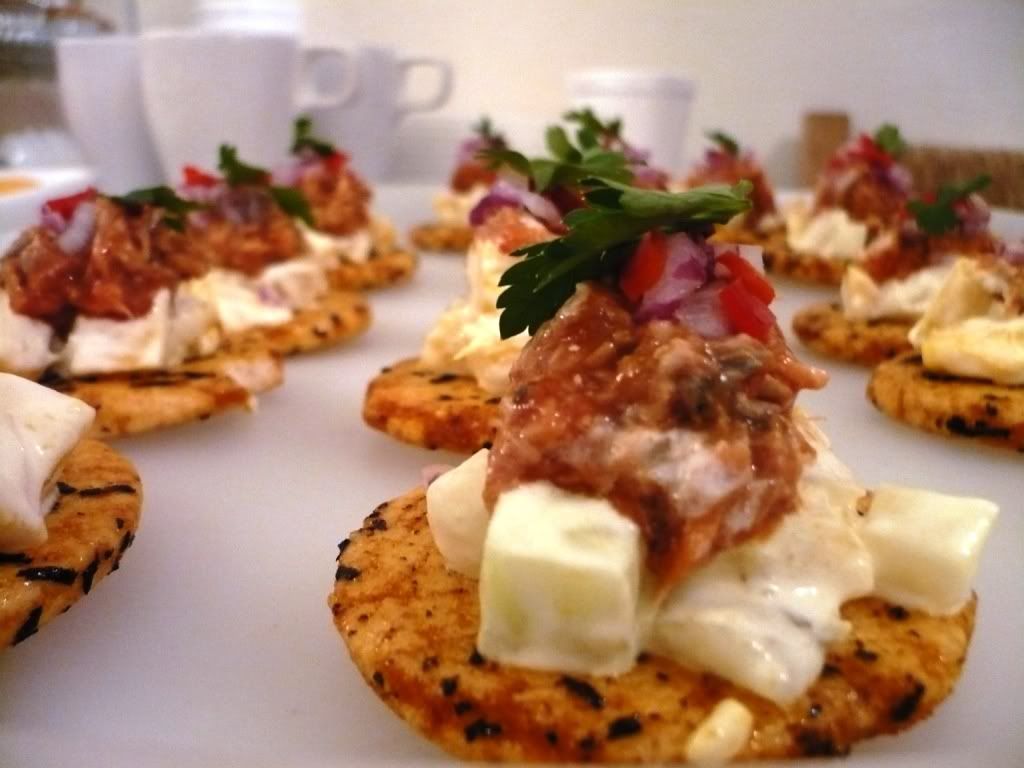 Our talented Edison impersonator, Nic (don't believe me ah, I have pictures to prove) brought a tray of
Bruscheta with a combination of Tuna, Bacon and Cheese Topping
.
Something easy should do, you know lah ... our Edison is a busy man *wink*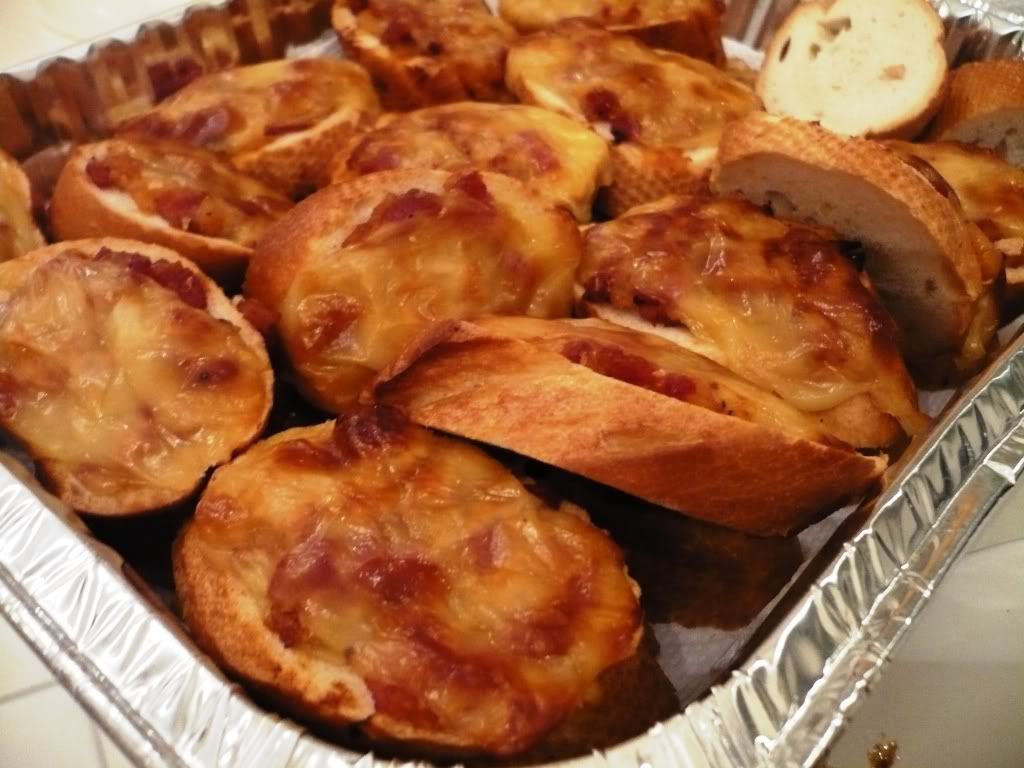 Sharing is their motto. But not only that, it came warm too. Our delectable,
Spicy Popiah
bursting with ingredients of minced dried shrimp sambal, fresh prawns and crabstick from Christine and Chris.
Odd? I mean the ingredient combo lah ...
Yes, but tasted fantastic!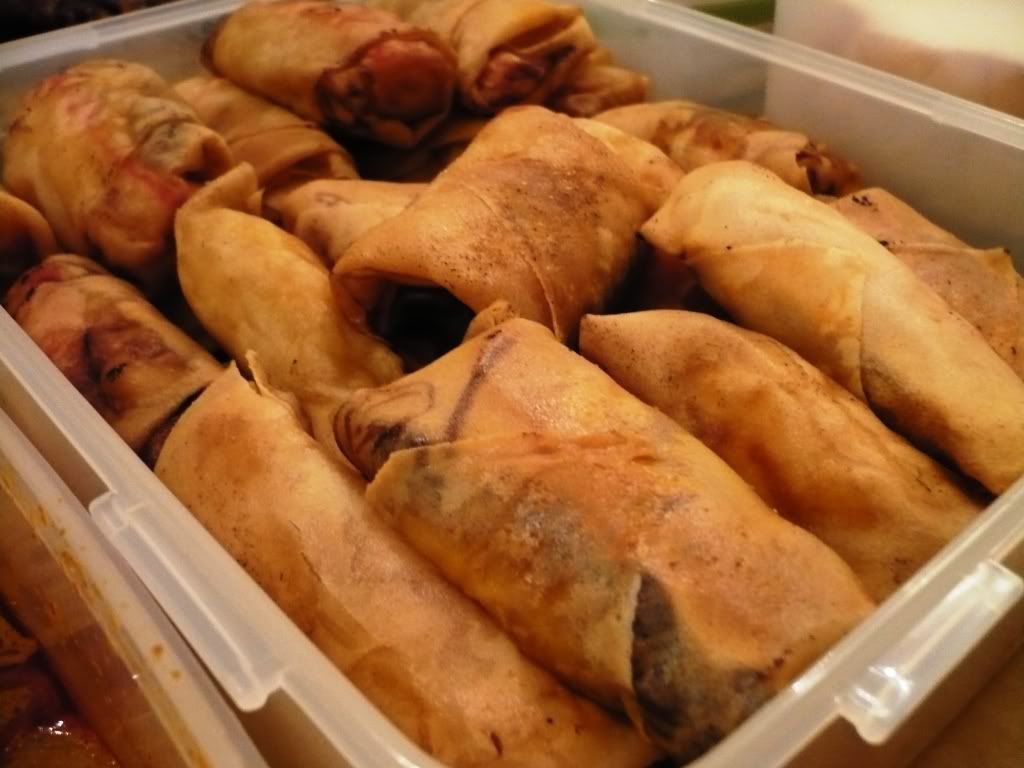 With such good food around, protection is needed so as, no one gate crashes us and cart our beloved food away. We came prepared as Ekeng/Hong Kong Chai aka Member-of-Midnight12-clan paid tribute to our existence by contributing a wonderful Aman Suria style
Roasted Pork Knuckle
.
I have no idea which restaurant he estorted them from, but was well marinated, and succulent.
Tai Kor, job well done!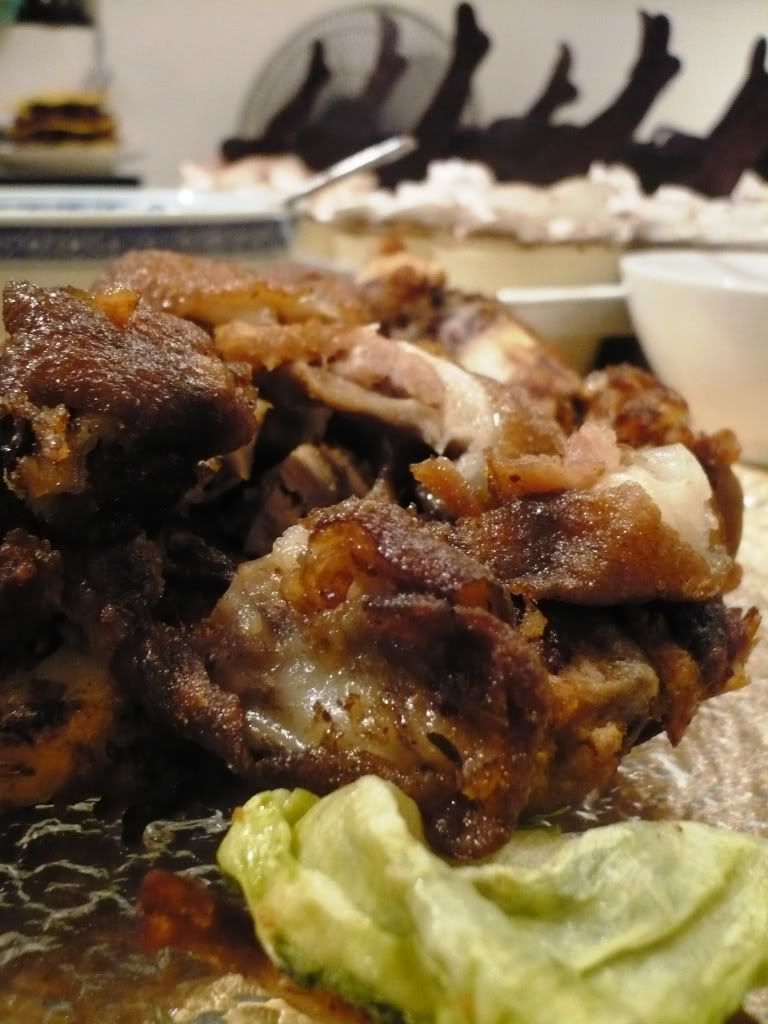 Dainty appetiser made my dainty maiden by the nickname of XiuLongPao, and NOT Char Siu Pau okay, as how I'd mistaken earlier.
Rolled Sushi
, compacted with filings of tamago, cucumber and crabstick transported us to the land of the rising sun's bread and butter staple food.
Wanna stay slim, and dainty? Sushi's the best bet.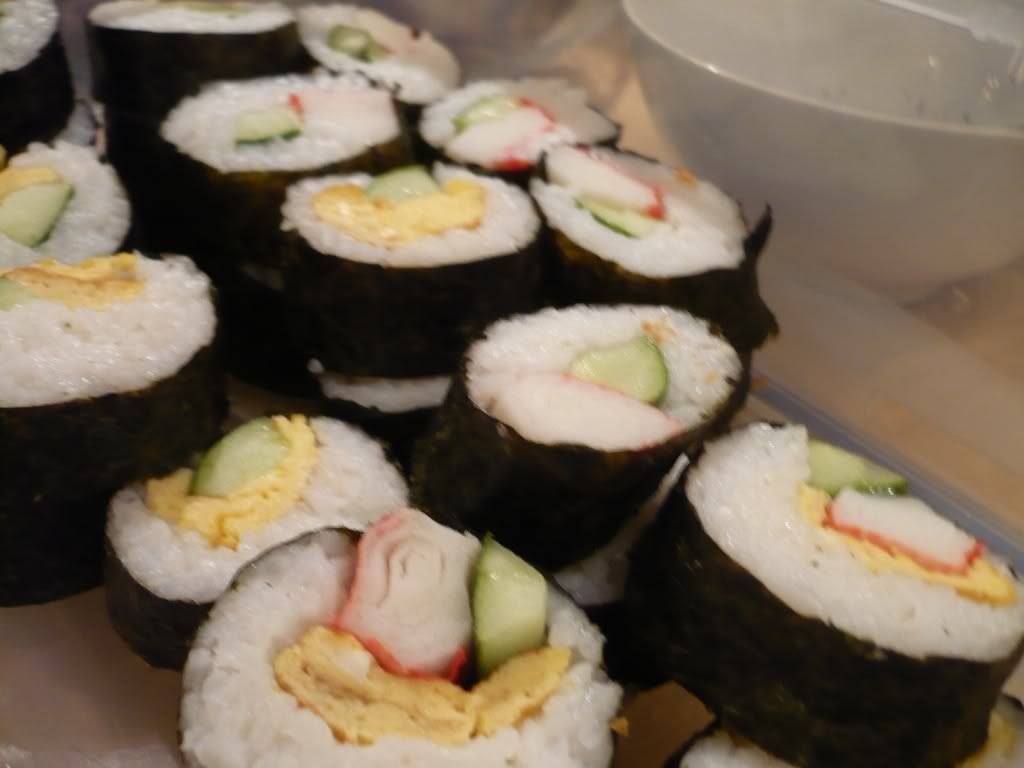 One need not have to go all the way to Teluk Anson for their wondrous filling based
Chee Cheong Fun
as, it came to us by Daniel Henney's biggest fan. To lick or the swirl, hmmmm ... which is a better way to enjoy my Chee Cheong Fun?
I shall remember to observe
her
in the future.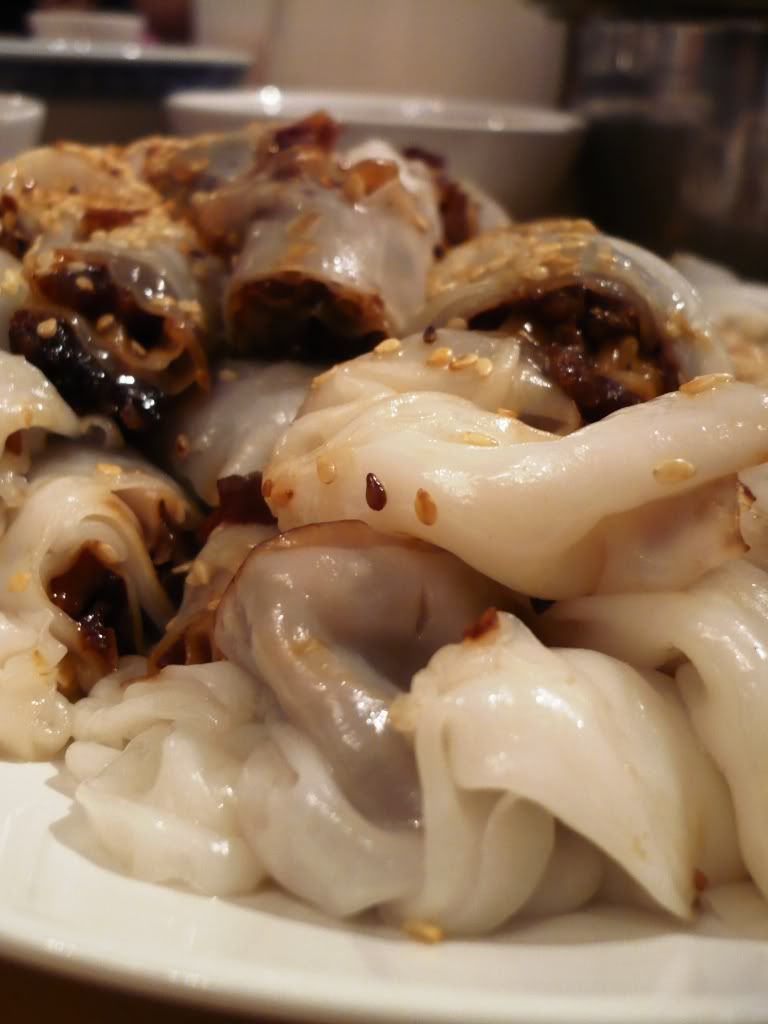 The member I envy most, for her age is 50% more than mine but I swear, she looked wayyyy
younger. When it comes to age thing, its either how your thinking, and what you put in your body that made the difference.
I like to think its the latter and to that, I whacked a few pieces of the perfectly textured
Hailam Bread
and its accompanying
Curry Chicken
.
Yum!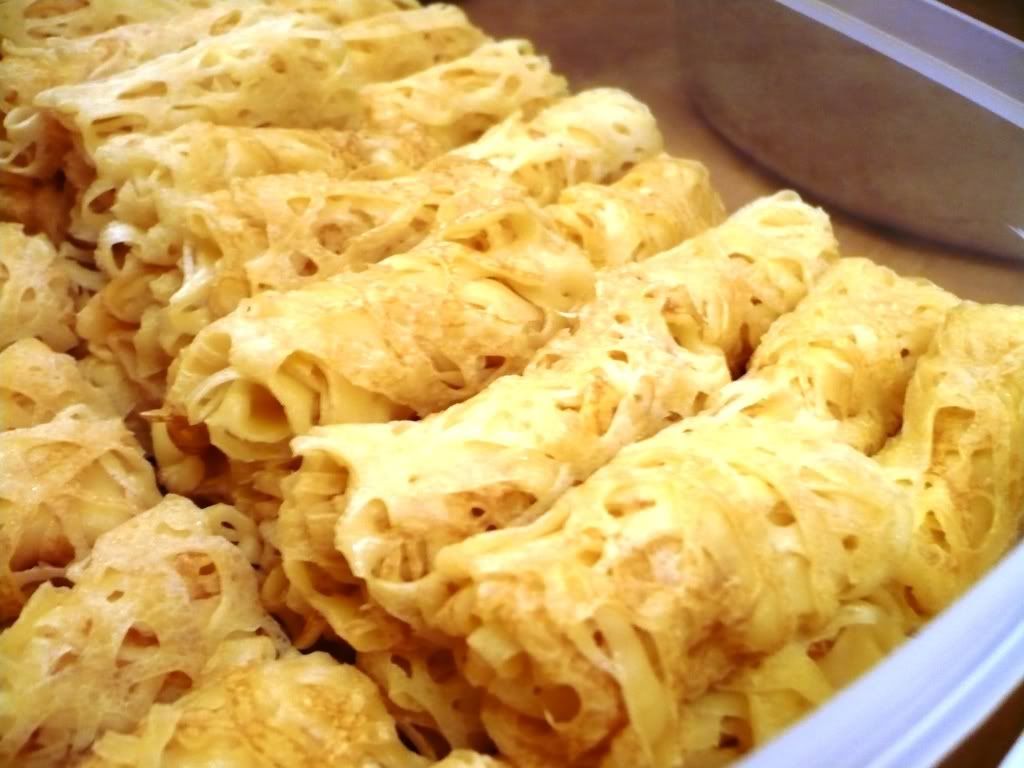 Malaysians need their
Curries
, and thankfully, the night had been blessed with three varieties of curry from Ling, the lady that brought us Hailam Bread, Jennifer whom brought along Roti Jala to accompany the curry and the other, sooo sorry, I'm not too sure its from whom.
From Jackson?
There's the light, and creamy and extra creamy version with the latter ladled with pieces of pork ribs. It was lipsmacking and does wonders to your thunder thighs.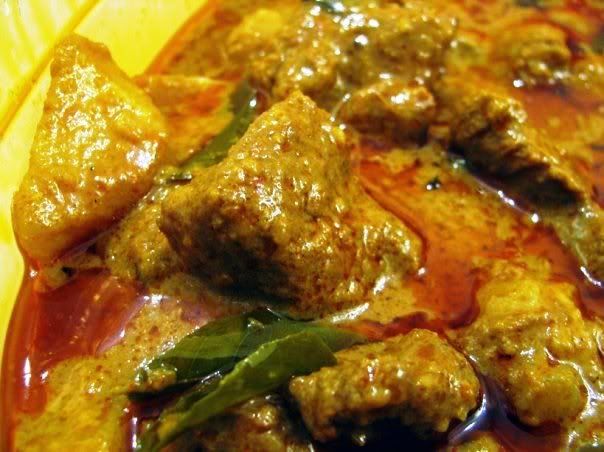 Bitchy Itchy made these
Angel Hair Pasta with Portobello Mushroom and Truffle Oil
.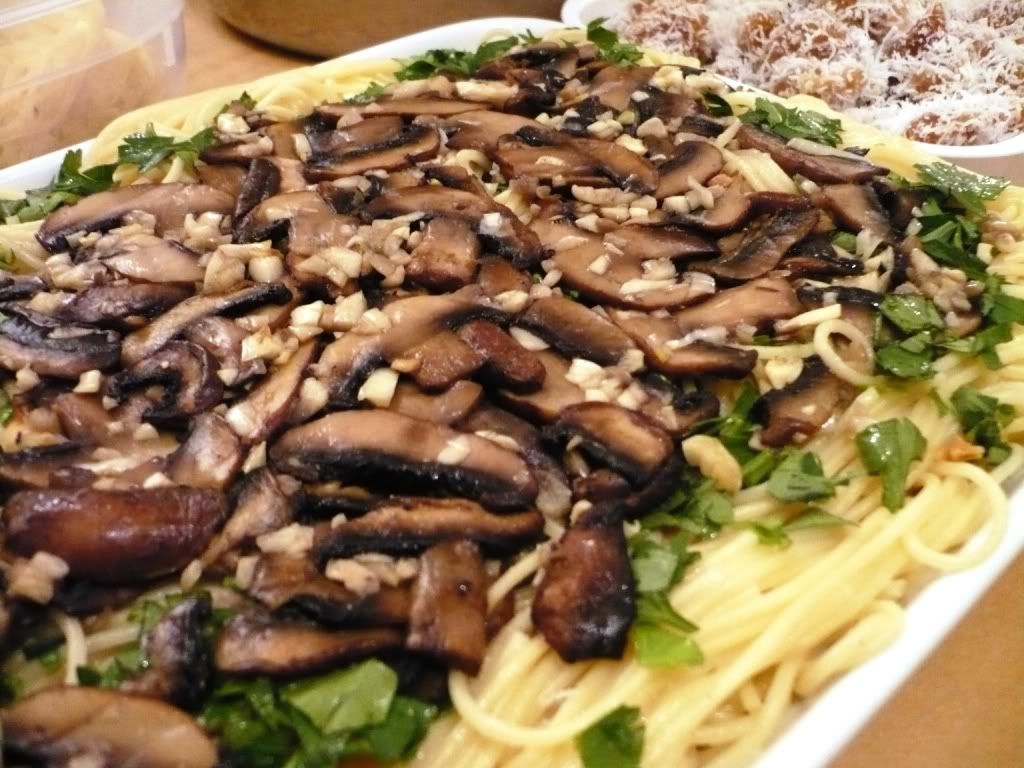 Organiser, organiser ... Mandarin are nice, but no Ang Pau ah?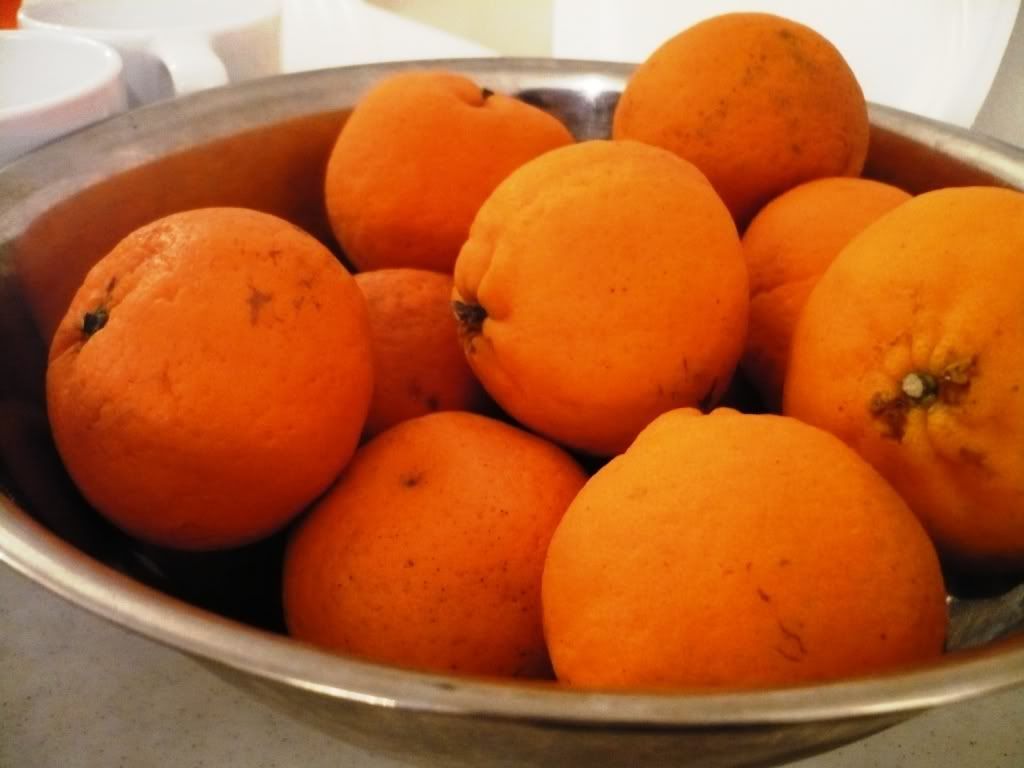 The controversial dessert that turned our Pakcik Nic into Edison impersonator. Soft, creamy, flavourful and enticing
Tiramisu
. One is not enough. Agree Edison?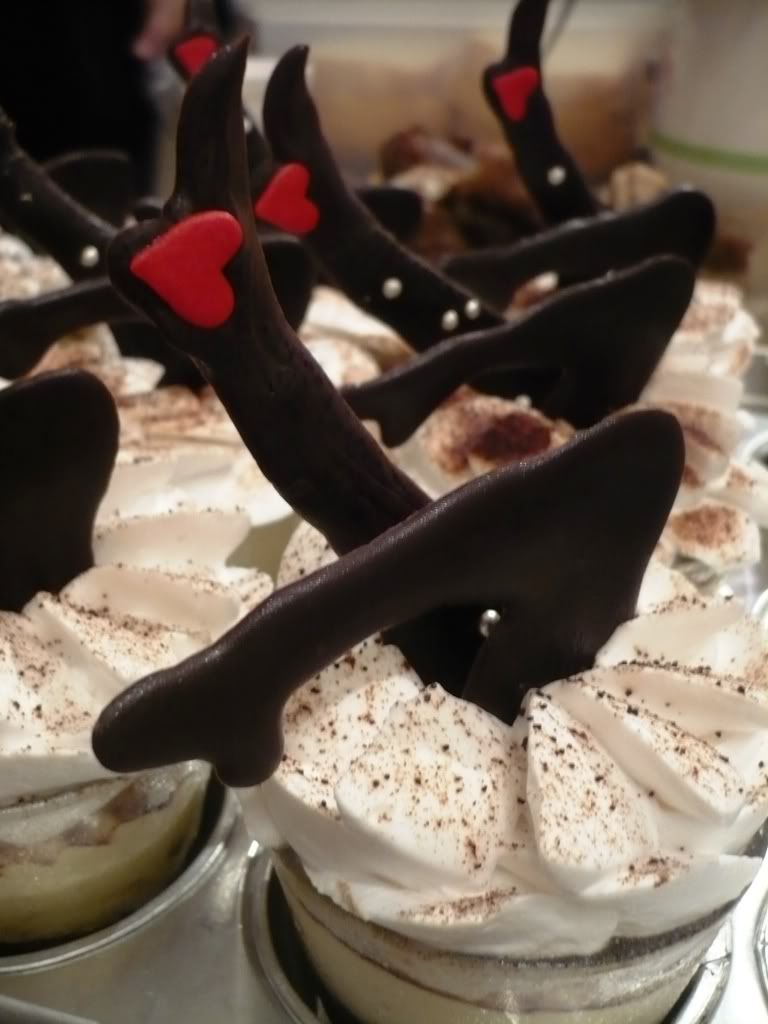 Sitting at the far end corner of the table were a plain looking
Cupcakes
. But coming from BBO, nothing is short of plain as it is a Vanilla Flavoured Cupcake, with bites of dried fruit in it which gave out a nice chew to the buttery texture of the cake.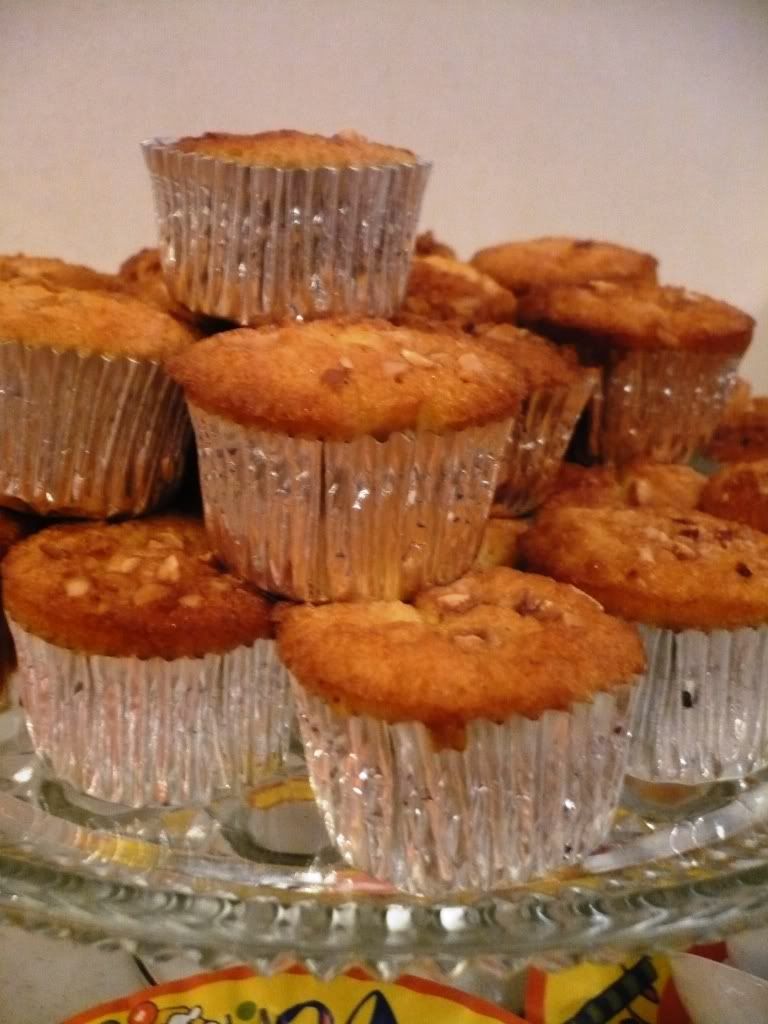 The other dessert that commanded our attention as we enter their living room were BBO's
Layered Cake
served in a tray. It had layers of mousse, cake, cream and topping of plum. A bite of it get you to experience the many textures within, with a hint of sweet, creamy and sourish aftertaste.
Nice.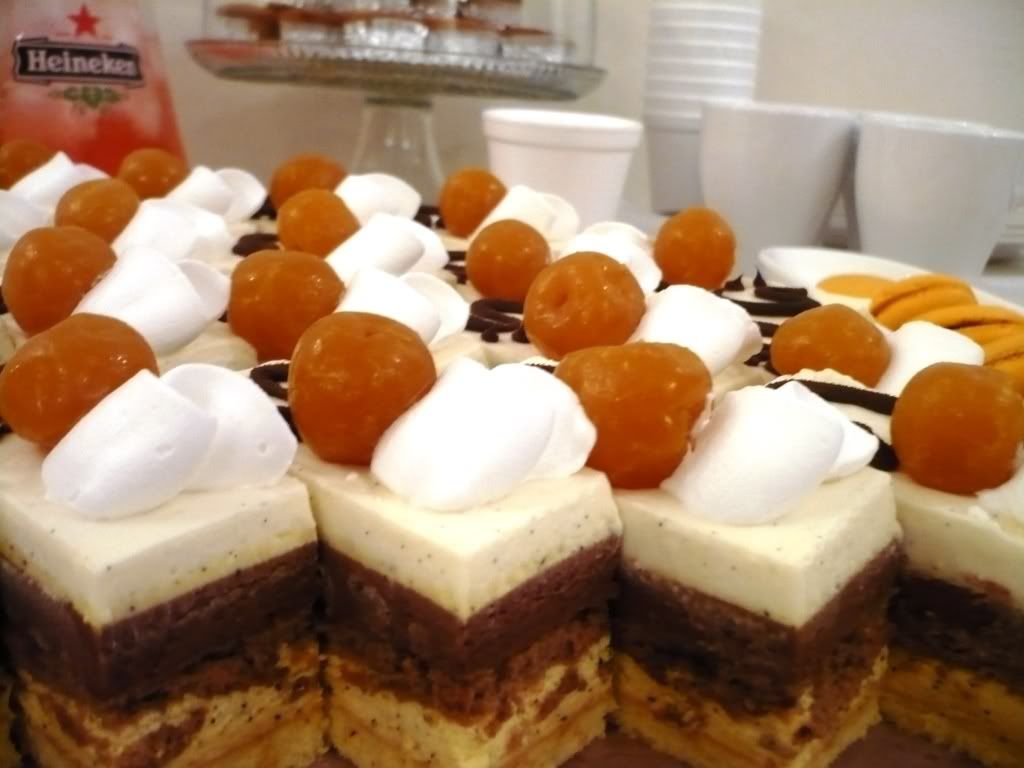 The flavour of the macaroons were questionable after a night a heavy feasting. My tongue were numb from the curries and fusion concoction but what woke me up in this
Macaroons
were the delish chocolate ganache, smacked thickly amidst the hard exterior cookie, with chewy texture within. Wicked filling.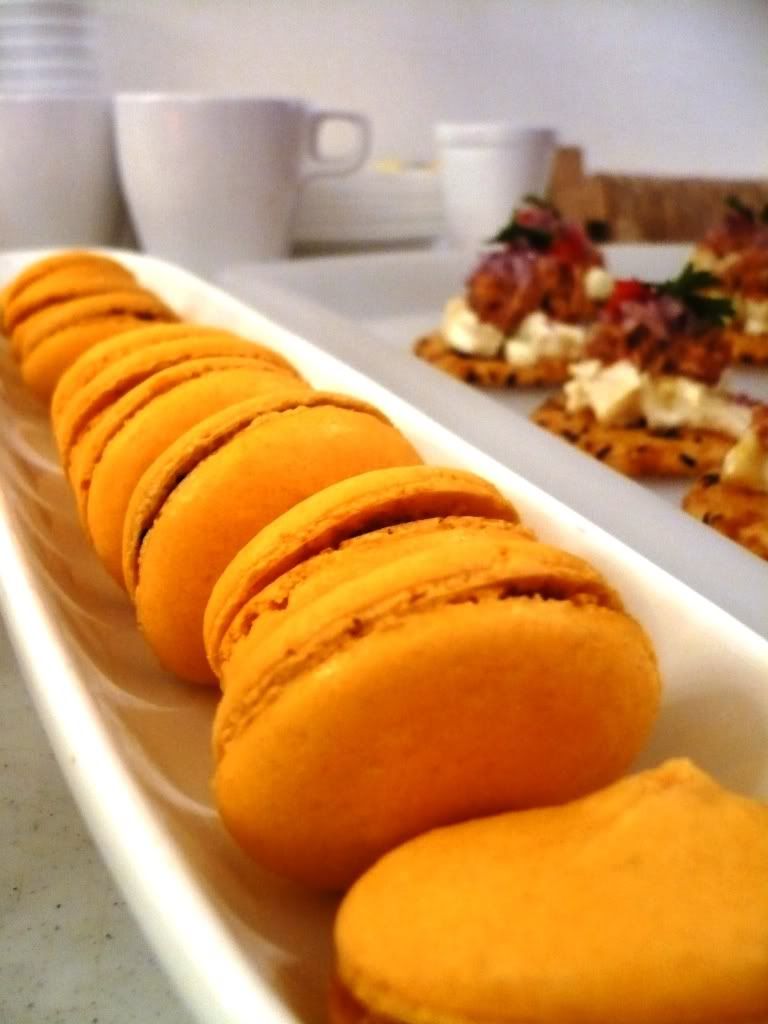 Itchy-Itchy felt like making something furry and sweet. My
Nien Gao
, steamed and coated with shreaded fresh coconut.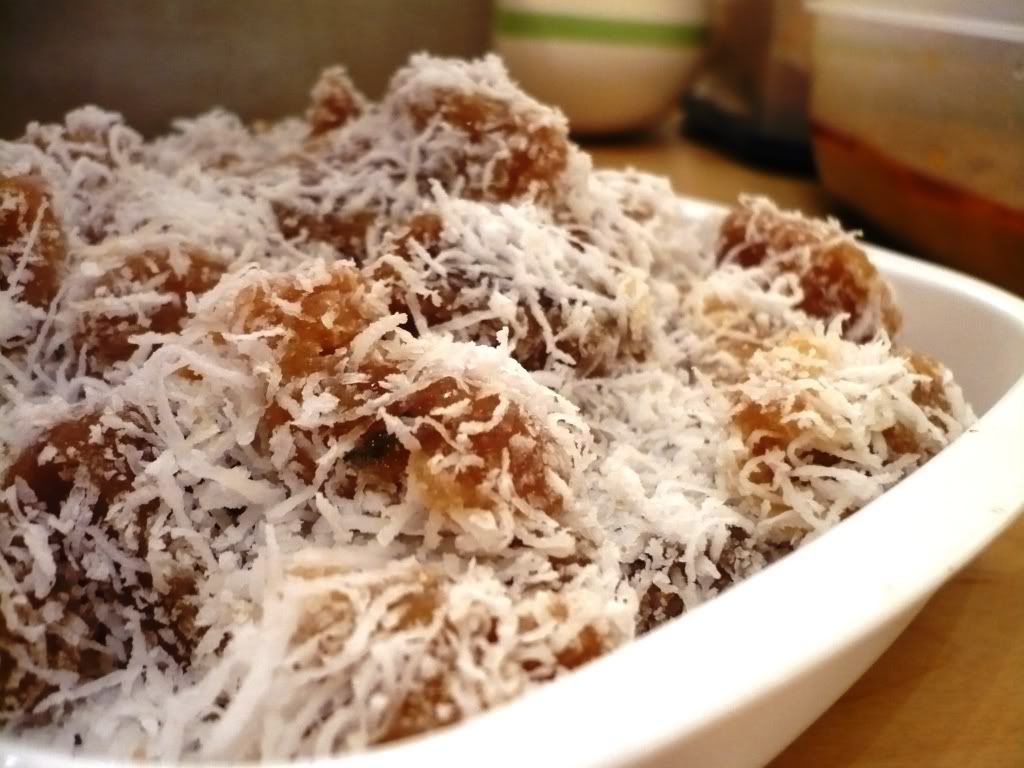 Chinese New Year still? Nope. But I dont' care for this buttery, sweet
Pineapple Tart
never fail to stop me from having seconds.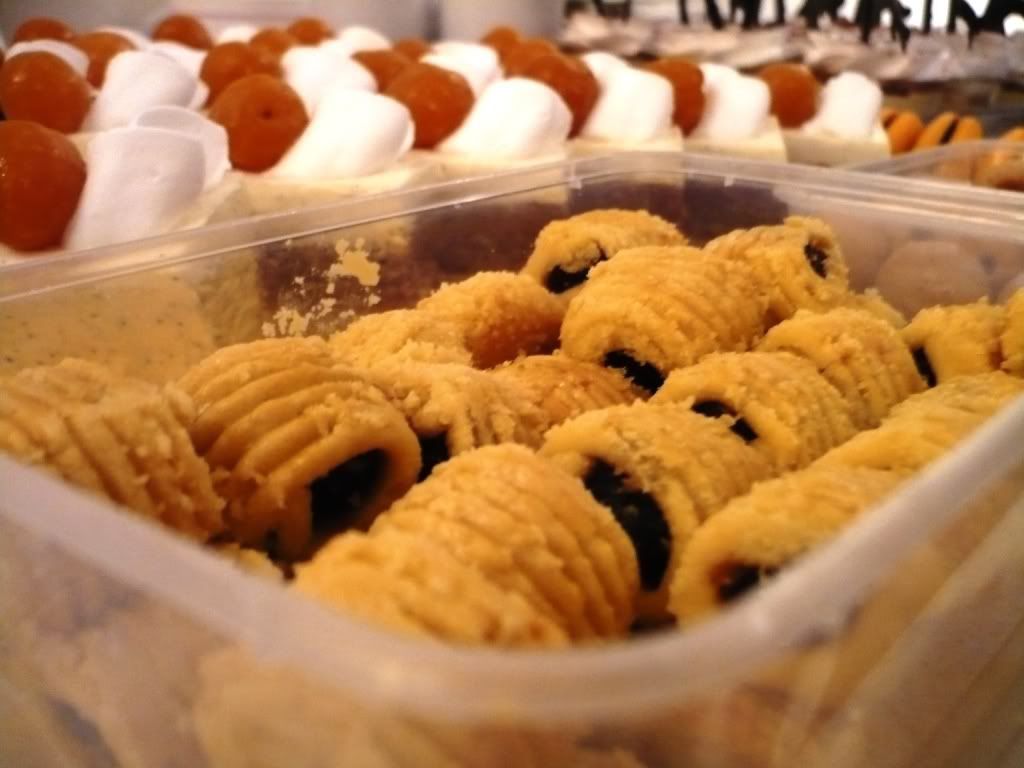 Peanut Cookies
, again by Sunny of BBO. How many cookies and cakes did you make today?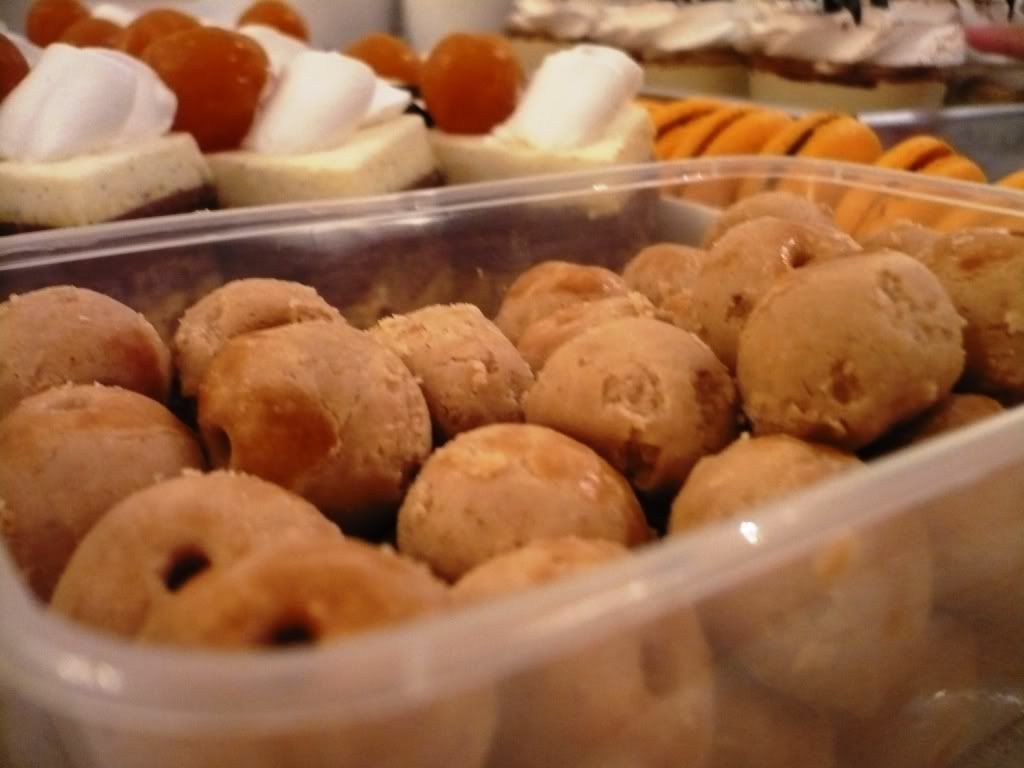 Now, when I mentioned earlier of an Edison impersonator present and I have photos to prove, I was not kidding. I must admit that this impersonator must work a little bit more on the facial expression leh.
Pakcik ... enjoyed or not?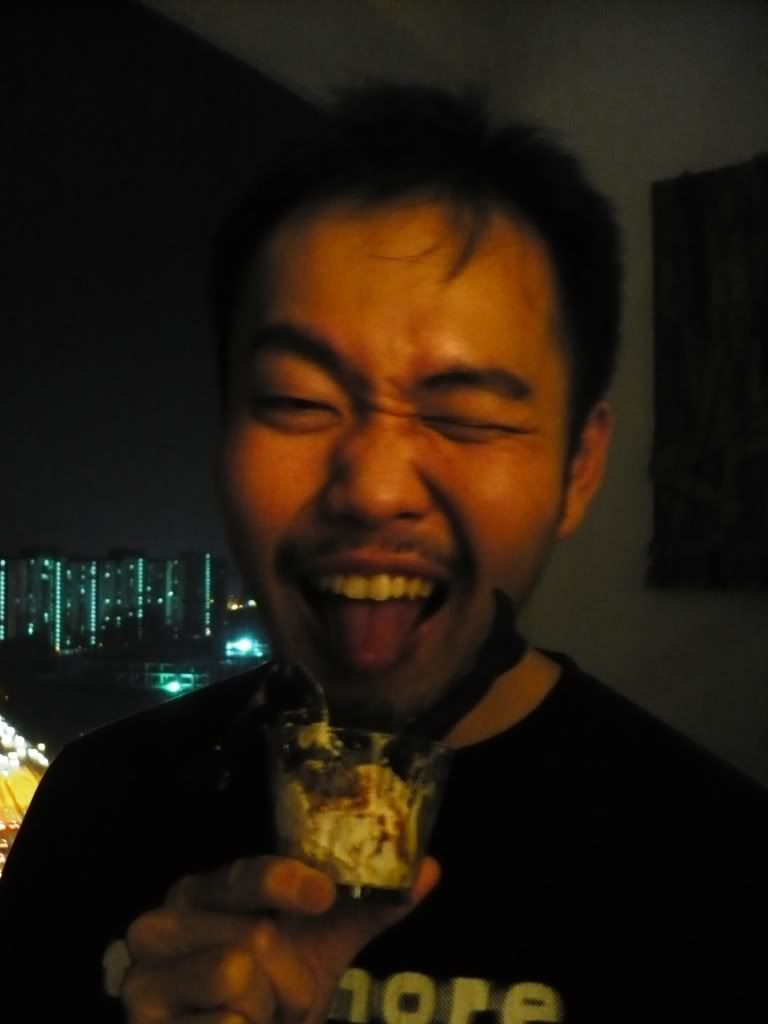 Pix return upon permission granted *big grin*
And so our night continued to almost midnight, and almost to the next day.
We bidded farewell soon after, some with more plans (geeee, am getting old), I was glad that Teckie decided to drop me back as Moi were so stuffed, and heavy that she's pretty certain her walk back would take longer than expected.
Thanks guys again for the lovely evening. I had heaps of fun. And for the organiser BBO, thank you for hosting us there. Lovely place and you have been really hospitable.
I can't wait for another session! *grin*