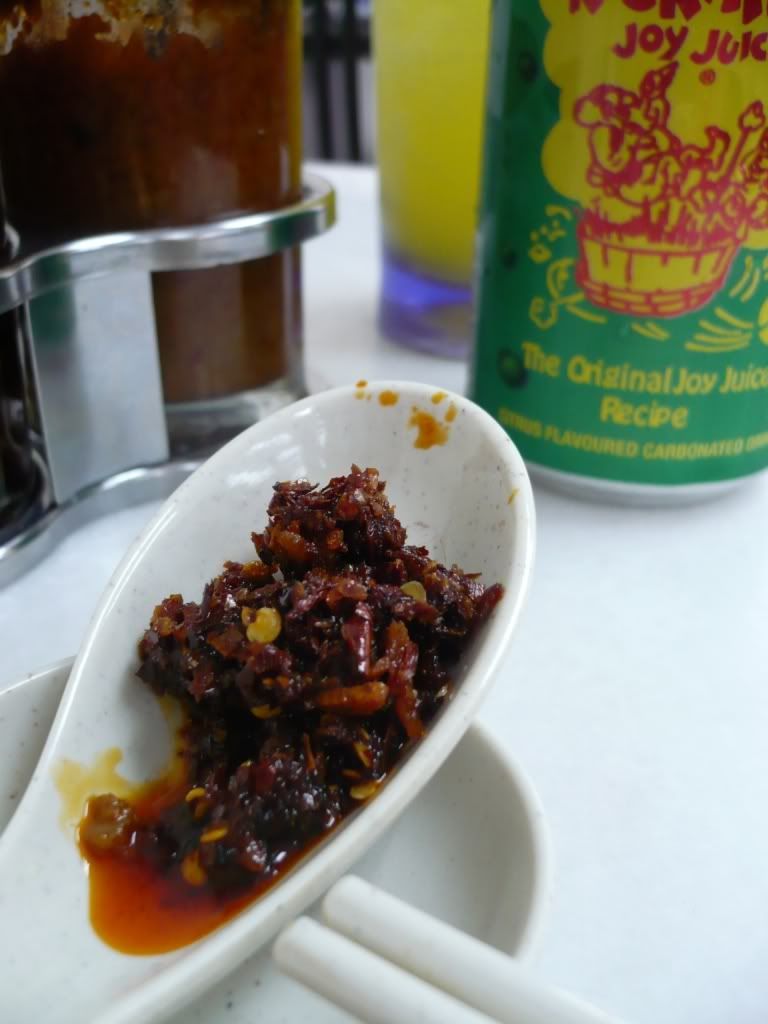 Pan Mee.
Our Malaysia's answer to pasta, made fresh and cooked on the spot for you. If you don't like the ikan bilis toppping, just tell them and they would quickly omit them from your bowl before serving them to your table. On the other hand, if you like them with extra minced meat and more vegetables, and hopefully the cook remembers to top them up - you can tell them too.
All this for a reasonable price of not more than RM5.00 a bowl in a typical coffeeshop, or the latest independent Pan Mee shop sprouting around. Have them in the comfort of a cooling aircond space, complete with clean and tidily arranged table and chairs.
And ahem ... what I'm really crazy about is, there's a dedicated menu just for Pan Mee! Not one page, but two pages of them. There's the dry version, soupy version and anything else in between. The choices were mind boggling.
Yong Kee Fusion Pan Mee and more ... or was it the other way round? Anyway, pan mee was not in my agenda when I decided to drive to Uptown last week to go hunt for late lunch. Located right next to Village Park, while Village Park were packed as usual, this Yong Kee place were not too bad either and so, I decided to give this place a try.
If you like to play it safe when it comes to Pan Mee, there's always the traditional pan mee that comes in either wet or dry preparation to satisfy your Pan Mee crave. But if you decide to be a bit more adventurous, there's Curry Pan Mee, Tomyum Pan Mee, Claypot Pan Mee, Steamed Pork Ribs Pan Mee, Seafood Pan Mee that came with Abalone (Wet/Dry), Curry Chicken Pan Mee and many, many more.
The lady boss recommended the
Ma Lat Pan Mee (RM7.90)
after dissapointing me with the unavailability of Steamed Pork Ribs Pan Mee. Ma Lat Pan Mee is the specialty of the day, hence I won't get the chance to try them whenever I want.
Fair enough, so I ordered one.
Seen here, my Ma Lat Pan Mee with Kickapooooooooo ... I missed them heaps!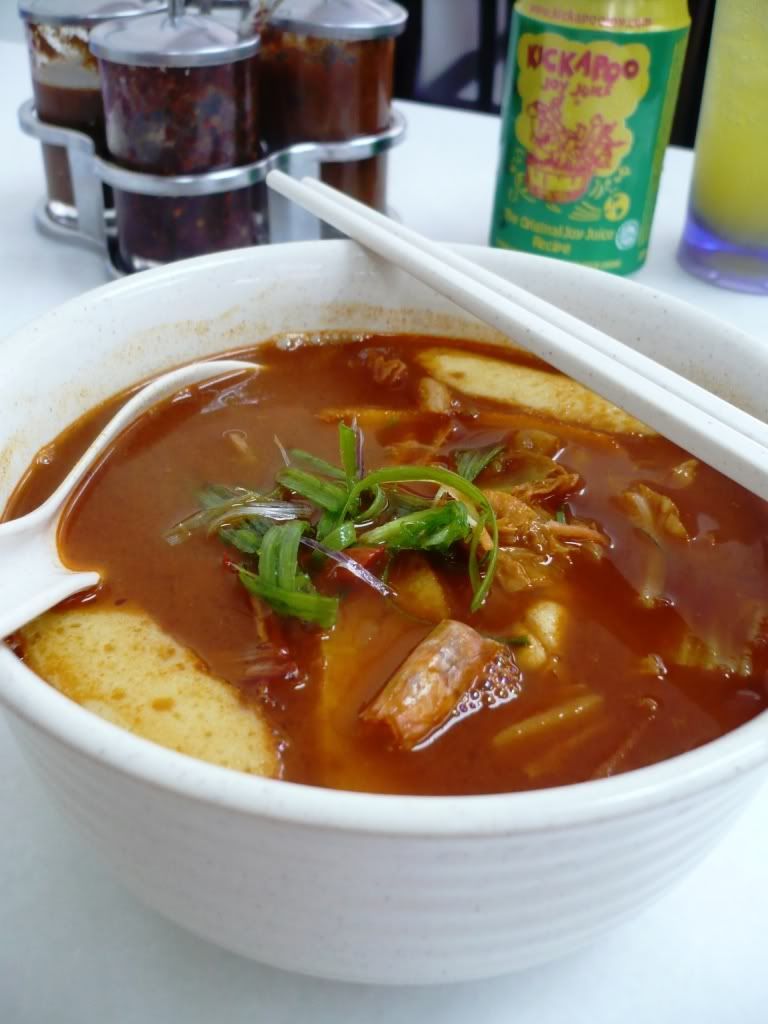 Ma Lat or Sweet & Sour as how the lady boss had explained. I don't know what is Ma Lat but this taste like Kimchi Soup to me. Is Ma Lat Kimchi ?
The Pan Mee were firm and nice. But I'm not sure if Ma Lat flavour complimented it well as the soup were so spicy and hot that my tongue felt numb after a while. The seafood were not fresh either with portion way to small for me.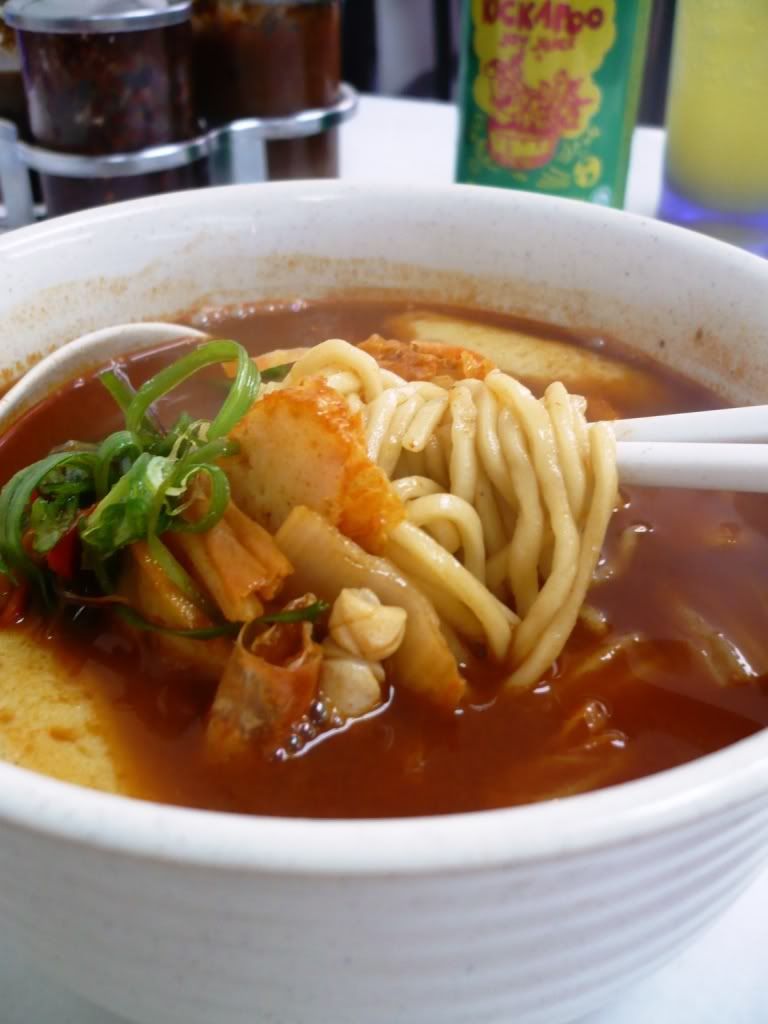 I paid the bill still feeling hungry and unsatisfied. Hum .. was it me that's just super duper hungry or was it a bad late lunch choice? Whatever, I need more food.
As I walked out, I noticed that most of the patron ordered the traditional pan mee. I guess, I should give them another try someday to judge them again.
Yong Kee Fusion Pan Mee & More
Next to Village Park, Damansara Uptown