Only now that I noticed my error in my blog entry queue. This entry is suppose to take place after the oysterette gathering, as it was consumed today but nevermind lah okay. I'm lazy, tired and super sleepy but yet, would like to clear my backlog entries lol.
I was in town today to go pay for my flight ticket. YES, THE flight ticket .. but not the one to Singapore. I will be travelling to Singapore by Aerobus with their terminal located at 1Utama, close to my place hence I need not get someone to chaffeur me all the way to town just for that purpose. But the other reason why I'm looking forward to Aerobus is, it will be my first time taking an executive coach! My expectation's definately running high, and I hope, hope, hope ... the coach would reach Singapore within 5 hour on Lunar Eve day (as claimed) otherwise bearmaid will have to wait for me. Bearmaid's touching down from Germany around the same timeeeeee too and with the tight time to check in, and me wanting to have a nice chinese meal to celebration reunion dinner, well. Praying hard.
Back to my ticket payment, I finally made my way to KLM office today to go pick up my ticket to Amsterdam for my April's trip. I can't believe that one has to pay soooo many months in advance? Puh! I never had that issue with Emirates or SQ, which I'd used previously but since they don't fly to Amsterdam directly, so KLM be it. Also, visiting Amsterdam before driving back to Bearmaid's place in Germany would be a nice change.
Now that its firmed, bearmaid can finally make plans for us. We spoke about London yesterday and he wanted to show me the other part of London which I've not seen. There's apparently a lovely restaurant overlooking The Thames, where its a well kept secret amongst Londoners. All I know is, he's got biggg plans for us hehe. You know, although I've stayed there a while many years ago and been in London several times, I've never journeyed anywhere further than the yellow tube line. I always end up going to my favourite duck rice place in Chinatown, followed by Portobello Street to scout for antiques, then for some free performances .. where else but Covent Garden and lastly, I will hit Oxfort Street for some shopping. Quite the predictable isn't it? But of course, I'd ventured a bit more like watching the musicals, going to Big Ben, watching the Changing of the Guards, and scouting for the free exhibition around London etc (Oh, I still remember Cy Twombly's work in Hyde Park!) .. but other than that, the touristy stuff, the crowd, the tube, the air pollution hmmm ... it is soooo not me.
(Latest update: bearmaid had indeed booked us flight + our yummy accomodation from 18-20 April. Aren't Germans efficient? Shame on me, as I always take my time in getting things done).
But ask me about Paris, oh Paris .. ohhh Paris ... that's a totally different thing altogether. For me, Paris is the most wonderful city in the world, and even with me spending one whole month alone in Paris, twice within 3 years - combing every nook and corner of this provoking, seductive city, I don't think I will ever get enough of her, really.
Hang on .. how come I'm blogging about my travel plans here? Hehe .. aiyo, wrong place. But nevermind lah, keep you guys updated so to stay tune with my makan adventure for 2008. It will not be featured here though as this serves as a makan journey for food in Malaysia only, but do drop by
Imbi N Itchy
.
Back to food, I made my way to Food Republic for lunch after getting my stuff done. Though it was lunch time and was packed to brim, thankfully, the food court is hugeee enough to accomodate the hungry, office slaves around this area.
I felt like eating BiBimbap. My rice craving is hitting me again, but this time I'd reckon its better to choose Bibimbap as it comes with a variety of fibre dish. Need fibre lah.
The bibimbap came with two side dishes. The
Daikon Kimchi
(I think its daikon), was sourish and appetising.
Anchovies
were, average.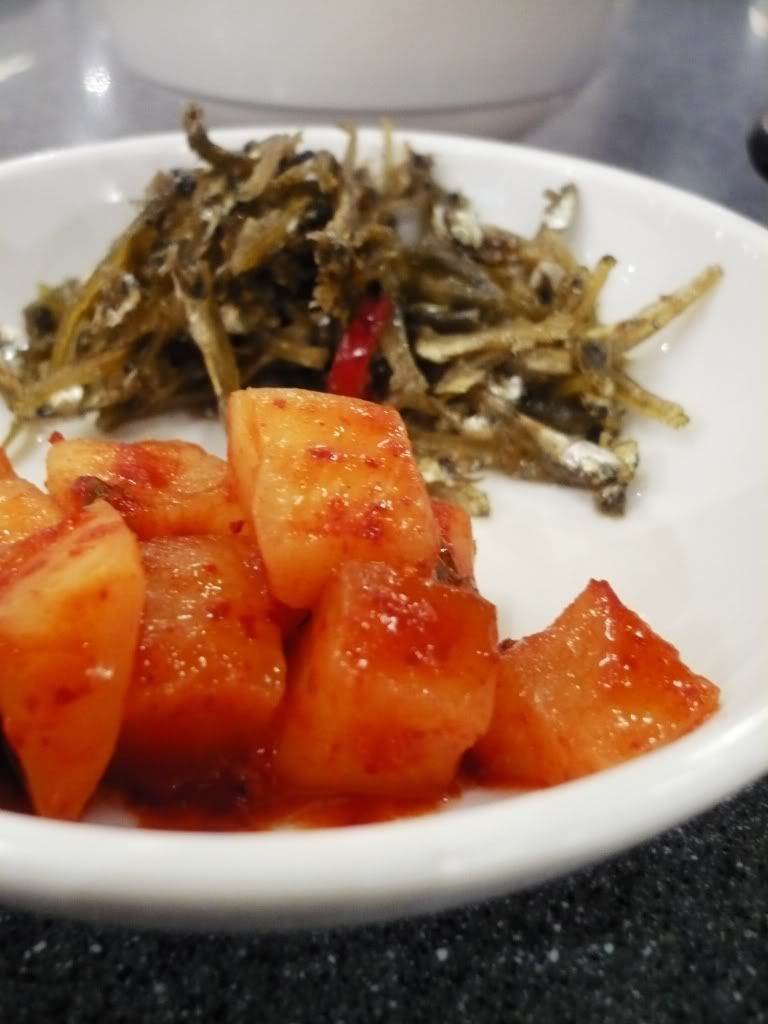 In most cases, I usually take my
Bibimbap
in normal bowl but this was done traditionally in a stoneware - which was great to keep the food hot even after 20 minutes of exposing itself to the cold aircond power, but burning the rice at the bottom as the stoneware were simply too hot were not so happening for me lah. If possible, I would like to lick clean my bowl of Bibimbap's soft, fluffy rice but it was burned at the bottom.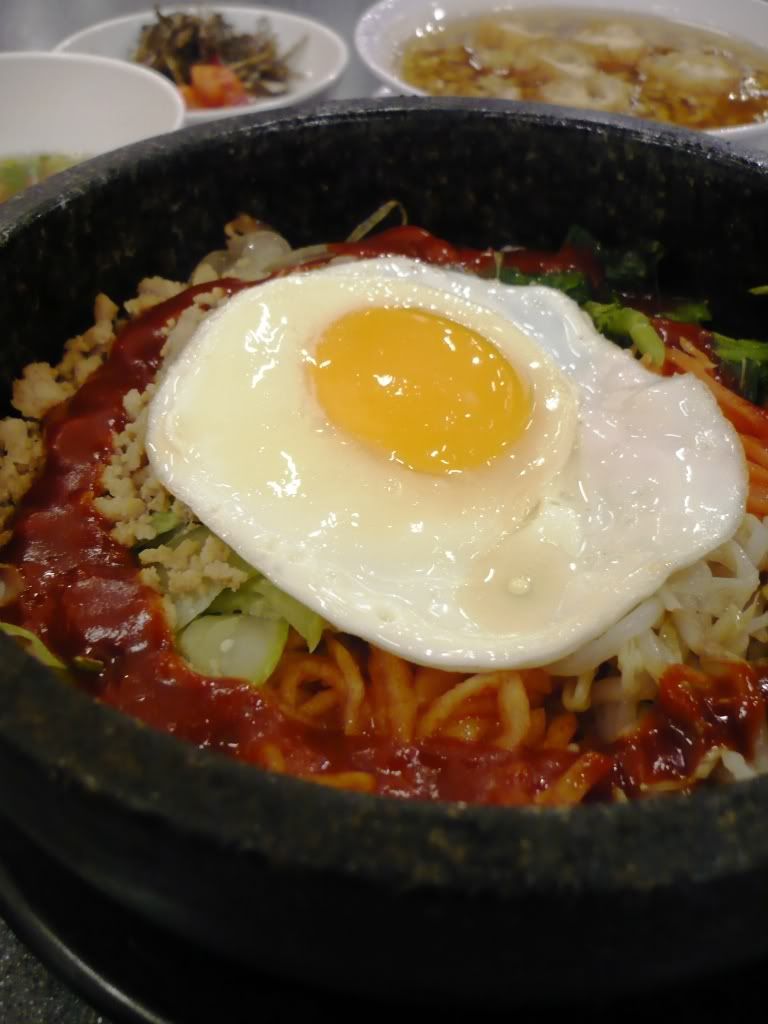 This is my first time spotting
Lek Tau Suan
in KL. Had to had it. It was great! I loveeee how the savoury and crunchy yau char kwai tasted against the goey sweetness of green beans. Yum!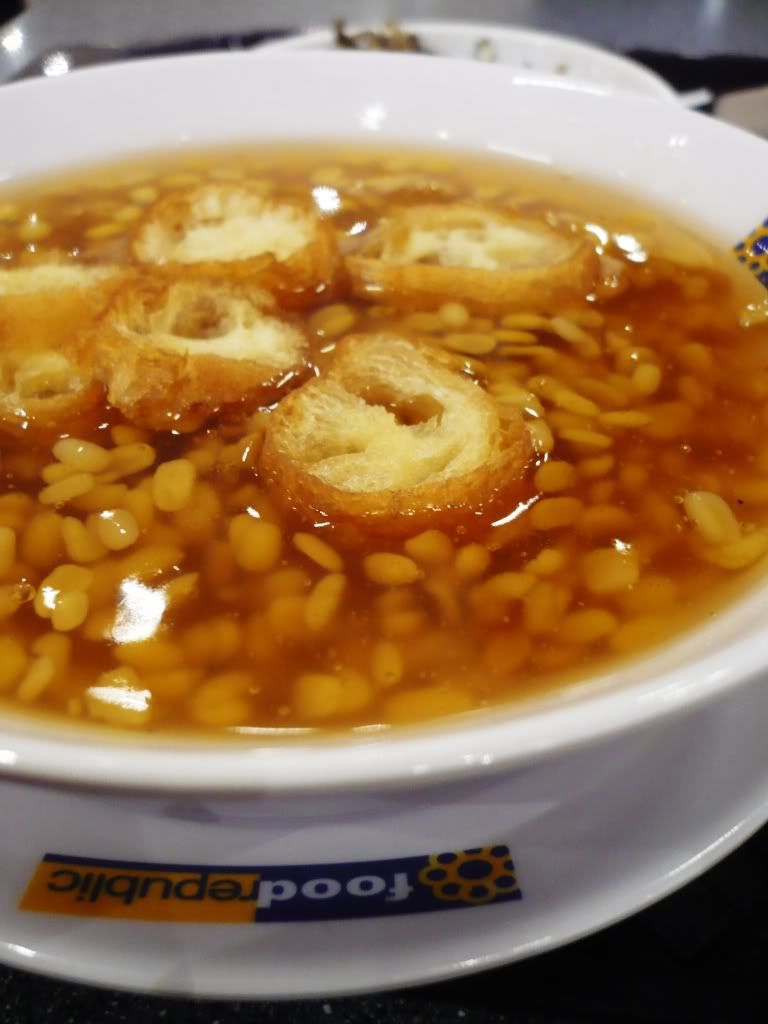 After lunch, came home and rest. Mum's feeling a bit better today after last night's emergency rush to a well known clinic. Hopefully, she'll have a peaceful sleep tonight, otherwise, we will have to admit her to the hospital :-(
Going to bed now. Ciao.