Just incase you have this idea that Japanese food bug had invaded me, I careeeee to disappoint. The truth is
rosier
that it seems.
I caugth the flu bug!
Bummer.
What a great start to 2008.
It's not such a bad idea really. While taking time off to go see a doctor for medicine prescription, I re-routed a bit to
Sushi Groove in 1Utama
to grab a bite. After all, I had to pass it to get home.
No more echoes of "Groovyyyyy" chanting continously by the wait staff as I enter the stark, dark, minimalist hip restaurant but instead, I was greeted a
welcome
by an African? Gosh, have you noticed how globalised our F&B had become?
That aside, I already know what I wanted, hence I quickly placed my order.
First to arrive were
Neo Tokyo Potato Salad (RM4.90).
Served chilled, it was creamy with small bite of potato still with a hint of delicate mayo taste. I was happy with this starter for reason that it did not irritate my sensative throat, and at same time, manage to delight my rather bland tastebud.
For main, I had a portion of their
Nigiri Combo (RM14.90)
which consist of Unagi, Tamago, Salmon, Tai and Maguro. I find the rice nicely densed with light hint of vinegar. As for the topping, I absolutely love their Unagi and Tamago, of which both were cooked ingredient. The unagi particularly were grilled to perfection, sweet with a nice generous coat of sweet japanese sauce on it. I loved it. As for the raw fishes, it was fresh neitherless but it was served room temperature. I'm one of those whom loves her raw stuff cold, hence I'd give this a miss in the future.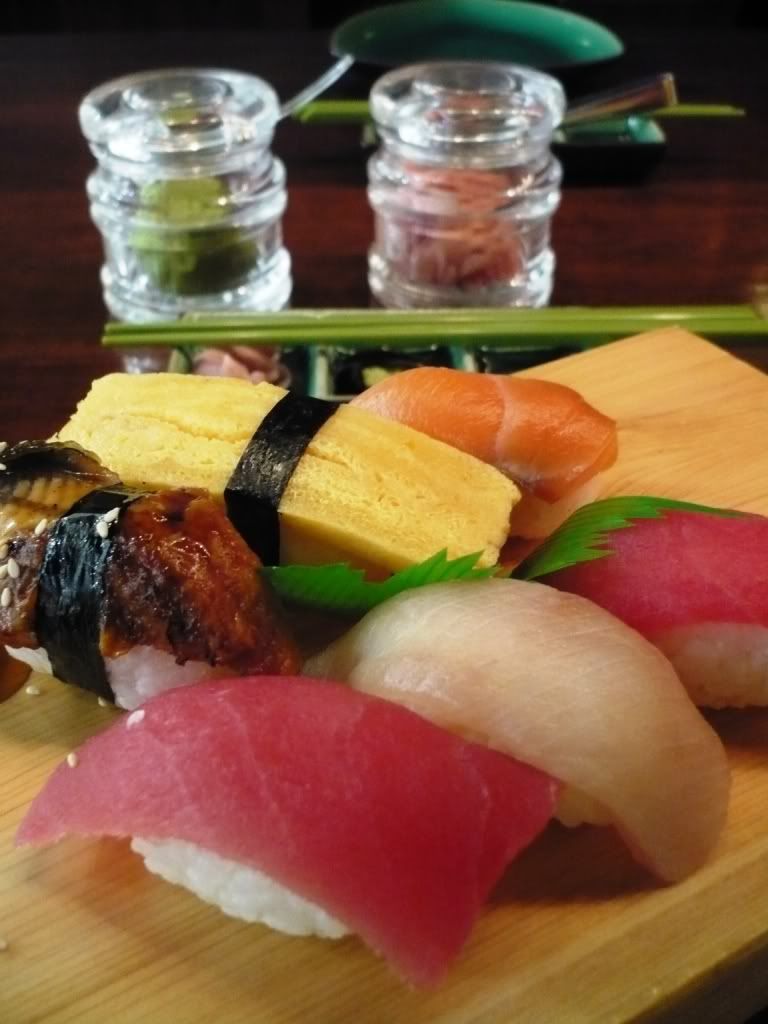 While having my Nigiri, I asked for the menu again to peruse thru the dessert section. Somehow, nothing caught my eye hence I quickly paid up and made my move elsewhere. But not before popping over my ALL TIME FAVOURITE Zara. Yup! Their Warehouse Clearance Sale starts today and they've got great stuff! However, I'm done with my chinese new year shopping, at least for the 1st and 2nd day of Lunar where else the rest, perhaps, I will shop when I'm in Singapore lah.
After feisting my eyes and giving myself a pat in the back (ahem) for having such discipline hehehe ... I dropped by Starbucks for a drink. Hopefully, I get to try some nice dessert there too. While there's quite a bit of dessert choices one can get in 1Utama, I'd decided to pay Starbucks a visit as it had been a while since.
While everyone goes to Starbucks for their coffee, I went straight to the counter asking for errr ... non-coffee beverage? But hey, they had this hugeee poster highligting their latest addition to their Latte family, which happen to be a non-coffee - how could I resist?
So there I was, drinking a cuppa of Matcha Latte, with an additional FOC Rooibus Tea Latte of which both were exceptionally light and lovely, just like my earlier lunch. To top it all were a slice of
Lamington (RM4.00).
Loveeeeed the texture. Good stuff.
My tummy's happy and throat feels better. And here's to weekend too!