It was a public holiday for those working in Selangor.
Happy Birthday Sultan of Selangor!!! A year older, a year wiser and errr ... shame on me, that's all I know of birthday wishes but not much on who our state Sultan is, his name, nor how he look like. I don't know how long has he been in helmed, or what are his actual role but I reckon its along the line as a symbolic figure for goodwill related matter.
Whatever it is, it sure is great to have a day off work to do what I love best ... which is to eat.
My day started with my original plan to go downtown for a lunch appointment. I had a guest from Kyoto to discuss food related matter and naturally, I was pretty excited over it. However, due to chicken and duck mismatched communication, I ended up in 1U earlier part of the day for a little eye feasting. Shopping
lah
.
The clock says it was 10.30am. Most retail were closed, particularly F&B outlet whereby preparation work usually takes up some chunk of their time. However, Dragon-I was open. Yay!
Feeling hungry as nothing went to my stomach since 8am, I went on an ordering rampage. These were what I ate.
La Mian Szechuanese Style (RM12)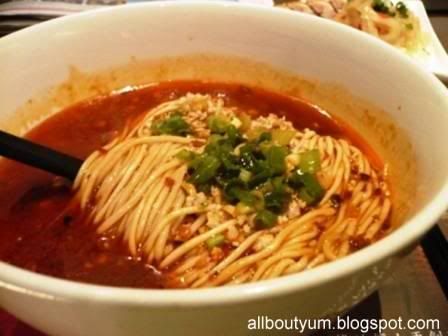 One word. OILY. Taste were mediocre, however, I liked the texture of the noodle which were medium firm.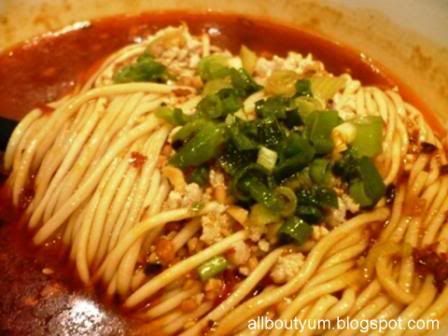 I'm a big fan of cold dishes hence, I was having a hard time deciding which to order. I picked this
Cold Pork Shank Slices with Jelly Fish (RM12)
in the end as it came with two varieties in a reasonable size serving. The texture of the jelly were good, and it tasted fresh but, I didn't like the sesame only drizzle. The pork shank slices were mediocre when you dip then with the accompanying sauce that tasted a cross between soya sauce and thick caramel sauce.
On every table however, were a container of chilli jam for you to dip your food into. I like this very much as it contains dried shrimp.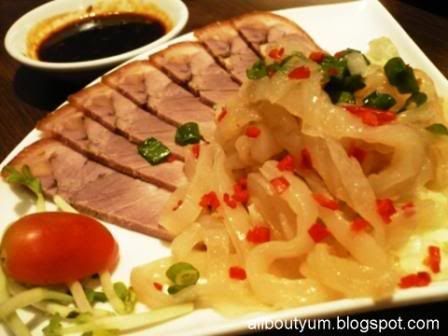 By now, I was already close to full. However, I've got another one more dish to go which is
Deep Fried Beancurd Skin with Cheese (RM9)
. I loveee this. Apart from cheese, there were chunks of fresh prawn pieces embedded inside the cheese melt. Both the cheese and prawn blended in so well. Yum!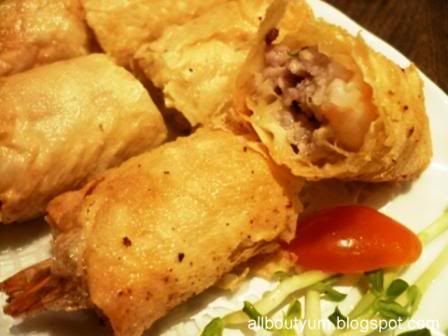 I though my second visit to Dragon I would change my point of view towards their food. However, I'm not getting it still. The food here is not that great but if you fancy a nicely done up place without paying top-end prices, this place is for you. As for me, I'll pass this in the future.
After some eye feasting, I was craving for some dessert to sweeten my sweet tooth. Coincidently, Secret Recipe were just right infront of me when the need striked OR was it the other way round *big grin* so ... here goes
Tadaaaa .... presenting you a special creation by our very own Amber Chia and Carmen Soo, two famous local celebrity whom participated in Secret Recipe's donation campaign to the unfortunate. I picked Strawberry Chocolate (RM6.50) because its proceed goes to World Vision (a child sponsoring organisation). Other than that, the cake looked really delish!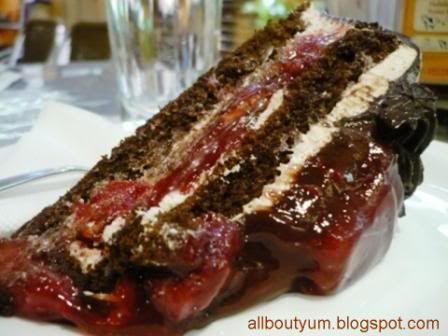 Sometimes, you can judge a book by its cover *big grin*