My sis and her hub threw a small pizza party for their daughter's 3rd birthday few days ago. The original plan was to hold the party with my other niece Natalie, whom was a day older than Suki but plan changed as it was weekday. Her mum Michelle, whom happens to be my sister's colleague had just delivered not long ago too, therefor going out from her house with the new baby and her gadget's a real chore. For us, bringing my mum out can be a chore too as she's not mobile.
Hence, this year's bday celebration was done at home. Apart from her presents which we bought wayyy earlier, everything else was arrange on the day itself. Even the decoration bits, it was spur of the moment thing. Honestly, it was great celebrating in the comfort of ones home dressed in pyjamas and Ts (ahem ... reason why you don't see me in pics here)
Seen here, all the pizza's my sis orderd.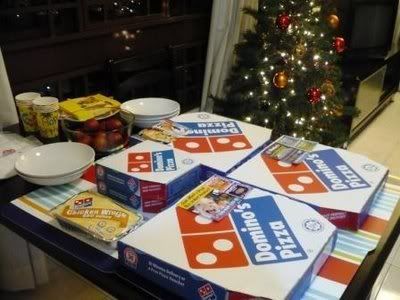 Chicken pizza, which was the best of the lot from Dominos Pizza.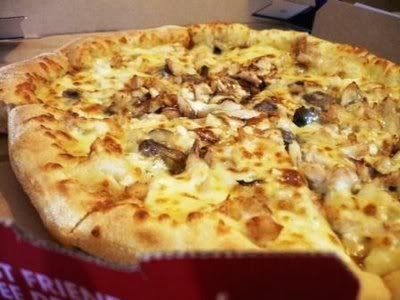 Seafood Pizza, which my sis would usually order. I thought it was mediocre only as compared to the chicken pizza.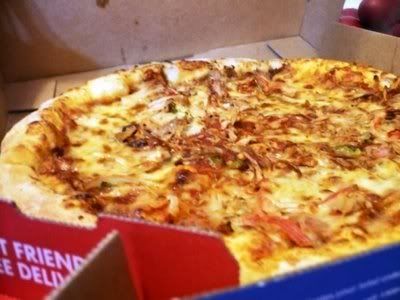 Salmon Pizza which tasted flavourful. Not too bad.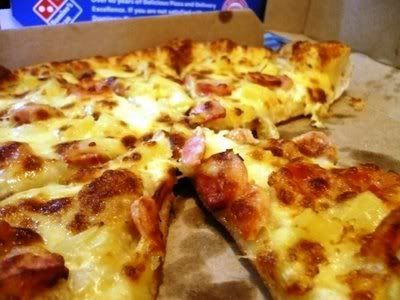 One of our favourite; Banana and Kaya pizza from their dessert section. Love it!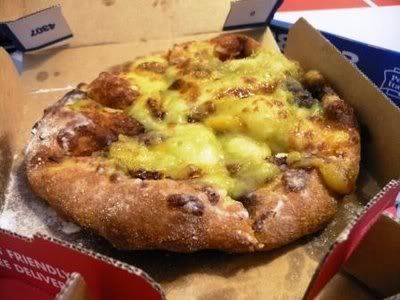 Grilled Chicken Wings, which was surprisingly good.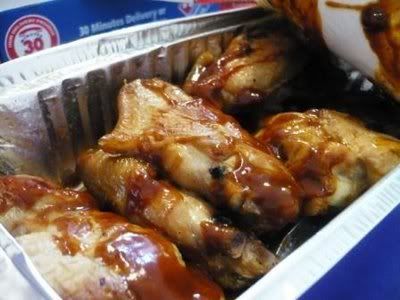 For chinese, we got to have these. Boiled egg with red stained eggshell. After eating them, it signifies that you are a year older.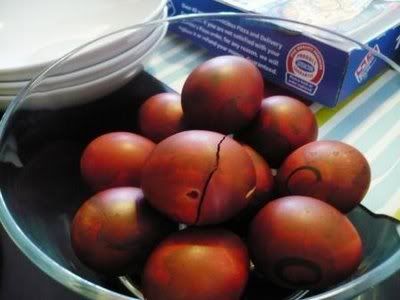 Some of her gifts. My niece taking pic of me, taking pic of her.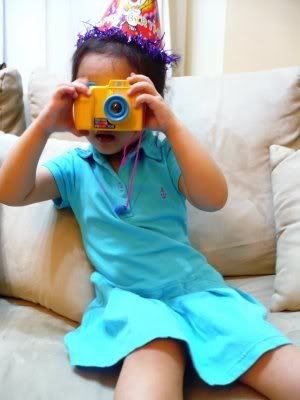 Since we can't make up bigger number in terms of party guest, we try to make up to it in terms of gifts. She had fun opening them! For this year, I bought her an origami book with papers attached (all the way from Japan okay, not cheap!), and spur of the moment buy again ... I spotted a small little piano in Brands Outlet and got her one too. Of all her gifts, she loved the piano and the camera the best *big grin*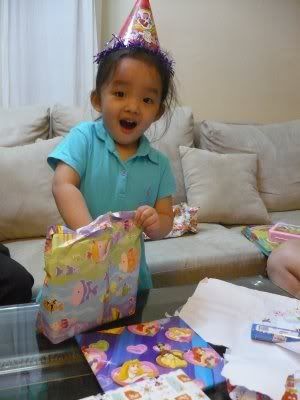 Seen here, Kung Kung and Suki opening their gifts. Dad received a "La Mer" handcream from sis after complaining to us about his dry skin. Hey sis, my skin also dry lohhhhh ...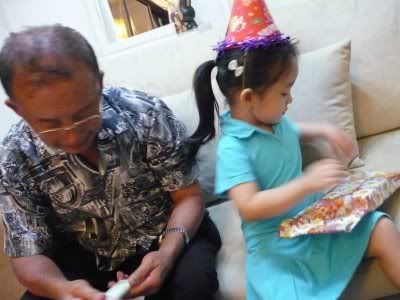 Seeing how happy she was, made my day.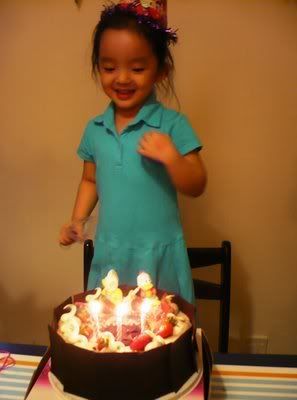 Last but not least, her Blackforest Cake with two cartoon figurines. One is a ducky something, where else the other was Ultraman, her daddy's favourite cartoon character.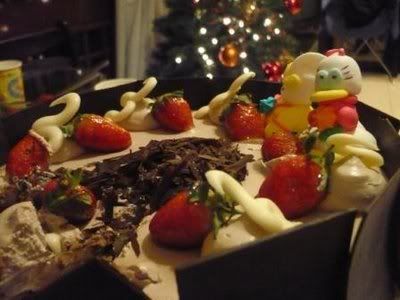 She's a big girl now. I was just reminiscing back on the day she was born, and she was so tiny and fragile when I held her in my arms. But look at her now, full of character and always spoiling my things everytime when she comes down to my place.
I sure do feel that I'm fragile now.
But not matter what she does, I always forgive her. What to do, she is my only immediate niece and I love her dearly.
Happy Birthday girl ... don't be naughty ahhh