I was excited after receiving a call from R. Our meeting at 2pm. Although looking forward to it, I had sheepishly admitted to her that I'd totally forgotten about it until her texting me a reminder message earlier. We confirmed our meeting time, and she, arriving promptly to pick me up, we headed straight towards the Curve for a nice, cosy, airconditioned place to catch up. The weather were insanely hot, therefor, aircond place is a MUST. Since we had lots of gossips and stories to share, a comfortable place was top of our priority too.
Juicy details aside, am sharing with you what we had. Meant to stay for tea break only, but dragged on to dinner as there were simply too much to catch up. These were what we ate.
Spicy Pumpkin Soup (5.00),
very much Nigella Lawson style where the pumpkin's roasted first to release its sweetness before pureeing it. The spicy part came from the hint of ginger used, instead of chilli spice. I've cooked them many years ago, but after tasting their version, they won my thumbs up!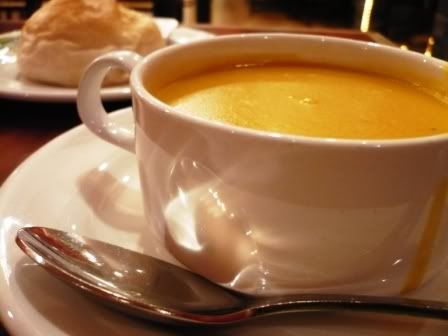 We share a portion of
Chicken Chorizo (RM5.80)
. The sausage were juicy and deeply flavoured, with light hint of spice. I like it very much.
R ordered a slice of their
Chicken Pepperoni Pizza (RM5.50)
which I felt was a ripped off. It tasted like something out of a bakery shop. Not only that, they under heat the pizza twice.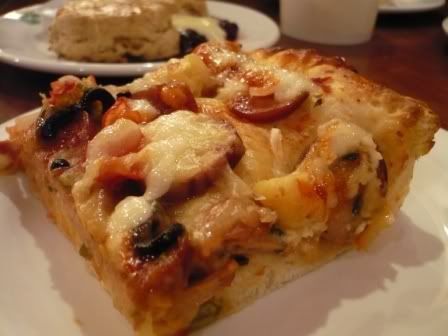 Scones (RM1.20 each)
which looked soo normal, but tasted fabulous! Though no clotted cream, cream were served, the vanilla cream and rasberry jam went really well with the crusty outer scone, and moist inner layer.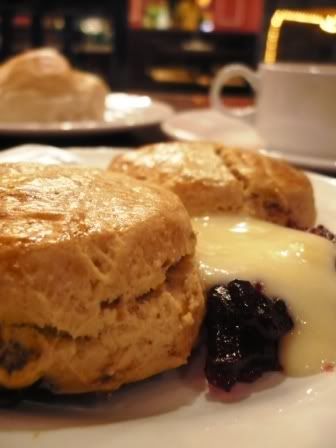 Moving from one stall to another stall, we decided to pick
Rottiserie Roast Chicken with Mushroom Sauce (RM16.50)
next for our dinner. These seems to be a favourite item around here as I spotted many tables with at least a plate of these to share. Good choice, as portion were huge and the chicken were roasted to perfection. Still moist inside and fresh. I liked its black pepper rub flavour bursting out from chewing on the skin, where else the mushroom gravy gave it a nice woody flavour.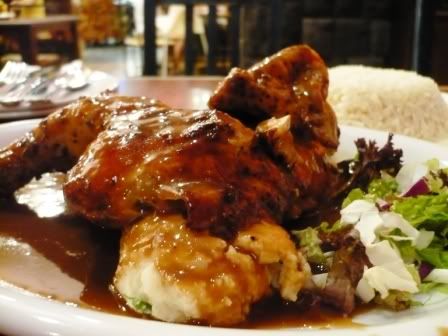 Time for dessert ... yay!!! When in Marche ... one must have Movenpick, no ? We had a scoop of
Caramelita (RM6.80)
. It was great. Love it.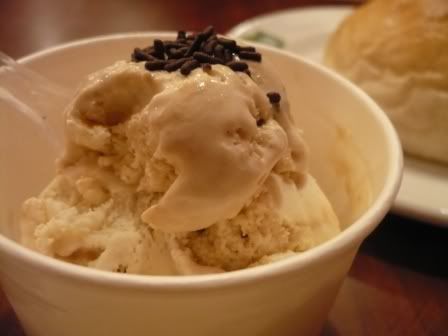 ABC (RM3.80),
Marche style which came with LOTS of coloured biji selasih, coloured agar agar etc, it tasted not too bad. Portions were hugeeeee.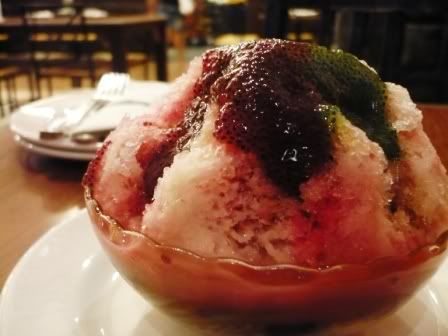 Tea break without tea is like, having popiah without skin hence, we ordered their version of
Teh Tarik (RM5.50)
. Came with ice, after two rounds of QC failed test by the stall's superior lol, this really is a good cup of teh tarik. The taste is smoother and richer.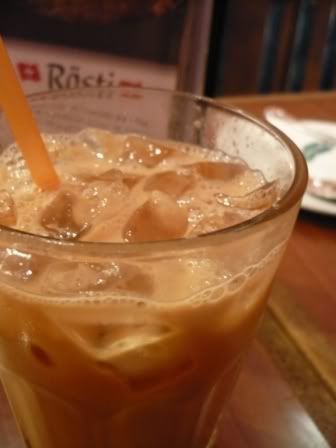 Overall, I'm surprised with the quality of food. It is not as bad as I've anticipated, as I've heard many bad reviews about the place in comparison to their singapore counterpart. The crowd during dinner was a surprised too. It was bustling, with almost all the seats in the house taken.
Had a good day. Happy.