Believe it or not, this is one of the most flogged about place and I've yet to set foot in it. Though not more than 5km away from my place, put it this way ... doesn't human always like to delay what's near them and preferring to venture further first? Excuses such as .. ah! It's so near, I can always hop over tomorrow, or this weekend. What's the hurry, its not that faraway anyway. It won't be going anywhere lah.
Sounds familiar?
Izzi is not new in the market. They serve Italian food in a modern setting, with a few extra asian dishes to satisfy what the market wants. The popular ones, according to the wait staff were their pizzas. Hmmm, I've just had lotsss of pizza during my niece's birthday. Just not up to it, really although the temptation of savouring the
thin kind
were rather strong.
HOWEVER ... my craving for a cream base pasta were even stronger. This pasta simply called
Fettucini Al Funghi (RM18.90)
were highly recommended, not just by the wait staff, it has a special sign next to its name on the menu, so I just got to have it. Portions were huge, and it was utterly creamy to the max. Something about me and Fettucini, our relation is just NOT happening. Though the sauce tasted fabulous, I simply can't handle pasta which were just too thick.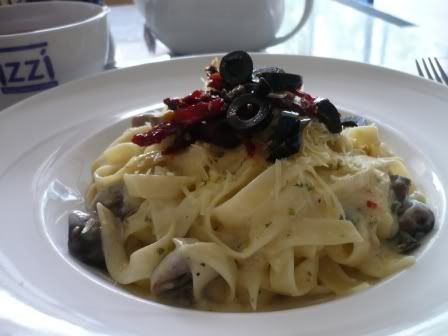 Opera or Caramel Chocolate ? Though opera looked so dainty and quiant at the cake display, somehow ... hmmm, MUST be the santa. Ain't it cute? And again, this was highly recommended by the wait staff, this sweet Malay girl. Now, I always trust the taste of a girl when it comes to dessert and I was not dissapointed at all. This
Caramel Chocolate (RM8.90)
wowed me. It had layers of Chocolate Caramel ganache among it, with sponge layer that were soaked in caramel (again). I loved it as it was dense and rich, seriously ... this is one of the better dessert I've tasted around town. And btw, great job in adding candied apricot bits in the cake too, it was fabulous. I whole heartedly recommend this cake.
Look how dense the cake it. It was fabulous!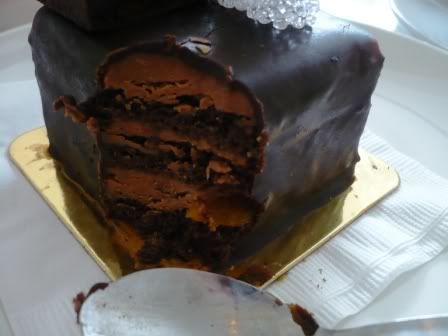 After lunch, I went to this Zen place. Guess what I did there ?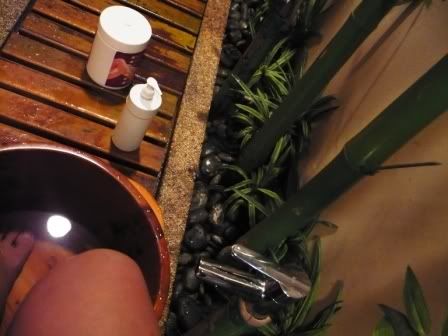 You guess wrong. It is NOT reflexology session but a half body massage (top part) but feet soaking (in cold water) is part of their FOC service *big grin*
Izzi day ...